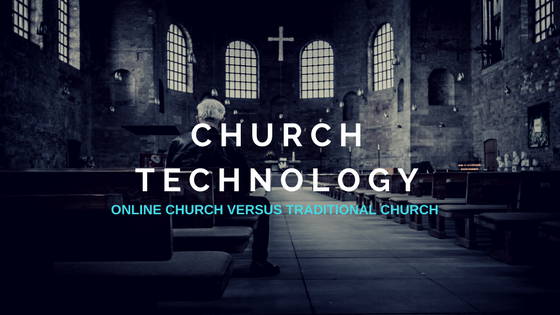 If you attend church on a regular basis, then you've probably noticed that many churches are modernizing their approach to worship and congregational gatherings. While most churches still hold physical worship services, many are also dabbling in online media, podcasts, and live streaming services. But what does this mean for the future?
Top 5 Types of Church Technology
When you think about church, technology probably isn't the first thing that comes to mind. But take a look around and you'll see that technology is making major moves in this industry. And despite some friction and pushback from certain individuals and groups, it appears that the technological disruption is largely positive. Here are a few current tech trends for churches:
1. Online Media
In an age where a lot of small and local businesses have yet to fully realize the potential of online media, churches – by and large – are strategically allocating resources to this important area of visibility. This includes website development, social media, and video production.
2. Sermon Podcasts
If you look at high-ranking podcasts, you'll notice that many mega churches and pastors have fairly successful shows. The reason is that people like to download sermons onto their mobile devices and listen to them while they commute, workout, or perform household chores.
3. Online Bible Studies
Churches have long held bible studies in their own facilities or the homes of church members. And while this is still extremely popular, some churches are now offering online gatherings where people can watch videos, download notes, ask questions, and engage with other members.
4. SMS Text Messages
Communication is big in a church – especially one with lots of members. Between services, bible studies, outreach events, and everything else that goes on, churches need to be able to quickly and effectively communicate with hundreds or thousands of members. Many are turning to SMS broadcasting as the answer.
5. Live Streaming Services
Then, there are live streaming (or slightly delayed) services. This allows people to watch and listen to sermons from anywhere there's an internet connection. It's especially great for when people are sick, traveling, or otherwise unable to attend.
What Does the Future Hold for Churches?
The fact that many churches are using live or delayed streaming of worship services is where a lot of people inside and outside of the church begin to get curious. Will online church soon replace traditional church gatherings as the preferred method of worship?
The short answer is no. Online church won't replace traditional church, but it will certainly complement it. This is something church advisor Jason Caston and others in the field pretty much all agree on.
"Overall, I don't believe Internet church will replace traditional church, it's an extension of traditional church delivered in a digital format (audio, video or social media) to your preferred device (laptop, desktop, mobile or television)," Caston explains. "But if the church is going to take ministry to the people and really step outside the walls, then it has to have an Internet component to it that allows it to be accessible from anyone, anytime, from anywhere in the world, and that is how you take the Gospel to the four corners of the globe."
It's very difficult for an online church to stand alone. Even churches like Life.Church, that lead the way in online worship, have physical campuses and tangible ministries that exist offline. See, the thing about church is that it requires people to thrive. It requires face-to-face connections with a local community. Sure, the internet can connect people and provide value, but it's just one component of the larger church.
The term "internet campus" arose a number of years ago. At the time, the idea was that people could attend an internet campus just like a physical campus in their local town. But church leaders quickly found this ineffective and implausible.
"We're moving beyond the concept of an 'Internet campus' that functions as a rogue team with its own rules and culture," says Scott Magdalein, a veteran leader in the church technology and innovation space. "In the future, the online church team will function within the context of every other campus in the multisite church structure."
As multi-site churches with campuses spread out over many states become more popular, the value of online church will increase. It'll become less of an isolated feature and more of an integrated platform that serves to connect multiple churches under one roof.
"Of course, shared resources are already common," Magdalein says. "But in the past online church campuses ran their own social media and communication channels and often had completely different followup/assimilation processes. In the future, the online church campus will blend into the existing processes of the local church, sharing social spaces and discipleship processes."
Another exciting potential for online church is the fact that it'll be able to overcome language barriers. The hope is that, as technology improves, online churches will be able to serve as multilingual counterparts to existing churches. This will allow people from all ethnic backgrounds to sit under the same teaching and forge more cohesive relationships in local communities.
The main takeaway is that online church has a role in the traditional church, but it isn't going to replace it by any means. In order for churches to stay modern and relevant in a tech-savvy world, putting teaching and media online is smart and necessary.
But ask most churchgoers what they enjoy most about their church and they'll tell you it's the people. They go to hear the teaching, but they stay because of the face-to-face relationships they've formed over the years. Online church can't replace that.
Contact DialMyCalls to Learn More About SMS Broadcasting
For more than a decade, DialMyCalls has developed custom voice and SMS text messaging solutions for a variety of customers in many different industries – churches included! If you're interested in learning more about how your church can find success using modern methods of mass communication, please contact us today. We'll guide you through the process!