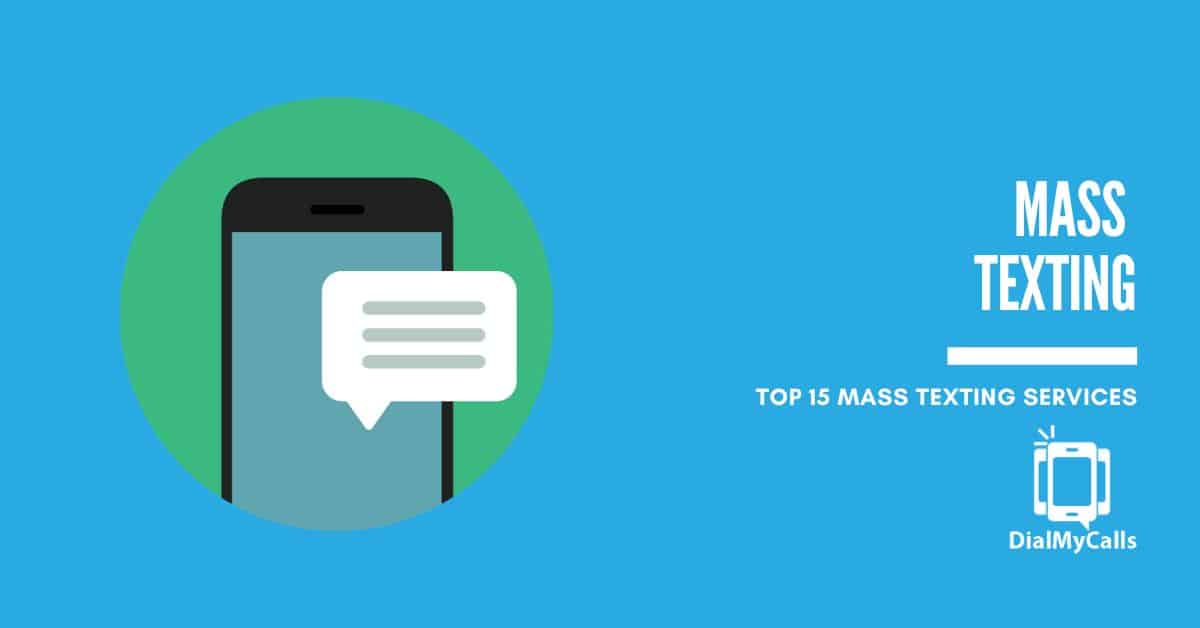 A mass texting service makes it easy to quickly send messages to large numbers of people without having to type out each one manually. But with so many different services available, which one is best?
To help answer this question, we'll look at the top 18 best mass texting services in 2024 and compare them on features and benefits.
15 Best Mass Texting Services

1. DialMyCalls
DialMyCalls is the best overall mass texting service in 2024. With their free account, you can send messages via text, email, or phone to a contact list of thousands of people in the blink of an eye.
Features
Mass Notification App
Integrations
Phone Tree app
Broadcast Reports
Mass Notification App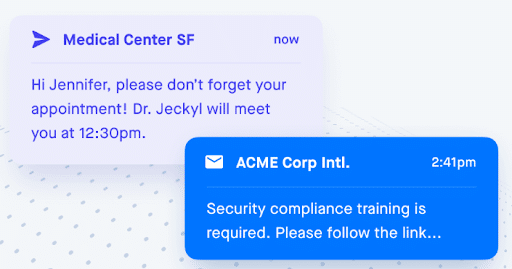 With the DialMyCalls app, you can send mass notifications from your device of choice, making it easy to stay in touch no matter where you are.
Integrations

Through their API, Dial My Calls can integrate your notifications into your company's preferred communication medium.
Phone Tree App
Your team's organization determines how effective your telemarketing and customer service will be. Implementing a dedicated phone tree for your team is one way to improve order and seamlessness when there is an incoming call.
No customer wants to be put on hold for lengthy periods while making inquiries. With DialMyCalls' phone tree templates, you can quickly get calls across to the designated or responsible people, shortening your client's wait time and improving your general process.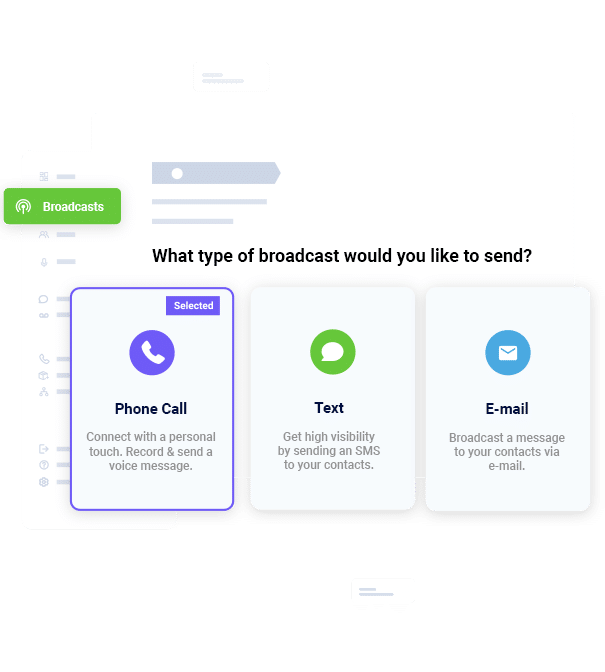 Broadcast Reports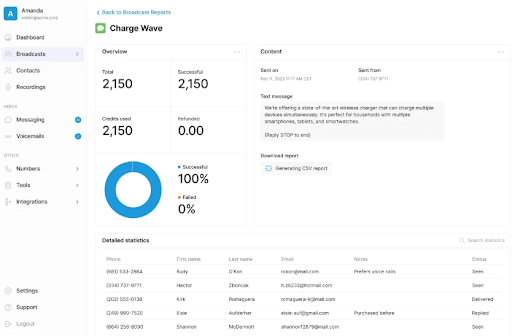 You can easily see the status of your messages on a large scale or employee by employee with Dial My Calls' broadcast reports feature.

2. SimpleTexting
SimpleTexting is the best mass texting service for small businesses. Their SMS marketing and two-way messaging make it easy to contact your team and/or customers with a personal touch.
Features
Contact List Conversion
Criteria-Based Messaging
Follow-Up Texting
Contact List Conversion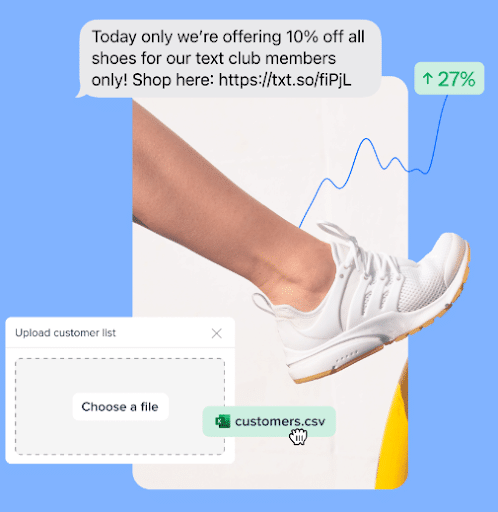 Upload files to their system to generate a contact list in SimpleTexting.
Criteria-Based Messaging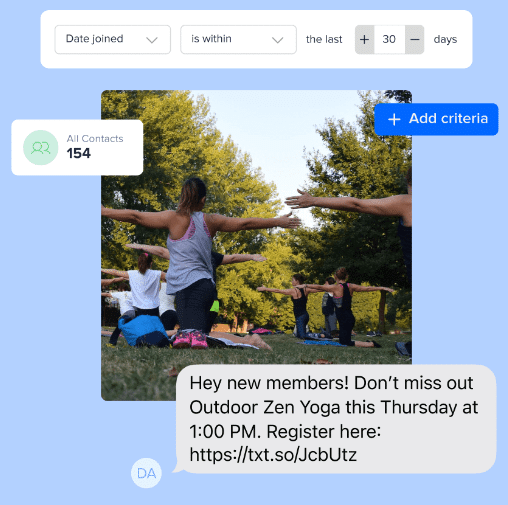 Use criteria-inputting features to send messages to only people who need them.
Follow-Up Texting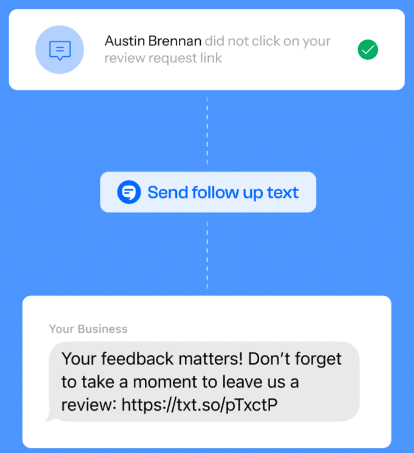 Send follow-up texts to people who didn't interact with your messages.

3. InformaCast
InformaCast is the best mass texting service for emergency messages. Through "intrusive, attention-getting audio, text, and visual alerts" InformaCast helps you and your team stay safe and informed.
Features
Incident Resources Section
Fire Alarm-Inspired System
Saved Sequences
>Incident Resources Section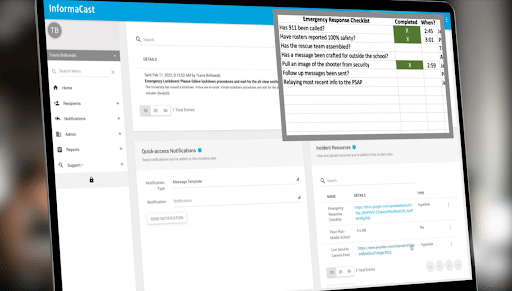 Make incident reports quickly and keep tabs on everything with saved resources.
Fire Alarm-Inspired System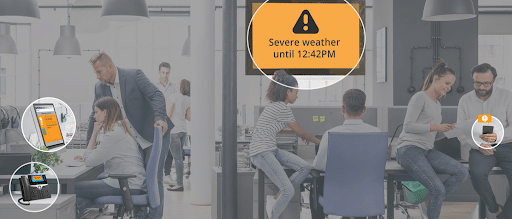 Emergency notifications cut through daily noise with "intrusive", cohesive messaging.
Saved Sequences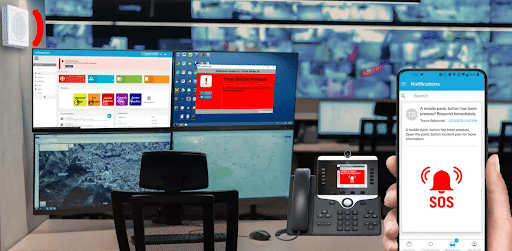 Send out notifications in seconds with saved sequences for emergencies.

4. RedFlag
RedFlag is the best mass texting service for those who need an easy-to-use solution. Their user-friendly interface is well-ranked, making it easy to get your team on board with a new system.
Features
Microsoft Teams Integration
Account Manager
Push Notifications
Microsoft Teams Integration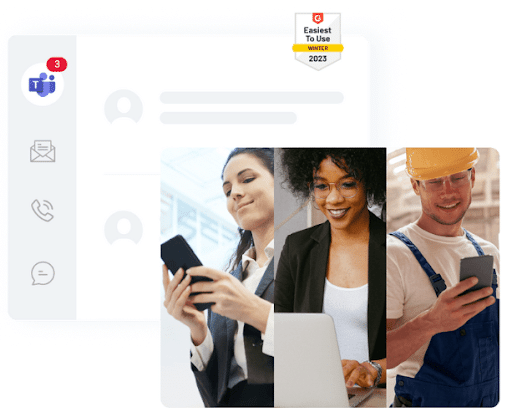 Use Redflag through one of the most popular employee communication systems, Microsoft Teams.
Account Manager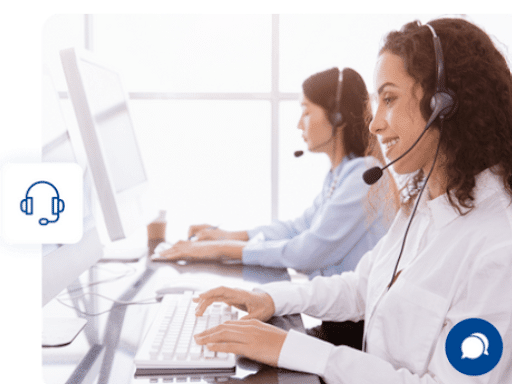 Get customer service from your account manager with a direct line.
Push Notifications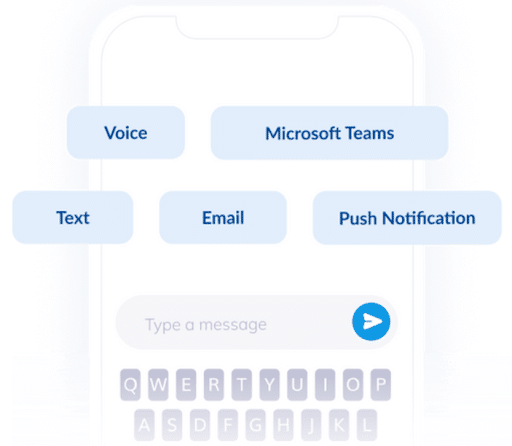 Communicate easily through the app with push notifications.

5. Zendesk Support Suite
Zendesk is the best mass texting service for communicating with customers. Using their support and analytics features, they help you send relevant messages to customers that keep them coming back.
Features
Assign Questions
Automate Responses
App Integration
Assign Questions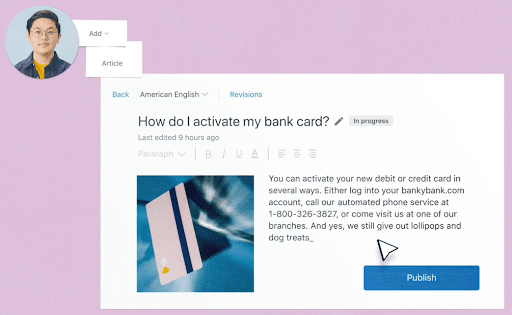 Assign expert members of your team to answer questions they are well-versed in.
Automate Responses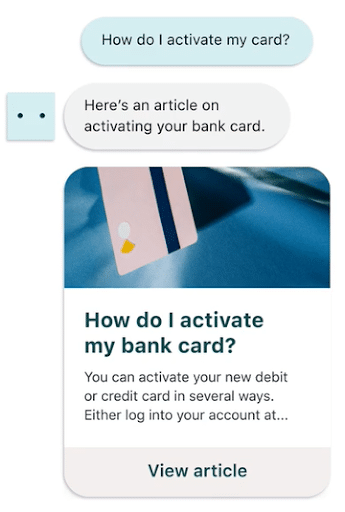 Automate instant responses with pre-written articles on the subject.
App Integration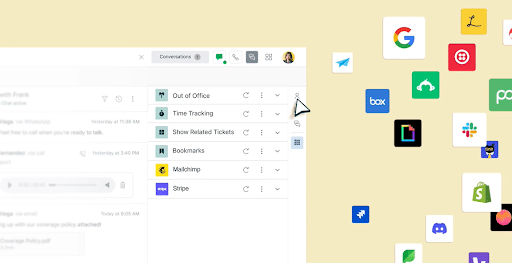 Use the most popular workplace apps to answer questions and send responses.

6. OneSignal
OneSignal is the best mass texting service for generating customer engagement. They are driven to help you lessen your churn rate with their variety of communication options.
Features
In-App Messaging
Targeted SMS
Journeys
In-App Messaging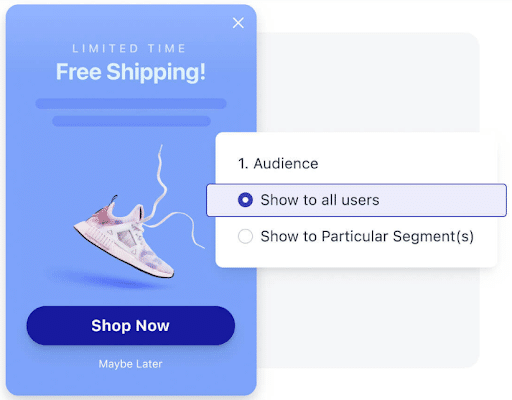 Advertise your products/services within your app to specific customers.
Targeted SMS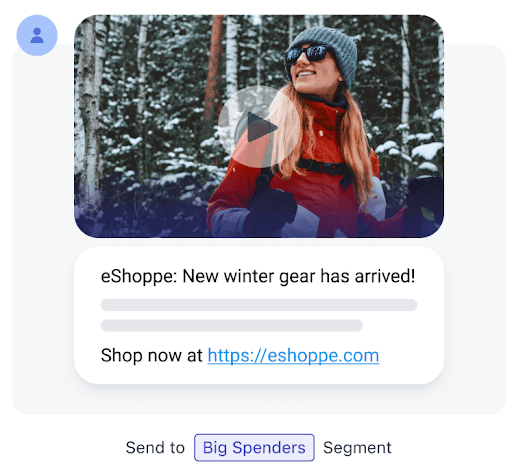 Send texts to customers most likely to engage or to encourage new engagement.
Journeys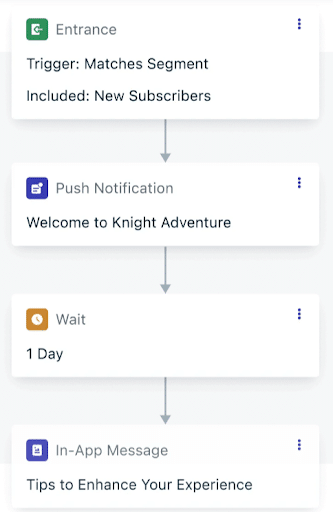 Automate messages to send at the best possible times to keep users coming back.

7. Genesys Cloud CX
Cloud CX is the best mass texting service for connecting conversations across apps. Genesys is tailored specifically to helping communications related to customer service, keeping the customer experience centralized and more efficient.
Features
Customer Dashboard
Real-Time Analytics
Cross-Platform Contact Info
Customer Dashboard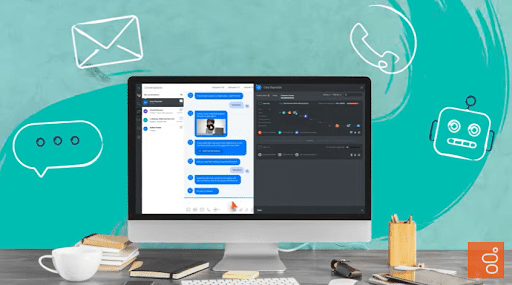 Keep tabs on past interactions with customers through the customer dashboard.
Real-Time Analytics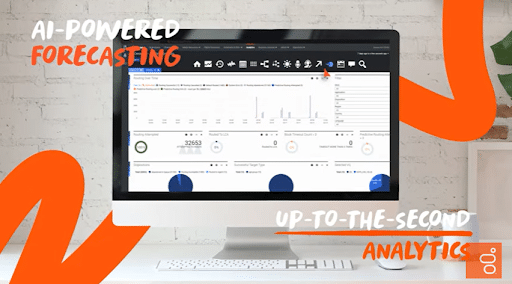 Know exactly how a message is received and predict responses with AI.
Cross-Platform Contact Info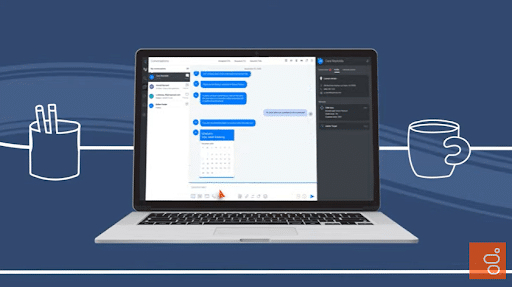 Respond to questions using information about your customers from other platforms.

8. Mongoose Cadence
Cadence is the best mass texting service for colleges and universities. Mongoose Cadence is intended to connect students, as well as faculty, parents, donors, and alumni, to create community on and off campus through SMS for schools.
Features
Easy Contact Search
Schedule Send
Comprehensive Dashboard
Easy Contact Search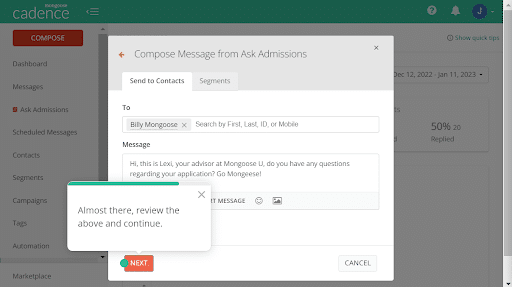 Search for recipients by first or last name or by ID or mobile number.
Schedule Send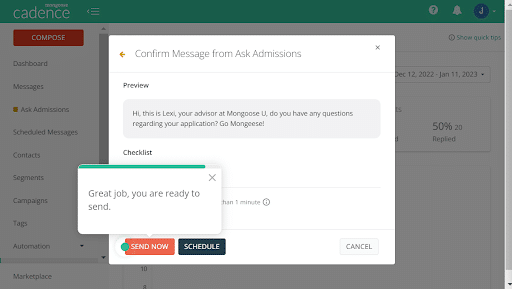 Write messages ahead of time and send them whenever you want them to be received
Comprehensive Dashboard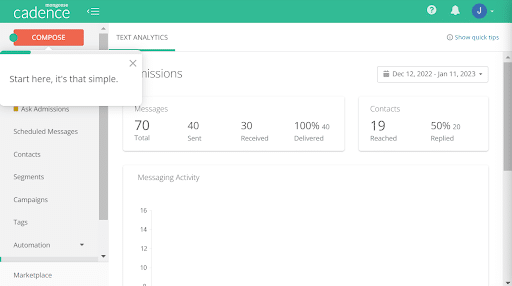 Send texts and see the results of your activity all in one place.

9. Microsoft Azure
Azure is the best mass texting service for those who want a very scalable solution. Microsoft created Azure Notification Hubs to be incredibly flexible, from back ends to platforms to language and everything in between.
Features
Security Center
Notification Hub
Code Access
Security Center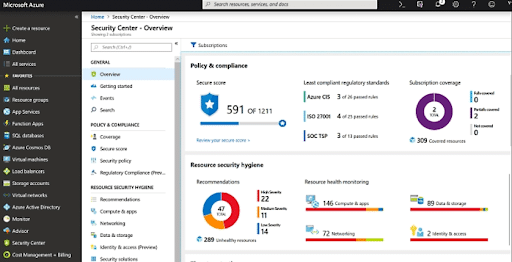 Make sure everything is secure whenever you want with Microsoft's security center.
Notification Hub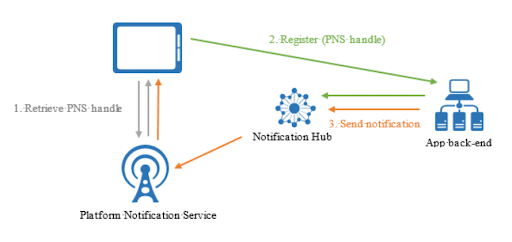 Keep your notifications all in one place instead of going app by app.
Code Access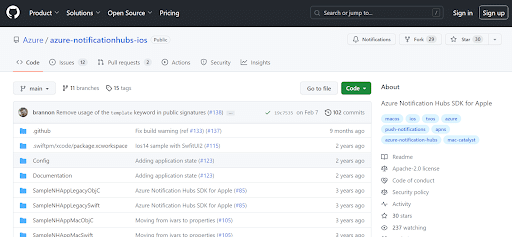 Get easy access to the code behind your notifications in the GitHub dashboard.

10. Mobile Text Alerts
Mobile Text Alerts is the best mass texting service for communicating with employees and customers. Focused on SMS communication, Mobile Text Alerts helps you with marketing and two-way communications all from one system.
Features
SmartSMS Shortener
SmartSMS Image Generator
Smart Replies
SmartSMS Shortener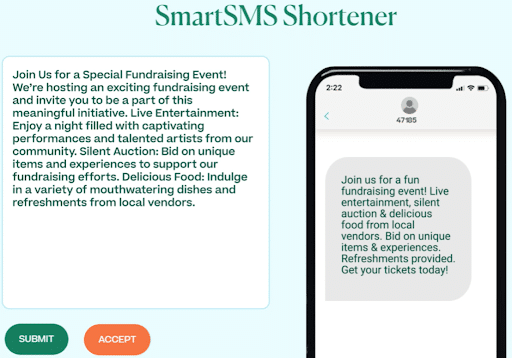 Make your messages concise and attention-grabbing with an AI paraphrasing tool.
SmartSMS Image Generator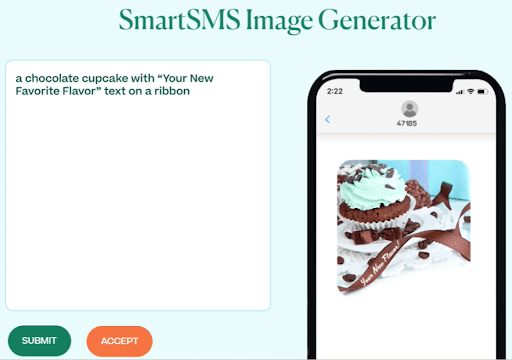 Create original marketing pictures without a camera using AI image generators.
Smart Replies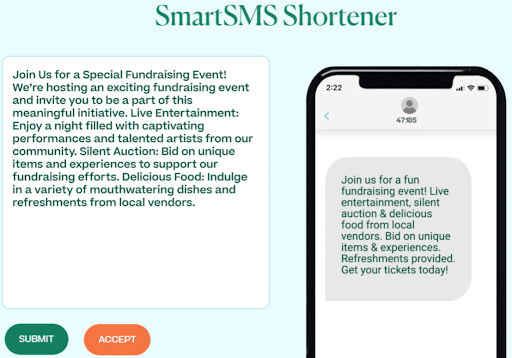 Find new, easy ways to connect with users using in-app suggestions.

11. Wati
Wati is the best mass texting service for businesses that use WhatsApp. Their WhatsApp Business API platform expands your operations to the often untapped marketing and communication platform.
Features
Simple Dashboard
No-Code Chatbots
Shared Team Inbox
Simple Dashboard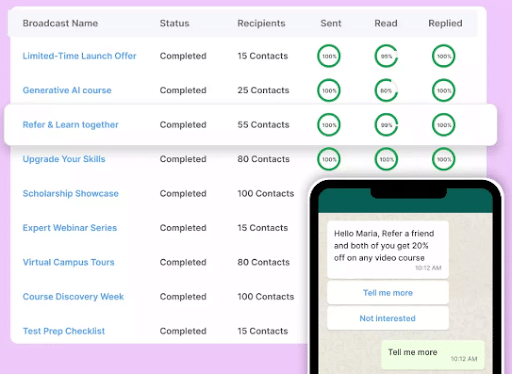 See which campaigns were the most effective with an easy-to-read list.
No-Code Chatbots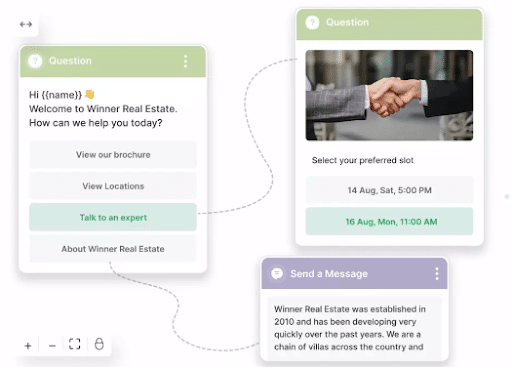 Answer questions quickly with included chatbots that are easy to use and create.
Shared Team Inbox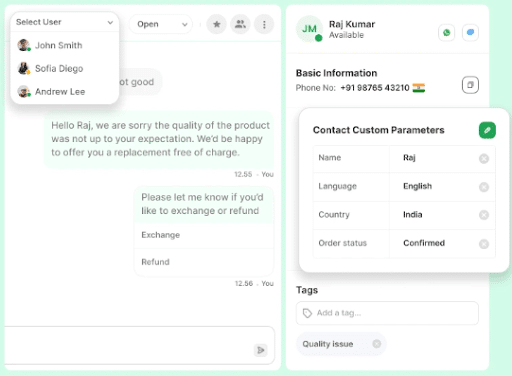 Keep everyone in the loop and make sure messages are answered by sharing them.

12. One Call Now
OnSolve's One Call Now is the best mass texting service for nonprofits and small organizations. They are committed to making mass messaging affordable and simple over voice, text, and email.
Features
Minimalistic Dashboards
Polling Feature
Catered Messages
Minimalistic Dashboards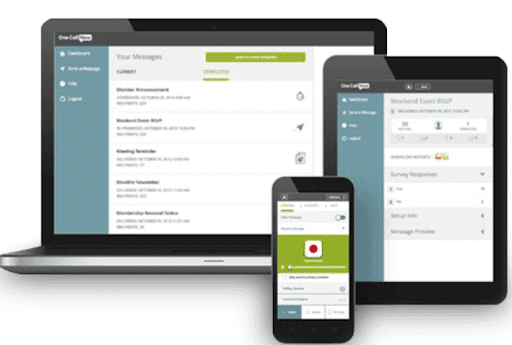 One Call Now easily adapts to any device with a few simple categories to understand.
Polling Feature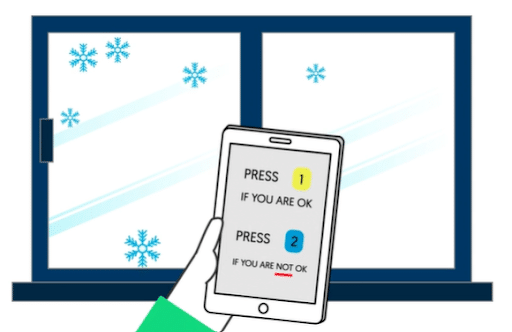 Get accurate responses quickly with simple polls that are easy to send and answer.
Catered Messages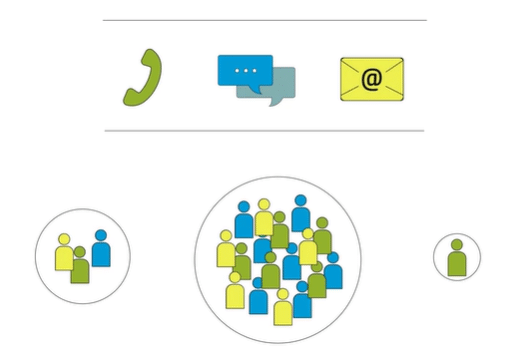 Send the same message in different ways based on user communication preferences.

13. Segmentify
Segmentify is the best mass texting service for eCommerce businesses. Through a study in machine learning, their founders created an app designed to create a personalized, AI-powered experience.
Features
Personalized Engagement
Cross-Channel Marketing
Customer Data Management
Personalized Engagement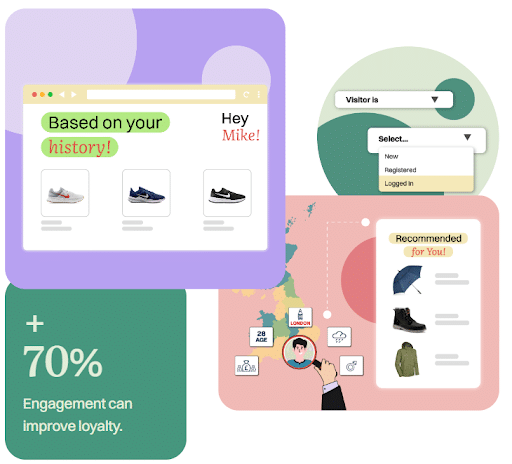 Use tailored messaging and user data to make messages that will grab a user's attention.
Cross-Channel Marketing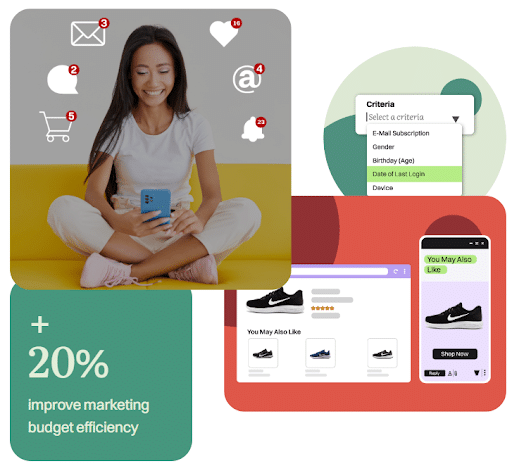 Reach your customers wherever they're looking using data from other experiences.
Customer Data Management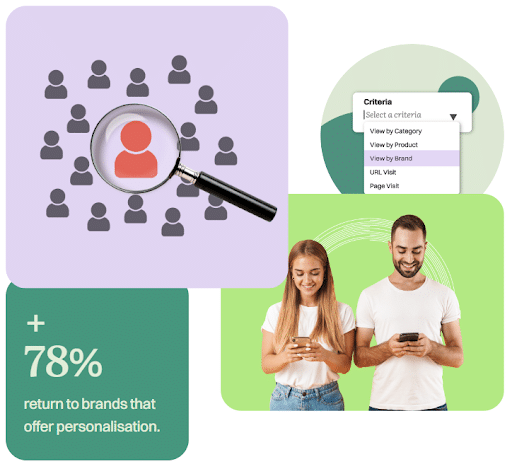 Categorize the customers subscribed to your content to send them personal messages.

14. Regroup
Regroup is the best mass texting service for professional entities, like governments, healthcare, academia, etc. Their powerful notification software is helpful in both emergencies and daily operations for high-level organizations.
Features
Mobile App
Mapping Crises
Desktop Notifications
Mobile App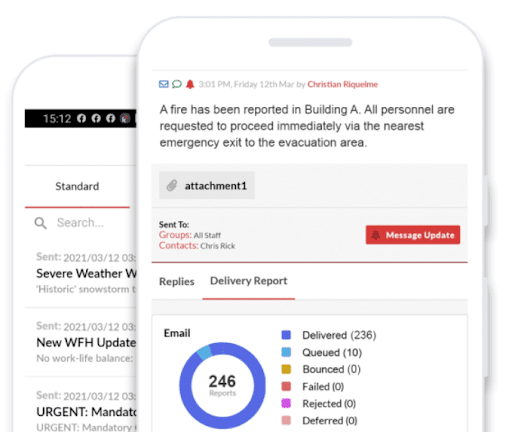 Regroup's free mobile app allows you to send, receive, and monitor messages.
Mapping Crises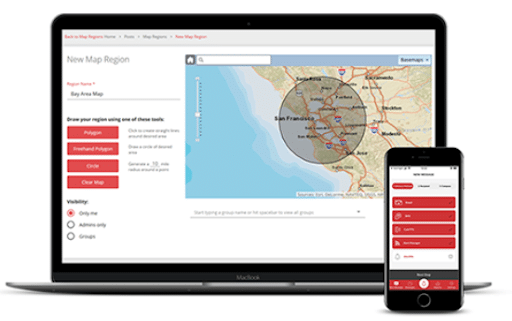 Keep everyone informed of who could be impacted by an emergency through a map.
Desktop Notifications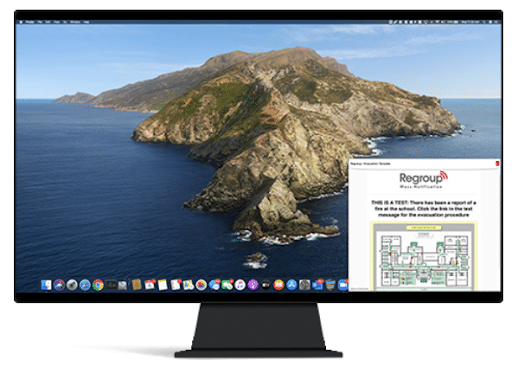 Send notifications directly to your employees' workspaces to make sure they get them.

15. Boulevard
Boulevard is the best mass texting service for appointment-based self-care businesses. From massage therapists to nail artists to salon owners and everyone in between, Boulevard has ways to improve client experiences for your business.
Features
Preparation Features
Client Profiles
Branded Marketing Campaigns
Preparation Features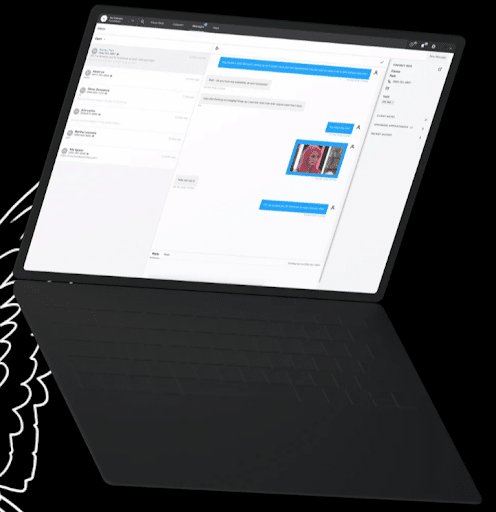 Communicate with customers and have them fill out forms before they come in.
Client Profiles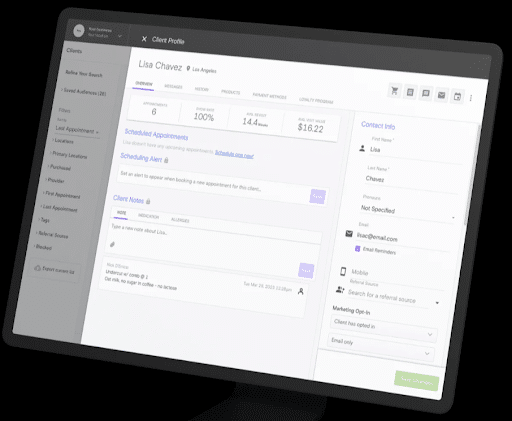 Know exactly how to handle clients with a comprehensive information dashboard.
Branded Marketing Campaigns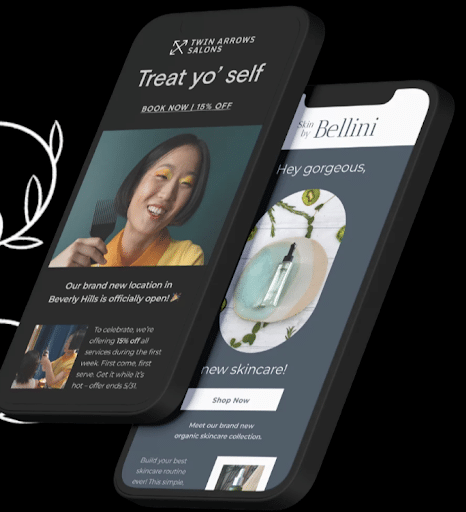 Boulevard helps you build your client base with messages that are personalized to your business for your customers.
How To Choose The Best Mass Texting Service For You
Ultimately, the best mass texting service should be tailored to your needs. It's important to think about the type of business you are for many of these services.
For example, DialMyCalls is a good all-around service, while Mongoose Cadence is made especially for higher education settings. A business will probably prefer DialMyCalls, while a college will find Cadence more helpful.
One Call Now is also built specifically for affordability, which will make it a much better choice for small businesses with a small budget than a solution like Regroup which is built for government agencies with a large budget.
You should also be thinking about your plans for what you want to communicate over your mass texting service. If you plan to communicate with customers primarily, look at a customer-focused solution like Zendesk instead of an employee-focused solution.
Or if you'd only like to communicate en masse about emergencies, think of using a service like InformaCast instead of a more casual solution. If you'd like to send texts over WhatsApp, Wati is a great choice, while other solutions offer more traditional communication channels like SMS, email, voice, etc.
To put it simply, you should look through our recommendations for what each service is best for, either above embedded in the service profiles or below in our list at the end of the article. With a bit of digging, you're sure to find one suited to your needs.
All that being said, there are a few pieces of criteria that every mass texting service should have as a baseline to make them a successful and helpful addition to your company. We'll look at those in-depth and see how each service listed matches up based on ratings from Capterra.
Ease of Use
This simply means how easy it is to use the software daily. This is an essential factor to consider if your company isn't comprised of tech-savvy people or your customers are not used to using technology with your company, like if you primarily have customers from a physical storefront.
Segmentation
This refers to how the service breaks down the information it receives from you into manageable groups. This could look like many different things, like grouping new customers in one mailing list, putting all of your employees in marketing in a contact list, or saving related messages in the same place.
Ease of Admin
Your employees or customers don't just need the software to be easy to use – it should also be easy for you to use the service's features as the admin. This is a critical feature to look for if you aren't well-versed in using communication technology or technology generally.
Positive Business Partnership
Whichever service you choose will ultimately be a new business partner for you. This feature is a rating of how positive your business relationship with the service is likely to be, which has to do with how good their customer service is, how accommodating they are to other business partners, etc.
Here is how each of the services we've looked over stacks up in these categories with a rating out of 5, 5 being the best and 1 being the worst. While many of them rank very high in most categories, DialMyCalls scored the highest in every category across the board, hence why we picked it as our best overall choice.
| Platform | Ease of Use | Customer Support | Other Features | Pricing | Score |
| --- | --- | --- | --- | --- | --- |
| DialMyCalls | 4.8 | 4.7 | 4.7 | 4.7 | 4.7 |
| InformaCast | 4.3 | 4.9 | 4.8 | 4.8 | 4.7 |
| RedFlag | 4.7 | 4.8 | 4.8 | 4.8 | 4.7 |
| Mongoose Cadence | 4.8 | 4.9 | 4.7 | 4.7 | 4.7 |
| Segmentify | 4.8 | 4.9 | 4.7 | 4.7 | 4.7 |
| OneSignal | 4.5 | 4.5 | 4.6 | 4.5 | 4.5 |
| Mobile Text Alerts | 4.5 | 4.7 | 4.3 | 4.5 | 4.5 |
| Boulevard | 4.5 | 4.7 | 4.3 | 4.5 | 4.5 |
| Wati | 4.6 | 4.5 | 4.3 | 4.5 | 4.4 |
| One Call Now | 4.6 | 4.3 | 4.4 | 4.3 | 4.4 |
| Zendesk Support Suite | 4.3 | 4.3 | 4.3 | 4.1 | 4.2 |
| Microsoft Azure | 4.1 | 4.3 | 4.5 | 4.2 | 4.2 |
| Regroup | 4.4 | 4.1 | 4.1 | 4.3 | 4.2 |
| SimpleTexting | 4.4 | 4.0 | 4.2 | 4.1 | 4.1 |
| Genesys Cloud CX | 4.4 | 4.0 | 4.2 | 4.1 | 4.1 |
All ratings above are from Capterra.com.
Setup Your Mass Text Notification System Today
Mass texting services have become an invaluable tool for businesses of all sizes. They make it easy to quickly send messages to many people, saving time and money. As you can see from our comparison above, each mass text service offers unique features and benefits specific to it.
Here's a list of what each mass texting service on our list is best for again:
DialMyCalls – best overall
SimpleTexting – best small business solution
InformaCast – best emergency message service
RedFlag – best in ease of use
Zendesk – best customer communication
OneSignal – best customer engagement generator
Cloud CX – best cross-app connection service
Cadence – best for colleges and universities
Azure – best in scalability
Mobile Text Alerts – best for communicating with employees and customers
Wati – best for businesses that use WhatsApp
One Call Now – best for nonprofits and small organizations
Segmentify – best for eCommerce businesses
Regroup – best for professional entities
Boulevard – best for appointment-based self-care businesses
To find the best one for your needs, consider our recommendations, as well as the ratings for ease of use, ease of admin, positive business partnership, and segmentation.
With the right mass text service in place today, you'll be able to communicate with your customers more effectively tomorrow. Whether you're using yours for emergencies or happy hour, church texting or corporation feedback, any one of these services is sure to help you connect with your team and/or customers on a deeper level.
If you're still unsure, the best place to start your search is with our best overall pick: Dial My Calls. Their affordable pricing starts at just $6.74 per month or you can try it for free, so it's super easy to give a mass texting service a shot.