10 Best CallFire Alternatives You Need to Try in 2023
Posted by Tim Smith in General Post on October 18, 2023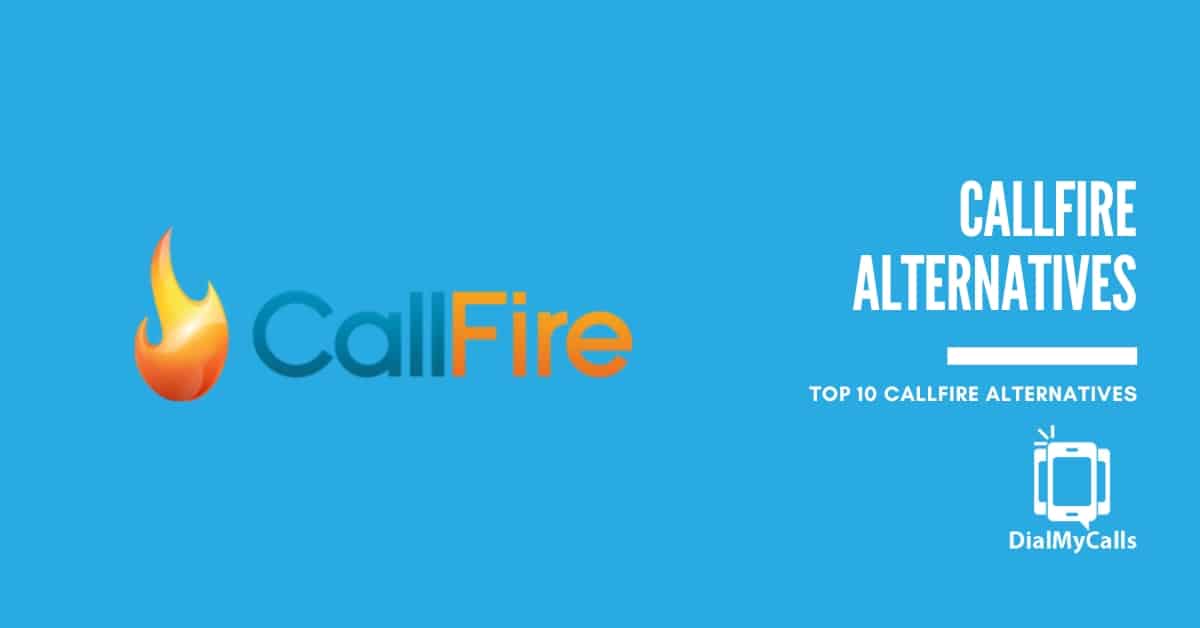 CallFire is a cloud telephony solution for streamlining business communication through voice and text messaging. While having a presence in the market since 2004, CallFire comes with its own set of drawbacks.
Firstly, CallFire's pricing plans can be quite costly, starting at a steep $99/month. This pricing structure places a significant financial burden on small businesses.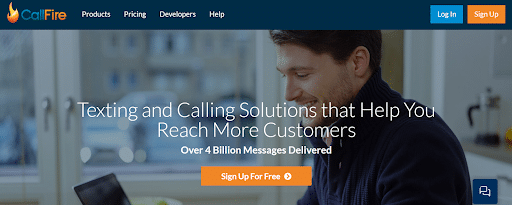 Secondly, the process of setting up calls involves numerous intricate steps. This complexity in the setup process is time-consuming for CallFire customers.
Lastly, the interface of CallFire is slightly unintuitive. So, the lack of user-friendliness can lead to confusion and a steeper learning curve.
DialMyCalls offers an affordable alternative with a user-friendly interface, addressing the drawbacks of CallFire's expensive subscriptions, complex setup, and intuitive interface.
In this article, we've got you covered with the 10 best CallFire alternatives that you should check out.
CallFire Alternatives

Alternative #1: DialMyCalls
DialMyCalls is a communication and notification platform. It's often used for mass notifications, alerts, reminders, and emergency broadcasts.
DialMyCalls provides an intuitive platform that enables users to record or type a message, select a list of contacts, and then deliver the message via phone call or SMS to all the selected recipients.
DialMyCalls Features
Mass texting
2-way text message
Bulk voice broadcast
Mass Texting
With DialMyCalls' mass texting functionality, users can send important messages, updates, alerts, and announcements to a wide audience all at once. The platform provides a user-friendly interface that allows for the quick creation and distribution of text messages.
This feature is particularly valuable for various sectors, including municipalities, healthcare facilities, and churches.
Municipalities can notify residents of emergencies or community events. Healthcare facilities can send appointment reminders and health alerts. Churches can keep their congregation informed about services and events.
2-Way Text Message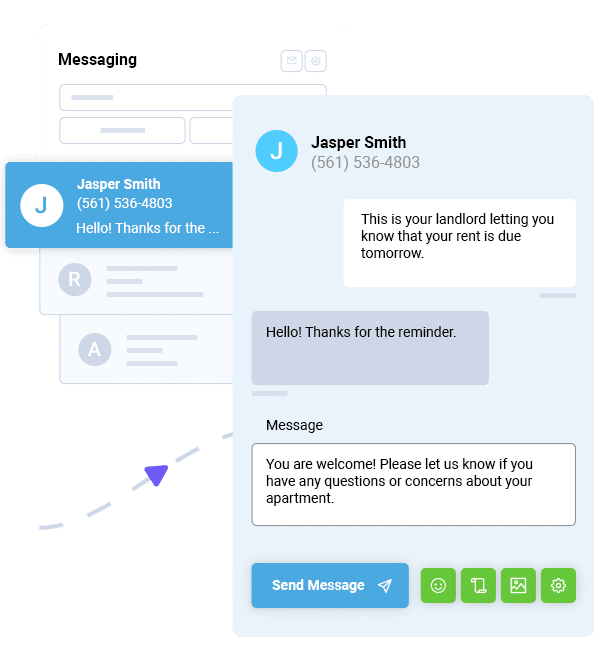 DialMyCalls offers a robust 2-way text message feature that facilitates interactive communication between organizations and their audience. This feature allows for 2-way communication via text messaging, enabling real-time engagement and response gathering.
One of the major components of this feature is the ability to conduct polls and gather RSVPs from recipients.
Organizations can create surveys or ask questions—recipients can respond directly through text messages. This functionality is invaluable for collecting immediate feedback, event headcounts, and other time-sensitive responses.
DialMyCalls provides comprehensive call analytics for 2-way text messages. You can access complete reports that offer insights into the performance of your text message campaigns.
These reports include response rates, delivery status, and recipient engagement data. Detailed analytics allow organizations to review results and quickly make data-driven decisions for future communications.
Bulk Voice Broadcast
Another important DialMyCalls feature is bulk voice broadcasting which enables organizations to deliver recorded voice messages to a large audience.
What sets this feature apart and makes it exceptional is its Accurate AMD (Answering Machine Detection System).
When customers use bulk voice broadcast, DialMyCalls employs this smart system to distinguish between live persons and answering machines (voicemail). This ensures the message is delivered appropriately, avoiding unnecessary interactions with voicemail.
DialMyCalls provides the convenient "Push To Leave A Message" functionality. You can include this feature when setting up a voice broadcast in your DialMyCalls account.
It allows call recipients to leave a message responding to the broadcasted message, encouraging engagement and two-way communication. This makes collecting feedback, inquiries, or other important information easy for your audience.
Pricing

DialMyCalls offers different pricing options: custom pricing, standard monthly pricing, premium monthly pricing, and pay-as-you-go.
The lowest initial cost begins at $7.49/month for a minimum of 25 contacts on a monthly subscription or $6.74/month when choosing an annual plan.
Sign up for DialMyCalls and get 25 free credits to try the platform.

Alternative #2: CallHippo
CallHippo is a cloud-based business communication platform that offers a range of features to help businesses manage their phone calls and streamline their communication processes.
CallHippo Features
Call queuing
Smart call forwarding
Voice broadcasting
Call Queuing
CallHippo's call queuing feature provides users with a seamless call management solution by organizing incoming calls. With this feature, users can ensure that no call goes unanswered, as it places callers in a queue until an available agent is ready to assist them.
Smart Call Forwarding
Call forwarding feature improves users' call management by routing incoming calls to the most appropriate agents or phone numbers based on predefined rules and criteria. This capability ensures that calls are directed to the right personnel.
Voice Broadcasting
Voice broadcasting simplifies mass communication by enabling users to send pre-recorded messages to a broad audience. This tool eliminates manual dialing while ensuring important information reaches recipients.
Pricing
The initial pricing for CallHippo's outbound SMS service in the United States initially begins at $0.01/message.

Alternative #3: Braze
Braze is a customer engagement platform that provides businesses with tools to create and manage marketing campaigns.
Braze best suits businesses looking to improve customer engagement through personalized marketing campaigns across various channels.
Braze Features
A/B testing
Triggered SMS
Multi-channel messaging
A/B Testing
Users can perform A/B testing on SMS campaigns to determine which messages are most effective in terms of open rates, click-through rates, and conversions.
Triggered SMS
Braze enables businesses to set up automated SMS messages based on customer behavior or specific triggers. For instance, sending a welcome SMS to new app users or a confirmation SMS after a purchase.
Multi-Channel Messaging
Braze provides a platform for businesses to orchestrate messaging across multiple channels, including SMS, email, push notifications, and in-app messaging, ensuring a cohesive and personalized customer experience.
Pricing
Braze doesn't provide any pricing information on its website.

Alternative #4: PhoneBurner
PhoneBurner is a cloud-based sales engagement and CRM platform that primarily focuses on outbound sales communication to help sales teams increase their efficiency and productivity.
PhoneBurner is a good alternative to CallFire for businesses seeking a comprehensive sales engagement platform with features like automated dialing, email outreach, and lead management.
PhoneBurner Features
Text messaging
Inbound call forwarding
Text Messaging
PhoneBurner's text messaging feature seamlessly integrates with its dialer functionality, allowing users to send one-off messages or trigger personalized 1-click texts based on call outcomes. This feature streamlines communication by offering pre-configured texts for various situations, such as reaching voicemail or scheduling a demo.
Inbound Call Forwarding 
Phoneburner's inbound call forwarding feature lets users choose to answer these calls directly from their browser. Users can also forward calls to various numbers, such as landlines, office lines, or mobile numbers, allowing for efficient call routing.
Pricing
Phoneburner's pricing starts from $149/user/month, with unlimited dialing minutes.

Alternative #5: Convoso
Convoso is a cloud-based contact center software solution that offers tools for managing and optimizing outbound and inbound call campaigns.
We included Convoso as a good CallFire alternative because it offers a robust contact center solution, featuring advanced outbound and inbound call management and reporting capabilities.
Convoso Features
Automated SMS messaging
Two-way texting
Automated SMS Messaging
Automated messaging simplifies user communication by allowing the creation of smart triggers to automatically send text messages based on various criteria, such as call count, call outcomes, or lead record.
Two-Way Texting
Convoso's 2-way texting provides users with a practical means of engaging in 2-way text-based communication. It enables users to have real-time conversations with customers, prospects, or contacts via text messages.
Pricing
Convoso has no pricing information on its website.

Alternative #6: Aircall
Aircall is a cloud-based phone system and call center software designed to streamline communication for businesses.
Aircall is best suited for businesses with remote or distributed teams, customer support or sales departments, and a need for efficient call management to enhance customer interactions.
Aircall Features
Business text messaging
Call routing
Interactive voice response
Business Text Messaging
THE business SMS feature provides users a convenient platform for sending and receiving text messages. But be aware that Aircall currently offers this service for domestic messages exclusively within the US, Canada, the UK, France, or Australia, limiting its international reach.
Call Routing
Aircall's call routing feature lets users create custom call flows for continuous service during and after business hours. It adapts to holidays, peak times, and downtime, minimizing missed calls and ensuring a consistent customer experience.
Interactive Voice Response
With the Interactive Voice Response (IVR) feature, companies can create a personalized call experience by customizing messages and waiting music. They can choose from a selection of music, use text-to-speech options, or upload custom audio files to direct callers to the right department.
Pricing
For users in the US, the basic plan starts at $120 and covers 3 licenses/users. With this plan, you can make as many inbound and internal calls as you want, except for toll-free calls, which aren't included.

Alternative #7: CloudTalk
CloudTalk is a call center software and business phone system designed to facilitate communication between companies and their customers. CloudTalk is typically used by customer support and sales teams to manage their call center operations.
Although it's a call center solution, CloudTalk also allows companies to send their customers text messages, reminders, alerts, and notifications.
CloudTalk Features
Bulk SMS
Automated workflows
Bulk SMS
CloudTalk's bulk messaging feature provides users with a solution for sending messages to multiple recipients simultaneously. It's a useful tool for businesses looking to send important information, updates, or announcements to a broader audience.
Automated Workflows 
Automated workflows allow users to create customized triggers for a range of text messages, including notifications related to shipping, payment reminders, and more. This functionality simplifies the process of automating communication within business operations.
Pricing
CloudTalk pricing starts from $25/user/month, with unlimited inbound and intracompany calls.

Alternative #8: Sarv
Sarv is a cloud telephony solution that offers communication tools and services to facilitate seamless business communication, including voice calls, SMS, and more.
Sarv Features
Bulk SMS
List segmentation
Voice broadcasting
Bulk SMS
The bulk SMS feature lets users send a large number of text messages. It simplifies communication with a broad audience, making it useful for sharing notifications, updates, or promotional content.
List Segmentation
List segmentation feature allows users to categorize their contact lists based on specific criteria or attributes. This segmentation capability helps users target their SMS campaigns effectively by sending messages to the right audience segments.
Voice Broadcasting
Voice broadcasting simplifies large-scale communication for users by simultaneously automating the delivery of pre-recorded voice messages to a wide audience. It's an effective means of outreach that streamlines communication efforts.
Pricing
Sarv doesn't provide pricing information on its website.

Alternative #9: CleverTap
CleverTap is a customer engagement and retention platform developed to help businesses optimize their interactions with customers across various digital channels, including SMS, push notifications, in-app messaging, and email.
CleverTap is a solid CallFire alternative, thanks to its robust customer engagement capabilities, which enable businesses to not only send messages but also analyze user behavior and improve their marketing efforts for better customer retention.
CleverTap Features
Scheduled SMS
Triggered SMS campaigns
Scheduled SMS
With scheduled SMS campaigns companies can optimize their messaging strategy by scheduling SMS campaigns based on user behavior. This functionality enables businesses to send messages at the most opportune times, ensuring they reach their audience when engagement is likely highest.
Triggered SMS Campaigns
Triggered SMS campaigns allow users to engage their audience with timely and relevant SMS messages based on specific customer actions. This feature sets up automated SMS messages to be sent when a customer performs a predefined action, such as signing up and purchasing.
Pricing
CleverTap plans start from $75/month, but they don't mention rates on the website for sending SMS campaigns.

Alternative #10: Broadvoice
Broadvoice is a telecommunications company offering voice and messaging services, such as VoIP phone service, virtual phone numbers, and SMS functionality.
If you're looking for a comprehensive suite of communication services, then Broadvoice may be a good choice for you over CallFire.
Broadvoice Features
Scheduled SMS
Contact upload
Scheduled SMS
Broadvoice allows users to schedule SMS campaigns and automate outbound text messages, making reaching out to groups or individuals at specific times easy. This feature enhances user convenience by ensuring timely communication.
Contact Upload
Contact upload functionality allows users to conveniently bulk upload contacts using CSV files. This feature simplifies the process of adding and managing contacts
Pricing
Broadvoice's SMS rates start from $0.01/message.
What is the Best CallFire Alternative?
In the comparison table below, you can see the scores for four different aspects of all the mentioned solutions, showcasing how DialMyCalls stands as the best alternative to CallFire.
| Platform | Ease of Use | Customer Support | Other Features | Pricing | Score |
| --- | --- | --- | --- | --- | --- |
| DialMyCalls | 4.8 | 4.7 | 4.7 | 4.7 | 4.7 |
| PhoneBurner | 4.7 | 4.8 | 4.6 | 4.7 | 4.7 |
| Convoso | 4.7 | 4.6 | 4.5 | 4.5 | 4.5 |
| Broadvoice | 4.5 | 4.5 | 4.4 | 4.3 | 4.4 |
| CallHippo | 4.3 | 4.5 | 4.3 | 4.1 | 4.3 |
| CloudTalk | 4.5 | 4.3 | 4.3 | 4.3 | 4.3 |
| CleverTap | 4.3 | 4.4 | 4.5 | 4.1 | 4.3 |
| Aircall | 4.5 | 4.1 | 4.1 | 4.1 | 4.2 |
| Braze | 4.2 | 4.3 | 4.3 | 3.9 | 4.1 |
| Sarv | 4.3 | 4 | 4 | 4.3 | 4.1 |
The above ratings are from Capterra.com.
Consider DialMyCalls for Efficient and Quick Broadcasts
Users enjoy DialMyCalls' ease of use and simplicity of the setup process, which contrasts CallFire's intricate steps. With DialMyCalls, you can set up your broadcasts without the time-consuming complexities.
DialMyCalls pricing plans are tailored to be budget-friendly, making DialMyCalls accessible to small business owners to save costs. Plus, DialMyCalls boasts an intuitive interface, ensuring you don't face the same confusion and steep learning curve experienced with CallFire.
Sign up for DialMyCalls, get 25 free text messages, and enjoy the simplicity of sending broadcasts to your contacts with just a few clicks.