11 Best Everbridge Alternatives in 2023 (Compared)
Posted by Tim Smith in General Post on August 25, 2023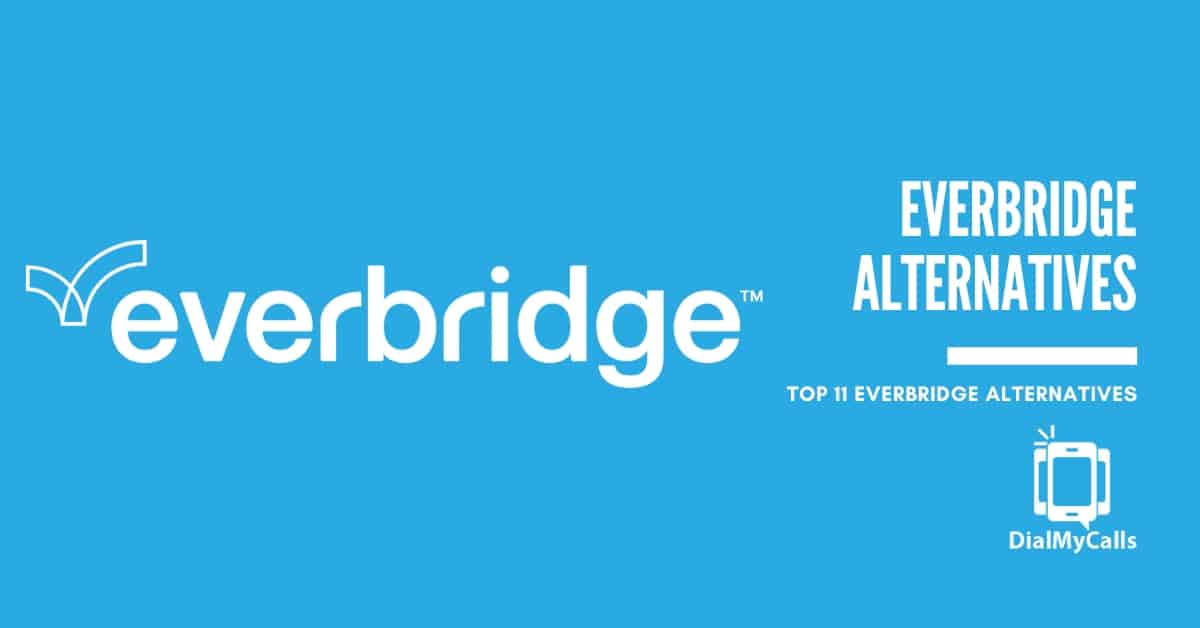 Everbridge, the giant in critical event management and enterprise safety solutions, has set the pace for many mass notification companies.
However, Everbridge comes with some drawbacks. For example, with a vast array of features, Everbridge might be overwhelming for some users, especially if they only need a simple notification system.
One user says Everbridge is not intuitive when picking who to send messages to.
In some cases, there are concerns about the speed of message delivery during peak times or widespread emergency events.
This user says, "One of the issues that we've been dealing with recently and for some time now is that some people don't get the message."
The alternatives in this list have been designed to address some of these pain points experienced by Everbridge users.
For example, using DialMyCalls, you can send messages faster because DialMyCalls has direct connections to the carriers.
We'll provide you with a comprehensive guide to help you decide which platform best suits your organization's needs.
11 Best Everbridge Alternatives in 2023

Alternative #1: DialMyCalls
DialMyCalls is a cloud-based mass notification platform. It helps businesses and organizations send text messages, voice broadcasts, and emails to large groups of people.
And yes, you can send texts, voice broadcasts, and emails all at the same time.
DialMyCalls has mastered the essence of mass communication. See, it's not just about broadcasting a message. It's about ensuring the message reaches the recipients in the quickest time possible.
DialMyCalls has direct connections to the carriers. It also has a high-speed messaging infrastructure. This allows them to send messages faster and reliably than platforms that use rate-limited APIs.
This makes DialMyCalls an exceptional alternative to Everbridge. It also solves the problems of messages not reaching the recipients that users are experiencing when using Everbridge.
DialMyCalls Features
Integrations & API Documentation
DialMyCalls offers an array of integrations with services such as:
AWeber
Calendly
Eventbrite
HubSpot, and many more.
DialMyCalls also offers an API platform for customers to develop custom integrations. Users can effortlessly merge their existing databases and contact lists with the platform. This lets you send phone calls and text messages broadcasts using the DialMyCalls API.
And with API Documentation provided, tech-savvy users or IT departments can develop customized solutions, integrating DialMyCalls into their workflows to best suit their specific needs.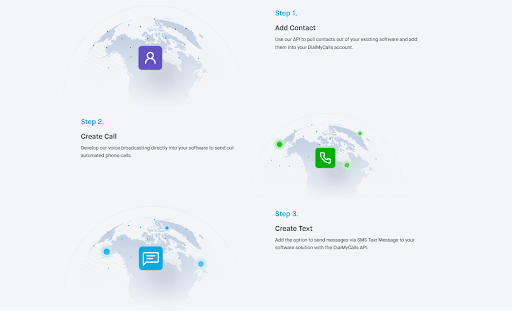 This ensures minimal disruption when migrating to or integrating with the DialMyCalls system.
Access Control System
The access control system of DialMyCalls lets only authorized individuals be able to send broadcasts or access sensitive information.
This feature allows organizations to designate roles and permissions so every member has access only to the tools they need.
Such granularity in control prevents potential misuse, fosters accountability, and enhances the platform's security.
The advanced access control system also offers tailored permission settings for specific contact groups.
Mass Notification Portal with GIS Mapping
Empowering members to manage their notifications is a unique proposition of DialMyCalls.
The mass notification portal lets broadcast recipients opt into alerts based on their preferences, giving them a level of control.
This benefits larger communities, such as cities or schools, where different segments might have varying notification needs.
The GIS Mapping feature further refines this system. Administrators can send alerts to specific geographical regions by drawing on a map. For instance, if there's a water outage in one part of a city, only residents of that area will be notified. This ensures precision and relevance in communication.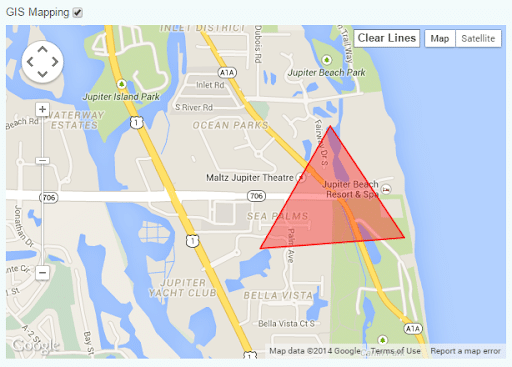 Advanced Mass Email Service
Email remains a dominant mode of communication, but DialMyCalls has enhanced its capabilities to ensure that you get the most out of your email broadcasts.
With features like attachment management and the ability to send HTML emails with variable messaging, you can craft customized, feature-rich emails.
In addition, DialMyCalls offers an email template management system. This helps in consistency and brand alignment across communications.
One standout feature is the custom email domain capability. Instead of recipients seeing a generic address like support@dialmycalls.com, you can use your domains to reinforce brand identity and trust.
Send Advanced HTML Emails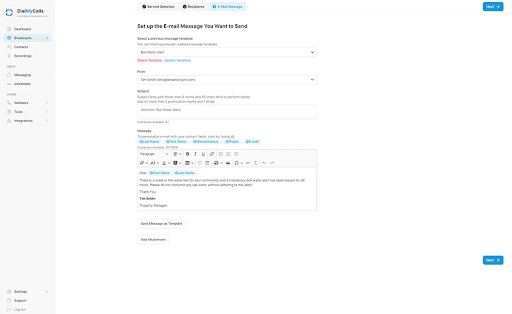 Generic emails often get overlooked. With DialMyCalls' advanced email automation software, you can design visually appealing emails using an integrated WYSIWYG (What You See Is What You Get) editor.
You can integrate multimedia, design newsletters, or craft promotional emails.
Your emails will not just be sent but also read and engaged with.
DialMyCalls is designed with modern needs in mind, which makes it the best Everbridge alternative.
Pricing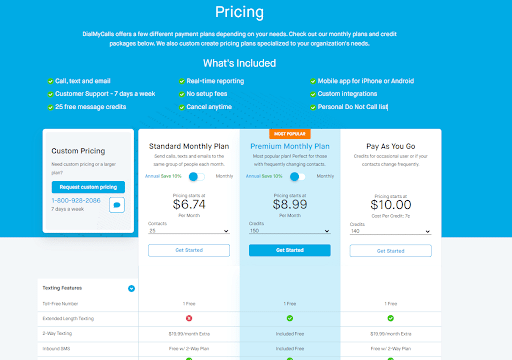 DialMyCalls has a variety of pricing — monthly plans, credit packages, and custom plans.
Custom Pricing: Contact DialMyCalls at 1-800-928-2086 to get a tailored quote.
Standard Monthly Plan: This plan starts at $6.74 per month (annual).
Premium Monthly Plan: Starts at $8.99 per month (annual) and is DialMyCalls' most popular plan. Ideals for users with frequently changing contacts.
Pay As You Go Credits: This option starts at $10.00. Ideal for occasional users or those that change contacts frequently. The cost per credit is 7¢.

Alternative #2: DeskAlerts
DeskAlerts is a formidable rival to Everbridge in the critical event management space. It offers a robust suite of features that might tip the scale in its favor for many organizations.
With a keen emphasis on user-centric design and scalability, DeskAlerts addresses the communication needs of modern enterprises.
DeskAlerts promise a 100% open rate guarantee.
Features
Multi-Domain Support
Many organizations manage multiple domains to reflect various branches, subsidiaries, or regional offices.
DeskAlerts' multi-domain support allows businesses to manage and send notifications across various domains from a single unified platform.
This feature streamlines the communication process and ensures consistent messages are relayed across the board, regardless of the domain.
Access to REST API
Although only available in the Full Plan, the platform's REST API access is a game-changer for businesses looking to integrate DeskAlerts with their existing systems or develop custom applications.
It offers a gateway to extend the capabilities of DeskAlerts. This level of accessibility lets businesses mold the software to their unique requirements rather than adjusting their workflows to fit the software.
Active Directory Integration
Integration with Active Directory (AD) streamlines user management and authentication.
By connecting DeskAlerts to an organization's AD, user data is automatically synchronized.
So any updates in the AD — adding new employees or updating existing user information — are instantly reflected in DeskAlerts.
Beyond just ease of user management, this integration enhances security. It leverages the robust authentication protocols of AD, ensuring that only authorized individuals can access and use the platform.
Pricing
DeskAlerts has three pricing plans:
Essential: Has the most popular features
Full: Has all available features.
Lite: This package lets you build your own communications toolset.
For pricing, contact DeskAlerts to get a quote.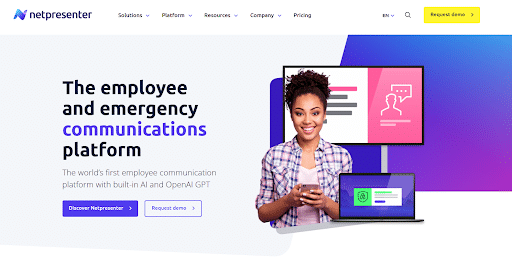 Alternative #3: Netpresenter
Netpresenter is an employee communication and emergency notification platform with built-in AI and OpenAI GPT. It helps organizations reach their employees with important messages, regardless of location or device.
It's an alternative to Everbridge as it stands out for its innovative approach of integrating leading-edge technologies such as AI and OpenAI's GPT.
Features
AI Assistant
Imagine being able to input raw content from sources like Microsoft Teams and SharePoint and having an AI system analyze and generate compelling headlines tailored to individual employee needs.
The AI Assistant is also trained to suggest suitable visuals that complement your messages, ensuring they're engaging and memorable.
Interactive Polling
Effective communication is as much about listening as it is about conveying. The polls feature in Netpresenter offers an immersive way to understand the opinions and feelings of your workforce.
You can use structured multiple-choice questions to emotive emoji and star ratings to capture feedback in diverse ways.
And to combat the common challenge of low response rates, Netpresenter introduces attention-enhancing mechanisms and instant notifications.
Pulse Surveys
Pulse Surveys are a regular diagnostic tool to assess various facets of your organization.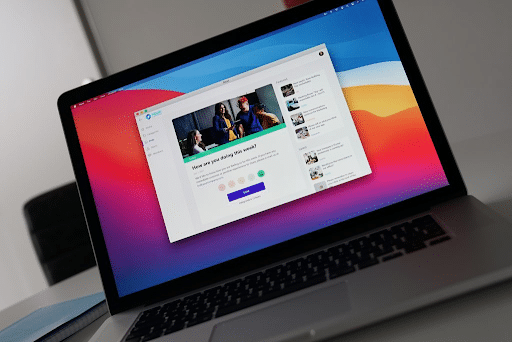 They delve into areas such as employee contentment, the effectiveness of work culture, well-being, and other vital areas that influence the organization's pulse.
This feature is all about customizability. You can set regular survey intervals to ensure consistency in keeping track.
Coupled with in-depth analytics, these surveys gather feedback and provide a chronological view of how sentiments and perceptions shift over time.
Pricing
Netpresenter has four plans:
Standard: This plan has powerful features for effective employee communication
Professional: The most popular plan with automation. You can also integrate with your already existing tools.
Enterprise: Best for emergency broadcasting. The plan also includes alerts.
Digital Signage: Ideal for corporate Digital Signage solutions — TV screens and workplaces
Contact Netpresenter to get pricing for these plans.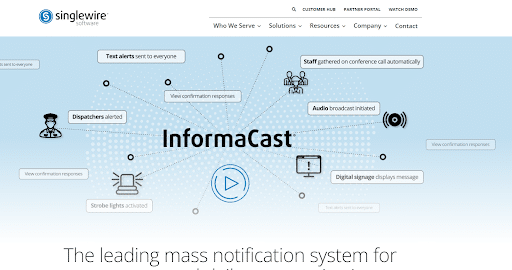 Alternative #4: InformaCast
InformaCast, developed by Singlewire Software, is designed to provide emergency and daily communications through a single platform.
InformaCast sends voice notifications, texts, or visual alerts to technology near a person. Let's say a person is near a landline and not their mobile phone; InformaCast will send an alert to that landline.
This allows organizations to respond to emergencies quickly and effectively.
Features
Panic Buttons
Panic buttons assure you of immediate help accessible with just a click.
Through InformaCast's web interface, system administrators can set up mobile panic buttons. These buttons then appear directly on the intended users' mobile devices.
And for those who might not always have their phones at hand, InformaCast also offers wearable panic buttons and devices.
Paging System: Effective Communication in Real-time
InformaCast's IP paging system feature ensures your voice is heard when it matters most. The system broadcasts live or pre-recorded audio messages throughout your establishment's speakers.
InformaCast also transforms regular desk phones into broadcasting speakers so that you can reach everyone.
In times of urgency, InformaCast's Paging System offers an assurance that your message will resound clearly and quickly.
Active Shooter Alert System
InformaCast's Active Shooter Alert System is designed to offer fast responsiveness.
Messages, both audio, and text, are dispatched intrusively. Both on-site devices and mobile gadgets receive these alerts, ensuring blanket coverage.
Another significant feature is its capability to monitor 911 calls made within the establishment, granting administrators a real-time alert system.
Pricing
InformaCast has three pricing plans:
InformaCast Fusion: $10.22 per user annually: 1000-2,450 users: For mobile and on-premises devices.
InformaCast Mobile: $4.50 per user annually: Notifications for mobile devices.
InformaCast Advanced: $9.47 per user annually: For on-premises mass notification.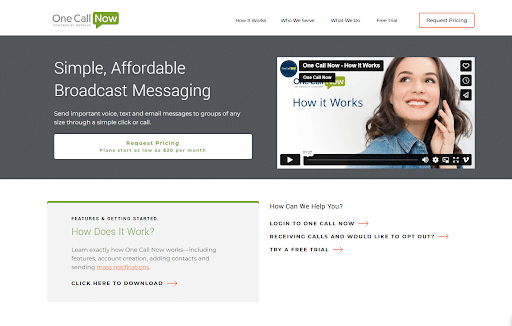 Alternative #5: One Call Now
One Call Now emphasizes simplicity (Send important voice, text, and email messages through a simple click or call).
Its primary focus is ensuring that organizations, regardless of size or domain, can send out critical messages efficiently to all their members.
This has positioned One Call Now as an attractive alternative to Everbridge, especially for entities that desire simplicity, effectiveness, and affordability.
Also, when comparing the quality of ongoing product support, One Call Now is better than Everbridge.
Features
Real-Time Reporting
One Call Now lets you monitor your messages' progress in real-time.
When your message is on its way, the platform provides ongoing updates. You can see who has received your message, who hasn't, and even get insights from polling feedback.
Plus, they alert you immediately if there are any issues like incorrect phone numbers.
Unlimited Messaging
One of the standout features of One Call Now is its unlimited messaging. With this affordable service, you can send as many calls, texts, push notifications, and emails as you need.
You pay a single annual fee for this service.
There are no extra charges for individual calls or long-distance ones. This is valuable for organizations with frequent communications or unforeseeable spikes in messaging needs.
Import Contacts
Getting started with new platforms often means hours of tedious data entry.
But One Call Now understands you probably already have a contact list maintained elsewhere.
You can import these contacts in a simple CSV file, a spreadsheet, or even within established database programs like Salesforce or Outlook.
Pricing
One Call Now plans start at $20 per month.
However, One Call Now requires you to request a quote to get pricing that fits you best.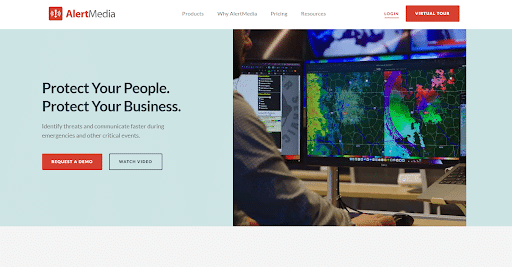 Alternative #6: AlertMedia
AlertMedia helps organizations send their employees emergency notifications, routine communications, and location-based alerts.
One of the standout features of AlertMedia is its ability to connect across various channels — a quick text, a voice message, an email, or even a push notification via their dedicated app.
AlertMedia is easier to use, set up, and deploy than Everbridge.
Features
Flexible Delivery Settings
AlertMedia doesn't limit you to just one way of sending out your crucial notifications.
You can blast a message to everyone across all channels or send it out in a specific order until someone receives it.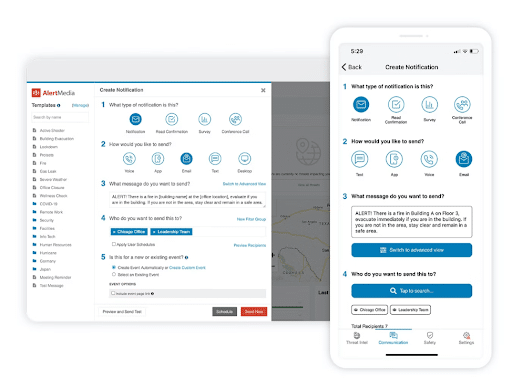 If someone missed your message the first time, AlertMedia will automatically try again to resend the message.
Integrated Global Threat Intelligence
AlertMedia helps you stay proactive. With its advanced threat intelligence, potential risks to your team come to light instantly.
This isn't some broad, vague update. It's precise and tailored, alerting you about threats impacting your team's location.
Instead of general alerts that might or might not concern you, AlertMedia provides warnings directly related to where your team members are.
Two-Way Communication
When you send out alerts, you're not just hoping they're seen. The platform's two-way feature lets you receive real-time feedback, so you know exactly who's safe and who needs assistance.
And if a member wants to raise a flag or share an update, AlertMedia ensures you're always fully connected and informed with your team.
You can check if your team members are safe by reading confirmations and surveys.
Pricing
AlertMedia offers custom pricing. This is based on:
Your audience size
Number of locations
Other variables specific to your organization
Contact them for custom pricing.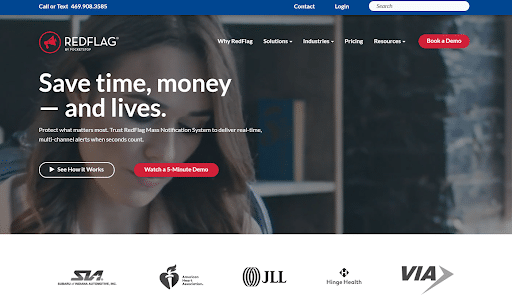 Alternative #7: RedFlag/PocketStop
RedFlag understands that one size doesn't fit all. That's why it's designed to send targeted messages to vast audiences, select groups, or even specific individuals.
The precision ensures that your message finds the right ears without clutter.
RedFlag also offers two-way communication. You can send messages, and your recipients have the flexibility to choose how they receive these notifications. Additionally, they can engage in the conversation, providing their alerts and crucial updates.
This tool also offers enterprise-level technology to serve organizations with even 200,000 employees.
Features
Location-Based Notifications
With RedFlag, you can send out warnings tailored to specific zones. This means you can target messages based on where someone is right now.
So, only the employees in harm's way are alerted, ensuring they're safe without raising unnecessary alarms for others.
Polls and Feedback
How do you gauge reactions or check in during a crisis? RedFlag's polling function.
By sending out quick questions, you can get instant feedback.
And with the acknowledgment tool, seeing who's received and read your messages is straightforward. These features allow you to keep a finger on the pulse of your team's well-being and needs.
Simplified Contact Management
Handling and updating contact details can be a chore. The RedFlag system lets you efficiently manage all your contacts without juggling multiple lists or files.
It's even easier if you've got an Azure directory.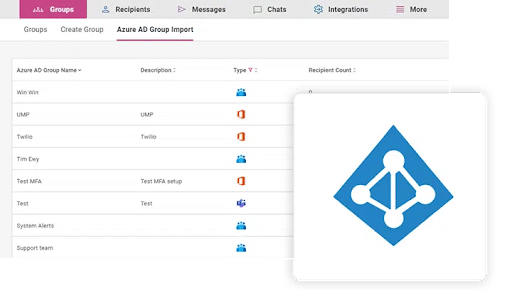 RedFlag works smoothly with Azure Directory. This means any changes you make in Azure are automatically reflected in RedFlag. You won't need to be a tech whiz to set it up, and you'll have more time to focus on what matters — communicating effectively with your team.
In essence, RedFlag prioritizes making your communication processes as streamlined and targeted as possible, ensuring you're always in touch with your team.
Pricing
RedFlag has three plans, but you can also get custom pricing.
Emergency Starter: $249 per month: You get unlimited messages for emergencies and text and email notifications.
Emergency Business: $289 per month: All the features in the starter plan plus voice, app, data syncing, and geofencing.
Emergency + Informational: $329 monthly: This plan lets you use RedFlag for emergency and informational purposes. You also get a full set of features.
RedFlag also gives you Microsoft and Two-way chat add-ons.

Alternative #8: SimpleTexting
SimpleTexting is a text-only marketing platform that lets you send SMS marketing campaigns or engage in 1-on-1 conversations with your customers.
The user-friendly platform helps you connect with your audience to drive sales.
SimpleTexting also supports MMS messaging, so you can send images, videos, and other multimedia content to your recipients. This is a great way to add a personal touch to your communications or to make your messages more visually appealing.
Features
Advanced Link Tracking

SimpleTexting doesn't just let you track who clicks your links. It lets you dive deep into your subscribers' behavior.
So, if John clicks a link about a shoe sale but Mary doesn't, you'll know. Next time, you can send John more shoe deals and maybe offer Mary something different.
Tailored Messaging with Drip Campaigns
Say you send out a text about a new coffee flavor. If some people click the link to learn more, you can automatically send them another text later with a special coffee discount.
If others ignore it, maybe next time, you offer them a tea special. This is like having a chat where you remember what someone likes and offer them more of it.
Web Sign-Up for SMS
SimpleTexting gives you a sign-up form you can put on your website.
So, when people visit your site and want to hear more from you, they can easily add their number.
Personal Touches in Mass Messages
With their Custom Fields feature, you can send a big group text but make each slightly different.
Like saying, "Hey John!" in one text and "Hi Mary!" in another, all without writing each text separately.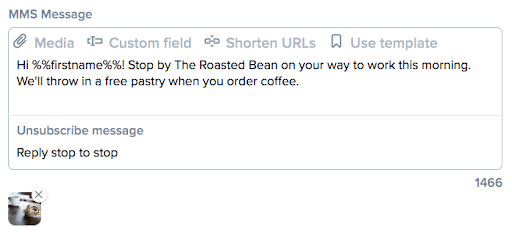 Pricing
SimpleTexting offers pricing plans based on the number of text messages you send monthly.
The price ranges from $29 monthly for 500 texts to $899 per month for 50,000 credits.
You can also request a custom plan.

Alternative #9: CallingPost
CallingPost platform allows users to send group notifications through phone calls (pre-recorded), texts, and emails.
It serves organizations such as churches, schools, healthcare, universities, and businesses.
Features
Smart Voicemail System
You know how sometimes you call someone, and they don't pick up, so it goes to voicemail? CallingPost has a neat trick for that.
The feature is called Advanced Voicemail Detection.
If it detects that the call has gone to voicemail, it knows how to leave your message perfectly so that the receiver doesn't miss out on the information.
Join with a Simple Keyword
With CallingPost's SMS Keywords; all a person has to do is text a particular word you've chosen to CallingPost.
When they send it, they're instantly added to your group. They'll get all your phone calls and text messages from then on. It's a super easy way for people to stay connected with you and get all the latest updates.
Press "0" to Chat
Imagine if the person wants to talk to you immediately after listening to a message. With CallingPost's Live Answer Transfer, they can.
When they pick up your call and listen to your message, they can press "0" on their phone.
If they do, they'll get transferred straight to a phone number you've chosen, maybe your personal or office number. It's like giving them a direct line to you if they have questions or want to chat.
Pricing
CallingPost has five pricing plans:
Free Unlimited: $0.00: You can broadcast to 10 contacts only.
Premium Unlimited: $7.98 per month: Up to 15 contacts – You get 120 seconds of record time and 320 characters for a text message.
Standard Unlimited: $5.98 monthly: 90 seconds record time and 240 characters message length.
Essentials Unlimited: $4.98 monthly: 45 seconds record time and 160 characters message length.
Pay-As-You-Go: Starts at $17.24 per month for 250 credits.

Alternative #10: Attentive
Attentive is an SMS marketing platform that uses AI for message creation and automated campaigns to take the manual work out of planning and sending SMS campaigns.
As a good alternative to EZ Texting, Attentive is best suited for eCommerce businesses looking to engage and convert customers through personalized SMS marketing campaigns.
Attentive Features
Audience segmentation
AI assistant
Automated campaigns
Audience Segmentation
With Attentive, you can create highly personalized messages through predictive targeting and precise segmentation. This involves using intelligent algorithms to forecast the most effective content copy and optimal sending times for each specific audience.
AI Assistant
The Attentive platform incorporates predictive and generative AI capabilities. Its copy assistant for SMS (beta) looks at Attentive's historical performance data to generate high-performing copy tailored for any audience or goal you want to reach.
Automated Campaigns
Automated campaign (beta) is a feature that uses anonymized data gathered from successful marketing instances among Attentive customers. This feature generates customer segments and determines the optimal timing for sending messages.
Pricing
Attentive doesn't provide pricing information on its website.

Alternative #11: Rave Alert
The Rave Alert system is trusted by governments, businesses, educational institutions, and organizations.
What makes it stand out to be an alternative to Everbridge? It's got the approval of FedRAMP, which means it meets high safety standards.
Rave Alert can send out 4,000 text messages every second. You can also send messages in 60+ languages.
Features
Notifier for Desktop
It lets you get important notifications directly on your computer screen. No need to constantly check your phone or email.
When there's an important update or message, it pops up right there on your desktop, ensuring you're always in the loop.
Text to Opt-In
Say you're a parent attending a school event or a sports enthusiast at a big game. All you need to do is send a text with a specific keyword or a short code, and you're signed up to receive alerts.
Also, you don't get added to any permanent list. These alerts are like short-term subscriptions.
Once the timeframe for the alerts expires, you won't get any more notifications. It's perfect for temporary guests who need info just for a while.
Automatic Polling Module
You send a question through text, email, or voice call. People respond, and their answers are neatly collected and organized into reports. It's real-time feedback at its best.
This tool helps you understand what's happening and lets you take necessary steps based on the feedback.
Pricing
Rave Alert has not provided any pricing details.
What Is the Best Everbridge Alternative?
We've looked closely at some popular alternatives to Everbridge to help you pick the best.
Here's a simple scorecard we made, looking at things like price, how easy they are to use, the kind of help they offer, and the features you get:
| Platform | Ease of Use | Customer Support | Other Features | Pricing | Score |
| --- | --- | --- | --- | --- | --- |
| DialMyCalls | 4.8 | 4.7 | 4.7 | 4.7 | 4.7 |
| DeskAlerts | 4.6 | 5.0 | 4.7 | 4.6 | 4.7 |
| Netpresenter | 4.7 | 4.8 | 4.6 | 4.7 | 4.7 |
| Informacast | 4.3 | 5.0 | 4.8 | 4.8 | 4.7 |
| AlertMedia | 4.7 | 4.7 | 4.8 | 4.7 | 4.7 |
| RedFlag | 4.8 | 4.6 | 4.6 | 4.8 | 4.7 |
| Attentive | 4.7 | 4.8 | 4.5 | 4.5 | 4.6 |
| SimpleTexting | 4.7 | 4.8 | 4.5 | 4.5 | 4.6 |
| Rave Alert | 4.5 | 4.7 | 4.5 | 4.5 | 4.5 |
| One Call Now | 4.6 | 4.3 | 4.4 | 4.3 | 4.4 |
| CallingPost | 4.5 | 4.5 | 4.4 | 4.5 | 4.4 |
All ratings data in the table above is from Capterra.com.
Send Your Messages and Broadcast Fast With DialMyCalls
DialMyCalls is intuitive for all. The onboarding process is seamless. A straightforward sign-up form and, before you know it, you're ready to launch your first campaign in minutes.
Also, DialMyCalls gets your messages and voice broadcasts out the quickest. They offer flexible non-restrictive contracts. You can cancel the contract at any time, unlike most of the alternatives on the list.
So, if you're after a reliable solution that checks all the boxes, try DialMyCalls.