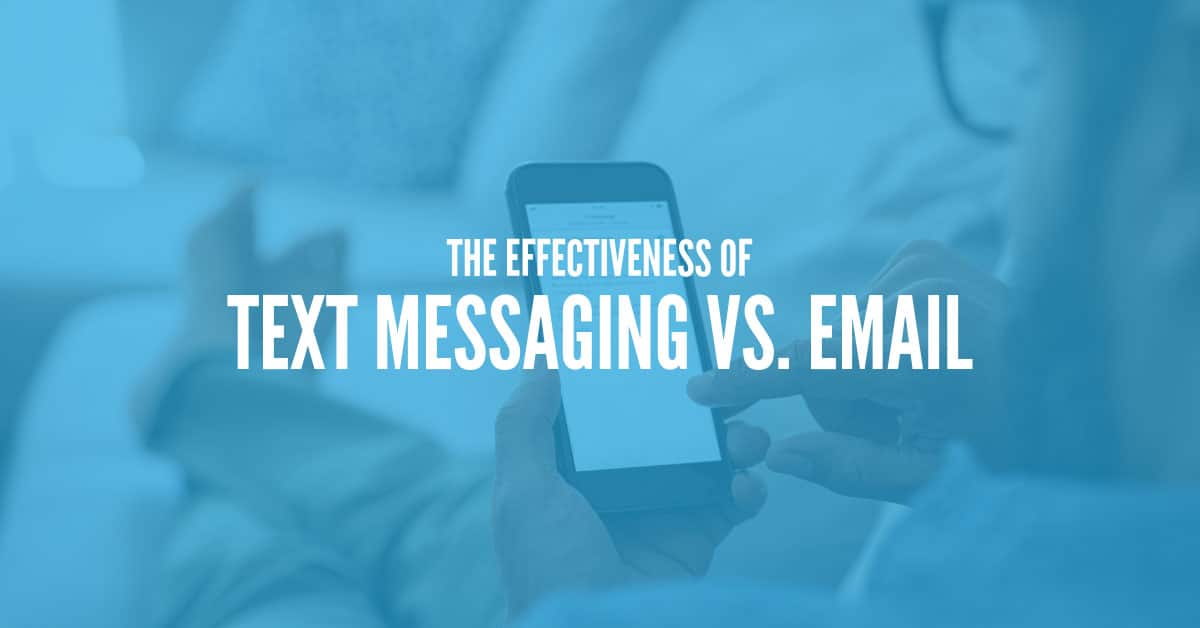 A single electronic note in a crowded room can make nearly everyone reach toward their pockets in unison. You know the note — the tinny, bell-like toll or the lower, sustained buzz of a notification.
These sounds are so widespread that no one in the room would be confused if their phone showed no such notification. After all, almost everyone has a phone. It's up to businesses to determine how they're using them.
Because of this prevalence, all communication has the potential to bring customers, clients, businesses, and employees closer than ever before. With each step, people become easier and easier to reach. But to close this communication gap, organizations, businesses, and individuals have to keep up with the latest trends. One of the important communication trends is the growing use of texting over email.
Advantages of Text Messaging
In this day and age, both desktop and laptop computers are fairly widespread. So why does it matter that people are contacted by phone in the first place?
Americans have access to their phones almost constantly. While someone may use a computer at work for eight hours a day, they aren't constantly staring at the screen. People probably don't lug their computers to the cafeteria, the copy room, or the bathroom. But their phones are likely right at their sides. And when they go home at the end of the day, their phone is probably right there with them — in the car, at the dinner table, and right beside their bed.
At the same time, contacting people via phone greatly raises the chance that someone sees your message — and what's more, has the time to reply appropriately. 95% percent of Americans own cell phones, and that percentage is on the rise. In fact, phone use is on the rise at the expense of all other entertainment media, including TV, radio, print, and desktop computers.
We should be looking to communicate in a way that will be received by the greatest number of people or in as simple a way possible for those we're aiming to communicate with. With communication forms supported by cellphones, we can do just that.
What Are the Benefits of Texting Vs. Email?
You may be wondering why texting is replacing email now that email is so accessible from most smartphones. Well, there are many reasons why texting is the new email.
Accessibility. While email and texting are equally accessible on smartphones, only texting is available for those with cell phones without smart capabilities. While 95% of Americans have cell phones, only 77% of those are smartphones. This means that 18% of cell phone users can't check email on their phone – any emails they need immediately would have to be rerouted to their SMS phone number. You can also receive text messages without an internet connection.
Visibility. Another benefit to texting instead of emailing is that there's no chance that your text message will end up in the recipient's junk mail or SPAM folder. Especially from a business perspective, this can be very problematic because you likely aren't contacting the client or customer in another way to tell them to expect the email. With SMS, the message will simply show up with all the other ones.
Simplicity. Ever been caught up in a long email thread where someone hits "reply all" in the office? Ever seen an email about a sale at your favorite store just one day too late? Ever had to read a three-paragraph email just to find the date of an event? So many of the common problems with emails are solved or made easier using texting. With SMS text messaging, the sender has to be brief (less than 157 characters). Each recipient can respond only to the sender, or in a group message, add their response without re-sending every message that came before theirs. And, every recipient should receive the information at about the same time.
Opportunity for more. Keywords, links, and other information is easy to place into SMS broadcasts. This allows recipients to opt into more info only if it applies to them. Instead of reading longer emails with a lot of information, recipients can "reply SALES for more information," "click the link below to RSVP," or "call 555-555-5567 to talk to a representative." The text message itself isn't the end of the road, and you can easily provide action steps that they can follow wherever they are. *Below is a sample SMS broadcast and what it would look like for your recipients:
Click the link below to RSVP for this special event at church this weekend. [link to click]
Send Mass Text Messages From a Computer
DialMyCalls allows you to send SMS text messages from a computer. What's more, you can track responses, success rate, and more from a user-friendly online dashboard. The SMS broadcasting service can save full contact lists so you don't need to manually enter numbers each time you send a mass text message, and you can send messages through an easy-to-remember Long Code SMS Vanity Number.
Additionally, you can schedule text messages to be sent at a later time. You can also use third-party integrations to personalize each text message to include the recipient's name. This can be important in catching the recipient's interest.
With services such as DialMyCalls, you can notify your congregation of new prayer requests, employees about casual Friday, or real estate clients on open houses scheduled in their area. Recipients will receive information quickly, succinctly, and right to their hand.
What Does It Mean For Us?
Next time you hear that all-too-familiar ding in a crowded room, take it as a reminder of the accessibility, visibility, and simplicity inherent to SMS text messaging communication. To inform recipients succinctly, clearly, and in a timely manner, texting just makes the most sense. Texting also allows for replies to be collected, recorded, and analyzed, better preparing you to respond to outside input.
If you're interested in seeing how mass text messaging services can transform your communication with employees, clients, or customers, contact us today.