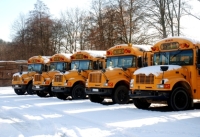 Use the power of DialMyCalls to send out thousands of automated snow day phone calls with the click of a button.
Snow days are critical for students as well as for the parents, particularly during extreme winter weather conditions. Problems arise when many parents or guardians are unable to get an announcement, notification or alert message, which should be done by school authorities. When alerts about the weather that are not received by the people affected by these conditions, this results to confusion, panic, unpreparedness, anxieties and sometimes cases of accidents. DialMyCalls has changed all of that by offering an extremely easy-to-use and effective mass message notification system.
What Are Automated Snow Day Phone Calls?
The use of snow day phone calls as a school massive weather notification system through voice/text messages greatly helps to inform, alert and advise school members, whether it be students and their parents, faculties or other school staff, on the occurrence of a snow day. This is an efficient and extensive safety communication system covering and fully informing instantly an entire school, whole district and neighboring communities. Indeed, DialMyCalls is a life-saving system in case of urgent situations and a great help and relief to parents or guardians in figuring out what to do. Through this automated calling system, they can immediately become aware of what is going on, make some adjustments and preparations and know what to do in case of an emergency. It is a must for the school system to have an updated contact information especially from students and parents or guardians. These can be office telephone numbers, cellular phone numbers, emergency telephone numbers and home telephone numbers.
Automated snow day phone calls are pre-recorded voice / text message notifications from a district superintendent and must have real-time, accurate and updated information. Other than snow day's, DialMyCalls can also be used for various other school related notifications such as: a one-hour to two-hour delayed school opening, one-hour to two-hour delayed pick up time at the bus stop, after-school activities cancellation and rescheduling, early or late dismissal of students, one-hour to two-hour early or late bus arrival at the bus stop after dismissal, closure of school or an entire district of schools for a certain snow day or for the following day or days particularly for an extremely hazardous snow weather condition like zero road visibility.
Send Automated School Closing Alerts
DialMyCalls offers an emergency alert system that is perfect for school closings. Educational leaders can quickly and efficiently send out snow day calls to their faculty, students and parents, alerting them of school closings – safety is a priority when it comes to extreme winter weather.
Signing up for an account with DialMyCalls is free and only takes a few minutes. Pre-record a message for when there are school closings in your area and send them out to all of your faculty, students and parents in minutes. Don't be caught off guard this Winter, set up an emergency alert system to send out snow day calls for your school today!
*Teachers and school guidance counselors will receive a 10% discount on all of our credit packages and monthly plans.