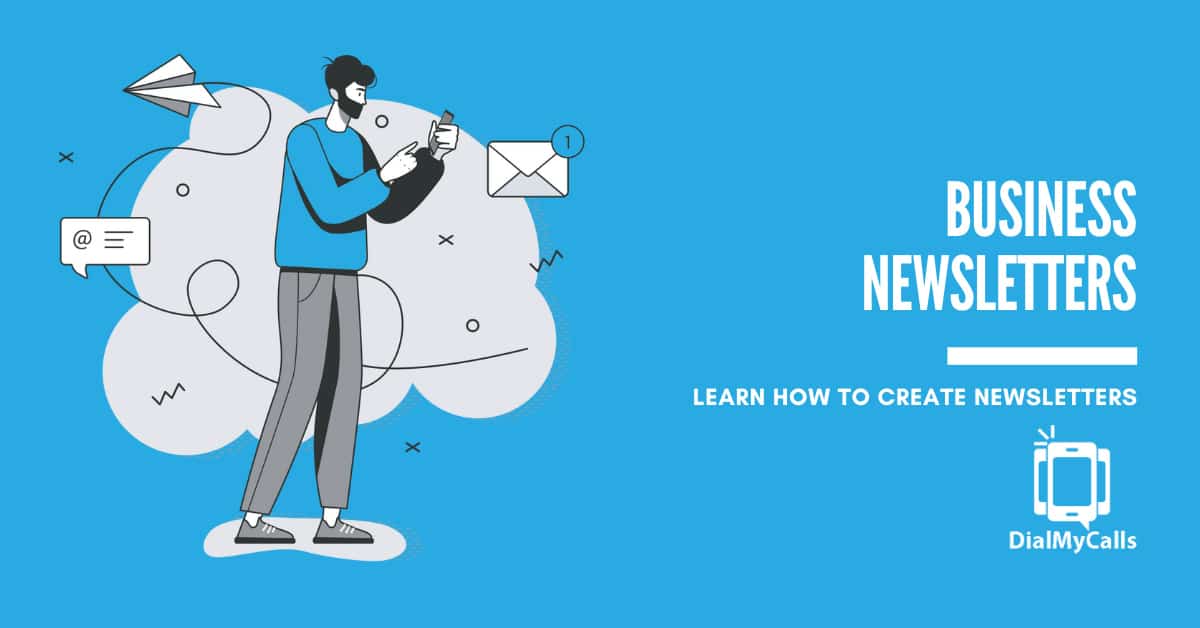 Newsletters are one of the best ways to stay in touch with your customers and keep them up to date on your latest products and services. They're also a great way to build better relationships with your audience and increase loyalty among your customer base.
Here, we'll discuss what newsletters are, why they're essential for businesses and provide some expert tips on how to start a newsletter.
What Is a Newsletter?
A newsletter is any communication regularly sent to an individual or group. Usually, it contains information about your company, products, and services. Newsletters can be sent electronically (via email), printed, or even posted online.
In today's age, even though printed newsletters are still around, most people send their newsletters in the form of an email. This makes it easier for companies and organizations to send their newsletter to their entire audience in a matter of seconds.
In fact, most newsletters are often part of an email marketing campaign. A study done by Omnisend, an email marketing platform, found that for every $1 spent by companies, they could expect a return of $40.
However, your organization doesn't have to use email newsletters to market products or services. Learning how to start a newsletter is especially important for non-profit organizations focused on the well-being of the audience it serves. For example, a weather tracking organization can use an email newsletter to inform the public of severe weather events.
Newsletters are also a great way to keep your audience informed about your organization's latest news and information. So the answer to 'what is a newsletter?' might actually be broader than you initially thought.
How to Start a Newsletter
You don't have to be an expert marketer with years of experience to create a newsletter. The process mainly runs itself once you put in the initial effort. The steps below will guide you every step of the way.
Set clear goals. Your newsletter process will grow more difficult if you don't provide a clear set of goals and direction. You need a starting point for your company to measure what success looks like. At first, your goals are likely to be fairly vague, but the more you fine-tune your system, the more focused your goals will become.
Gather subscribers. To run a successful online newsletter, you'll need an audience to reach out to. Build a list of recipients by gathering their email addresses using online forms built on your website. Segmenting your audience based on certain parameters like age or location can also help to increase engagement and retain subscribers in the long term.
Create compelling content. The reason people stick around to read a newsletter is, of course, the content. Make sure each newsletter you send is interesting, informative, and relevant to your audience. Review the feedback data after each newsletter is distributed to track how successful your content engages your readers.
Design and test your email campaigns. Another element of developing a successful email newsletter is designing it to appeal to your audience. Most free software options for newsletter publishing include some element of design. You'll just want to make sure it works seamlessly on all devices.
Launch the campaign and measure results. You won't truly know what changes you need to make to improve the success of your email newsletters if you don't measure the results. Each time you send out a newsletter, review the performance to determine which areas need improvement. The open rate for emails varies by industry but averages out to 21.33% overall.
What to Include in a Newsletter
Deciding on what to include in your business email newsletter will ultimately depend on your type of organization and the purpose of your content. Some newsletters focus on promoting products and services, whereas others tend to focus more on company news and updates.
Here are some of the most common styles of newsletters and the information they usually contain.
Company news and updates
One of the most common types of information to include in a newsletter is company news and updates. This type of newsletter usually focuses on any recent changes, releases, or announcements from the company.
If your organization just partnered with a new company or hired a high-value employee, you could announce it in your newsletter. If your organization is more community-based, you could use the newsletter to inform your subscribers of recent events or upcoming community projects.
Product launches and announcements
The success of your product or service will often depend on your ability to inform and market to your audience. Email newsletters allow you to inform your current and potential customers or clients of upcoming product launches or offers. According to the Annuitas Group, a lead management firm, email is 40% better at converting leads into sales compared with other platforms, like Facebook and Twitter.
Product announcement newsletters are especially important for internet-based B2C businesses as these organizations rely heavily on email newsletter marketing to get their message out. Having a newsletter in place can help ensure that all your subscribers are up to date with the latest products, services, and offers from your business.
Special offers and promotions
Seasonal promotions and offers are often best delivered through email newsletters. You can plan these types of emails in advance to ensure they're sent out when they're still relevant to your audience.
These emails tend to be more promotional, but providing some value can help increase engagement and open rates. A great way to do this is by including a discount code or coupon in your email. This encourages readers to click through, visit your website, and complete a purchase.
Customer stories and testimonials
Has your organization helped someone in the community? Do you have existing customers who have had tremendous results from using your product or service? Customer testimonials are an effective way to engage and build trust with your readers.
Newsletters are the perfect vehicle to inform your audience of your community's great experience with your organization. As opposed to adding testimonials on a website or Facebook, email newsletters will ensure that the entirety of your engaged audience will see the kind words others have to say.
Educational content and resources
Giving your audience a reason to trust your organization will help you retain customers and grow your community. Providing educational content and resources is a great way to establish trust with your audience, and they will see your organization as helpful.
This type of content aims to provide helpful information and resources that your readers can use and share with others. Your newsletter can include blog posts, white papers, case studies, webinars, podcasts, and more.
How to Start and Grow an Email Newsletter List
With no experience, it can seem overwhelming to build an email newsletter from zero to hundreds, if not thousands, of subscribers. But the truth is, once you've built out a system to collect subscribers automatically, the process is fairly straightforward.
You'll need to collect email addresses from your audience if you want to be able to send them a newsletter. There's no better way to do this than setting up an email subscriber form on your website. This form is typically embedded in a sidebar, header, footer, or pop-up window. Offering something your audience wants, like a free eBook or guide to solving a problem, is usually a sufficient exchange for someone's email address. These types of offers are considered to lead magnets, providing value to your readers while also helping you grow your list.
Once you have a system in place to start collecting emails, you can focus on growing your list. Here are a few of the most common methods for growing an email newsletter list:
Make Sure Contacts Opt In
Reaching out to your existing contacts is an important step in building your email list. These contacts are warm leads who have already established a relationship with your brand and are, therefore, more likely to join your mailing list.
With existing contacts, you can leverage the trust you've built over time, meaning they'll be more willing to stay informed about new products, services, special offers, company news, and updates. By actively reaching out to these existing leads, you'll be able to ensure that your business's newsletters are seen by those most likely to be interested in what you offer.
Free Newsletter Templates
Starting a newsletter might seem daunting, but the process is more efficient when you have half the steps already done for you. Starting from a newsletter template to craft your branded emails will help you avoid the time sink of signing up for dozens of email newsletter services and studying what works best.
Use the free templates below to get started with your newsletter today.
Email Newsletter Templates
Most email marketing companies offer some kind of email template support. There, you'll find easily customizable templates for most of the types mentioned in this article.
Here's a list of the most popular email newsletter templates you can use for free:
Google Docs Newsletter Templates
If you decide not to use an email marketing platform, you can still find high-quality newsletter templates for Google Docs. These templates are all free and just need to be downloaded before you can customize and use them.
Here are some of the most popular Google Docs email newsletter templates you can use for free:
Create Your Database, Build Your Newsletter, and Email Your List Today With DialMyCalls!
The all-in-one notification system from DialMyCalls makes it easy to send your emails to your contacts simultaneously. The service quickly converts your text message into an email to your entire audience. Reaching out through multiple points of communication will increase your engagement and the responses from your audience.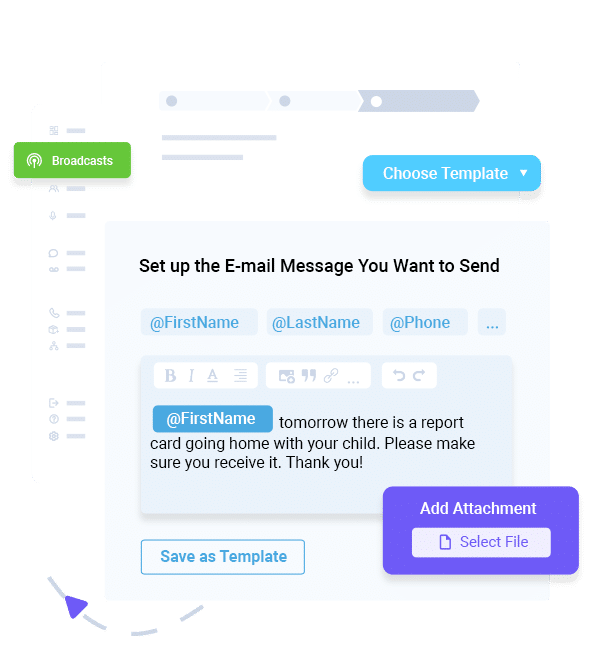 The tool is especially helpful when you need to connect with your audience on a personal level because it allows you to send voice messages to your audience. Recipients will receive a link via email that sends them to a DialMyCalls landing page that holds your voice message.
For quick and easy email creation and broadcasting, sign up with DialMyCalls today for all your email marketing needs.