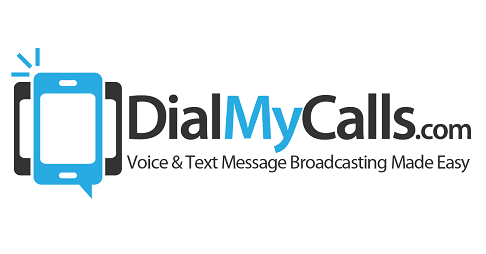 When it comes to important meetings – whether for a church, a homeowner's association (HOA), or even a business, you don't want to leave things up to chance. We all have busy schedules, so it's easy to forget about a meeting if it hasn't crossed your mind in a while, or if you forgot to add it to your calendar.
So, how can you address this issue, and make sure that your meetings are always well-attended? By using DialMyCalls, of course! Quickly and easily send out meeting reminders using SMS text messages.
Not sure how to get started? It's easy. Let's go over the step-by-step process now, and give you all the information you need to send out meeting reminders via SMS messages.
1. Create a Free DialMyCalls Account and Sign In
First things first, you'll need to head to DialMyCalls, and create an account. To create an account, just click the orange "SIGN UP" button in the upper-right of the screen.
Then, just enter your email address, and create a password, then click "CREATE MY ACCOUNT" to confirm your details. Next, just accept the DialMyCalls terms and conditions to continue.
If you're not already signed in, click "LOG IN" on the DialMyCalls homepage, and enter your account details. Then, you'll be good to go.
2. Add Contacts to Your Account
Next, you'll need to start adding contacts to your account, so you can broadcast your messages to the right people. Click "CONTACTS" on the navigation menu. Then, you can manually add contact details, upload an Excel or .CSV list, or use the "Quick Add" Tool to quickly add multiple phone numbers.

Continue adding as many contacts as you want. There is no limit to the number of contacts you can add, and you can arrange them alphabetically, by phone number, email, and more.
3. Start A New Broadcast
To send out a new broadcast to your group members, just click the "NEW BROADCAST" button while logged into DialMyCalls. Then, select "Text" on the following page, and click "Next." Then, you can select individuals – or an entire group of people – who will receive your meeting reminder.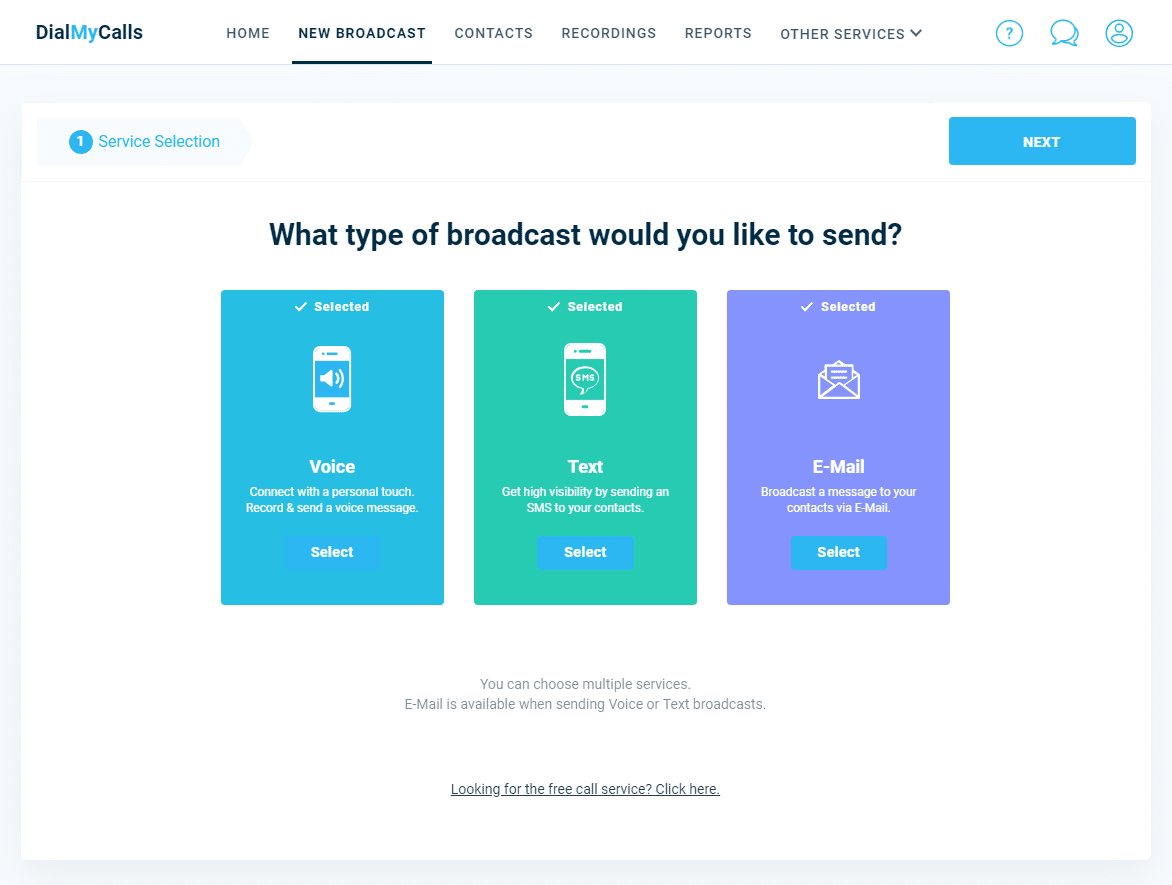 Then, click "NEXT." Choose your SMS keyword from the drop-down menu, and enter the message for your broadcast in the provided text field. This is the message that will be sent to your contacts.
When you've completed your message, just click "Next" to send the message. You'll be able to:
Send your message now
Send your message later
Set up a recurring message (this feature is a premium feature that requires a monthly plan or auto-replenish)
You can also name the broadcast, in case you'd like to use the same message again, and save it for future use.
Finally, click "NEXT" to view your message details, including the number of credits you're using to send the message, its scheduled send time, the number of contacts you're sending the message to, and other details. When you're ready to send your meeting reminder, click "SEND BROADCAST NOW."
4. That's It! You're Done!
With this simple, step-by-step guide, you can easily sign up at DialMyCalls, create a free account, and start sending automated meeting reminders in just a few minutes.
It's free to get started, and since you only pay for the messages you send, DialMyCalls is a great way to send automated text message reminders – without paying for an expensive SMS text messaging service contract.
You can feel free to keep sending more meeting reminders until you run out of free credits. If you need more, check out our pricing page for more information, and to see our options for both monthly pricing, and our per-credit pricing model. You're sure to find an option that's right for you, and your organization.
Our Tips for Sending Meeting Reminders
Want to make sure you use DialMyCalls to send out effective meeting reminders? Here are a few tips you can use to make sure your SMS messages and meeting reminders are effective!
Be brief and to-the-point when writing your message
List the location, date, and time of the meeting clearly
Feel free to include a URL or a link to the event, if applicable
Consider sending a text message the day before the meeting, and another message an hour before the meeting starts, to ensure that attendees are notified multiple times
Think about 2-way texting. With 2-way texting from DialMyCalls, meeting attendees can respond directly to your messages, and ask questions or get clarifications about the meeting. This can help make things go more smoothly, and enhance attendance at your next meeting.
Sending out Meeting Reminders Is Easy With DialMyCalls!
Using DialMyCalls, you can start sending out meeting reminders in under five minutes – and you can try the service out for free. So don't wait. If you're looking for a convenient, affordable solution for sending out meeting reminders, give DialMyCalls a try today. With a simple user interface, affordable pricing and plenty of great features, you're sure to love what we have to offer.