8 Best TextMagic Alternatives in 2023 (Compared)
Posted by Tim Smith in General Post on September 5, 2023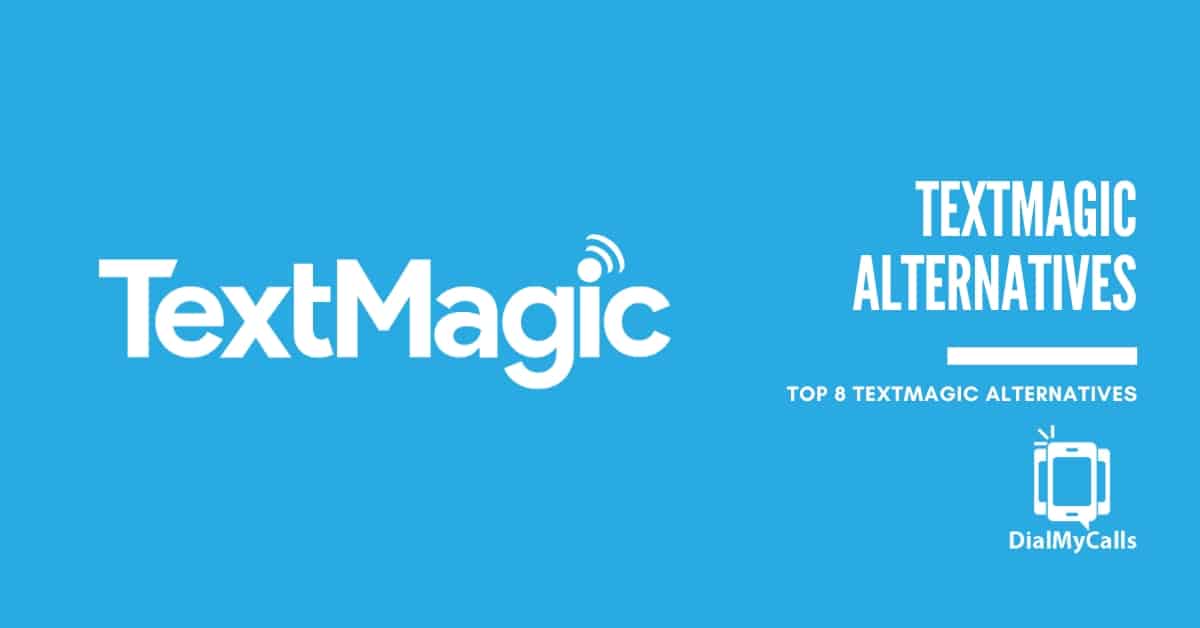 TextMagic is a business text messaging platform that allows companies to connect with their customers via 2-way SMS messages, online texts, and gateway SMS. But TextMagic comes with some noticeable drawbacks.
First, its customer support can be unhelpful at times, potentially leading to frustration when assistance is needed. By contrast, DialMyCalls provides prompt and responsive customer support for any technical assistance you may need.
The second notable drawback of TextMagic is that its integrations are only available through Zapier. While Zapier offers a wide range of connectivity, this approach can introduce an extra layer of complexity and potential limitations compared to native integrations.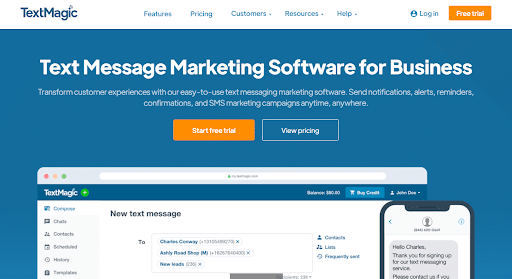 Plus, using TextMagic, you might notice that sometimes there's a bit of a delay when sending and getting messages. DialMyCalls lets you send SMS campaigns quicker since it has direct links to carriers.
The TextMagic alternatives we're listing below aim to fix some of the issues that TextMagic users face. So, keep reading to check out the complete comparisons below and see which alternative to TextMagic is the right fit for your organization.
Best TextMagic Alternatives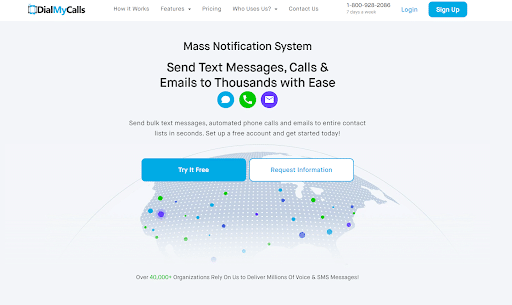 Alternative #1: DialMyCalls
DialMyCalls is a cloud-based mass notification platform. It helps businesses and organizations send text messages, voice broadcasts, and emails to large groups of people.
DialMyCalls has direct connections with telecommunication carriers. The combination of direct connections and a fast messaging system lets users send out messages much quicker and with greater reliability compared to platforms restricted by the number of messages users can send at once.
DialMyCalls Features
Bulk text messaging
Automated calling
2-way texting
API and integrations
Bulk Text Messaging
Mass text messaging lets organizations send one SMS message to thousands of people simultaneously.
Because of the web-based nature of mass texting, organizations have the flexibility to create distinct segments within their audience.
For example, churches that use DialMyCalls send bulk text messages to facilitate prayer requests and communicate announcements, such as weather-related closures.
Similarly, property management firms use DialMyCalls to convey messages regarding overdue rent and emergent situations.
Automated Calling
DialMyCalls simplifies dispatching your automated phone call to your entire contact list. It provides a precise Answering Machine Detection (AMD) system. This system allows users to check call reports to distinguish between calls answered by people and those sent to voicemail.
Our accurate system detects the answering machine's beep and ensures messages are played at the right moment, preventing interruptions.
AccurateAMD is vital for businesses that conduct phone campaigns, as it helps them track successful connections and prevent message cutoffs when leaving voicemails.
DialMyCalls also offers Conference Call Services, which enable meetings over the phone among people in different locations. Participants connect via their phones or devices to engage in a group conversation. The main advantage of conference calls is their ability to unite entire teams for collaborative discussions.
Plus, DialMyCalls offers a call-in number with a PIN code for participants to dial into a shared line. Centralizing conference call details along with other communication tools can enhance your routine interactions with employees and team members, making communication smoother.
2-Way Texting
Another great thing about DialMyCalls is its 2-way SMS feature – it lets you have real-time one-on-one text chats. Whether you're a healthcare facility that needs to schedule patient appointments and receive confirmations or a small business wanting to send appointment reminders and get quick responses, you can jump into text conversations instantly.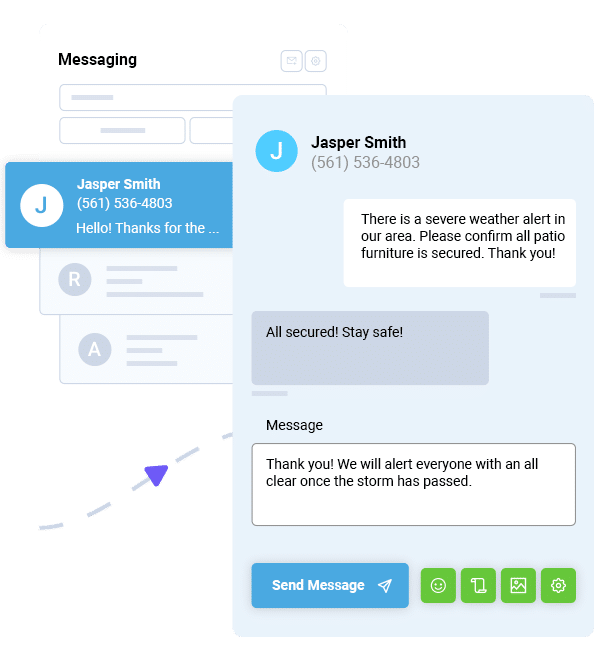 If you're using the 2-way SMS feature, you get access to fancy analytics and metrics. You can see all the texts that come in and go out from your long code SMS number. Also, you can download these reports as CSV files to keep things organized.
API and Integrations
DialMyCalls provides a range of integrations along with API Documentation, enabling the seamless synchronization of your current contact databases with our mass notification platform.
Some of DialMyCalls integrations include Calendly, Constant Contact, Freshdesk, HubSpot, Google Calendar, Intercom, Slack, and many more. You can see the full list of DialMyCalls integrations here.
Besides its built-in integrations, DialMyCalls offers a powerful API Platform that empowers organizations to build custom connections with their existing software. For more technical details, you can check out the API Guide here.
Pricing
DialMyCalls offers different pricing options: custom pricing, standard monthly pricing, premium monthly pricing, and pay-as-you-go.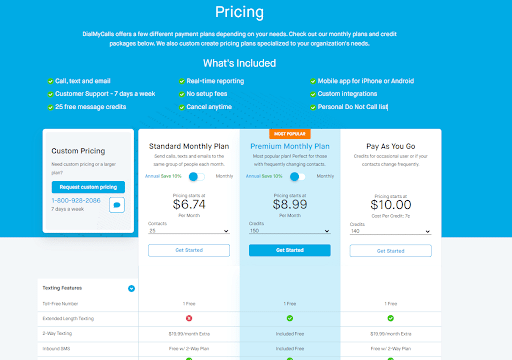 The minimum starting fee is $7.49/month for at least 25 contacts (on a monthly plan) or $6.74/month on a yearly plan.
Sign up for DialMyCalls now and get 25 free credits to try the platform.

Alternative #2: Trumpia
Trumpia is an automated texting solution for businesses of all sizes to manage business text messaging campaigns and communication across all digital channels.
Trumpia Features
Mass texting
Automated text messages
Text message surveys
Mass Texting
Similar to DialMyCalls, the mass texting feature offered by Trumpia enables users to send important updates, promotions, or announcements to an extensive contact list. This helps businesses streamline their communication efforts and maximize outreach efficiency.
Automated Text Messages
What's interesting about Trumpia's automated text messages is that texts can change based on how each person responds. So, if someone clicks a link or fills out a form from the text, the messages they get can be different from those who didn't do anything. This makes each texting campaign feel special for the person getting the texts.
Text Message Surveys
Trumpia's text message surveys streamline the process of conducting SMS survey campaigns without the need for coding. By even offering users incentives like coupons upon survey completion, businesses can encourage repeat engagement.
Pricing
Trumpia's pricing starts from $118/month billed monthly or $94/month billed annually for sending 3000 messages per month. If your budget is limited, DialMyCalls would be a more cost-effective option.

Alternative #3: CallingPost
CallingPost enables businesses to build, edit, and maintain a contact database of members on a centralized platform. They mainly serve small businesses, schools, universities, and healthcare facilities.
CallingPost Features
Group calling
Mass texting
Group Calling
SampleCalling's group calling feature is to record and dispatch personalized voice messages through your preferred device. Users can also ensure authenticity by using their verified number through customized caller ID. SampleCalling's advanced voicemail detection ensures that the messages always reach the intended contacts, even when they can't pick up.
Mass Texting
SampleCalling's mass texting feature lets users send texts to multiple recipients. Users can also gain insights into their campaign effectiveness through messaging analytics, which shows details about campaign performance, message delivery, and recipient engagement.
Pricing
SampleCalling offers a free plan which is limited to 10 contacts only. Its paid plans start from $4.98/month for 15 contacts. Plus, users can opt-in for the pay-as-you-go option which costs $17.24/month for 250 credits.

Alternative #4: SimpleTexting
SimpleTexting serves as a text message marketing platform, catering to personalized 1-on-1 business texting and the delivery of mass text message campaigns. SimpleTexting has different use cases, including mass texting, automated text messages, bulk SMS, and lead generation.
SimpleTexting Features
Mass texting
Lead generation
AI-powered text messages
Mass Texting 
SimpleTexting's mass texting feature helps send bulk messages, while the platform's messaging analytics provide insights into campaign performance and delivery status. Users can manage their contacts by uploading existing phone numbers they have permission to text or building a new list from scratch.
With SimpleTexting, it's also possible to keep track of subscriber interactions, such as link clicks and subscriptions.
Lead Generation
One of SimpleTexting's unique features is lead generation, which is great for capturing interest by distributing text blasts that contain special offers and information and fostering leads through personalized one-on-one conversations. The lead generation feature also comes in handy with scheduling appointments and interviews and addressing inquiries from prospective customers.
AI-Powered Text Messages
What makes SimpleTexting a great TextMagic alternative is its AI-enabled writing assistant. With a simple prompt, the AI assistant comes up with 5 different text ideas for your next SMS campaign.
Pricing
SimpleTexting is determined by the number of messages you wish to send per month. For example, it costs $29/month for 500 messages or $49/month for 1000 messages.

Alternative #5: Attentive
Attentive is an SMS marketing platform that uses AI for message creation and automated campaigns to take the manual work out of planning and sending SMS campaigns.
As a good alternative to EZ Texting, Attentive is best suited for eCommerce businesses looking to engage and convert customers through personalized SMS marketing campaigns.
Attentive Features
Audience segmentation
AI assistant
Automated campaigns
Audience Segmentation
With Attentive, you can create highly personalized messages through predictive targeting and precise segmentation. This involves using intelligent algorithms to forecast the most effective content copy and optimal sending times for each specific audience.
AI Assistant
The Attentive platform incorporates predictive and generative AI capabilities. Its copy assistant for SMS (beta) looks at Attentive's historical performance data to generate high-performing copy tailored for any audience or goal you want to reach.
Automated Campaigns
Automated campaign (beta) is a feature that uses anonymized data gathered from successful marketing instances among Attentive customers. This feature generates customer segments and determines the optimal timing for sending messages.
Pricing
Attentive doesn't provide pricing information on its website.

Alternative #6: SlickText
SlickText is an SMS marketing solution that allows businesses to engage with their audiences at scale. What we like the most about SlickText is their ability to schedule mass text message campaigns and set up auto-replies to SMS campaigns.
SlickText Features
SMS autoresponder
Message scheduling
SMS API
SMS Autoresponder
SlickText offers an SMS autoresponder feature that lets users send automatic text message replies as soon as someone texts a particular keyword to their phone number. This is handy when you want to provide quick information to people looking for immediate answers.
Message Scheduling
With SlickText, you can schedule your text messages to be sent whenever you want. Whether it's a one-time message or several marketing campaigns for the coming months, you can handle it all in one go. You can also set up messages to automatically repeat at regular intervals.
SMS API
SlickText's SMS API allows users to incorporate text messaging into their applications. It enables the automated sending of mass texts or individual messages, contact syncing with CRMs, and sharing reports with external apps. Whether for large-scale updates or individual messages, SlickText's API streamlines communication tasks effectively.
Pricing
Starting at $29/month, SlickText offers a range of pricing tiers, with the initial tier covering 500 monthly text messages.

Alternative #7: JustCall
JustCall is a cloud-based communication and conversation intelligence platform that helps you consolidate all your voice workflows in one place.
JustCall features
Mass texting
Call recording system
Mass Texting
JustCall's mass texting feature simplifies communication by allowing you to send text messages to multiple contacts at once. You can create contact lists, schedule SMS campaigns, and personalize messages using custom fields. Accessible through the web, desktop, or mobile apps, JustCall's mass texting feature optimizes communication efforts.
Call Recording System
JustCall offers a call recording feature to record incoming and outgoing calls and keep track of your team's performance. By listening to these recorded calls, you can analyze your client interactions and work on enhancing your communication strategies. By default, all calls are recorded, but you can disable this for specific numbers by adjusting the call option.
Pricing
JustCall offers 4 plans, starting from $29/user/month, with unlimited inbound calling, integrations with productivity tools, and basic SMS analytics.

Alternative #8: ClickSend
ClickSend is an SMS marketing platform that allows you to send, receive, and track SMS messages worldwide.
ClickSend features
Mass Texting
Using SendClick, you can select between Quick SMS, which offers rapid messaging, or SMS campaigns. For the latter, you can input records one by one, upload a list, or synchronize contacts from your CRM. You can customize your message using placeholders such as first name and include a URL to stay within the 160-character limit.
Voice API
ClickSend provides a robust API that allows you to integrate bulk voice call functionalities into your current applications. That way, you can improve efficiency by automating calls and facilitating sending and receiving within your existing applications.
Pricing
ClickSend pricing for sending SMS starts from $0.02 for under 5000 messages. The rates for outbound calls start from $0.013/call.
What is the Best TextMagic Alternative?
Check out the comparison table below with scores for each specific feature to see how DialMyCalls stacks up as a strong alternative to TextMagic.
With its competitive pricing, user-friendly interface, reliable customer support, and robust feature set, DialMyCalls presents itself as a compelling option for your communication needs.
| Platform | Ease of Use | Customer Support | Other Features | Pricing | Score |
| --- | --- | --- | --- | --- | --- |
| DialMyCalls | 4.8 | 4.7 | 4.7 | 4.7 | 4.7 |
| SlickText | 4.8 | 4.9 | 4.8 | 4.6 | 4.7 |
| Attentive | 4.7 | 4.8 | 4.5 | 4.5 | 4.6 |
| SimpleTexting | 4.7 | 4.8 | 4.5 | 4.5 | 4.6 |
| CallingPost | 4.5 | 4.5 | 4.4 | 4.5 | 4.5 |
| JustCall | 4.3 | 4.2 | 4.1 | 4.3 | 4.2 |
| Trumpia | 3.9 | 4.4 | 4.1 | 4.0 | 4.1 |
| ClickSend | 3.8 | 4.0 | 3.9 | 4.1 | 4.0 |
All ratings data in the table above is from Capterra.com.
Try DialMyCalls for Quick Broadcast Messaging
The main reason customers opt for DialMyCalls is its user-friendly nature and the ease of swiftly sending broadcasts to all or specific contacts. For anyone seeking a solution for rapid broadcasting needs, DialMyCalls stands out as a reliable choice.
Plus, if you ever require assistance from customer support, DialMyCalls boasts a responsive support team. They're dedicated to offering personalized help, ensuring you're on the right track to achieve your SMS marketing and communication goals.
Sign up for DialMyCalls, get 25 free text messages, and enjoy the simplicity of sending broadcasts to your contacts with just a few clicks.