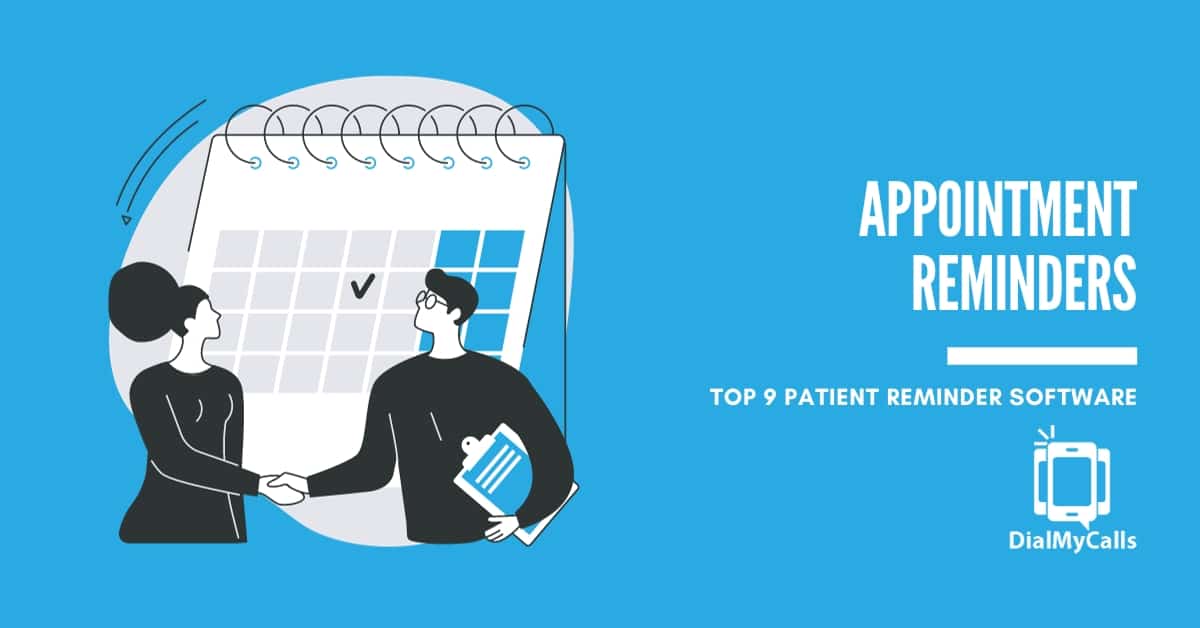 As a healthcare provider, managing your patients' appointments is a delicate, uphill task that can easily be mishandled. Although numerous patients and visits indicate good business, manually tracking and reminding several patients of each appointment is frustrating. Unfortunately, poor management and miscommunication with customers lead to poor efficiency and operation, which can dissuade patients.
However, with good patient appointment reminder software, you can automate patient reminders and improve your general efficiency. In this article, we'll explore the best patient appointment reminder software with comparisons and features of each.
Best Patient Appointment Reminder Software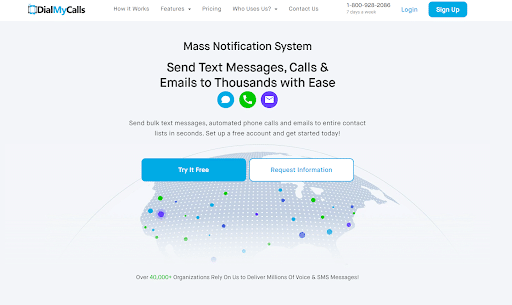 1. DialMyCalls
DialMyCalls is a general mass texting service with which you can send SMS, MMS, and voice broadcasts to several people simultaneously. Judging by its countless reviews and ratings, DialMyCalls is a favorite choice among over 40,000 individuals, businesses, and healthcare suppliers.
Its flexibility and versatility is its biggest advantage, as it has several use cases and is viable in multiple industries, including healthcare, education, and business. Besides text reminders for appointments, DialMyCalls lets you send automated phone calls, emergency notifications, and bulk emails. Depending on your preference and your patient's choices, you can send patient appointment reminders through text, phone calls, or even email.
Additionally, it provides thorough reports shortly after sending messages to enable you to track its response and reach. Interestingly, it costs an affordable amount of $8.99 for its basic plan. Now, we'll see the individual features DialMyCalls has to offer and why you should make it your choice for patient appointment reminder software.
Features
Message Personalization
Telephone Polling
Integrations
Case Studies
Embeddable Widgets
Customer Service
Message Personalization
Sending one message to several recipients is convenient but puts you at a huge disadvantage. Texts or reminders that feel cold or impersonal are less likely to attract patients and pique their curiosity. In today's busy world, your patients likely receive numerous texts, emails, and broadcasts daily. So, your reminders must be unique and creative enough to rouse their attention from the very beginning.
DialMyCalls gives you the ability to personalize your messages and add engaging elements to increase your open rates. With this feature, you can make your texts resonate with your customers and ensure they show a touch of humaneness while adding value.
Automated Telephone Polling
Most patients are more likely to respond positively to schedules and reminders that are convenient for them. With automated telephone polls, you can directly ask patients if certain schedules and appointment dates work for them. This way, you can ensure each appointment is convenient for your patients and reduce chances of no-shows due to unavailability.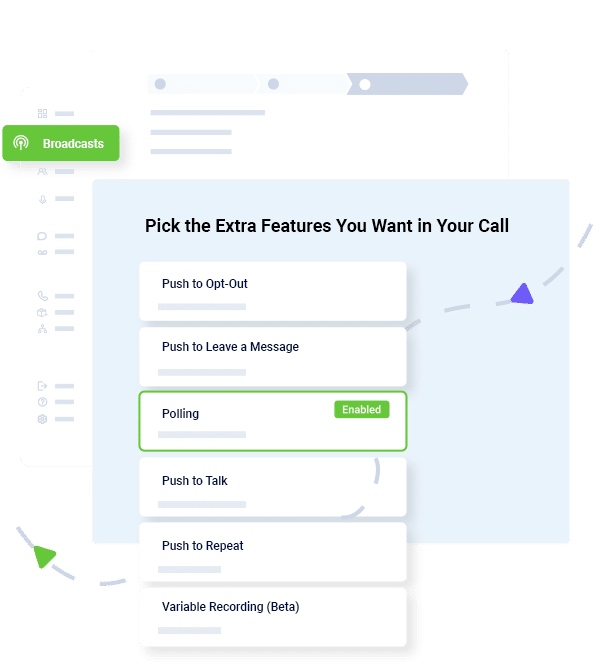 Even more, you can personalize your poll to communicate your exact message to your patients and get up to six unique responses. On DialMyCalls, this feature is free for standard monthly plan subscribers but costs an additional 1/2 credit per contact.
Integrations
Ensuring your patient appointment reminder system integrates seamlessly with other tools used in your operations is highly important. Without seamless integration, your app may create problems for both your patients and co-workers.
However, DialMyCalls offers integrations with 15+ services, including Acuity Scheduling, Slack, Zapier, and Google Calendar. These built-in integrations keep your patient reminder system working smoothly with scheduling software and calendar application and maintain an uncomplicated reminder process for patients.
Case Studies
Using text reminders for appointments can come in handy in many ways, irrespective of your type of service. But, lack of proper orientation about this tool and the best ways to use it can be disadvantageous to you.
To help you, DialMyCalls provides case studies on its website that show you practical examples of ways you can use this service. Additionally, you can also learn how to implement each feature and construct your personalized reminders for increased engagement. Carefully studying these examples can point you in the right direction when using this mass texting service as a patient appointment reminder software.
Embeddable Widgets
If your hospital already has a website, this can be a perfect avenue to inform patients of your new patient reminder system and get feedback. But what's the simplest way to do this without writing your code?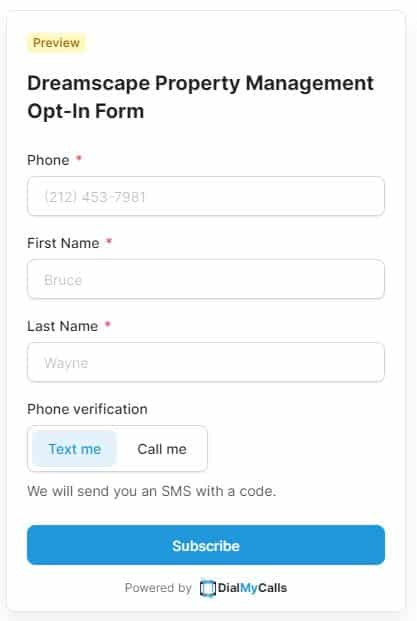 DialMyCalls' Embeddable Widgets solve this problem. With this feature, you can quickly embed text messages into your website, along with additional features like recordings and opt-in forms. As a bonus point, this feature comes with no extra charge.
Customer Service
One of the best ways to retain customers is top-notch customer service, and DialMyCalls is no stranger to this fact. It can get frustrating using complicated software without help or not having access to customer service in pressing moments.
Not only is DialMyCalls simple and accessible, but it also provides its users with a seven-day-a-week support team. This way, irrespective of the time you run into problems with your patient reminder systems, someone is waiting to help you out.

2. TextMagic
Many small businesses make the mistake of not considering future growth possibilities before choosing a patient reminder service. As a result, they eventually run into problems when their clinics or hospitals expand due to the software's lack of scalability.
However, TextMagic combats this issue by providing mass texting and reminder services that work seamlessly for any business size. This way, irrespective of the scale of your service or its growth rate, TextMagic can efficiently provide patient reminder solutions.
Additionally, TextMagic has built-in features that allow you to easily convert emails to SMS before sending them. With this feature, you can send text reminders for appointments, prescriptions, and general health data to your patients right from your mailbox.
Of course, any shared health data is private, which is why TextMagic allows you to enable two-factor authentication on your SMS. This software also secures all services with SSL / HTTPS and backs up all texts to help you protect your patient's data.
TextMagic costs $0.049 per text with a 30-day free trial offer.
Features
Two-way SMS chats
Email-to-SMS
Scheduled text messages
SMS Attachments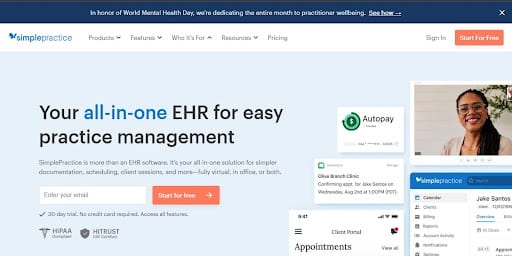 3. SimplePractice
Versatility and flexibility are huge bonuses for any software, but certain situations may require specific-purpose applications. In such cases, SimplePractice is a good choice, being one of the highest-rated EHR (Electronic Health Record) software. Used by over 150,000 health practitioners, this software is both HIPAA compliant and HITRUST CSF certified.
The software offers a wide range of health practice management features, ranging from scheduling appointments to billing and insurance. Its scheduling feature lets you manage appointment requests, communicate suitable times with your clients, and send countless text, voice, or email appointment reminders. As a bonus, your patients can also confirm their appointment or cancel through text.
SimplePractice offers you a 30-day free trial while its Starter plan costs $29/month with a telehealth option for an extra $15.
Features
Client Portal
Telehealth/ Video appointments
Digital Scheduling
Paperless Payments
Mobile Access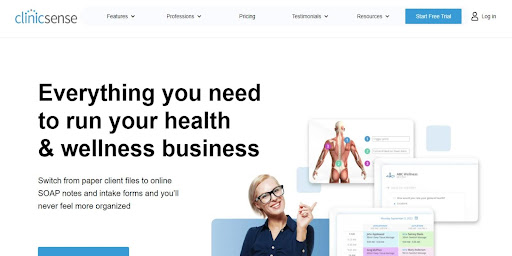 4. ClinicSense
Using unnecessarily complex software makes accessibility difficult and reduces the general effectiveness of its operation. But, ClinicSense gives you high-tech features to run your medical office efficiently while remaining straightforward and practical.
First, ClinicSense makes it easy for you to switch to the software from whatever system you're using. Signing up gives you access to special guides, an excellent onboarding system, and a coach committed to ensuring your easy transition. Moreover, ClinicSense offers customizable treatment notes and client forms to substantially reduce your administrative workload.
The patient appointment reminder system is equally impressive, offering online scheduling, no-show protection, and email or SMS reminders. Even better, ClinicSense is white-listed by all major mobile carriers in the United States and Canada, making for an almost 100% delivery rate. You can start with a free 14-day trial, but the basic Lite plan costs $39/month.
Features
No-Show Guard
Online Scheduling
Analytics and Reports
Invoicing and Payments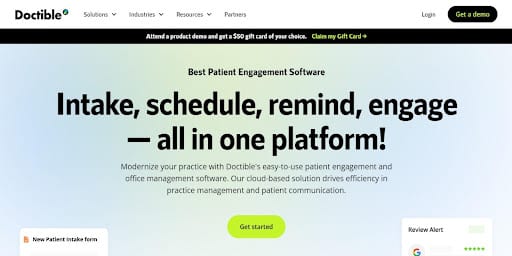 5. Doctible
Like any other business, healthcare practice requires you to engage your clients to make them returning customers. Engaging with patients makes them respond better to you and familiarizes them with your services. Hence, a patient engagement application like Doctible can come in handy for your practice.
Besides call, email, or text patient communication and appointment recalling, Doctible lets you customize your reminders according to the appointment type and timeline. Also, its EasyFill feature lets you send easy last-minute forms to your waitlist in cases of cancellations and no-shows. To see how this service works in real time, you can request a demo and choose a convenient meeting date and time for you.
Features
Two-way texting
Customizable templates and schedule
Traffic Alerts
Smart Messaging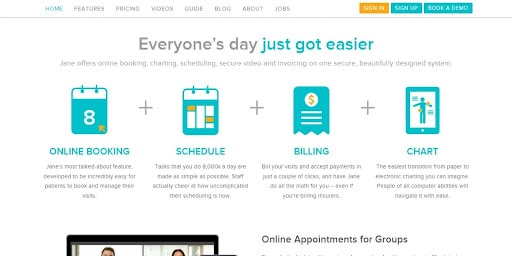 6. Jane
Jane is another software tailored for health practitioners and services, with which you can effectively implement automatic appointment reminders. Using Jane, you can communicate with your patients through email with booking confirmations and reminders.
Also, you can schedule the messages to be sent out at your preferred time. Meanwhile, reminders aren't limited to patients alone; you can also opt-in to receive notifications so you can be better prepared for clients.
Besides patient reminders, this software offers a charting feature with which you can make detailed treatment notes. These notes can include hand-drawn symbols, pictures, and videos for added thoroughness. To ensure privacy and security for all patients' data, this software is HIPAA and PIPEDA-compliant. Jane costs $79 for its Base plan.
Features
Integrations
Online Booking
Telehealth
Scheduling
Integrations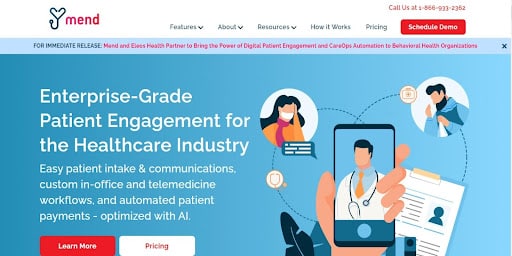 7. Mend
Several patient engagement and automated reminder apps exist today, so you need unique features to stand out. On Mend's Kitchen Sink, you can access numerous features to improve your patient appointment reminders. These include post-visit surveys, HIPAA secure messaging, recalls, location addresses to Google Maps, and special calendar invites for patients.
Its appointment reminder system automatically sorts through patient information to send reminders and appointment recalls. Additionally, it automatically looks up numbers to determine viable numbers and communication methods. Mend also offers options for multiple languages to reduce language barriers in your appointment reminder system.
Features
Automated Patient Payments
Telehealth
Patient Scheduling
EHR/PMS Integration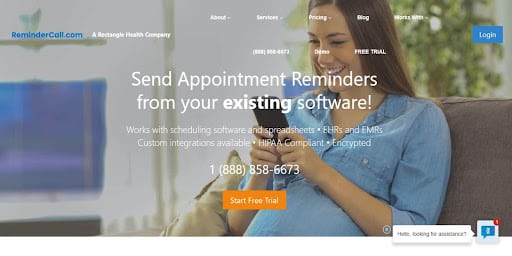 8. ReminderCall
ReminderCall is a HIPAA-compliant appointment reminder system with which you can send calls, 2-way text reminders, and email reminders. Whether you're working with spreadsheet software, calendar applications, or an EHR, this application can efficiently work for you.
Its reminder system is specially built to ensure reliable delivery and quality engagement, with features like anti-spam, opt-out, and result monitoring. Although you can integrate this reminder system into any scheduling software you work with, it also offers TimeNDay, its accompanying scheduling software. TimeNDay lets you book appointments and automatically enable reminders without stress.
A remarkable quality of ReminderCall is its long text feature, which permits you to send up to 1600 characters through text. Also, you get real-time, live delivery updates, which communicate the delivery status of your text reminders.
You can sign up for a free 30-day trial, but the Standard plan costs an affordable $15.50/month.
Features
Call/Text/Email Reminders
Dedicated Phone Numbers
Personalized Messages
Automated Do-Not-Call List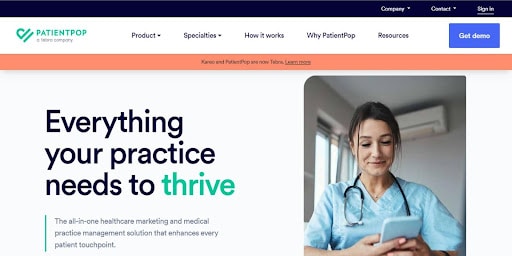 9. PatientPop
Healthcare providers also need to grow their business with modern online tools, and PatientPop provides an effective growth platform. Here, you can find various tools and services designed to help manage your online presence, attract new patients, and improve the patient experience.
Some of these services include healthcare website design, online reputation management, search engine optimization (SEO), appointment scheduling, and patient communication tools.
Not only do you get two-way texting, but PatientPop also offers call-to-text and web-to-text features all in one platform. Of course, you can customize these messages to reflect your style and resonate more with patients. Also, you can utilize the missed-call-text feature, which ensures that patients who call when you're unavailable receive an automated text reply.
Features
Appointment Scheduling
Telehealth
Text Messaging
Website and SEO
Analytics and Reports
How to Choose the Best Patient Appointment Reminder System for You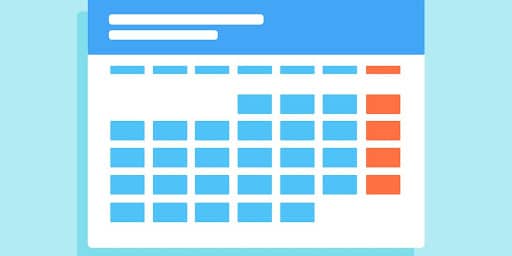 The first step to improving your patient communication with patient appointment reminder software is choosing what's right for you. As businesses and clinics differ, so do their respective needs, which means excellent software may not yield your desired results if it's not the right fit.
So, what steps should you take when picking a patient appointment reminder system? We'll discuss them below.
1. Identify Your Needs
Before choosing a system, you need to know what exactly you're searching for. Identify your clinic or hospital needs and what automation processes you require to run a smoother operation for your patients. Also, inquire about their preferences and choices, then compare your findings with your hospital needs.
Specific questions you can consider include your existing scheduling systems, integration requirements, and types and frequency of reminders needed.
2. Evaluate Features
Next, carefully consider the best patient appointment reminder software and evaluate its features to streamline your options. Select the software that strictly meets your needs without being overpowering or complex. Also, peruse all its extra features to ensure the software is scalable and can meet any possible future needs you may encounter.
Important specifications to look out for include text message automation, personalization, data privacy and compliance, reports, versatility, and customer service. You also want to ensure that the software isn't just easy to use but also accessible for both your staff and patients.
3. Consider Cost
After picking out possible options, figure out how much you're willing and able to spend on an appointment reminder system. While these systems are generally affordable, you want to compare their offered pricing structure and ensure you're going for value while sticking to your budget.
Note that while some of these software have their pricing structures on their website, others may require you to contact them. In such cases, request a demo and make further inquiries to get their pricing plans.
4. Integrate and Test
After comparing your costs and picking the most suitable option, you must ensure it integrates seamlessly into your existing systems. Remember that poor integration can do you more harm than good and causes dissatisfaction among patients. If your software has a free trial version, ensure to sign up for it and see how well it fits into your operations.
Additionally, you want to ensure your system doesn't just integrate with your current business scale but can also adjust in the event of growth. This way, you're guaranteed seamless operations no matter your business size.
5. Reviews
Lastly, you must consider other opinions before settling on a software. Patient appointment reminder systems interact mostly with clients, meaning you must ensure that they are comfortable with your new system before making a final decision.
For example, you can choose to test your new system with a select group of patients to see firsthand how it functions before its general release. Get their opinions and feedback and ensure they find your preferred software an impressive upgrade; otherwise, you may need to reexamine your choice.
| Platform | Ease of Use | Customer Support | Other Features | Pricing | Score |
| --- | --- | --- | --- | --- | --- |
| DialMyCalls | 4.8 | 4.7 | 4.7 | 4.7 | 4.7 |
| ClinicSense | 4.8 | 4.8 | 4.5 | 4.8 | 4.7 |
| Doctible | 4.8 | 4.7 | 4.7 | 4.8 | 4.7 |
| Jane | 4.6 | 4.8 | 4.7 | 4.8 | 4.7 |
| ReminderCall | 4.8 | 4.8 | 4.6 | 4.8 | 4.7 |
| TextMagic | 4.7 | 4.5 | 4.5 | 4.5 | 4.5 |
| Mend | 4.4 | 4.5 | 4.4 | 4.3 | 4.4 |
| SimplePractice | 4.4 | 4.4 | 4.3 | 4.3 | 4.3 |
| Buddy Healthcare | 4.3 | 4.4 | 4.5 | 4.1 | 4.3 |
| PatientPop | 4.2 | 4 | 4.1 | 3.9 | 4.0 |
All ratings above are from Capterra.com.
Setup Your Automatic Patient Appointment Reminders 
Manual reminder systems inevitably lead to increased waiting times, no-shows, forgotten appointments, and even mix-ups. This is no way to give your clients optimum satisfaction and keep your hospital running smoothly. Instead, implementing automated patient appointment reminder systems with text messaging tools like DialMyCalls can drastically improve your patient's experience.
Sign up with DialMyCalls today and enjoy the benefits of automated patient reminders in your business.