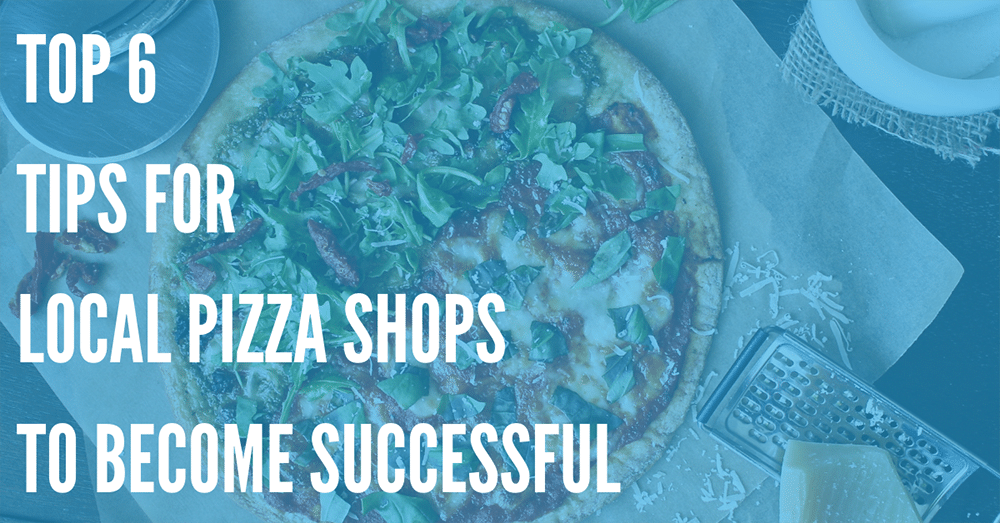 Local pizza shops have always been a staple of American life. But with the growth of "fast-food" pizza chain stores like Papa John's, Pizza Hut, Dominos and more, many small, independent pizza shops are not sure how to compete – and bring in more customers.
But don't worry. Local, independent pizza shops are actually performing very strongly in some markets – and even outperforming chain stores! It's totally possible to take on large pizza chains, and win! Want to find out how? Here are some handy tips.

1. Focus on High-Quality, Locally-Sourced Ingredients
First things first, you should focus on trying to buy high-quality and locally-sourced ingredients as much as possible – from farmer's markets, local distributors and suppliers, farms, and other local resources.
Why? Because the demand for local food is growing. As customers become more informed about the environmental effects of factory farming, as well as the benefits of fresh, locally-sourced ingredients, they're looking to come to restaurants that share their values.
By using locally-sourced ingredients, you'll be able to deliver a delicious, high-quality dining experience – and it's one that your customers can feel good about. That's an advantage that large pizza chains – with their inflexible ingredients – simply can't imitate.

2. Consider a Rotating Menu of Pizzas – With Unique Flavor Profiles
This goes along with the first point. A rotating pizza menu has a number of advantages. Start with a few favorites, like pepperoni, supreme, meat lovers, Hawaiian, and so on – as well as any other specialty pizzas that are popular at your restaurant.
Then, think about how you can experiment with ingredients and flavors to create new, innovative, and bold flavor combinations. Today's diners are more adventurous than ever. Maybe you could make a "burrito" pizza, with black beans, guacamole, cilantro, queso fresco, barbacoa, and other traditional ingredients! Perhaps you could create a Chicken Tikka Masala pizza, inspired by Indian cuisine. The choice is yours!
And the best part is, because you can rotate your menu regularly, you won't have to keep making pizzas that are not successful. Another advantage of this is, if an ingredient jumps in price for some reason – let's say the farmer you use for Romaine lettuce has a shortage – you can simply take pizzas that use that ingredient off of the menu, and rotate in a few new items.
The final advantage of a rotating pizza menu is that it encourages folks to come by your restaurant regularly, to see if their favorite pizza is back! Make sure you announce each menu change on social media and on your website, to keep all of your loyal customers informed.

3. Offer an Exceptional Dine-In Experience
Here's another area where you have an advantage over a chain pizza restaurant. Most pizza chains are focusing on delivery or take-out only – and they don't provide any kind of dine-in experience.
So make dining in at your restaurant a great experience. Overhaul your decor, if necessary, hire the best servers in town, and focus on serving up delicious, fresh pizza in a timely manner. The better your service is, the more likely first-time patrons are to come back.

4. Have a Happy Hour (If You Have a Liquor License)
If you run a full-service pizza shop, the chances are good that you've already got a liquor license, and can serve beer, wine, and liquor. If you don't have a liquor license, you may want to get one – because this is another area where chain restaurants simply can't compete.
A happy hour, where you have a great deal on both pizzas and alcoholic beverages, is a good way to bring in more customers, particularly earlier in the day. If you have a happy hour from 4-7, for example, you can get folks who are just getting off work to come in, have a drink or two, and enjoy some of your delicious pizza.
Even if you don't have a liquor license, you may want to consider running special deals on your pizza for lunch, and during the traditional "happy hour" time period, as you will be able to bring in more customers.

5. Streamline Your Delivery Service (and Send Regular Updates About Customer's Food)
Pizza delivery is one area where chain services often have an edge. Given that they deliver so many pizzas, they'll likely have more drivers and faster service than your store – especially because their pizzas usually also cook more quickly, and use simpler ingredients.
You may not be able to beat the competition when it comes to time. So, instead, focus on quality. As long as you can serve up a delicious, high-quality pizza to your customers within 45 minutes to an hour, they'll be happy. How is that possible, when companies like Dominos guarantee 30-minute service? With constant communication and updates.
Using an automated reminder service like DialMyCalls, you can quickly send out updates to customers about the status of their order – when it goes into the oven, when it comes out, when it's out for delivery, and so on. Customers are willing to wait a little longer if they know that their pizza is on its way.
So while you should focus on minimizing delivery times, if possible, and using insulated pizza delivery bags to keep your pizza hot and fresh, you should also make it a point to keep customers informed about their order – whether you use an SMS text message broadcasting service like DialMyCalls, or any other restaurant management system.

6. Consider Adding Online Ordering System at Your Store
One big benefit of ordering from a chain restaurant is that they all support easy, online or app-based ordering. If it's practical, you may want to consider doing the same thing. There are a number of online, pizza-specific applications and services you can use to add this functionality to your website.
While this may seem like a small thing, many folks don't like ordering pizza over the phone – so you're likely to get a sales boost if you implement an online ordering system that's intuitive and easy-to-use.
Follow These Tips – and Beat the Competition!
If you own an independent pizza shop, you're sure to be able to compete with large chain restaurants, as long as you follow these tips. Think about how you can use this advice in your own restaurant today!