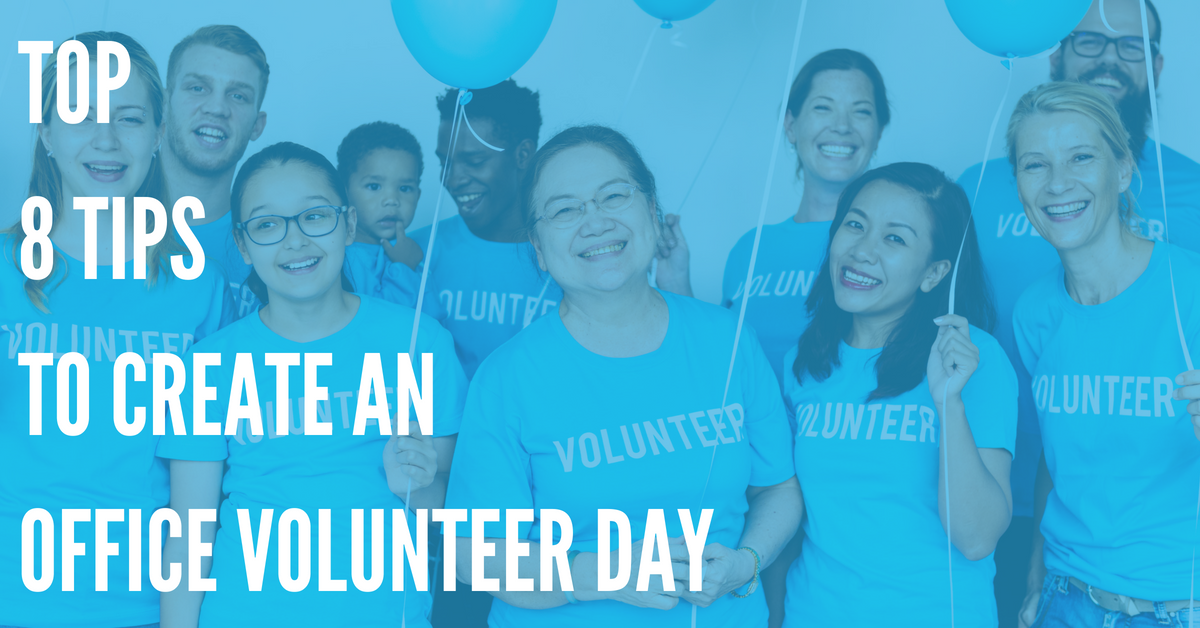 If you're a human resources director – or you're just looking to give back to the community and organize an office volunteer day – you may be wondering how you can get started, and make sure that you maximize co-worker participation.
You're in the right place! In this article, we'll take a look at the best practices you can use to get your whole company involved in a volunteer day. Take a look at this guide, and you'll be able to make sure that your event goes off without a hitch.

1. Start Planning Several Months in Advance
The sooner you begin planning your event, the better. Juggling the busy schedules of your workers is not always easy, especially when you consider vacations, business trips, conferences, and other such events. Ideally, you will want to choose a date when the vast majority of workers can participate, should they elect to.
One great way to get started is by compiling a list of potential dates and emailing them to your co-workers in a Google Sheet or an Excel spreadsheet, and having them rank each date in order of preference.
This way, you can choose the date that is the best for most of your coworkers, and make sure that everyone who is able to participate can do so.

2. Keep Corporate Schedules and Events in Mind
When you schedule a volunteer day, you will also want to consider corporate scheduling conflicts. For example, if you were thinking about scheduling an event for June – but your corporate fiscal year ends in July – you may want to reconsider. Most people will likely be concentrating on their work, and will be unable to participate.
It's usually best to schedule a volunteer day during the "slow season" at your company. For example, if you work at a retail company, you could schedule the volunteer day for February or March, after the winter holidays are over.
This ensures that you will get as many participants as possible, and you'll be able to make a real difference in the community.

3. Get Buy-In from Executives and Managers
Workers tend to follow the lead of their managers, and upper-level corporate executives. If you can get your supervisors and other higher-level managers to "buy-in" and agree to participate in the volunteer day, it will be much easier to recruit others.
You can even ask them to send emails and other reminders to the entire company – updating them about the status of the volunteer day, and asking folks who can volunteer to participate. This is a great way to gain some initial momentum when planning your volunteer day.

4. Make Sure Employees Can Take the Day Off
Often, volunteer days may be scheduled for a day on the weekend, like Saturday or Sunday. But to encourage participation, we recommend that you schedule the event for a weekday!
Many modern companies now include a provision that lets workers take one or two paid days off per year if they are volunteering at a local organization – and if your company doesn't have this policy, now is a great time to push for it! This extra day off can be quite tempting, and make employees more likely to participate in the event.

5. Find a Nonprofit That's Right for Your Company
If you're not sure which company you should partner with for a volunteer day, you should ask your coworkers and employees! They are sure to have suggestions for great charitable organizations.
In addition, you should send recommendations for charities up the corporate ladder, to double-check that your selected nonprofit aligns with corporate goals and standards. You don't want to have to make any last minute changes, should your prospective organization be rejected.

6. Send Emails and Updates to Encourage Participation
Once you've locked down a date, organization, and other details about your event, it's time to start promoting it! Get approval to send emails and updates about the volunteer day to your entire department or company – and then make sure that prospective volunteers remain in-the-know about what's going on with your event.
You can also ask to include information about the volunteer day in corporate newsletters and updates, so that the most possible people know about it.

7. Post Reminders and Sign-Up Sheets in Common Areas
If you take the time to print up a few flyers and reminders, and place them in common areas such as kitchenettes, meeting rooms, and break rooms, you can make sure that everyone knows about the upcoming volunteer day.
It's also a good idea to have at least one paper sign-up sheet in the lobby of your building, or another central location – even if you're encouraging people to sign up online, or via email. It's a great reminder, and can help you get more volunteers!

8. Have Clear Lines of Communication When the Event Is Coming Up
You will want to make sure that volunteers know what's expected of them on the day of the volunteer event. Using a service like DialMyCalls, it's easy to send automated phone calls or text message reminders to all of your participants. You should remind them of information such as:
Expected attire (e.g. old t-shirts and shorts for painting)
Any required safety equipment (eye protection, etc.)
Time and location of the event
Details about lunch and other refreshments
Expected amount of time they will work
Any post-volunteering plans (happy hour, complimentary meals, etc.)
Send out these reminders once a week for the month before your event, and send a final message the night before the event, as well as the morning before your volunteer day.
Follow These Tips for a Great Corporate Volunteer Day!
If you take the time to plan your volunteer day well in advance, get buy-in from management, and follow the rest of our tips to communicate during the sign-up process, your volunteer day is sure to be successful. So follow this guide now, and make a difference in your community!