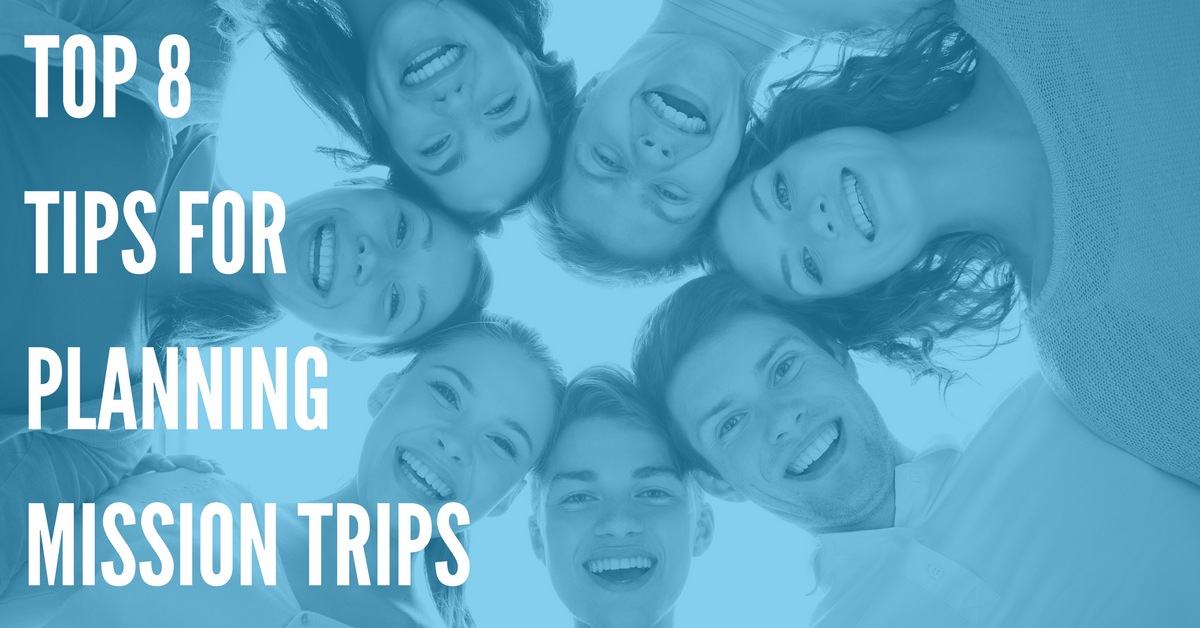 Mission trips are a fantastic way that your church can engage with the youth, and make a real difference in a community. Whether you're renovating old homes, volunteering at a homeless shelter or a soup kitchen, or spreading the Word of God anywhere else, a summer mission trip can be truly life-changing for a teenager.
Youth groups love the opportunity to connect, bond, and fellowship with each other during a week-long missions trip. Friendships and relationships can deepen, and so does the spiritual connection with the Lord.
But if you're a newer youth pastor, or just getting started with summer missions trips, the whole process can be very intimidating. So here are some of our best tips for planning an effective summer missions trip for your youth group.

1. Start by Thinking About the Trip Date
You should start planning your trip 12-15 months in advance. Yes, seriously! You can certainly start planning a trip later than this, but the dates of your trip are very important.
You want to make sure that you choose trip dates that allow everyone to come on the trip, if they want – and because your youth group probably goes to a variety of different schools, this can be quite difficult.
You'll also have to work around summer family vacations. So start by announcing a prospective date well in advance – and then get feedback from youth group families, to learn if you should shift or adjust your trip date.

2. Decide On Distance And A Destination
Going on a long road trip to a faraway mission organization can be fun, but also expensive. If you have the budget for a longer, more expensive trip, go for it – but consider a "trip" that's in your own community!
If you simply go to a large city near your church, for example, and stay at a college dorm or in a different church, you can save a lot of money – and make the trip more accessible for lower-income members of your youth group.

3. Start Budgeting
Budgeting for a missions trip is not easy. Ask your church treasurer to help you out, and give you some rough estimates for the total expenses of the trip. You'll need to think about:
Food costs (per person, per day)
Transportation costs (van rentals, if you don't have any)
Housing costs (staying at dorms, hotels, or hostels)
Incidentals
Among other costs. Naturally, the longer (and farther away) your trip is, the more it will cost.

4. Host a Fundraiser – or Several
One way you can make your missions trip more affordable for your youth group is by hosting fundraisers. The more money you raise, the less it will cost for each kid to attend! Here are a few ideas:
Chili cook off – Anyone can enter a competition, and bring their best chili! Attendees pay "per head" and can vote for the person with the best chili.
Dessert auction – Get those bakers in your congregation going! Have them bring their best dessert treat, and host a silent auction where each dessert is auctioned off, with the profits going to the youth ministry!
Parents night out – Have a night at the church where all parents can drop their children off, to be watched by your youth group teens, or other church members. For a small donation, they get to have a fun night out, and know that their children are being cared for!
You can also ask for individual donations. You can use the church newsletter to ask for donations, or have a special round of donations during the church service.

5. Raise Prayer Support
It's not all about money. Make sure that you ask your congregation to pray for the success of your missions trip. This is especially important as the date of your trip becomes nearer, and you have challenges that you must overcome.

6. Make Sure Your Youth Group Knows What's Expected of Them
Missions trips are great fun – but can also be challenging for youth pastors and volunteer leaders. Make sure that your youth group knows what's expected of them. They are expected to act maturely and appropriately – and follow the example of Jesus.
You should also let them know what kind of work they will be in for – such as painting or other activities – so that they can pack appropriately, and prepare themselves for the trip properly.
Emphasize that the trip is supposed to be fun – but that's not all it's about. The youth group will enjoy themselves, but they will also have to put in some hard, rewarding work.

7. Keep Parents in the Loop During Your Missions Trip
During your trip, consider taking some time to create a newsletter that you email to parents, including the highlights of each day.
You can also send out trip updates to parents regularly with DialMyCalls. This helps you avoid calling or texting individual parents. You can use DialMyCalls to set up a list of all parents of the teens attending – and send them SMS or voice messages when you get to your destination, or get back on the road.
This gives them peace of mind, and lets them know their kids are safe and secure during the trip.

8. Plan a Fun Activity for the End of the Trip
It's a good idea to give your youth group something to look forward to at the end of your trip. This can be as simple as "free day" in the city where your trip is taking place, where you can visit tourist destinations.
Or, you can schedule an outing to a nearby beach or a lake – or even go to a destination such as a theme park or a waterpark. Your youth group will love the opportunity to have fun and bond with each other after a week of service.
Planning A Missions Trip Is Hard Work – So Follow These Tips!
If this is your first time planning a missions trip, follow our tips to make the process easier! However, there's a lot more to a missions trip than we can cover in this list.
We also recommend consulting with senior church leadership, or other local youth leaders to get advice and mentorship while planning your trip. Good luck – you and your youth group are sure to have a blast.