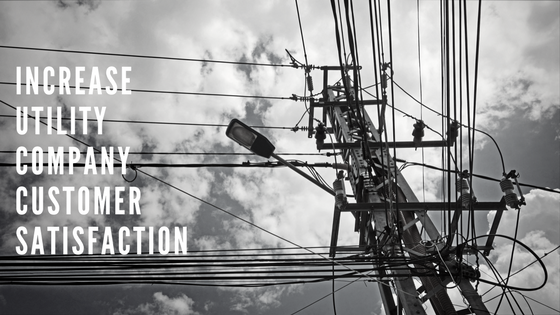 Utility companies are, traditionally, in a tough spot when it comes to customer satisfaction. Though strides have been made in recent years, utility companies suffer from some of the lowest overall customer satisfaction rates – placing behind industries such as airline companies and auto insurance companies. Common complaints include difficulty paying bills, late technician appointments (or no-shows), and poor overall customer service.
To continue to compete in the competitive, low-margin landscape of utilities such as gas and power, it's important for utility companies to take the proper steps to increase customer satisfaction – and make the monthly payment of utility bills more than just a boring, unsatisfying chore.
Here are a few ways that utility companies can increase customer satisfaction – and get a leg up on the competition.

1. Offer Online Bill Payments and Paperless Billing
In our modern, digital world, customers have a certain set of expectations. One of these expectations is that it will be possible to set up online, paperless billing – or at the very least, pay a bill online with a credit card or a bank withdrawal.
Fewer people than ever want to pay for their utility services with a check, or by mail. Today's consumers have the option of buying almost everything online – and utilities should be no different.
Because of this, your company should take steps to offer online bill payments and paperless billing, at the very least. Other things you should consider including on your website is a usage monitoring system – so that customers can see how much they owe before they have to pay – and options like autopay.
Offering these services makes it easier for customers to pay. This reduces the time they have to spend doing things like mailing bills and writing checks – and increases their customer satisfaction. Even if they choose not to use your online payment services, it's wise to provide them with the option to do so.

2. Ask for Customer Feedback
Do you really want to know how you can improve? You could implement a system to allow you to gather honest feedback from your customers – even if you hear things that you'd prefer not to.
Creating an anonymous call line or feedback line is a great way to understand the way your customers perceive your company. Using DialMyCalls, your company can quickly set up an anonymous vanity number "hotline", where customers can call to give feedback about your services. You can also use advanced SMS text messaging from DialMyCalls to conduct text-based surveys, and get even more feedback from your customers.
Even if you have relatively good customer feedback and satisfaction rates, it's always valuable to gain a deeper insight into your customer's mindset, and attempt to elevate your standards and provide better service.
So consider using DialMyCalls for customer surveys – you're sure to discover valuable business insights that will help you improve the quality of your customer service.

3. Use Customer Reminder Services for Scheduled Technician Visits
According to the State of California, late or missed service appointments are one of the most common reasons for customer dissatisfaction in the utility industry. Nobody likes having their time wasted – especially when it's for something as basic as a new cable hookup, or the activation of a gas line at a new apartment.
When service technicians are late – or fail to make appointments entirely – you can lose out on business, and your customer satisfaction rating will plummet. Because of this, it's important to schedule your technicians wisely – and use advanced messaging systems to remind customers of appointments, and update them about estimated technician arrival.
DialMyCalls can be a valuable tool for doing this. Using DialMyCalls, it's easy to send quick updates about where technicians are, and update customers about estimated arrival times. Keeping customers informed even if a technician is not on-schedule is a good way to mitigate the frustration of late appointments.

4. Provide Customers With Information on How to Save Money
This is especially helpful for companies in the gas and electric industries. Customers may sometimes have problems understanding why they're paying so much for their utilities – and may be confused about how they can save money, and reduce their monthly spending.
Providing customers with packets about energy conservation and efficient heating is a great idea. For electric companies, you can outline issues like peak hours of power consumption, reducing power usage with energy-efficient appliances, and taking steps like unplugging unused appliances to save power.
Gas companies can also provide customers with valuable information about insulation, proper furnace and HVAC usage, and steps that can be taken to reduce the monthly cost of their gas bill.
Providing customers with this kind of information helps show that you're not just trying to squeeze them for money. You're providing them with a service – and it's up to them to determine how much money they're willing to spend on it each month, and take steps to reduce their bill, if desired.

5. Have Easily-Accessible, Live Customer Service Representatives
Finally, having a team of customer service representatives is absolutely key. Dealing with "robotic" phone operators and touch-tone systems can be convenient for some people, but others will quickly get frustrated with these systems.
Your company should have an easy-to-access phone line that will connect customers with a real-life customer service representative ASAP. This will help customers communicate more effectively with your company, and reduce the frustration that's often caused when trying to contact a real-life customer service representative.
By clearly marking a customer support number on your website, bills, and written documentation, you can make it much easier for people to contact your company – which makes them feel like you're paying attention to them, and increases their satisfaction with your services.
Follow These Simple Tips To Increase Customer Satisfaction!
By streamlining communication, bill payments, and technician appointments, your utility company can dramatically increase customer satisfaction. So take another look at the above techniques and strategies – and see which ones fit into your business model, and can help you become a more effective, competitive utility company!