Why Influencers Should Start Building Up A Mass Texting List Now
Posted by Tim Smith in General Post on September 27, 2019
Influencers are Building a Mass Texting List and Here's How to Do It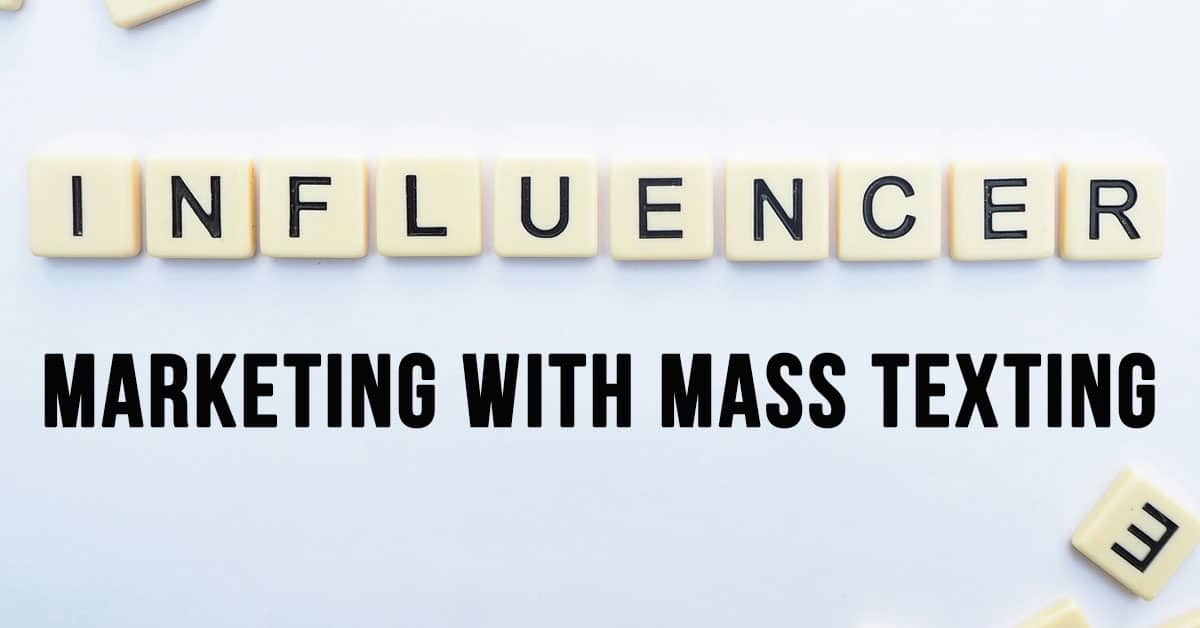 More than half of U.S. consumers own a smartphone. 90% of those consumers use their mobile to shop online. The wedding of mobile and eCommerce has already happened, and it's a match made in heaven. For progressive businesses, taking advantage of mass text marketing is ideal for growing their customer base. Mass texts can also drive traffic to your online store location and increase your conversion rates. Mega influencers like Gary Vee and some of the biggest names in business are taking advantage of this digital marketing technique. Are you ready to take your marketing game to the next level? Below, we'll look at some of the most successful influencer texting campaigns. We'll also show you how to build a mass texting list for your business, no matter your niche or industry.
Why Is Mass Texting Good for Business?
Today's business climate is more competitive than ever before. While the internet has opened many doors for both businesses and consumers, it has also made it difficult for companies to stand out. With a crowded marketplace and lots of "digital noise," consumers expect innovative and personalized forms of advertising from brands. Text message marketing is one strategy companies can use to gain an edge over the competition. Mass text is also a personalized way for companies to keep in touch with their audience. With mass texting, brands can build a relationship with their customer base.
Text Message Marketing Adds Tremendous Value
Text message marketing adds tremendous value to your marketing campaigns. It makes shopping super easy and convenient for consumers, and it's also very versatile. Plus, mass text providers allow you to segment your text lists for incredibly granular targeting. With this technique, you can send highly personalized messages to customers based on where they are in the sales funnel. This one aspect of mass text marketing can significantly increase your conversion rates.
Mass Text Marketing Statistics: Insane Click and Conversion Rates
You've probably heard that "email is king" when it comes to online marketing. But current statistics show that email open and click rates are down across industries. While email marketing can still give you a positive ROI, it does have a few downsides. For one thing, it's tough to get noticed in customers' inboxes. The average person gets 121 emails per day. It's far too easy for people to ignore or skip over email messages from brands. Text message marketing is more effective than email for one particular reason – a text is more likely to be seen than an email. What can you expect with mass text marketing?
An open rate of 98% for texts, versus 22% for emails
A 32% conversion rate
Meets customer expectations – more than half of consumers want texts from brands
Use text marketing to drive traffic to your website and other online ads
These conversion rates and other statistics may seem enticing. But there's a lot more to successful mass text campaigns than meets the eye. Before you get started, there are several components of a successful text campaign you need to keep in mind.
What Factors Influence a Mass Text Campaign's Success?
Sending a mass text to a list of prospects is way different than sending a text to a friend. There are numerous factors you need to be aware of before you get started with mass text.
Timing
Sending frequency
Content
Targeting
Audience
Offering the right deal
DialMyCalls makes it easy for you to integrate a mass texting campaign into your broader marketing ecosystem. Our SMS mass text messaging services allow you to send optimized messages to a qualified list of leads. We also offer ways to build a list quickly so you can get started seeing those insane open and conversion rates for your business.
How to Start Building a Mass Texting List
There are several effective ways to start building a mass texting list. Your business goals and your audience will help determine which method is right for you. At DialMyCalls, you can register a keyword with us and use it to build a customer opt-in list. We'll explore the different ways you can build a list in more detail below.
Building a Text List with Keywords
Keyword campaigns are one of the easiest ways to build a mass texting list. Keyword campaigns can engage your audience with a highly targeted offer. With a keyword campaign, you can get audience members to text-in for information on the offer. This technique for building a list has become quite popular with influencers in recent years. It's one of the quickest and most effective ways to create a highly targeted list of qualified leads.
How Do Keyword Campaigns Work?
First, you pick a keyword that's highly specific to your brand or offering. You would instruct your audience members to text the keyword to your designated number. The campaign is set up so that when your audience member texts-in, they trigger an automation workflow.
Text workflows can include all kinds of marketing messages that you want the audience member to see. You can offer unique products, sales and discount codes, explainer videos, and more. Workflows can also collect information on the viewers' behavior that can further inform your marketing efforts. You can see how often they respond, what they click on, and which types of CTAs most resonate with them.
While a keyword campaign can do numerous things for your business, the main goal is to use it to build your list. With a keyword campaign, your main objective should be to get the opt-in contact.
Using Web Forms to Build a List
Web forms are another easy way that brands can build a text list. With web forms, businesses can also capture the lead's email address too. While building a text list with webforms, you can also work on your email list for an even more robust marketing strategy. Webforms can be embedded in numerous places. Consider putting a webform on your homepage, social media profiles, or industry-related forums. When people sign-up for your offerings via a webform, their information is added to your marketing database. Most critically, they've opted-in, and the list is compliant with legal regulations for text and email marketing.
How Are Influencers Building Mass Text Audiences?
Tired of dealing with middlemen in the wine industry? So was Gary Vee, one of the world's biggest influencers. Gary Vee created a brand called Empathy Wines as a way to eliminate the middlemen in the wine industry. With Empathy Wines, bottles are sold with an average of three markups. The price of a bottle of wine starts with the winery, then the distributor, and then the retailer. Both distributors and retailers create the largest markups in price for a bottle. Empathy Wines is a consumer-centric model that partners with some of the best and lesser-known wineries. Products are sold directly to consumers.
How Is Gary Vee Building a Text List for Empathy Wines?
For Empathy Wines, Gary Vee is using a web form to build a texting list. When visitors head to the brand's homepage, they're greeted with a simple to navigate and understand web form. Users can give their email address and cell phone number, along with their shipping address. Once they opt-in, users are greeted with a text that puts them through an automated funnel. From there, users can text-in to Empathy Wines the types of wines they like. Empathy Wines also sends users promotional texts for discounts on wines. It's a great example of how companies can use text to increase conversion rates and build an audience and brand.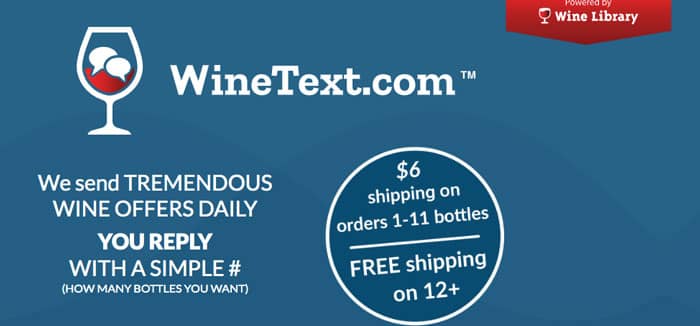 How Did the National Cancer Institute Use Keyword Text Campaigns?
The National Cancer Institute built a far-reaching text campaign using keywords. The goal of their mass text campaign was to encourage young adults and teens to quit smoking. The texts were full of valuable content around smoking statistics, and strategies people could use to help them stop. Viewers were encouraged to text-in the keyword QUIT to the code 47848. Texts were strategically written to help smokers gradually transition to a smoke-free life one text at a time.
Starbucks Keyword Text Campaign
Starbucks dominates digital marketing, and they're highly competitive in the digital sphere. If you own a brick-and-mortar storefront, you might think that texting campaigns will be difficult for you. But Starbucks shows you how it can be done. The coffee giant uses mass texts to keep consumers abreast of new promotional deals and ongoing sales. New and existing Starbucks fans are encouraged to text-in the keyword HAPPY and other keywords to code 697289.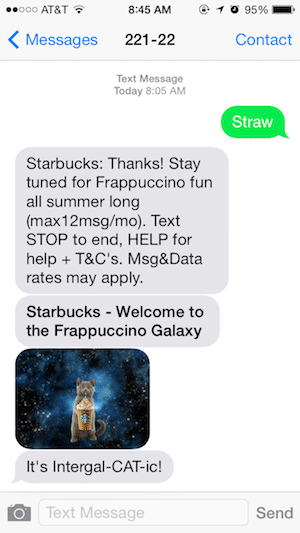 How American Eagle Used Mass Texts to Increase Social Presence
Texting can fit into a broader marketing strategy, which is what American Eagle Outfitters has done for their brand. Customers who'd already opted-in to the brand's text list were encouraged via a mass text to "like" the company's Facebook Page. When they did, they were given a free shipping code on their next purchase. What did the mass text message say?
"Whoa! 1,000,000 likes! A million thanks isn't enough. Be our friend on Facebook."
This example goes to show how you can replicate American Eagle's strategy. Use your texts for more than just selling. Use it to build a more robust social presence too.
Mass Text Your Opt-in List
Building a list is only the first step. You want to keep the audience engaged with valuable content. Mass texting campaigns are a great way to drive engagement with your customer base and increase your brand awareness. Furthermore, businesses can use mass texts to enhance their marketing efforts elsewhere. Use texts to grow your email list, increase your social media followers, or drive traffic to your website. With mass texts, you can also increase your website SEO while making sales on autopilot.
What Kind of Text Broadcasts Can You Send?
Promotional deals
Discount codes
Product launches
New inventory
Demo videos
Brand videos
And more. As one of the most effective ways to reach a large audience, mass texts are an excellent way to sell your products and advertise to new consumers, too. Are you ready to start building a mass texting list? Sign Up to DialMyCalls today to start your free trial. We can help you build a list with engaging keyword campaigns.