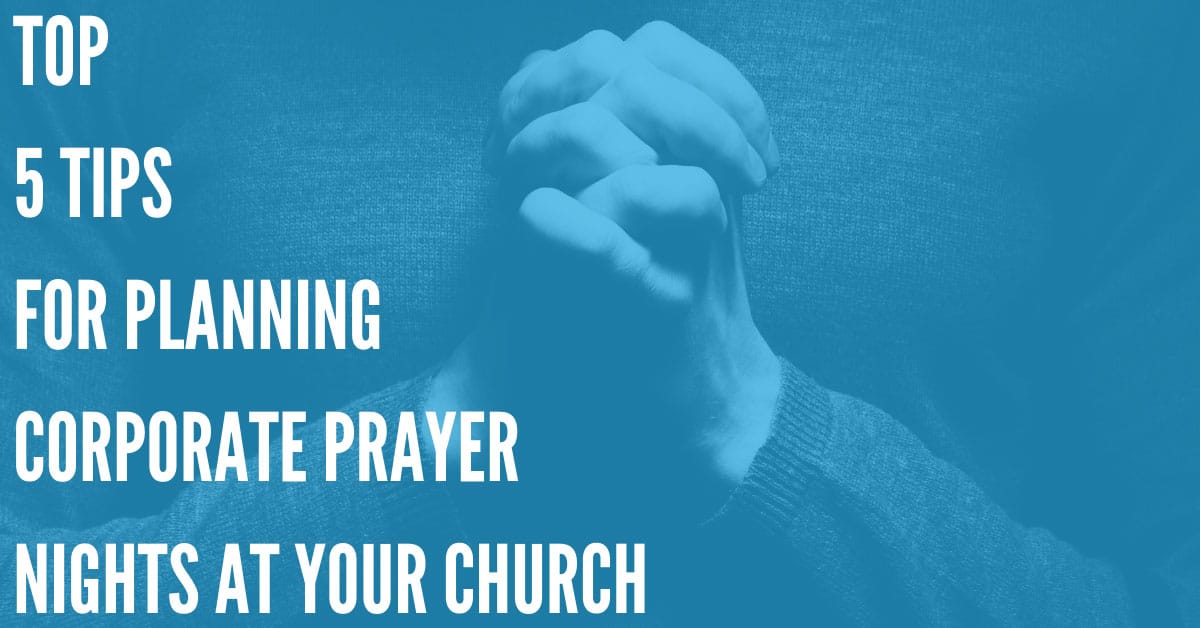 Corporate prayer is a powerful way for your church congregation to connect with one another – and to connect with God. The power of corporate prayer is outlined in the Bible in many verses, but in Matthew 18:19-20, in particular, which reads:
Again I say to you, if two of you agree on earth about anything they ask, it will be done for them by my Father in heaven. For where two or three are gathered in my name, there am I among them.
If you have never tried hosting a corporate prayer night at your church, it's a great opportunity for you and your church congregation to grow closer – both with each other, and with God. Not sure how to get started, and plan and implement a corporate prayer night? Here's a guide that can help you understand the process!
1. Choose a Night and Time That Is Convenient for Your Church Members
First and foremost, you should try to choose a date and time that is convenient for church members who would like to attend. If you're just beginning to introduce regular prayer meetings to your church congregation, we would recommend polling them to find out which nights are the best for them.
Using a service such as DialMyCalls, you can set up a prayer hotline that allows you to take messages from church members. Then, you can request that they call and tell you which day and time works the best for them. Ideally, you'll want to choose a night when the most possible people can attend.
Our recommendation is Wednesday night. Since Wednesdays are in the middle of the week, generally do not have many conflicts among your church members. However, you should choose whichever night your congregation members prefer – and we recommend limiting the time of the event to an hour, or an hour and a half maximum.
2. Start Publicizing the Corporate Prayer Night at Your Church
Once you've decided to implement corporate prayer nights, you'll need to get your congregation on board – and that means announcing the event during your church service, and encouraging members to attend. You should also put up flyers and posters about the event in your church, send information about it via your church newsletter, and share the event on Facebook. The more people know about it, the more people will come!
3. Get Someone to Volunteer to Run the Prayer Meeting
A corporate prayer night should not be dominated by a single person who is praying – but it's still helpful to have someone running the meeting, to ensure that things move along properly. We'll discuss the structure of a corporate prayer meeting in-depth in the next session.
A pastor, elder, deacon, or even just someone who volunteers for the role will do a fine job of running the prayer meeting. Choose someone who is faithful, experienced in administering meetings, and has a joyous heart which is prepared for the task of running a prayer meeting.
4. Structure Your Corporate Prayer Nights Properly
If you have tried corporate prayer in the past, but found that your meetings were disorganized and did not have the effect you wanted, you may not have organized them properly. We recommend having a relatively rigid agenda – an example is below.
Fellowship: 5-15 minutes – You can give your church members a bit of time to talk with one another and connect before prayer. This will help minimize distractions, and encourage stronger bonds among your congregation.
God-centered worship: 10 minutes – Begin by reading a few Bible passages, and reflecting on what they mean to your church membership, and singing songs of praise and worship. Beginning with God-centered worship will help your prayer meeting stay focused.
Pray and respond to the Word: 10-15 minutes – Begin by having members pray and respond to the Word of God. Let them speak their minds about the passages they have read or heard, and how they have affected them.
Intercessory prayer: 15-20 minutes – Intercessory prayer is a fancy term for "prayer requests." Have those who have requests speak their minds, and allow others to pray over them and intercede on their behalf.
Closing praise: 5 minutes – Finally, end your meeting with closing praise and worship – such as a hymn and a benediction.
Throughout this time, you should also encourage members of your church to:
Pray in sentences, not lengthy paragraphs
Monitor themselves to make sure they are not dominating the prayer group
Pray audibly to allow others to hear, agree, and become inspired
Take inspiration from the Scripture
Be comfortable with silence, and listen to the Lord's spirit in these times
Focus on the here and now, and avoid thinking about earthly things
Above all, make prayer as comfortable as possible. Prayer is a conversation with God, so don't make it feel too formal.
5. Make Corporate Prayer a Recurring Event
We highly recommend that you make your prayer meetings a recurring event. You can host weekly, biweekly, or monthly meetings. To find out what's best for your church, we recommend asking your congregation.
Then, follow their recommendation, and make your prayer meetings a recurring event where everyone is welcome. As you continue to host meetings, you're sure to attract more members of your congregation to your prayer meetings. In turn, this will help your church get closer to God and His spirit.
Follow These Steps – And Worship God with Corporate Prayer at Your Church
Corporate prayer is a great way for you to encourage deeper church participation, and it is a rewarding way to connect with God more effectively, and learn more about Him and His plans for your church. So, if you do not host regular corporate prayer meetings, we highly recommend that you start doing so as soon as possible – follow the steps above, and you'll be able to get started quickly, and ensure that your prayer meetings are effective and well-attended.