Mass Texting vs Calling for Your Business & When to Use Both
Posted by Roy in Business Continuity on May 31, 2023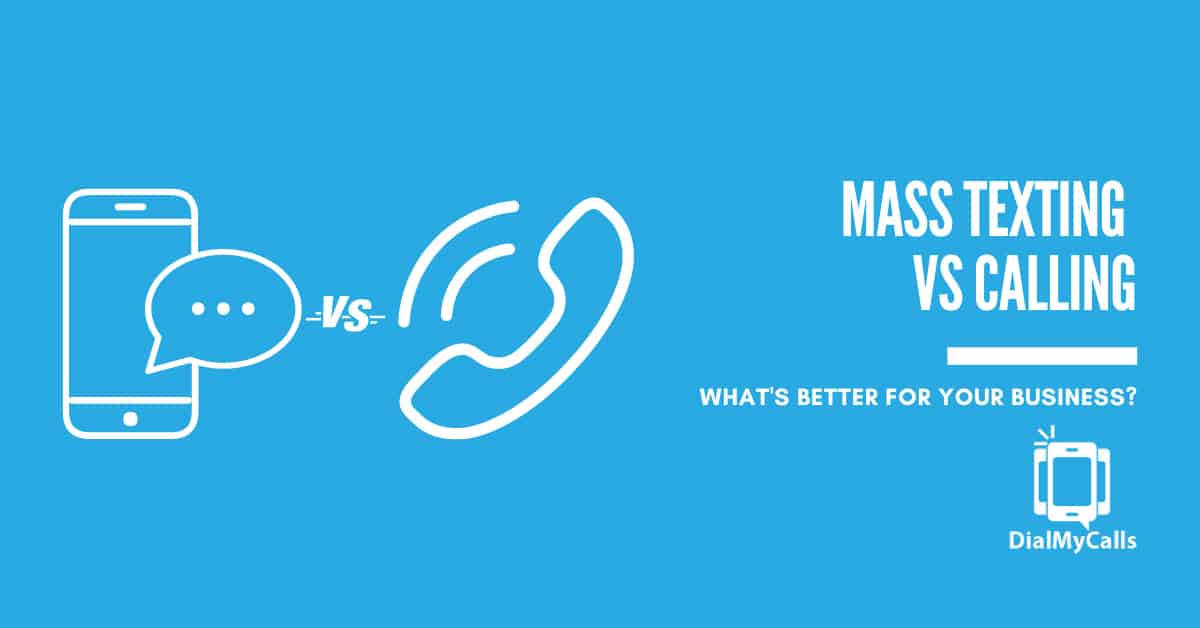 If you're like most business owners, you're always looking for ways to improve your communication methods and reach more customers. You may have heard of automated texting and calling as potential solutions but are still determining which would work better for your company.
In this article, we will discuss the differences between automated calling versus texting so that you can make the best decision for your business.
Pros and Cons of Texting vs Calling for Your Business Messaging
Both texting and calling for your business have their advantages and disadvantages.
One of the biggest advantages of texting is that customer responses can be sent immediately. Text messages are also more likely to be viewed by customers than emails or cold calls. On the other hand, text messages can feel intrusive if not used sparingly and have a limited character count for each message.
Calling your customers offers more of a personal touch and allows for more detailed conversations. This makes it great for customer service or sales calls. However, calling can take up more time than texting and will drain your team's time to convert a lead.
What Is Text Marketing?
Text marketing is the process of sending promotional, informational, or transactional messages to customers via text message. It is a powerful tool to help you reach more customers and boost your sales.
Instead of companies sending text messages to customers one by one, it's best practice to use a mass texting service. This allows you to write only one message and simultaneously send it to your entire audience. You'll also be able to personalize the messages so each customer feels they are getting a customized experience.
Benefits of Text Marketing & Mass Texting
While most companies are utilizing email campaigns in some capacity, mass texting campaigns actually have better results in terms of conversions and engagement. Below is a list of the top benefits your company will get from utilizing text marketing and mass texting:
Reach a Large Audience
According to Statista, around 6.92 billion people around the world have a smartphone. Considering there are about 8 billion people in the world, using mass texting reaches a bigger audience than other marketing methods like Facebook or Google ads.
Easily Share Images, and Media
Text messages have the ability to share images and videos with customers, which helps to draw them in and make your message more engaging. Using a text messaging app, you'll be able to use tags, media, and links when crafting your messages.
Instant Delivery
Unlike other marketing methods that may take a few days to implement, text messaging sends out campaigns instantly. This means your messages will reach customers in real-time, making it an ideal platform to get your message across quickly and effectively. The medium makes sharing urgent business news or updates easier for your audience.
Easy to Track
Using a service, your company can easily track the hundreds or thousands of text messages sent to your audience. You'll be able to tell how many people received the text, how many people clicked on your links, and track conversions through text messages. Using this information, your company can craft better marketing materials to increase engagement.
Better Conversions
Think about every time you receive a text. Do you immediately check to see who it was that text, and do you read the initial characters that appear before you actually open the text? If you're like the 90% of smartphone users, then you read the text within 3 minutes of receiving it. Texting has better conversation rates, as consumers will convert at 40% higher rates than those that don't receive a text, making it an easy choice when deciding why texting is better than calling.
When to Use Mass Texting for Your Business
There are certain scenarios where mass texting makes sense over other marketing options like calling or emailing. If your company needs to send out time-sensitive information such as promotional offers, product updates, and sales alerts, it's a great time to utilize mass texting.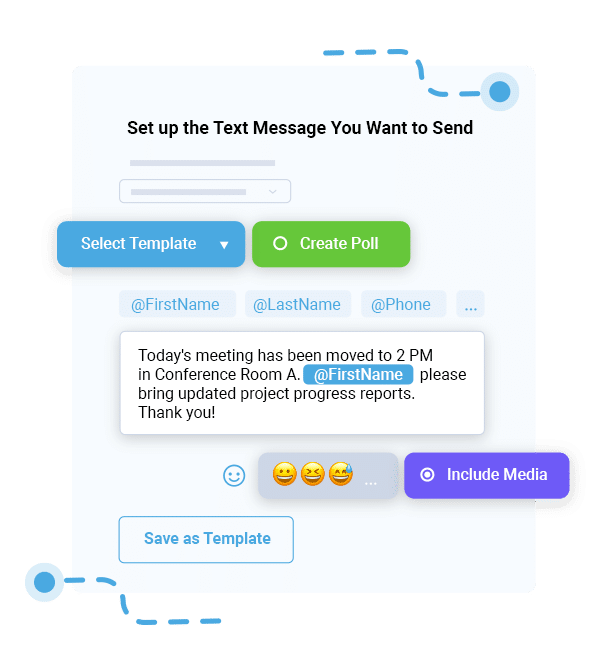 A method is also a great tool for customer service and letting customers know about changes in store hours or location information. Your company will save time and resources by answering individual customer inquiries with mass texting updates. It's also helpful when dealing with short-notice issues such as canceled orders or delays due to weather conditions.
What Is Ringless Voicemail Marketing?
In today's world, consumers are inundated with phone calls from marketers and companies trying to sell their products. Unfortunately, the practice has become so saturated that phone companies have started creating phone screening services to keep marketers at bay. This is where ringless voicemail marketing comes into play.
Ringless voicemail marketing is a technology that allows companies to send a pre-recorded message directly to a customer's voicemail without the phone ringing first. This method allows businesses to get around phone screening services and still provide customers with information on products, services, and promotions.
Benefits of Voicemail Marketing & Mass Calling
Although text marketing and mass texting have their own benefits, so do voicemail marketing and mass calling. Below are a few top benefits your company can use to scale marketing efforts and generate more revenue.
Ensures Message Delivery
Sending a voicemail directly to a customer's phone will ensure your message is heard. Without the need for a ringing telephone, customers can listen to your message at their own pace and decide whether or not they want to follow up with you. The campaign will only have to compete with busy signals or people immediately denying the phone call before reaching the voicemail inbox.
Consumers Can Listen on Their Own Time
Instead of calling a lead and pitching to them over the phone, you can allow the customer to listen to your message on their own time. This gives them more control over when they hear your message and puts them in a better mindset for listening. It also prevents a lead from interrupting you in the middle of your pitch and immediately denying what you have to offer.
Less Intrusive
Sending a voice message directly to your audience's voicemail inbox prevents your message from interrupting their day. Consumers don't have to stop what they're doing to take a call and can listen to the voicemail on their own without interruption. You don't have to worry about upsetting or irritating your audience while marketing your business.
Faster to Solve Problems
Leaving a way for consumers to get in touch with your business quickly will help to solve their problems faster. You can leave a voicemail message telling your customer about product updates or providing them with the solution they seek in less time than it would take for them to call and speak with a representative.
When to Use Automated Mass Calling for Your Business
Anytime your business has important updates on products or services that aren't time-sensitive, it's best to use mass calling as the solution. The customer has the opportunity to review the message in their own time and get back to you when they're ready. This is why calling is better than texting in specific scenarios.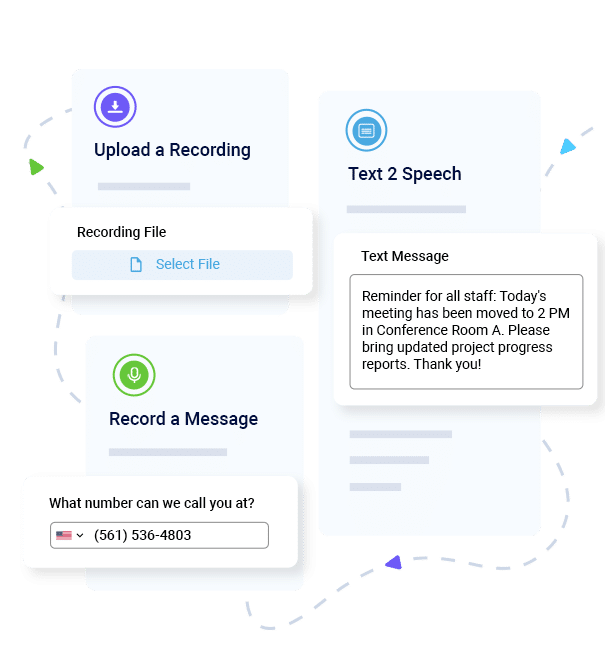 Mass calling can also be used when you are reminding individuals about upcoming appointments they have with your business. The appointment reminders won't require the customer to get back in touch with you, so they can listen to the message whenever it's convenient.
You want to use something other than mass calling or voicemail marketing when promoting new offers or discounts. You want to give a tangible marketing item like an email containing the special offer inside so customers don't listen to your voicemail and forget.
The Benefits of Using Mass Texting and Calling Websites for Your Business
Using texts or calls in combination when marketing your company will help ensure you are reaching the maximum number of customers possible. Here are the benefits of texting vs calling for your marketing efforts.
Share News, Sales, Updates, & More With Customers
Calling and texting websites can provide businesses with an effective way to spread important news, sales, updates, and more with a wider range of customers. Calling allows you to ensure your message is heard without worrying about busy signals or people immediately rejecting the phone call. Texting gives you the additional benefit of sending multimedia content such as pictures, videos, and links that can help engage customers.
Share Important or Urgent Information With Staff
You don't have to focus on your customer base when using texting and calling. Mass calling and texting to share important or urgent information helps deliver the message to everyone on your team and ensures it gets delivered. Most people will check their text messages first, but a voicemail will be waiting for them even if they don't see it.
Easily Store Data in the Cloud
A mass texting and calling app for computers makes storing data in the cloud easy. This allows you to access customer information easily, contact lists, and other data without manually inputting it every time. It also makes it easier to update customer records as needed and allows you to share mass messages with customers quickly.
Manage All of Your Mass Texts and Calling From One Place
Using a website service to manage all your mass texts and calls makes it easier to keep track of everything and ensure it's delivered successfully. You can also access analytics, which will give you insight into how customers are engaging with your messages and where adjustments need to be made. Having a centralized area where all your data lives make the process more efficient and your business more organized.
When to Use Mass Texting and Calling for Your Business Communications
You should ask yourself why you wouldn't use mass texting and calling for your business communications. As you've learned, the two methods, in combination, give you the ability to communicate any message to your audience at scale. You can send promotional offers, business news, product updates, discounts, appointment reminders, and more via mass texting and calling.
It's important to consider the context of your message when deciding on a delivery method. For example, if you need immediate feedback, then a text may be the best option because of its instant delivery and higher engagement rate. If it's something that doesn't require an immediate response, then a voicemail or call will be better since consumers will be able to listen to your message at their convenience.
How to Use Automated Texting and Calling for Business Messaging or Marketing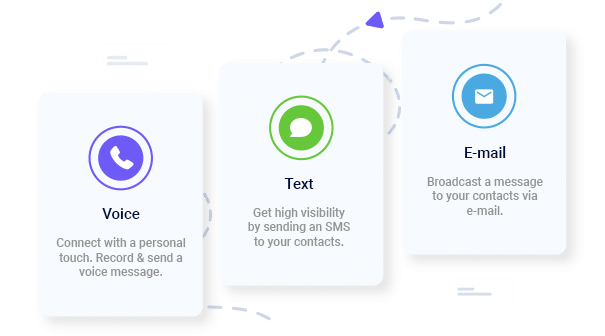 Setting up and using online calling and texting for your business has always been simple with DialMyCalls. With a few clicks, you can set up scalable campaigns that inform your entire audience in seconds. Below are a few simple steps to start crafting your first mass text and call campaign.
Import Your Contacts Into the DialMyCalls Platform
Your first step to reaching a mass audience is adding all your contacts to DialMyCalls. The platform makes it easy for you to upload customer data into a centralized location. You'll have four options:
Adding an individual contact
Segmenting groups of contacts
Quickly adding a number or uploading your entire list to DialMyCalls
Write & Record Your Messages
Your next step is crafting your marketing message. You'll either write a message if you choose to text or record a voicemail that will be delivered to your audience. There are multiple options for recording and writing messages, such as uploading a file, recording, text two-speech, and phone-in system.
Select the Contacts You'd Like to Message
Once your message is created, you can select the specific contacts you wish to receive your messages. Instead of selecting your entire list, you can segment contacts for better deliverability and engagement.
Send!
At this point, your campaign is just about ready to send. Just choose whether you'd like to schedule your messages for a specific time and date or want them to be sent immediately. Then, hit the send button and watch as the data pours into your analytics reports.
Get Started with Our Easy-to-Use Mass Calling and Texting Service Today!
Using DialMyCalls for your voice broadcasting and mass texting needs is a great way to increase customer engagement with your business. With a few clicks and step-by-step guidance, you can create messages that are sent to your entire audience all at once. Sign up today and get started with easier mass text and calling for your business.