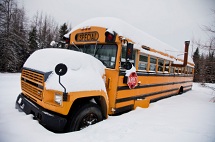 Winter is right around the corner which means that snow is on its way in parts of the United States – we recommend that you are prepared for school closing by setting up automated alerts.
Superstorm Sandy has already started to unleash winter weather in the Northeast as several states are getting blanketed with snow. In the next couple of months, residents all across America will experience extreme weather in the form of blizzards. School closings are bound to occur as the roads become to slippery as a result of ice and the ability to even get out of ones home will be compromised should a blizzard hit.
Send Automated School Closing Alerts
DialMyCalls offers an emergency alert system that is perfect for school closings. Educational leaders can quickly and efficiently send out snow day calls to their faculty, students and parents, alerting them of school closings – safety is a priority when it comes to extreme winter weather.
Signing up for an account with DialMyCalls is free and only takes a few minutes. Pre-record a message for when there are school closings in your area and send them out to all of your faculty, students and parents in minutes. Don't be caught off guard this Winter, set up an emergency alert system to send out snow day calls for your school today!
*Teachers and school guidance counselors will receive a 10% discount on all of our credit packages and monthly plans.
← Previous Article
Next Article →
Sign up now and try our services for free!
Use the promo code DMCBLOG and get 25 free extra credits