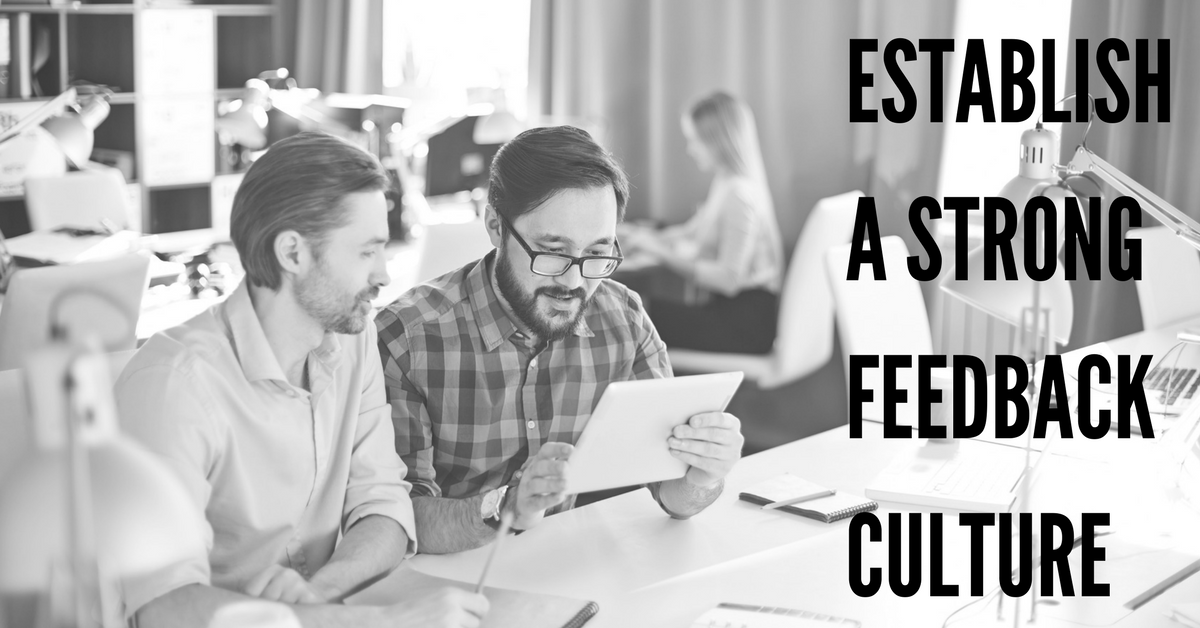 As we've said time and time again on our blog, communication is key to just about everything in a small business. No matter what line of work you're in, open and honest communication can help boost employee engagement, increase customer satisfaction, and boost profits!
In the spirit of helping your business succeed, we're back with another article to help you communicate more effectively in the workplace. In this blog, we'll look at the importance of feedback, and establishing a "feedback culture" for your small business.
Establishing a great feedback culture helps employees understand how they're doing – both where they're excelling and where they need improvement. It also promotes a healthier, more constructive working environment. So read on, and see how you can improve your business!

1. Ditch Annual Performance Reviews
Annual performance reviews have been used in businesses for decades – but research has indicated that they can actually impact employee satisfaction negatively!
Not only that, HR managers say that annual performance reviews "take up too much time" – and only 6% of all HR professionals think that their performance review system is "useful".
More and more companies are choosing to ditch annual performance reviews for either periodic or project-based reviews.
Periodic reviews usually occur every couple months, and are much less involved than a yearly performance review. This helps employees keep track of their progress over a shorter period of time, and get more regular feedback on what they're doing well – and what they can do better.
Project-based reviews are also quite simple. At the end of a major project, managers get together with their employees to examine overall performance. This provides regular, informed, and relevant feedback that's easily-actionable and useful.

2. Top-Down Method
You can't create a feedback culture without being willing to take some positive – and negative – feedback yourself. If you are a small business owner, or high in the management structure at a small business, you need to lead by example.
Don't just give your workers feedback – ask them to give you detailed feedback on what's been going well, and what could be improved upon.
When your employees see that feedback goes both ways, they're more likely to be encouraged to share their true feelings about your business. In turn, this can help you improve how you manage things, and boost employee satisfaction!

3. Create Comprehensive Feedback Guidelines
Standardizing the feedback process is essential for a positive feedback culture. You need to establish standards about who gives feedback to whom, how often feedback should be shared, the official processes and mediums by which feedback is shared, and more.
Once you have created these standards and processes, make sure to follow them to a "T". This makes it easier for everyone involved to understand what's expected of them.

4. Give Employees Plenty of Ways to Give Feedback
Different people feel comfortable sharing feedback in different ways. An outspoken sales representative, for example, may feel comfortable sharing constructive criticism with you face-to-face!
But for another employee who is shy or less confrontational, a different feedback method may be better – such as an online process, or a text questionnaire. If you establish multiple methods of feedback for your employees, you can ensure they'll always have access to a feedback method that makes them comfortable.
One of the best ways to encourage feedback is with an anonymous employee feedback line, created using DialMyCalls. Using the advanced functionality of DialMyCalls, you can set up a unique, automatic hotline that allows employees to send and record messages completely anonymously.
This allows you to get honest feedback about what you're doing well, while allowing your employees to feel comfortable, since their feedback is totally anonymous.

5. Make Employees Feel Safe When They Share Feedback With You
This goes hand-in-hand with our above point. You want to make it clear that feedback about your business – whether positive or negative – will not be met with any kind of punishment.
If your employees feel like they will be punished for sharing their honest opinion, they won't share their honest opinion – it's that simple. Encourage your employees to be open and honest, and guarantee them that negative feedback is alright to share.
Doing this fosters a positive, safe working environment where constructive and corrective feedback can be issued without fear of repercussions.

6. Try to Avoid Negativity
Obviously, feedback will not always be positive. Whether you're reviewing the work of an employee who has been lagging behind their peers, or you have to hear about an area where you could improve as a boss or manager, you will have to address mistakes and problems with your business.
But this doesn't mean that corrective feedback has to be excessively negative, harsh, or cruel. Encourage a culture of positivity. Your workers should share positive feedback alongside constructive criticism – they should always focus on what's going well, as well as areas that could use improvement.
This helps create an overall atmosphere of positivity, even when tough issues must be addressed during the feedback process.

7. Make Informed Decisions Based on Employee Feedback
This is the most important step of all. If you ask for employee feedback and then do nothing based on that feedback, your employees will feel like their time is being wasted.
So if you get some great employee feedback, make sure that you implement changes in your company based on it! Not only that, you should make it clear to your employees that they are being listened to, and that their feedback is encouraging real change.
This ensures that your employees know that their feedback is paying off – and are encouraged to continue sharing feedback both with you, and one another.
Follow These Tips to Encourage a Culture of Workplace Positivity!
If you follow these 7 tips for open communication and feedback, you're sure to benefit from a more positive, feedback-oriented workplace culture. So think about how you can implement these tips today, and get started now!