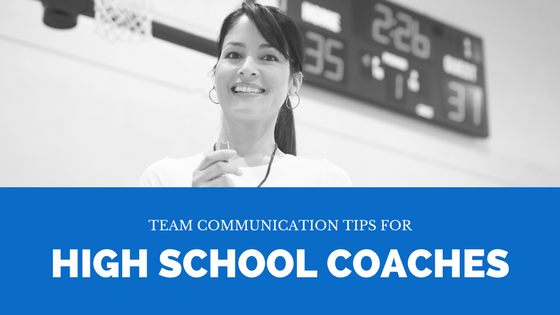 A high school sports team is just that: a team. It's a group of people working closely with each other to reach mutual goals, whether it's winning Friday's game against a rival school, or making it to the national finals. Great coaches are good communicators, and by taking advantage of new technologies, it's easier than ever to keep all your team members on the same page about important things. Whether you're coordinating a schedule change, or letting people know you can't make it to practice tomorrow, the right communication tools can make it easy to keep your team informed.

Your Role as a Head Coach
As the head coach, communicating effectively with your team members is a critical part of your job. Whether you're offering positive feedback to your team as a whole, or going over a new defensive strategy, your role revolves around timely and effective communication.
You're providing teaching and instruction, helping athletes improve their form and technique while they build strength and stamina through training. You're providing discipline and structure, coordinating practice sessions and other activities to keep the team prepared for their latest competition. You're providing feedback about performance, both as a team and for individual players.
Strong, effective communication is essential. If you feel like you're having trouble connecting with your team, here are a few tips for improving your communication skills:

Understand the Level You're Playing at
In many places, high school sports can be serious business. Some of your best athletes may be aiming for scholarships that help give them a chance to get into a better school, and high school games can attract quite a crowd from across town. With that said, these kids aren't professional athletes. High school coaching is often an intricate balance of teaching skills and techniques, and pushing your team to succeed and win.
[click to continue...]
Sign up now and try our services for free!
Use the promo code DMCBLOG and get 25 free extra credits