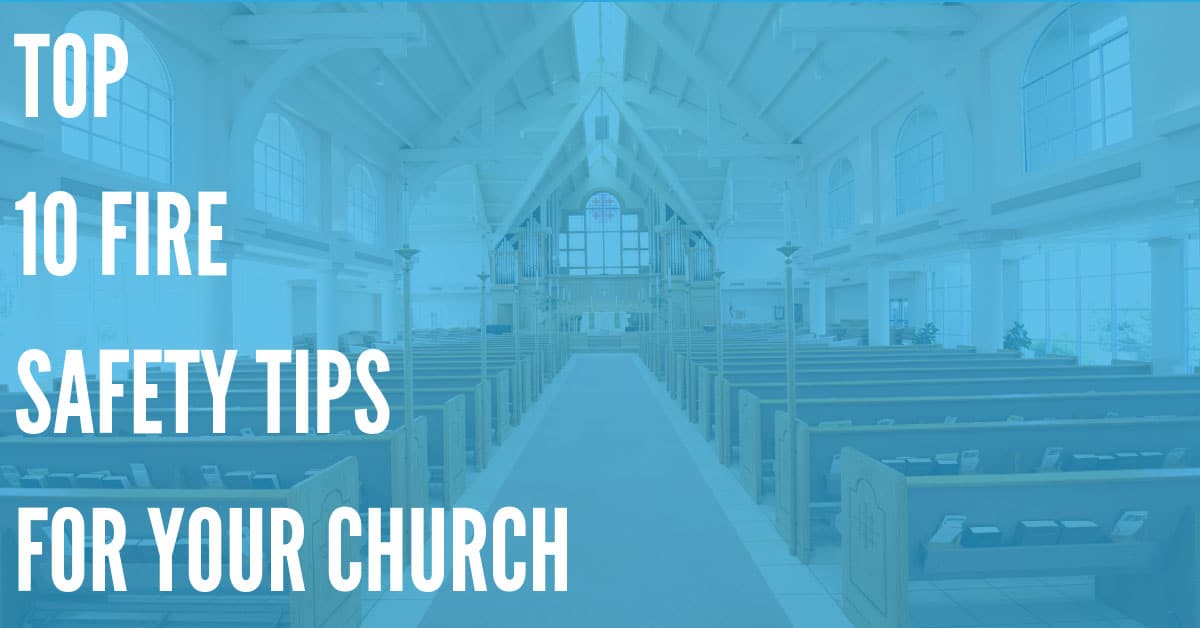 While fires at churches are relatively rare, they can be extremely dangerous – and unless you have the proper equipment in place and a plan to deal with an emergency fire, your congregation could be at risk.
How can you make sure you're prepared for a fire at your church? In this article, we'll discuss a few of our top church fire safety tips, which you can use to keep your church building and your congregation safe.
1. Check Your Fire Alarms and Sprinkler Systems Yearly
First and foremost, you should make sure that your fire alarms are functioning properly – this will ensure that you get an early warning if there is a fire. Related systems like smoke alarms and carbon monoxide detectors should also be inspected yearly, and have batteries replaced, if necessary.
If your church has a built-in sprinkler system, you should also have it inspected. You absolutely do not want your sprinklers to fail when you need them the most in an emergency situation, so regular maintenance and inspection by a qualified plumber is a good idea.
2. Have Your Church's Wiring Inspected
One of the largest causes of church fires is electrical issues – particularly in older churches and buildings which may not have been wired with today's electrical needs in mind. Older churches that use "knob-and-tube" wiring or other outdated wiring methodologies could pose a fire risk.
If your building is older than 30 years old, we highly recommend that you have its wiring inspected. Even if your church is newer, regular electrical maintenance and inspections can help you identify potentially-dangerous issues, so it's still a good idea.
You should also take a look at things like extension cords and power strips to make sure you're not overloading your circuits, which could pose a fire risk, and to ensure that flammable items – like drapes or rugs – are moved away from each individual outlet.
3. Move Sheds with Gas or Flammables Away from Your Church
If you have a maintenance shed with a lawnmower and flammable supplies like gasoline and cleaning supplies, you should make sure that it's moved far away from the main church building. If it's not possible to move your shed, you may want to consider buying a new one. If a fire breaks out in the shed, it could easily spread to the church building if it's too close.
4. Use Extreme Caution with Open Flames like Candles
As a rule, we do not recommend using candles at all. Most of the time, they can be replaced with a flameless electric candle. However, if you participate in things like Advent candle lighting ceremonies, or your church uses candles for other ceremonies, use extreme caution. Have a fire extinguisher on-hand whenever you have an open flame in a particular area to mitigate the fire hazard.
5. Take Steps to Minimize the Risk of Arson
Unfortunately, arson is still a leading cause of church fires. We recommend that you take steps to deal with potential arsonists and discourage them from coming near your church, such as:
Implementing a security system and security cameras
Installing motion-activated flood lights all around your church
Secure and lock all potential entry points to your church
Ask local police to patrol your church area when possible
Compile a list of individuals with access to church keys, and limit access when possible
By following these tips, you can make sure that your church is protected from vandals, as well as potential arsonists.
6. Check for Adequate Emergency Signage
You should have clearly-marked "EXIT" signs with emergency lighting, as well as diagrams and floor-plan signs that are placed in major hallways, indicating emergency escape routes. This will help familiarize your congregation with the emergency exits in your church, and ensure that they know where to go when exiting the church in an emergency situation.
7. Keep the Kitchen in Good Condition
Kitchens are another common cause of fires. You should do your best to eliminate the risk of kitchen fires by doing things such as:
Checking gas stoves and burners to ensure they are in good condition
Regularly checking kitchen hood vents and clearing grease and debris
Keep a commercial-grade fire extinguisher on hand to minimize the risk of fires
By taking these and similar steps, you can minimize the risk of a kitchen-based fire at your church.
8. Run Fire Drills at Your Church Regularly
Consider implementing yearly fire drills on Sundays, after the church service has ended. We recommend reminding members about the fire drill using a service like DialMyCalls. You can send information about the drill via SMS text message or voice broadcast so they remember that it is happening, and can respond appropriately when the alarm is triggered.
During the drill itself, you should have volunteers help show congregation members where the emergency exits are, and where they should gather after the fire alarm goes off. Regular fire drills will help your members react properly in an emergency situation, and can help save lives!
9. Practice Proper Fire Extinguisher Placement
You should always practice proper fire extinguisher placement. All areas of your church should have a fire extinguisher within 75 feet, to ensure that anyone nearby a fire can react quickly, and help put it out and prevent further damage and danger.
In addition, make sure your fire extinguishers are inspected and replaced whenever necessary. Not only is this necessary to abide by local fire code regulations, but it will also help keep you and your church members safe.
10. Ask for Help from Your Local Fire Department
If you have other questions about how to protect your church and your congregation from fires, and would like more information, your local fire department can help. They may even provide you with a risk assessment, and walk through your building with you to identify potential areas of concern.
Make Sure You're Protected from Fires with This Simple Guide!
Fire safety and prevention is a serious issue for churches. Fires are always unexpected – and being prepared and able to respond properly is absolutely critical if you want to make sure your congregation remains safe. Think about how you can use these tips today, and keep your church safe from fires.