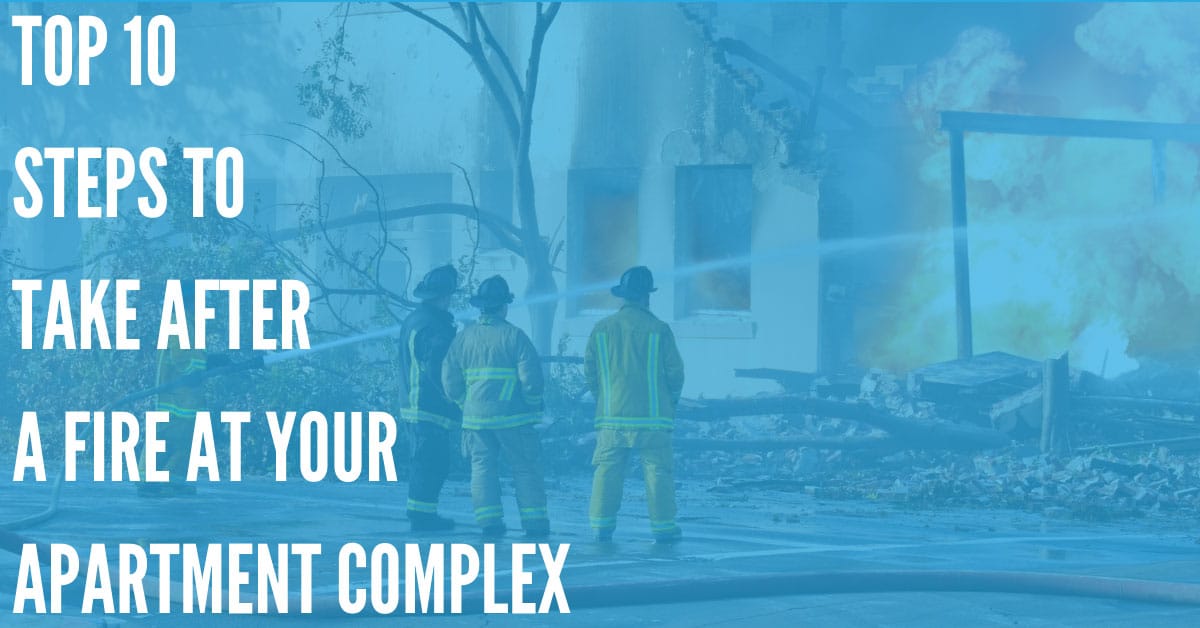 If you own an apartment complex, the last thing you want is to get a call in the middle of the night notifying you about a fire on your property. Apartment fires can be deadly, and can swiftly destroy your property.
Because of this, it's important that you understand your responsibilities when it comes to fires at your apartment complex. In this guide, we'll give you a step-by-step overview of what you should do after a serious fire at your apartment complex.
1. Notify All of Your Tenants About the Situation
First things first, you'll want to notify all of your tenants about the situation as soon as you can, and ensure that they're aware of the situation that occurred, and that your apartment complex may be uninhabitable or dangerous to enter.
Using a service like DialMyCalls is a great way to do this. Using DialMyCalls, you can quickly send out an SMS text message, phone call, and email broadcast to all of your tenants, and alert them to the situation. This way, they'll be aware of what's going on, even if they were not present when the fire started.
You may also want to alert them about local resources, like the Red Cross and other non-profits, who may be able to help them secure temporary housing. Your local officials can help you with this task – and the cost of rehousing your residents will usually be covered by your insurance company, as long as the fire was not caused by negligence on your part, or any known code violations.
2. Try to Trace the Cause of the Fire
You'll likely work with the fire department and your tenants to do this. It's important to determine the cause of the fire for insurance purposes, and to understand the proper next steps to take after an apartment fire.
Common causes of fires include cooking, candle burning, and electrical issues, or even things like smoking inside. You'll work with the local fire department and authorities to interview clients, trace the cause of the fire, and work out the details.
3. Contact Your Insurance Company Right Away
Regardless of what caused the fire, you need to contact your insurance company right away to let them know about the incident. They'll likely need to send investigators and adjusters to your location, so don't delay – you'll want to file for casualty loss right away, and begin the process as soon as possible.
4. Work with Your Insurance to Find a Fire Restoration Company
In most cases, a fire at your apartment complex won't result in a total loss of the building. Minor fires may only result in damage to a few units. However, you may not be able to rent these units or have them occupied until the damage is restored.
We recommend working with your insurer to find a local fire restoration company who can help rebuild the property, mitigate smoke damage, and ensure that it's habitable and safe for residents once again. You may need to wait a little while until the process of restoring your building can begin, but being proactive and having a fire restoration company lined up will help you minimize lost revenue.
5. Document All of the Damage to Your Property as Soon as You Can
If the building is safe to enter, you'll definitely want to make sure you capture photos and documentation of the damage to your property as soon as you can. Taking photos and recording information about the damage to your apartment complex can help you get the proper compensation from your insurance company – who may try to minimize their payout and liability.
6. Secure the Property from Vandals, Trespassers
Once your building is unoccupied, you'll need to protect it from damage, vandals, and trespassers. You don't want anyone damaging your property – or being injured on your property.
You should rent a fence and restrict entry to the units, and cover up windows with plywood to prevent damage and breakage. Cover up exposed areas with heavy-duty plastic and tarps to keep the inside dry and free of further damage.
7. Work with Authorities to Determine Liability
Once you've been able to speak with your tenants and received a report from the fire department, the cause of the fire in your apartment complex should be obvious.
Determining liability is critical, because while you are always going to be liable for restoring your property and returning it to a habitable condition, you may not be financially liable for doing so if you were not liable for the fire.
If the fire happened due to a structural issue like a damaged HVAC unit or electrical issues, you may be found liable. Your insurance will handle damages, but you should expect your insurance costs to spike.
However, if your tenant was responsible for the fire – due to a fallen candle, for instance – and they have renter's insurance, their policy will likely bear most of the costs, and you will not be found at fault. If they don't have renter's insurance, you may need to seek compensation from them directly.
8. Begin Restoring Your Property as Soon as You Can
Once you've gotten the all-clear from local authorities, begin restoring your property as soon as you can. Your insurance company will help you through this policy, and your fire restoration company will take all the necessary steps to remove damaged materials, restore your units, and ensure that your apartment complex is habitable once again.
9. Have Your Apartment Complex Re-Inspected
You'll likely need to have your building inspected and re-certified for human habitation by the fire department or another local inspections department. Once you've passed inspection, you'll be granted a certificate of occupancy.
10. Let Your Tenants Return, and Begin Renting Units Again
Depending on your lease agreement, your tenants may have to move back into apartments they used to rent – or they may have the option to cancel their lease if the apartment was completely destroyed.
Contact all of your tenants and inform them about the situation, and that they can move back into the building. Then, start looking for tenants for any unoccupied units – and your day-to-day life as a landlord or property manager will be pretty much back to normal!
Follow This Guide – Know What to Do in Case of a Fire
A fire occurring on your property is never a good thing. However, if you know what to do after a fire at your apartment complex, you'll be able to overcome the situation, and ensure that you take the right steps to restore your property quickly. Think about what you've learned in this guide – and how you can use this information if there is a fire at your apartment complex.