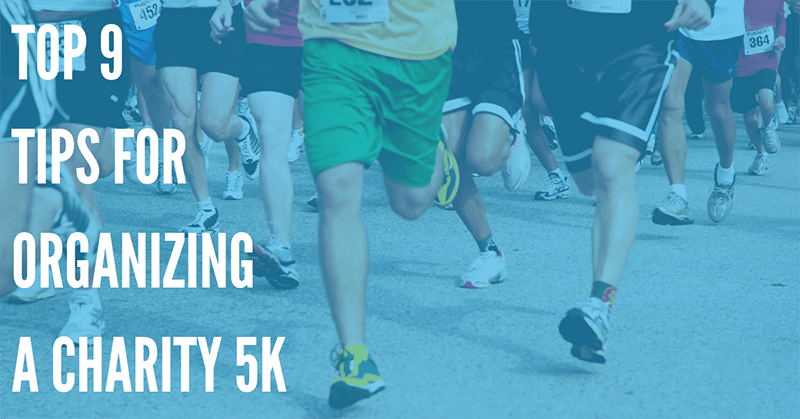 Organizing a charity 5K walk/run event is a great way to raise money for a large variety of causes. Whether you want to raise money for heart disease or cancer research, for a local church or charitable organization, or for any other great cause, you can do so with a 5K event – and participants are sure to have a great time.
The process of planning a 5K walk/run can be intimidating, especially if you've never done it before. How can you get started? Find out with this helpful beginner's guide.
1. Research Other 5Ks in the Area
First, you may want to start by researching other local 5Ks in the area. When are they held? Can you pick a weekend when there are no other races being held? How much does it cost to enter? How many people attend?
Doing this kind of basic research allows you to get a reasonable estimate of how you should plan your race. If the most popular 5K in your area only gets 500 participants, for example, you obviously won't need to plan for a number of runners and walkers greater than 500.
2. Choose a Location, Date, Time, and Route
Once you've done some research, you'll need to find a great location for your 5K, with a safe and varied running route, as well as a date and time for your race. Weekends are obviously the best, but you could also run your race on a holiday – Thanksgiving and Christmas Eve races are often quite popular.
3. Get the Permits and Insurance You Need
If you're running on public roads, you'll need to get permits from your local town or city to ensure that the routes can be blocked off, if necessary, and that your event is run legally.
This process can be complex and it varies based on your area, so you may want to consult with someone who has organized a 5K in your area in the past, to make sure you do it properly.
You'll likely need event insurance, to cover any potential injuries, liability, or the cancellation of your event.
4. Set Your Goals
How many attendees are you looking for? How much money are you looking to raise for charity? Are you expecting a lot of publicity? Set goals for your event, and be realistic – don't expect your race to be the most popular one around if it's in its first year.
5. Organize a Team of Volunteers
You can't do everything on your own. You'll need volunteers to help with things like handing out race packets, giving away water and snacks, acting as timing officials, setting up the course, tearing it down, and performing other basic tasks. You can recruit volunteers from just about anywhere – local churches, businesses, and charitable organizations who are interested in your cause are a good place to start. You should also ask for volunteers on social media.
6. Set up Online Registration
Registering online is the easiest way for runners to get signed up for your race. There are a number of services you can use like RunReg and RunSignUp, which are handy for processing runner payments and registration automatically, assigning bib numbers, and other such tasks.
7. Work out a Timing Solution, and Get Racing Bibs for the Event
The final piece of organization you'll have to do is work out a solution for timing the event. You should be able to partner with a local company who rents out timing equipment, such as clocks and automatic timing devices. For a fee, they'll provide you with everything you need – including RFID-enabled, automatic racing bibs, in most cases.
8. Market and Advertise Your Run, and Send out Race Reminders
Now that your registration process has been finalized, and you've got all the permits, insurance and other details like volunteers for your charity 5K, it's time to start advertising it in earnest! Here are a few steps you should take.
Create a simple website with basic information about your run, and details about how interested runners can register. You can do this on your own with WordPress, Wix, or Squarespace – even if you don't know a thing about coding a website! Integrate your registration link into the website, to make sure folks who want to run know how to sign up.
Create an event on Facebook, and spread the word through Facebook, Twitter, and Instagram, to make sure that your event gets publicity.
Send a press release about your event to local organizations like newspapers, blogs, radio stations and TV stations, charities, and other such organizations. You might get some free publicity or news coverage out of the deal!
Create an email newsletter with a service like MailChimp, and send out regular updates about the race to those who have signed up, and encourage them to share information about the event with their friends and families.
Use an SMS text message broadcasting service like

DialMyCalls

to set up automated race reminders, which can be sent to runners and volunteers – reminding them about the event, the schedule, and other important details.
9. Find Local Sponsors
Reach out to local businesses to see if they'd like to sponsor your race, in exchange for publicity on your promotional materials. This is a great way to get additional funding.
You may also be able to get sponsors like local restaurants to serve food at your event, or distribute beverages – so reach out to any local business owners you know, and see if they're willing to help out!
Follow These Tips (And Don't Be Afraid to Ask for Help)
This guide is a great overview of the basic steps you'll need to take for your event. But don't be afraid to reach out to other 5K organizers or charities in your area who have experience with these events. It's always good to have an experienced organizer to turn to if you have additional questions, or an issue with your event.
The day of the race is sure to be hectic – and there's a good chance something might go wrong – but it will be a learning experience. Once you've organized one race, you'll have a much easier time with your next one. So enjoy race day – and start planning for next year's annual charity 5K!