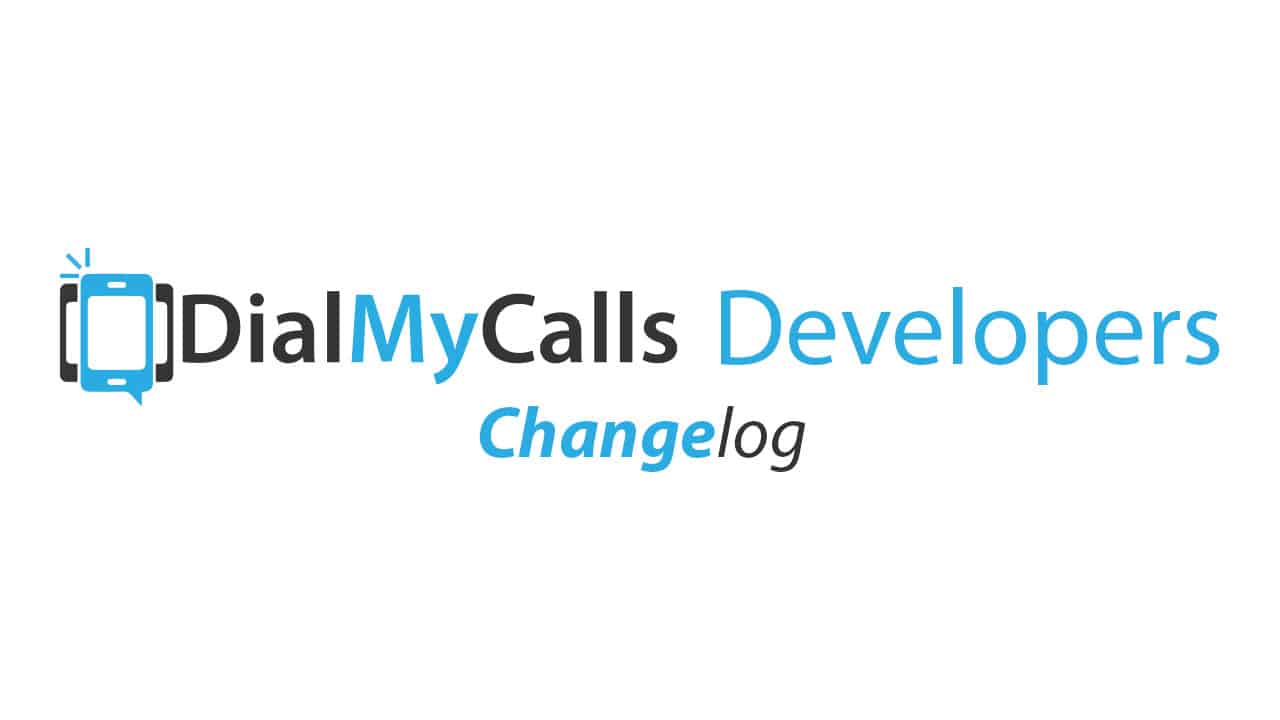 The DialMyCalls developers are constantly improving our mass texting and calling service to make it the best communication platform around! Below you will find the official changelog which will show all updates*, bug fixes and new features that are added to DialMyCalls' mass notification system:
November 2019 —
PHP 7.3
Improved Vanity Number searching.
Updated pricing page.
Updated V3 confirmation page
Improved contact groups listing.
iOS Version 3.10.1 Released
Android Version 3.10.0 Released
October 2019 —
Pushed several updates and fixes to V3 reporting.
Added clickable hyperlinks to 2-way text messaging window.
Fix user counts for contact groups (V3).
Access Account permissions hotfix.
Several updates pushed to mobile apps.
Fixed "Non-Mobile" status on broadcast reports.
Fixed recording playback on iOS mobile app.
Updated uploading contacts modal.
September 2019 —
Improved functionality of embeddable customer widgets.
Updated "Refer-A-Friend" is now live!
Advanced filtering for V3 reports updated.
August 2019 —
Fixed Access Control in  Edge/IE browsers.
Load time for contacts (V3) has been significantly reduced.
iOS mobile app scheduling issue fixed.
Advanced Reports Filtering – Doesn't show "no reponse" any more when filtering.
(V3) .CSV files w/ Quotes – Fixed importing issue with this.
Fixed error reporting on order system
Report Pie Charts – Fixed numbers on them so it doesn't only show percentages.
2-Way Fixes – Search issues and IE11 issues fixed.
July 2019 —
Mobile app updates:

Searching/Sorting contacts (added)
Broadcasts to individual contacts (added)
Advanced labels on contacts (added)
Better iOS X support
Vanity number settings (added)
Upcoming broadcasts section (added)
Text message templates (added)
Character counter added (text-to-speech)

Improved Text-To-Speech Recordings Sitewide
Added ability to sort by miscellaneous column on Contacts tab.
V2 inbound text report download issue fixed.
Fixed issue with access account permissions.
Zero second recordings will no longer be displayed.
Deleting multiple labels at once has been fixed.
If you have any questions regarding changes listed above or general information regarding our service, please contact us today!
*This post will be continuously updated as new changes go live.