7 Best EZ Texting Alternatives You Need to Try in 2023
Posted by Tim Smith in General Post on September 11, 2023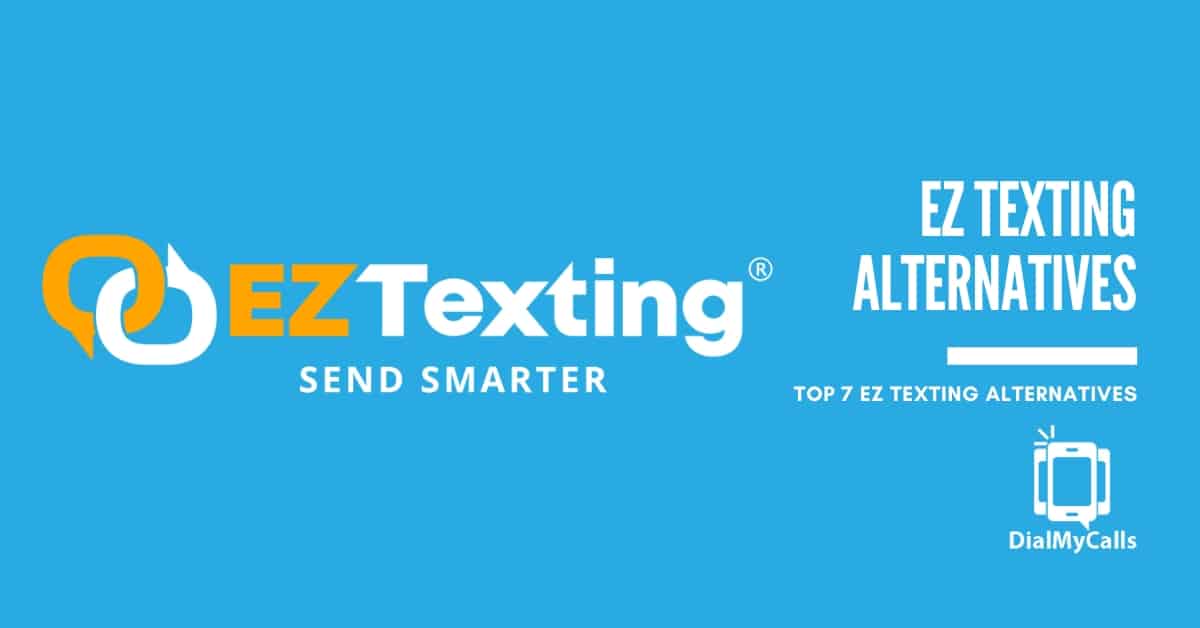 EZ Texting is an SMS marketing platform for businesses to send short or multimedia text messages to customers and employees. Although they've been in the market since 2004, the solution has some drawbacks.
First, their customer service is reportedly inconsistent and lacks responsiveness, as per G2 user reviews. This obviously leads to frustrating experience for users who require timely assistance with technical issues.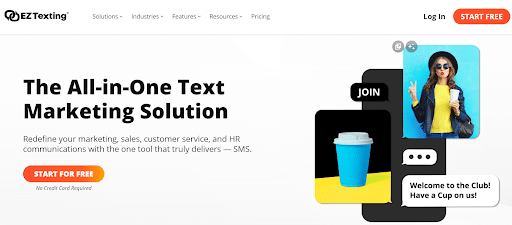 Second, EZ Texting's UX can feel confusing and less user-friendly compared to more straightforward platforms like DialMyCalls.
Another notable concern with EZ Texting is that the platform may encounter glitches, causing delays and making it slower to send out text messages. For those looking for quick message delivery, DialMyCalls is the way to go.
We've got 8 EZ Texting competitors lined up for you below. These competitors are here to address some of the problems EZ Texting users might run into. Keep scrolling to see the full comparisons and find out which EZ Texting alternative suits you best.
EZ Texting Alternatives 

Alternative #1: DialMyCalls
DialMyCalls is a mass notification solution that allows businesses and organizations across diverse sectors to communicate seamlessly with their target audiences at scale. DialMyCalls serves as a comprehensive solution, enabling users to send text messages, voice broadcasts, and emails.
DialMyCalls Features
Bulk text messaging
2-way texting
Text-to-speech recordings
Mobile app
Bulk Text Messaging
Whether announcing upcoming events, sharing important updates, or distributing time-sensitive information, mass texting by DialMyCalls allows organizations to communicate with their entire audience at scale efficiently.
DialMyCalls's mass texting feature stands out for its simplicity and speed. The user-friendly platform ensures that both technical and non-technical users can easily create and send bulk SMS messages without extensive training.
So, with just a few clicks, you can create messages, upload recipient lists, and initiate the sending process. This efficiency saves time, making it an attractive option for organizations seeking to optimize their SMS communication efforts.
In short, DialMyCalls is developed to meet all your SMS communication needs, making it the best alternative to EZ Texting.
2-Way Texting
DialMyCalls also offers a two-way text messaging feature that allows interactive and dynamic conversations between organizations and their audience.
Unlike traditional one-way communication, where messages flow from sender to recipient without a response mechanism, 2-way messaging opens up a two-sided conversation channel.
This feature promotes real-time interaction, allowing recipients to engage actively with messages by asking questions, providing feedback, or confirming appointments.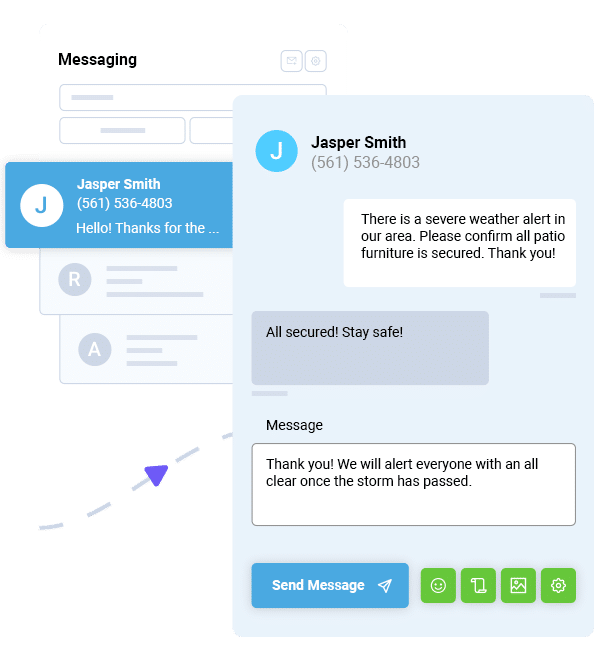 The versatility of the 2-way messaging makes it relevant and valuable across various use cases. Schools, for example, can use 2-way messaging to alert students about class cancellations and send exam reminders.
Similarly, churches can engage with their congregation through this feature, sending prayer reminders and event notifications. Nonprofits can use this feature to mobilize volunteers, coordinate relief efforts, and gather donations or pledges for various causes.
You can try 2-way SMS text messaging for free.
Text-to-Speech Recordings
Another noteworthy DialMyCalls feature provided is Text-to-Speech Recordings.
Imagine you've got a list of people to contact, and you're short on time or don't have time to record your voice. This feature lets you type out your message using our user-friendly text-to-speech tool.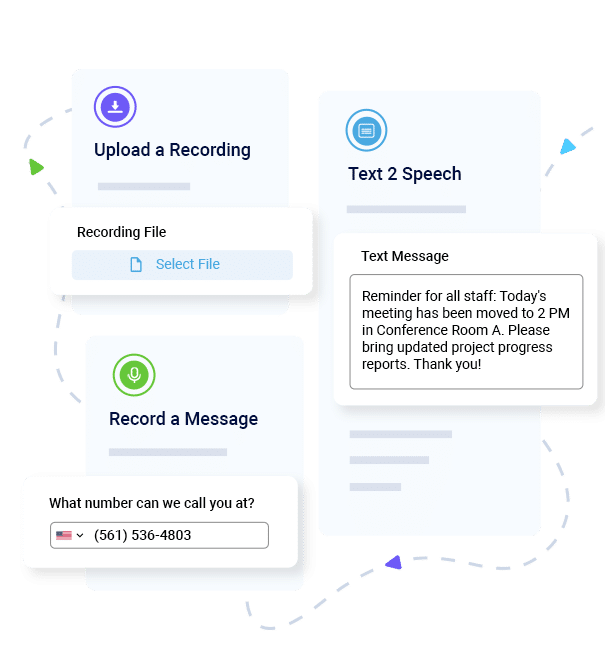 What's even greater is that DialMyCalls allows you to create text-to-speech messages in English and Spanish.
Unlike other text-to-speech tools that only work in English, you can choose between a male or female voice and type your message in Spanish. In just seconds, you'll have a top-quality recording ready to send to your contacts.
Mobile App
DialMyCalls has made it simple to send out messages using your iOS or Android devices. This means you can quickly send a phone call or a text message to all your contacts.
What sets DialMyCalls apart is that, unlike other similar services, it offers a user-friendly mobile app that you can use for sending group messages and making group calls. It's also worth mentioning that EZ Texting only has a mobile app for iOS users and doesn't provide one for Android users.
The best part is that DialMyCalls provides its powerful messaging system for free on iOS and Android devices. So, if you're looking for a feature-rich way to send out messages and make calls to a large group of people, DialMyCalls is the solution you need.
You can download the DialMyCalls app for Android or iOS.
Pricing
DialMyCalls offers different pricing plans:
Standard monthly plan: starting from $7.49/month for 25 contacts (plus 1 free toll-free number & MMS messaging for 4.5¢/message)
Premium monthly plan: starting from $9.99/month for 150 credits (includes 2-way texting feature)
Pay-as-you-go plan: starting from $10 for 140 credits
Custom pricing: you can request custom pricing here

Alternative #2: Attentive
Attentive is an SMS marketing platform that uses AI for message creation and automated campaigns to take the manual work out of planning and sending SMS campaigns.
As a good alternative to EZ Texting, Attentive is best suited for eCommerce businesses looking to engage and convert customers through personalized SMS marketing campaigns.
Attentive Features
Audience segmentation
AI assistant
Automated campaigns
Audience Segmentation
With Attentive, you can create highly personalized messages through predictive targeting and precise segmentation. This involves using intelligent algorithms to forecast the most effective content copy and optimal sending times for each specific audience.
AI Assistant
The Attentive platform incorporates predictive and generative AI capabilities. Its copy assistant for SMS (beta) looks at Attentive's historical performance data to generate high-performing copy tailored for any audience or goal you want to reach.
Automated Campaigns
Automated campaign (beta) is a feature that uses anonymized data gathered from successful marketing instances among Attentive customers. This feature generates customer segments and determines the optimal timing for sending messages.
Pricing
Attentive doesn't provide pricing information on its website.

Alternative #3: Birdeye
Birdeye is a customer experience and reputation management platform that allows businesses to improve their online presence and attract new customers.
BirdEye excels in serving businesses looking to comprehensively manage customer experiences and online reputation, including mass texting, to build strong customer relationships and maintain a positive brand image.
Birdeye Features
Mass texting
Custom SMS templates
Mass Texting
Birdeye has a mass texting feature that lets users send automated and personalized text messages on a larger scale. Plus, within the platform, users can ask for reviews, referrals, and surveys through text messages accessible from a single inbox.
Custom SMS Templates
Birdeye offers customized templates that allow users to create various types of announcements. These message templates are designed to help users introduce new products, advertise events, distribute special offers, and perform other promotional activities.
Pricing
There's no pricing information on Birdeye's website.

Alternative #4: Listrak
Listrak is a customer engagement and marketing automation platform. It incorporates customer relationship management solutions, which empower marketers to broaden their campaigns across various communication channels, including email, SMS social media, push notifications, and direct mail.
Listrak stands out as a strong competitor to EZ Texting due to its comprehensive approach to customer engagement, integrating several communication channels to execute versatile marketing campaigns.
Listrak Features
Triggered SMS
Contact segmentation
Branded links
Triggered SMS
Listrak enables the creation of optimal mobile user experiences by offering personalized broadcast messages on a regular schedule.
Additionally, it provides timely transactional SMS that extends beyond simple order confirmations. These transactional SMS include loyalty and reward triggers, reminders based on timing, status updates, and alerts.
Contact segmentation
Listrak helps you send individualized text messages by using your customer information. It taps into details like transactional records, user behaviors, demographic information, and their position in the customer journey. This way, you can send SMS to the right people with the right messages.
Branded Links
Another notable Listrak feature is its ability to manage your brand's image and collect important engagement data using branded shortened links. This feature lets you track and analyze customer interactions while maintaining a consistent brand identity.
Pricing
Listrak offers custom pricing, so you need to schedule a demo to learn more about their pricing.

Alternative #5: Text Request
Text Request is a customer engagement and business texting platform. It offers solutions for different use cases, including appointment booking, payment collection by text, lead generation, and SMS marketing.
Text Request Features
Landline texting
Contact management
Reporting
Landline Texting
Text Request offers a Landline Texting feature, which enables you to maintain text conversations using your business line. This feature allows you to share multimedia files and PDFs, making communication more streamlined.
Contact Management 
Text Request provides advanced contact management capabilities, allowing you to create customized lists for sorting, filtering, and grouping your contacts. These categorized lists, known as "contact groups," are particularly useful for efficiently managing subscribers who opt-in by texting keywords.
Reporting
Text Request has reporting features that allow you to track the real-time status of your sent messages. You'll receive information on delivery confirmations, recipient responses, opt-outs, and more. This information is available for every mass text you send. You can also export message data to spreadsheets for additional reporting and analysis.
Pricing
Text Request has 4 plans suitable for small businesses. The basic plans come at a monthly fee of $59 and give you 1,000 text messages (each up to 160 characters).
If you need to send many messages, they also have bigger plans starting at $850/month, which provide 50,000 text messages.

Alternative #6: Bloomreach
Bloomreach is an eCommerce experience platform and B2B service specializing in marketing automation. Its product lines include email marketing, SMS and messaging, ads and retargeting, A/B testing, and mobile app marketing.
If you're running an eCommerce business and need a complete CRM with a marketing automation solution beyond SMS-focused approaches, Bloomreach could be the right choice for you compared to EZ Texting.
Bloomreach Features
Streamlined SMS campaign creation
AI assistant
Contact segmentation
Streamlined SMS Campaign Creation
Bloomreach provides a simplified process for creating SMS campaigns. This allows users to create, assess, and preview SMS campaigns through its visual builder.
You have the flexibility to design single campaigns or intricate omni-channel experiences using Bloomreach journey builder, which integrates SMS into your overall strategy.
AI assistant
Bloomreach offers an AI-powered assistant to enhance the customer experience through SMS campaigns. It ensures that your messages are well-timed with an optimal send-time approach. Plus, an AI assistant helps generate content and make product recommendations via SMS.
Contact Segmentation
Bloomreach also has an advanced contact segmentation feature using its built-in customer data engine. This consolidates all customer data into a single view, enabling the creation of customer segments. This approach uses data to target customers via SMS more likely to engage and convert.
Pricing
Pricing information isn't available on the Bloomreach website.

Alternative #7: Twilio
Positioned as a customer engagement platform, Twilio provides various solutions for creating email campaigns, voice, and text messaging campaigns.
Its dedicated platform, MessagingX, is particularly for SMS marketing, allowing users to send text messages via SMS, WhatsApp, and Facebook Messenger.
Twilio Features
Emergency alerts
Programmable messaging API
Emergency Alerts
Twilio provides the capability to deliver warning alerts, public safety advisories, event cancellations, and various other types of messages to recipients through their preferred communication channels.
It enables efficient communication for critical notifications, ensuring recipients receive important information on time.
Programmable Messaging API 
Twilio offers programmable messaging API, allowing users to send messages to their customers through different communication channels easily.
With its API, users can manage various aspects of their messaging process, such as handling phone numbers, managing replies from recipients, and more.
Pricing
Twilio determines its SMS pricing by considering the recipient's location, the type of message you're sending, and the specific mobile carrier that will receive the SMS. For example, sending an SMS from long codes costs $0.0079/SMS.
What is the Best EZ Texting Alternative?
See the comparison table below, which provides scores for each distinct feature, showing how DialMyCalls is the best alternative to EZ Texting.
| Platform | Ease of Use | Customer Support | Other Features | Pricing | Score |
| --- | --- | --- | --- | --- | --- |
| DialMyCalls | 4.8 | 4.7 | 4.7 | 4.7 | 4.7 |
| Attentive | 4.7 | 4.8 | 4.5 | 4.5 | 4.6 |
| Birdeye | 4.7 | 4.7 | 4.7 | 4.5 | 4.6 |
| Text Request | 4.5 | 4.6 | 4.4 | 4.5 | 4.5 |
| Bloomreach | 4.3 | 4.8 | 4.5 | 4.5 | 4.5 |
| Twilio | 4.2 | 4.2 | 4.5 | 4.3 | 4.3 |
| Listrak | 3.7 | 4.1 | 4.0 | 3.6 | 3.8 |
All ratings data in the table above is from Capterra.com.
Improve Your SMS Outreach with DialMyCalls
Having been in the market for about two decades, EZ Texting provides text messaging services. But it still comes with its share of drawbacks. Users often face challenges due to unresponsive customer support, an intuitive user experience, and the possibility of glitches affecting the platform.
DialMyCalls, however, emerges as the best alternative to EZ Texting that addresses all these limitations. With its streamlined interface, responsive support team, and quick message delivery, DialMyCalls offers a smoother and more effective communication solution.
Sign up for DialMyCalls and see how it simplifies sending text messages, providing you with a hassle-free experience.