Feature Updates: What's New With DialMyCalls (June 2021)
Posted by Tim Smith in General Post on June 16, 2021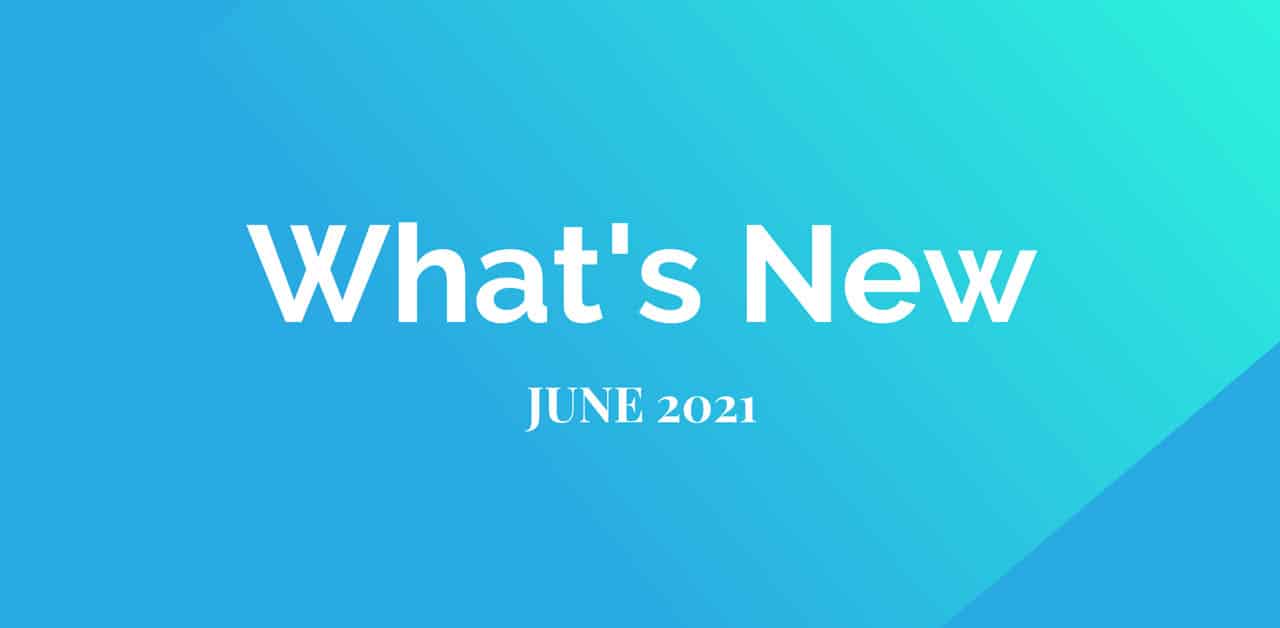 The team at DialMyCalls is always looking for ways to bring new features to life that benefit our amazing customers. We also love receiving feedback from you regarding how we can improve our system to help simplify your daily tasks. As such, we're excited to share some of our most recent feature updates and improvements. And if you have something you'd like to see, please let us know by contacting us!
Short Code Removal
On June 1, 2021, major wireless carriers discontinued shared short codes for all texting providers. We have implemented a better text messaging option, toll-free numbers, which are available right now to use. This change affects ALL text message providers and is being implemented and enforced by the wireless carriers. [More On Short Code Removal Here]
Free Toll-Free Texting Numbers
Every customer that creates an account with DialMyCalls will receive a free toll-free number to send out text messages. Customers will no longer share a short code with a ton of other people – you will now get your own UNIQUE toll-free number that is yours and only yours to use!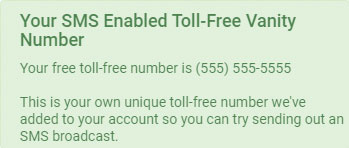 Two-Way Texting Templates
Customers using our 2-way text messaging service can now create and save templates to send out. Instead of having to type out the same message over and over, quickly reply to an incoming text message with a saved reply. Save time and still get your message out using these new templates!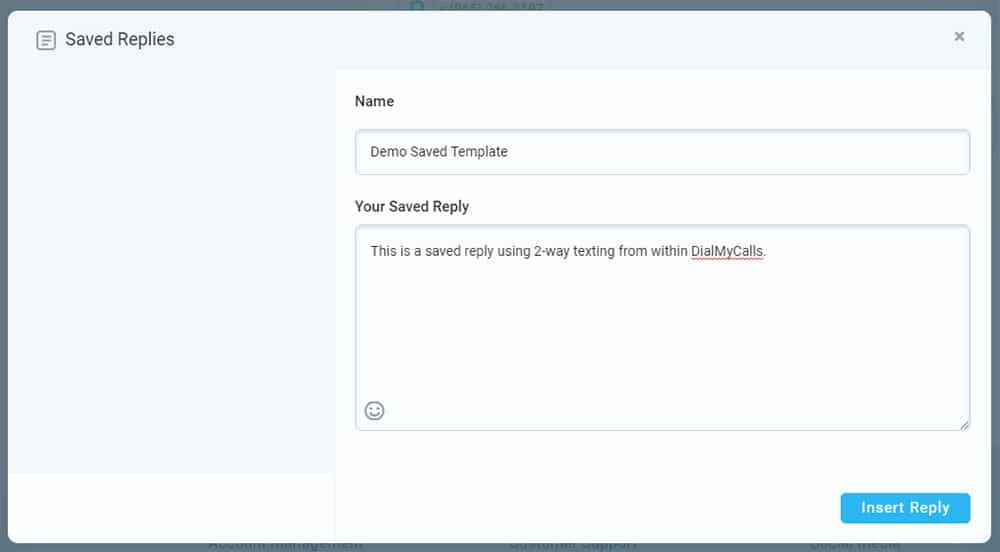 Two-Factor Authentication (2FA)
Security is a major concern these days, so to help give you peace of mind, you now have the option for setting up Two-factor authentication (2FA) on your account. Enabling this option means when you log in to your DialMyCalls account, you'll be sent a text message with a code to confirm your identity.* This gives your account an extra level of security to help protect your account information.
*Please be aware that once 2FA is set up, you will need to have your mobile phone nearby to receive the code that is sent to you upon each log in.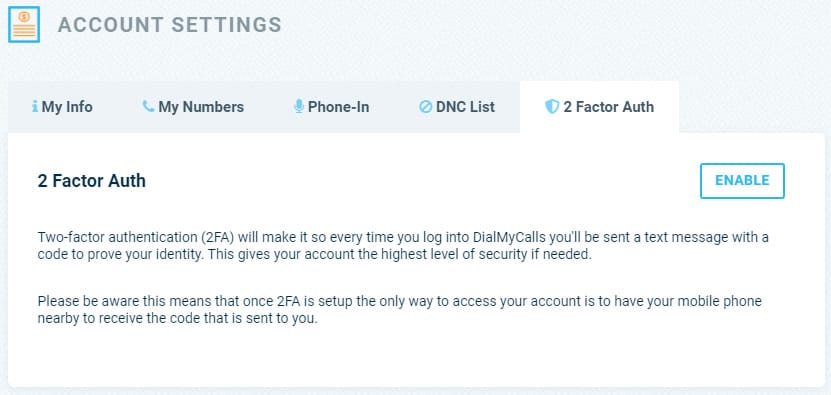 Conference Calls
Due to popular demand you're now able to activate conference calling on your DialMyCalls account. For a low monthly fee you get access to our crystal clear conference lines where you can easily connect with everyone via your unique dial in number and PIN. Call in, enter the pin, and start talking. It's that simple!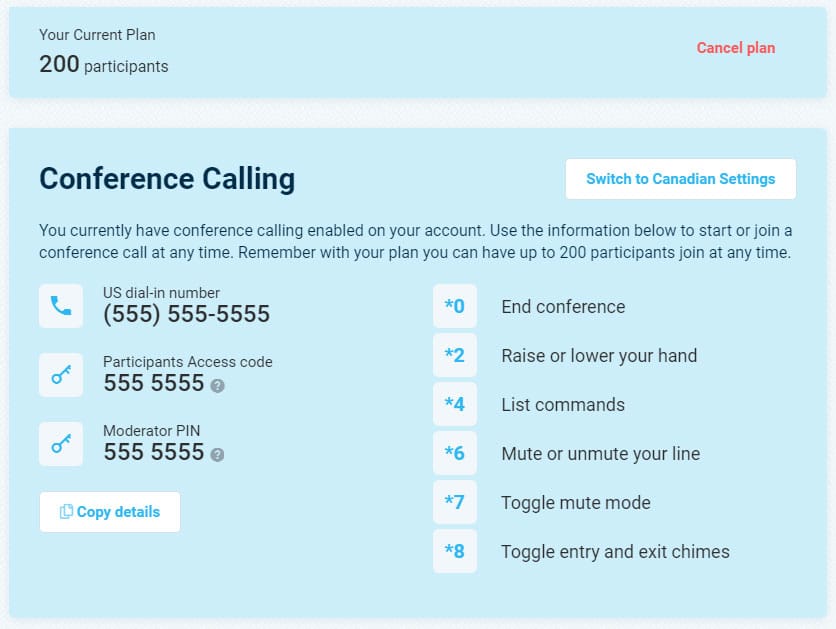 Mobile App Improvements
Our mobile app for iOS and Android devices is always getting new feature updates and related improvements. In the most recent update we have improved push notifications for 2-way SMS text messaging as well as added some new features. The biggest benefit is you can now access all of our additional calling features right from within the app as well as recurring broadcasts. Save time by using our app on the go for your most pressing needs.
Advanced Calling Features: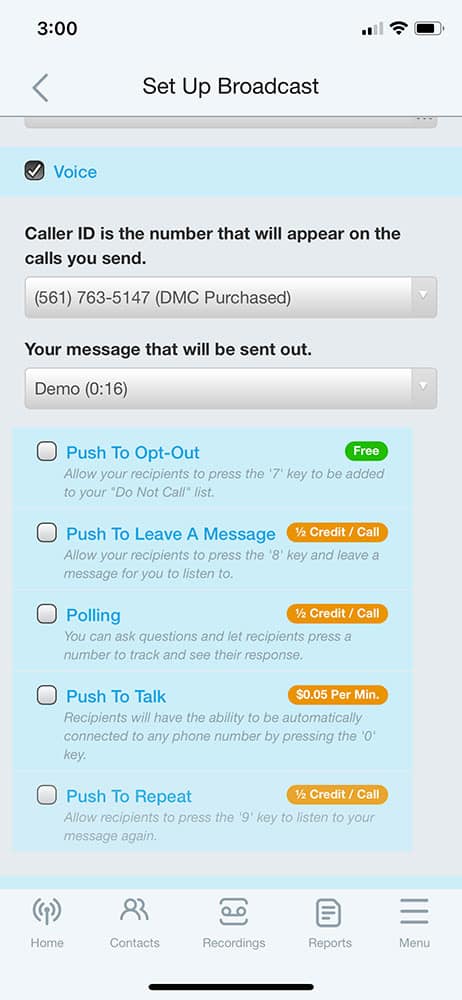 Recurring Broadcasts:
Recurring broadcasts are now available right from within the DialMyCalls mobile app – free to download on iOS and Android devices. A recurring message can be set up to go out daily, weekly, monthly, or yearly with the option to cancel on a specific date or after a certain number of occurrences.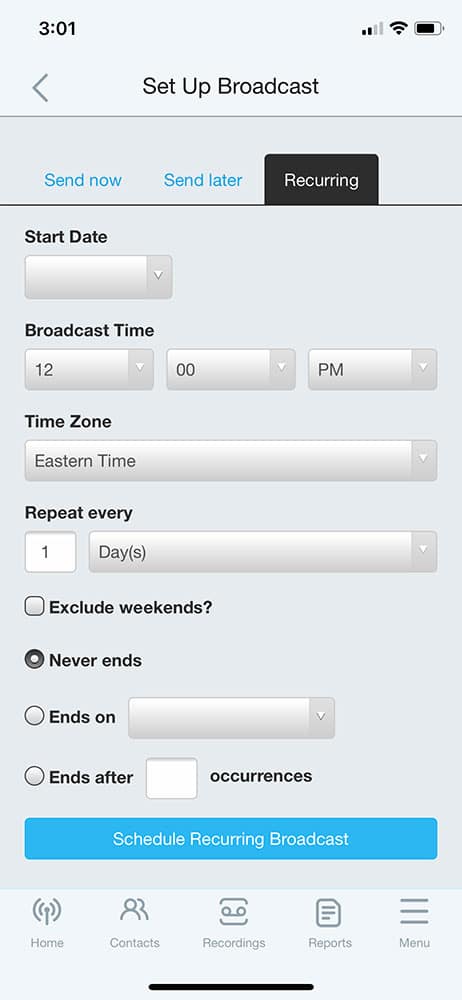 Features Coming Soon…
If you have any questions regarding the new features listed here or have suggestions for features you'd like to see added to DialMyCalls, please contact us today!