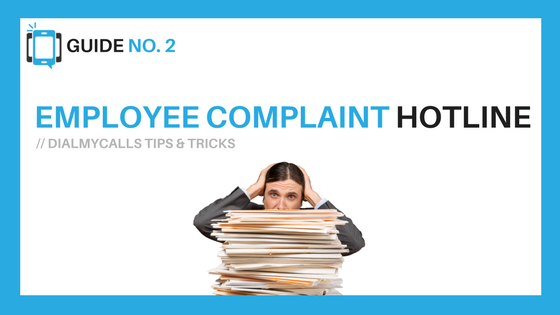 Running a business effectively can be very difficult. If your organization is large, chances are that your employees won't always have the opportunities that they need to express their opinions, concerns, complaints, and new ideas regarding your organization.
This is an unfortunate consequence of growth – as the size and the complexity of a company increases, it becomes more difficult to establish effective lines of communication through which lower-ranking employees can contact managers, executives, and other people who control corporate decision-making and policy.
Even in smaller companies, employees often don't feel comfortable talking to their superiors about problems they may have with other employees, customers, or their work environment. Often, an employee will be afraid of being punished by a superior for bringing problems to their attention – even if the information they have could be important and helpful.
Some companies use email to allow their employees to report issues to HR or to other relevant persons, but this can be lacking in anonymity – people don't like being identified when they are reporting information of a sensitive nature, especially if it is related to specific employees or corporate misconduct.
Anonymous employee complaint hotlines are a great solution to these issues. You can grant your employees total anonymity, allow them to speak about what's on their mind with no fear of punishment, and gain valuable insight into the overall health of your organization.
For all of these reasons, setting up an employee complaint hotline with DialMyCalls can be extremely valuable. Doing so allows you to get a better understanding of the work conditions of your average employee, listen to their complaints, and aid you as you strive to make your business a better place to work.
Here's a step-by-step guide on how to set up an anonymous inbound complaint line for your employees.

Setting up Your Anonymous Employee Complaint Hotline
Begin by setting up an account with DialMyCalls and then register a vanity number for your complaint line. Ideally, this will be a number that's easy for employees to identify and remember so that they can call in whenever necessary.
You must have access to a phone with this number, as it will be called by our automated system to complete setup. A four-digit PIN will be read to you, and after you enter it into your DialMyCalls system, you'll be able to use it as a caller ID for your messages and broadcasts.
Once you have activated your vanity number, navigate to your vanity number "options" section, and check the box that allows users to leave a voice message when they call the number that you have set up for DialMyCalls.
Next, you may use your DialMyCalls system to send out a company-wide voice message, SMS text message, and email about this new employee complaint hotline. Make it clear that this system will be monitored, and that you want to help your employees improve their work environment. After all, employees are unlikely to use such a tip line if they believe that they will simply be ignored.
You should also stress that employee complaint hotline is totally anonymous – you will not reveal any information about callers who dial in with complaints.
Anonymity is key when it comes to an inbound complaint line. If workers believe they will be identified or even punished for reporting misconduct or bad behavior, they won't use your complaint line system.

Employee Complaint Procedure
Your employee complaint hotline should be closely monitored. If you are the owner of a smaller business, you can monitor it yourself quite easily from your DialMyCalls dashboard – whenever your vanity number that has been setup for the new complaint line gets a new message, you've got an employee reporting an issue.
If you are running a larger business you may wish to delegate this task to human resources so that you can be informed if there are problems. Your employees can alert you to important issues that demand your specific attention.
Whether you or an employee handles listening to the complaints and tips sent through your DialMyCalls account, you should check it often, at least twice a day.
You should also be using your tip line to produce results as quickly as possible. For example, if you get some simple complaints such as broken desks, chairs, or other office furniture, a lack of vending machines, or bathrooms being dirty, you should try to take action immediately on these tips from your employees.
This will prove that you're listening closely to their feedback and their complaints and that their input is valued and being used to improve the company.
Letting your employees see you taking care of the little things will build their trust in you – and make them more likely to report on corporate misconduct, employee misconduct, and other more serious issues.
It's important to note that there may be some more serious messages delivered through your anonymous employee complaint hotline. If there are allegations of serious employee misconduct, fraud, or other legally difficult situations, don't take action immediately.
You should seek the counsel of your HR department and your legal team, and take a deeper look into the actions that have been reported on your anonymous complaint line. You should verify the veracity of these claims quietly before you take any relevant action.
Of course, there is always the risk that employees will abuse this system by leaving prank messages or untrue information, but the benefits of having an anonymous inbound complaint line for your employees far outweigh this risk.

Use DialMyCalls to Set up Your Own Employee Complaint Hotline Today!
DialMyCalls makes it incredibly easy for you to set up an inbound complaint line. If you're already using our service, check out the above instructions to get started. And if you haven't made use of DialMyCalls in your company, now is the perfect time to get started.
Our robust messaging system offers a huge list of features for each and every customer and can make communication with your employees a breeze, whether you need to set up an anonymous employee complaint hotline, announce store events, or even send text messages and emails to your entire organization.
Visit our website, and see how our services can help improve your company and create a better work environment for all of your employees.