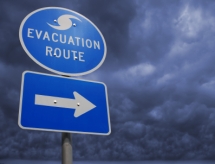 Tropical Storm Ophelia is steadily strengthening out in the Atlantic Ocean and DialMyCalls wants you to be prepared should it make landfall in the United States.
DialMyCalls knows a thing or two about hurricanes as we are located in Jupiter, Florida and we know that being prepared is vital. With Hurricane season at its peak, Tropical Storm Ophelia will most likely strengthen before it threatens to hit the United States and our text message alerts can help you, should the storm make landfall in your area.
Small communities, cities, groups (such as churches) and families can use our voice broadcasting service as an emergency notification system. Let's use Tropical Storm Ophelia as an example since it's a potential threat to the United States. Once signed up for DialMyCalls, the user can begin to import all of their contacts that they would like to receive their text message alerts. Once all of the numbers you wish to contact are in your control panel, you will be able to send them all a voice message or text message instantly.
Should Hurricane Ophelia pose a threat to your community or family, you can send out a text message like the following: "Please evacuate your homes and head to the local church shelter as we prepare for Ophelia to hit our community." After creating your custom text message alert, you may then send it out to everyone in your contact list instantly – it will be received with in a matter of seconds.
While traditional weather alert systems still work, we here at DialMyCalls believe that our text message alerts are a much more efficient and quick way to notify thousands of people at once. Be prepared for Tropical Storm Ophelia by signing up for our voice broadcasting service today!
← Previous Article
Next Article →
Sign up now and try our services for free!
Use the promo code DMCBLOG and get 25 free extra credits