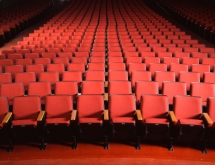 Motion picture studios and movie theaters using mass notifications for promotional use are required to follow all the FCC and your state laws regarding sending automated phone calls or texts. Your customers are required to opt in to receive any kind of message from you, and you must never send any kind of unsolicited message. For texting you can have your customers opt-in to a list via text message, for example text COMPANY NAME to 80123 (our short code), which will opt them in to receive movie release dates and showtimes from you. For phone calls you need expressed written consent from them agreeing to receive your messages.
Are you an avid fan of going to the movie theater and watching all of the brand new movie releases?
DialMyCalls and our voice broadcasting system can be utilized by cinephiles and movie fans all around the country. Motion picture studios can offer information on new movie releases via text message alerts to thousands of people instantly. Along with information regarding new movie releases, studios and motion picture organizations can send out exclusive invitations to special screenings and premiere events.
Let's use the new Twilight Saga: Breaking Dawn as an example at how these new movie text message alerts could be utilized. Summit Entertainment, the production company behind the Twilight movies would simply sign up for a DialMyCalls account. From that point on they could set up a custom text message keyword such as "TWILIGHT" and choose an SMS shortcode (80123). Once their custom keyword and shortcode are all setup, they can start promoting movie alerts on their website, in commercials and via social media platforms such as Twitter or Facebook.
A sample message on any of those platforms would read something like the following: "Text 'TWILIGHT' to 80123 to receive exclusive information regarding the movies release date, special screenings and giveaways." Once fans of the movie start texting in, DialMyCalls would begin populating the contact list within Summit Entertainment's control panel. Now they are able to create custom text messages such as new movie alerts, contests, screenings and release dates in which they can send to thousands of people instantly with the click of a button.
If you are a motion picture studio who have not yet started utilizing the power of text message alerts for your new movie releases then I suggest you sign up for DialMyCalls today!