School Bullying: Bully Prevention Methods and Nationwide Statistics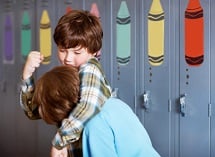 Bullying in schools has become an epidemic in the United States as the statistics mentioned below will show – it's time to take a stand and explore a unique method of prevention.
Statistical data that has been acquired over the past couple of years depict that bullying in schools is on the rise. Several task forces have been created in an effort to prevent bullying and raise awareness on the emotional, physical and verbal abuse that happens daily while children attempt to receive an education at school.
Campaigns such as StopBullying.gov are educating the nation regarding bullying with statistics, warning signs and prevention methods but it still needs to become a more important topic than where it currently stands on the national agenda – bullying is causing irreparable damage to our future generation and it needs to be stopped.
DialMyCalls has scoured the internet to gather information regarding the bullying epidemic in an effort to raise awareness. While providing the following statistics is one step in the right direction, we would also like to help aid in the anti-bullying cause by offering our voice and text message broadcasting services. Schools are able to set up their own anti-bully campaign by using our system to create a bully hotline or a text message campaign which would allow students to report bullying to an instructor immediately.
Please take a quick look at the following data regarding the bully epidemic that continues to grow. To find out more information regarding how DialMyCalls can be used to create an anti-bullying campaign in your school, please read more about our bullying notifications or call our customer support at (800) 928-2086.
2012 Bullying Statistics: (Source: National Education Association)
1 out of 4 kids are bullied.
77% of students are bullied mentally, verbally, & physically.
1 in 5 students admit to being a bully, or doing some "bullying."
Each day 160,000 students miss school for fear of being bullied.
43% of kids fear harassment in the bathroom at school.
100,000 students carry a gun to school.
282,000 students are physically attacked in secondary schools each month.
Frequency Of Bullying In School:
Incidents Per School Year (1-2) – 67.2%
Incidents Per Month (1-2) – 18.7%
Incidents Per Week (1-2) – 7.8%
Every Day – 6.3%