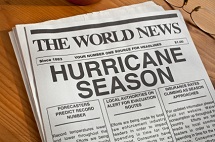 The 2012 hurricane season doesn't begin until June 1st but Tropical Storm Alberto seems to have arrived a little early to the party.
On Saturday March 19, 2012, the first named storm of the 2012 hurricane season became a reality as tropical storm Alberto loomed off of the coast of South Carolina. While the storm only had maximum sustained winds of 45mph yesterday at 5pm EST and posed no threat to the United States, it has people on edge and getting prepared early.
[click to continue...]
Sign up now and try our services for free!
Use the promo code DMCBLOG and get 25 free extra credits