Toll-Free Texting Number Verification Now Required for U.S. & Canada
Posted by Tim Smith in General Post on September 14, 2022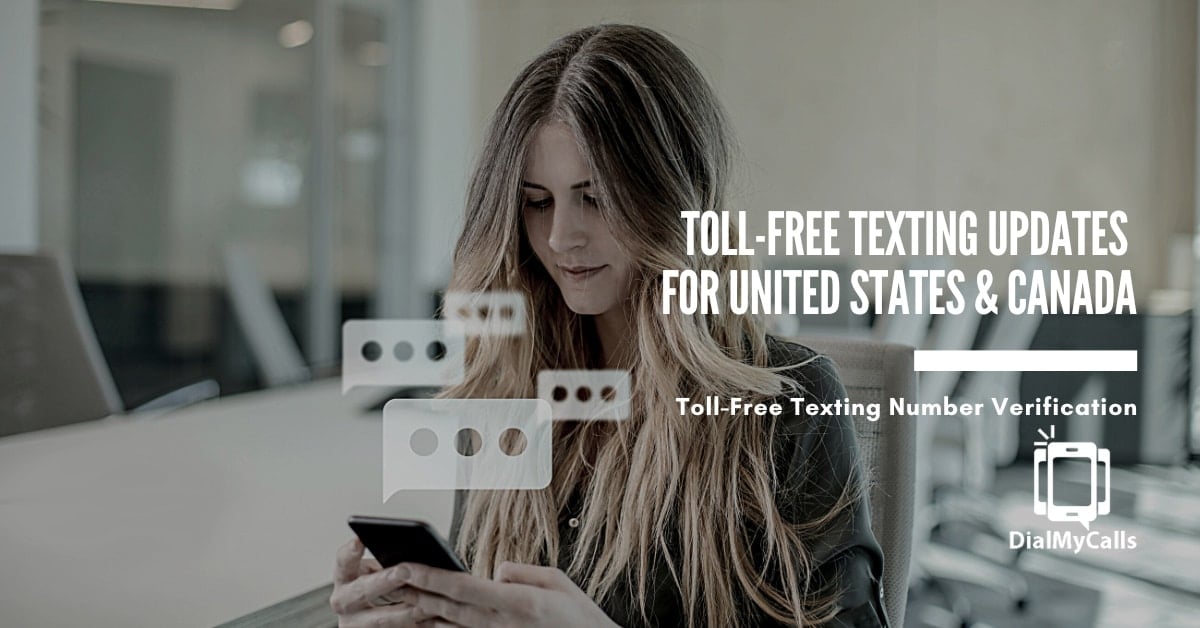 Updated on March 2, 2023
Please read if you send texts to contacts in the United States or Canada, as this impacts you.
Toll-free U.S. numbers are designated for business text messaging by all major mobile carriers in the United States, and most mobile carriers in Canada – this makes toll-free numbers a great alternative to long code or short code numbers in the United States and Canada.
An industry-wide change to text messages that can be sent over an unverified toll-free number was launched on October 1, 2022. This change requires texting customers to verify all toll-free numbers and align sender visibility with the short code and 10DLC messaging channels.
If you've already verified your toll-free texting number(s), no further action is needed to send out text messages through DialMyCalls.
Toll-Free Text Messaging for United States
Due to these new industry-wide restrictions, anyone who sends text messages from a toll-free number must complete a short verification form or their text messages can be blocked. It only takes a couple minutes and is free to do.
We've made it easy for our customers to access and send the form right from their accounts! It is important to verify your toll-free texting number as soon as possible to avoid any disruptions in service.
Toll-Free Text Messaging for Canada
Also beginning October 1, 2022, verification is required for all toll-free numbers when sending text messages to Canada, regardless of the volume of messages being sent. Any unverified text messages destined to Canadian telephone numbers will be blocked.
Toll-Free Texting Number Verification FAQ
Below you will find frequently asked questions in regards to the new mandated toll-free texting number verification that will go into effect on October 1, 2022:
Do I need to verify my Toll-Free number? I already have a Toll-Free number, am I affected?
Anyone who wants to continue to send text messages from a toll-free number to Canada or the United States.
I'm not sending SMS, do I still need to verify my Toll-Free number?
No. Only people sending text messages from a toll-free number need to verify.
Does Toll-Free texting number verification cost money?
No. This toll-free number verification is free of charge.
I have multiple Toll-Free numbers on my DialMyCalls account. Do these requirements apply to my entire account? Do I need to verify the numbers individually?
These changes will apply to the entire account. Each toll-free number will have to be verified individually.
What happens if I don't complete verification?
On October 1st, 2022, SMS messages sent via toll-free numbers will be restricted. You must verify your toll-free number in order to avoid having your text messages blocked.
What happens if it takes longer to verify my Toll-Free number than the October 1st, 2022, deadline?
Once your toll-free numbers are submitted to DialMyCalls, the verification process can take up to 5-6 weeks to complete. During this time, your Phone Numbers are moved to the "Pending Verification" state while our carrier partners review your submission. While you wait, you can use our voice broadcasting service.
Is DialMyCalls reaching out pro-actively to customers?
Yes. We are setting up messages on customer dashboards and sending out emails to potentially affected toll-free texting users.
Once I submit the verification, can I start sending messages again immediately?
Once you submit the verification form to us, we will submit the verification to our carrier partners. While you are in a pending state via our carrier partners, you can use a local vanity number to send texts. Please note, that higher volume local calls may be required to go through a registration process (see below). Alternatively, you can access our voice broadcasting service to send out calls.
I don't want to continue using a Toll-Free number to send text messages.
You can use a local number (10DLC) to send out text messages but this also requires a registration process. In addition to having to register your 10DLC number,  local numbers are limited to 1 SMS per second.
For more information regarding toll-free texting number verification, please contact us today!