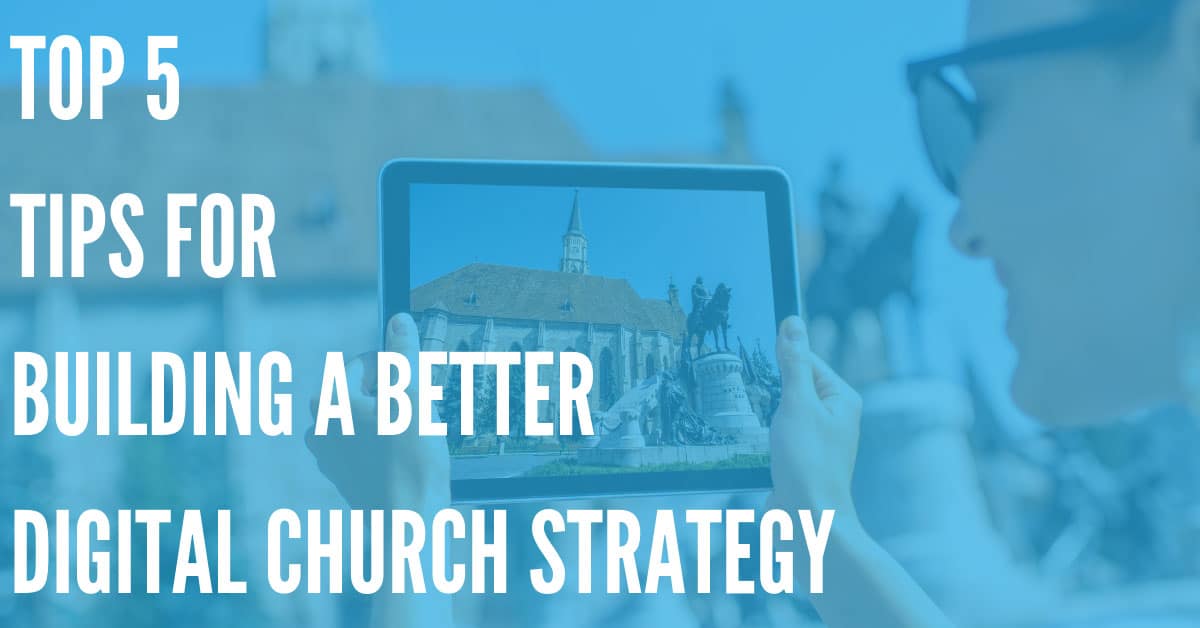 The digital world is everywhere – and churches need to adjust for today's technologically-focused world, and use today's digital technology to bring in more members, and continue building a tightly-knit, Christ-focused congregation.
But digital technology can be intimidating and difficult to use, especially if your church leadership does not have much experience with using modern digital platforms. So, in this guide, we'll go over a few steps you can take to build a better digital strategy for your church, bring in more visitors, and build a strong congregation. Let's get started.
1. Start with Your Website (And Make It Mobile-Friendly)
Your website is one of the first things any visitor will look at before they come into your church. It's a representation of your church, its beliefs, and its approach to worshipping Christ. And if your website does not make a good first impression, a potential visitor may simply find another church, and never come in for an in-person visit.
That's an unfortunate fact, but it's true. 38% of people will stop engaging with a website's content if the website is unattractive or hard to use, and 46% of people base their perception of an organization's credibility on the layout and appearance of their website.
Even if you have a strong, welcoming, and Christ-focused church, it can be hard to bring in new visitors unless you give them a good first impression. So you may want to consider overhauling and revamping your website.
While you do so, you should also ensure that it's mobile-friendly. Mobile web traffic has surpassed desktop traffic, so if you don't make it easy for mobile users to view your church website, you may be missing out on a lot of page views.
2. Make It Easy for Online Visitors to Find Information About Your Church
A great design isn't all you should focus on when building your new website. You should also make it easy for visitors to learn more about your church, and what you stand for. You'll want to add information like:
Bios about pastors and church leadership – This will help visitors learn more about what to expect from each church service and the qualifications of your ministry team and staff.
Information about your denomination, beliefs – You don't have to go too in-depth about the specifics of your catechism on your website, but some basic information about your denomination, organizing body (if applicable) and other such details can be helpful for visitors.
FAQs about your church – Having some basic FAQs to answer questions about expected attire, parking for guests, the process for joining the church, details about communion, and other such topics will help your guests and visitors plan their trip to your church accordingly.
Sunday school and church service information – You'll want to put information about your weekly services and Sunday School services front-and-center on your website, so that visitors will know when they should come to your church.
Availability of nursery/childcare services – For newer parents, this is a big consideration – they'll need someone to watch their children. So make sure you make the availability of your nursery and childcare services clear on your website, and give specific instructions to parents, so that they will know what to do when dropping their kids off before attending the church service.
Put yourself in the shoes of a visitor. What would you want to know about a church before you visit? Develop your website accordingly, and you'll be able to get more guests and visitors to your church, and build a stronger community of believers.
3. Build a Strong Social Media Presence
Beyond your website, you should also invest in building a strong social media presence. Creating profiles on Facebook, Twitter, and Instagram makes it easier for you to connect with more people, and it makes your congregation easier to find online.
Not only that, but a strong social media presence allows you to connect with both current church members and visitors. You can use tools like Facebook to announce church events and put up information about upcoming services, and ensure that everyone is always informed about the latest developments at your church.
By investing in a strong social strategy, you can bring in more attendees, and connect with existing members of your congregation more effectively. That's a win-win!
4. Create a Newsletter to Connect with Members and Visitors
A newsletter is a great way to keep your members – and visitors – in the loop about what's going on at your church. Using a modern service like MailChimp, it's easier than ever to automatically send a well-designed, informative newsletter.
You can even integrate a sign-up button onto your website, so that both current members and visitors can quickly and easily join the mailing list, and stay updated. You can send out information about upcoming special events and services, volunteering opportunities, and other such information that will help you stay connected with your members online.
5. Consider Implementing SMS Marketing into Your Digital Strategy
SMS marketing can be an extremely effective way to contact visitors – even more so than email. Why? Because SMS messages have an open rate of over 98%, and are highly effective at reaching visitors who come to your church.
Using a service like DialMyCalls, you can send messages to visitors and guests after they've signed up to receive SMS text messages from your church. Using this service, you can send messages about upcoming events and church services, ask for feedback about how their visit to your church was, and much more.
Best of all, because DialMyCalls supports two-way text messaging, you can also answer any questions or respond to any comments that a visitor or guest has about your church!
Bring Your Church into the Digital Age with These 5 Tips
Using digital technology to bring in new visitors – and communicate more effectively with existing members – has a number of great benefits. So don't wait. Think about how you can use these tips to refocus your church's digital strategy in 2019 and beyond – and build a stronger congregation.