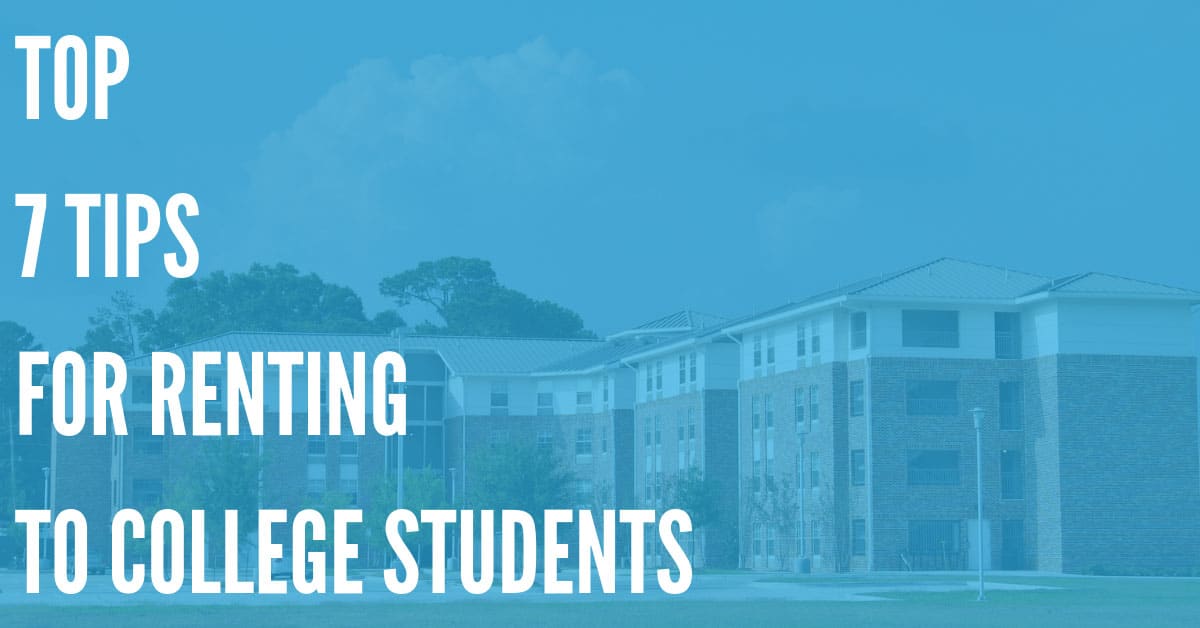 If you own rental properties in a college town, renting to students can be a great source of income. However, students bring their own unique set of risks – like rowdy parties that can cause property damage, poor apartment maintenance and care, little or no rental history, and other such risks.
So, how can you make sure that you protect your rental property when you're renting to college students? Here are a few of our top tips.
1. Require Co-Signers for Students With No Rental History
First and foremost, you may want to consider requiring a co-signer for any student who has never rented another property before. This is very common for student properties.
A co-signer, like a parent, signs the lease and is responsible for paying the rent, in the event that the student doesn't pay on time, or fails to pay at all. This is the best way that you can prevent late rent payments, and ensure you get paid.
For students who have a rental history or a steady income, this may not be necessary. Still, it's a good way to protect yourself from bad tenants, and make sure you get paid on time for your rentals.
2. Implement "By the Bedroom" Leases
A "by the bedroom" lease is a good way to prevent a lot of issues when renting to students. First, it ensures that you do not have to worry about evicting or pursuing every resident of a property if payment is late – each person is only responsible for their share of the rent. Each renter is protected from the others if they don't pay.
Additionally, each student will only be responsible for damages to their own bedroom, as well as common areas – instead of the apartment as a whole. With an individual lease, you can also easily rent an empty room to someone else if a tenant leaves early, breaks their lease, or is evicted.
3. Require Renters Insurance
Requiring renters insurance is a good way to protect yourself from damages if your apartment or property is damaged or destroyed by a renter. If one of your renters is liable for damage to your property, you can file a claim with their insurance company – and avoid paying higher rates due to filing a claim with your own insurer.
4. Include Utilities in the Rent
In many cases, students are not as good at budgeting and handling money or paying bills as older renters. This means they can run into issues if they have to pay all of their utilities on their own. Because of this, you may want to consider including the following utilities in rent payments:
Electricity
Gas
Water
Trash
Internet
Not only will this make things easier for your tenants, but it will also make your property a more appealing place to live.
One thing you should be aware of, though, is that students may not monitor their utility usage as much when they're not paying on their own – so make sure you price your rental units accordingly.
5. Make It Easy for Students to Communicate Maintenance Issues to Management
Many students won't stay in the same building, home, or apartment for more than a year or two. Due to the short-term nature of their stay – and inexperience living on their own – they are usually quite a bit harder on your property than an older tenant may be.
Set Up A Property Management Notification Solution
Sign Up For A Free Trial Today!
Request Information
In addition, they may ignore maintenance issues that require immediate attention – like leaky pipes and faucets, and other issues that should be fixed right away. This can lead to serious damages to your property.
To help eliminate this issue, we recommend that you provide students with an easy way to report maintenance issues to management. Using an online property management service to log maintenance tickets is a good idea.
You can also use a service like DialMyCalls to set up an emergency maintenance hotline, and provide this phone number to all of your renters. Then, if they notice a serious issue with their property, it will be easy for them to report it by simply calling and leaving a message.
6. Sign Students up for Annual Leases, and Make Subleasing Easy
One of the biggest problems with renting units to college students is that many of them won't stay in college towns during the summer. Whether they're going home to live with their parents, studying abroad, or taking an internship in another city, many of your tenants will leave their apartments during the summer.
The best way to deal with this is to make tenants sign an annual lease – running from August 1 to July 31, for example. Even if they aren't living in the apartment or property, they'll still be responsible for paying rent – which will help keep your cash flow strong.
In some cases, students who are getting loans will even be willing to pay for an entire year's of rent up front, which can help improve your cash flow.
You should also make it relatively easy for tenants to sublease their rooms, so that they can rent to someone else when they aren't there. This helps ensure you don't have any properties that are completely vacant.
7. Have a Policy in Place to Deal With Parties, Noise Complaints
Parties will happen, so you need to have a policy in place to deal with noise complaints and unauthorized parties. From warnings to penalties and even evictions, you need to make sure you can deal with problem tenants – and prevent them from throwing parties that could result in damage to your property, underage drinking and more.
Follow These Tips – Rent to Students Without Any Headaches
Renting to college students is not always easy, and it can be a bit risky. But with these simple tips, you'll be able to protect your property from damage, minimize the risk of parties, and ensure that your students pay on time. So follow these tips when renting to college students – and protect your business and your property.