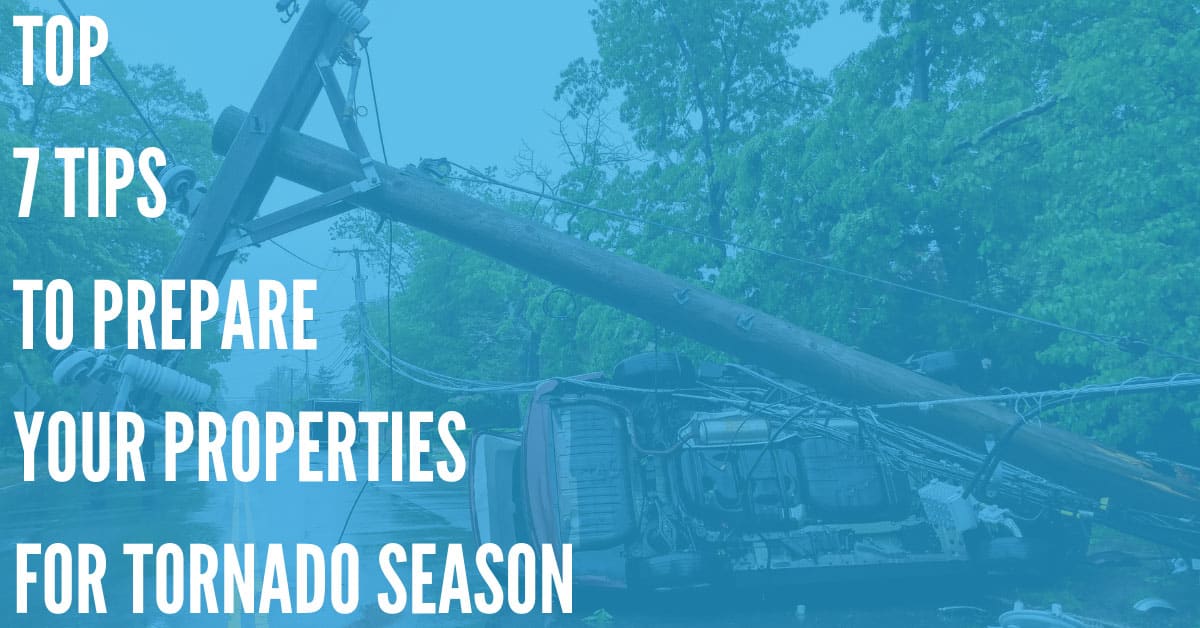 Depending on where you are in the United States, tornado season can run anywhere from early March to late July and beyond – and it's not unheard of for serious tornadoes to happen outside of tornado season.
If you're a landlord in a state that gets a lot of tornadoes, it's important to be prepared. While it is statistically unlikely that your property will be damaged or destroyed, you still need to be ready for the worst-case scenario – and know what to do to prepare for it. In this article, we'll explore some basic steps you can take to prepare your properties for tornado season.
1. Check Your Insurance Policy and Consider Additional Protections
First things first, you should take another look at your insurance policies for your properties, and make sure that you understand the coverage to which you are entitled. For example, your policy may cover storm damage – but it may not cover lost rent from the time period in which a unit is damaged, and cannot be rented to a tenant.
We recommend that you take a close look at your policies with your insurance agent, and discuss any additional protections or insurance products that may help secure your rental properties during tornado season.
2. Consider Impact-Resistant Windows or Storm Shutters for Your Properties
One of the best investments you can make against tornadoes – as well as other types of storms like derecho windstorms and heavy thunderstorms – is impact windows and storm shutters for your properties.
Impact windows are built out of glass that is resistant to breakage from wind-blown debris. Storm shutters are usually made of metal or wood, and can be closed to cover up exterior windows completely, offering similar protection from debris.
This can help prevent damage to your property from wind and rain. In addition, in severe tornadoes, this may help preserve the roof of your property. Roofs tend to "blow off" when the exterior windows are breached. This causes wind to be forced into the home and upwards – and this change in pressure lifts the roof off and destroys it.
3. Trim Damaged or Dangerous Trees and Branches
As a precautionary measure, you may also want to trim trees and branches that are near your property, and may pose a threat to your windows or roof structure. A heavy branch that is blown into a roof or through a window could damage your property and injure or kill a tenant.
So, before tornado season starts, you should trim any trees that may need it. This will help safeguard your property, and your tenants.
4. Send out Emergency Alerts When There Is a Tornado Warning or Watch
When there is a tornado, you need your tenants to take action to protect your property – and their own safety. We recommend that you use a service like DialMyCalls to send emergency text message alerts to your tenants when there is a tornado warning or watch, instructing them to do things like:
Close windows and storm shutters (if applicable)
Close and bolt doors and storm doors
Get to a safe place away from heavy furniture
Shut off water and gas lines or circuit breakers to prevent fire and flooding
Secure all outdoor items that may be loose (grills, toys, lawn equipment)
By alerting your tenants, you can help them make sure they take the right steps to stay safe – and protect your property at the same time.
5. Document The Condition Of Your Property For Insurance Purposes
Before tornado season, we highly recommend that you take photos of the exterior and interior of your property. Be as thorough and comprehensive as possible, and save these photos, as well as information about where and when they were taken, in a secure location.
This is important because insurance companies will often want to verify the damage that was done by a tornado – and ensure that there was no pre-existing damage that they were not informed about. If you can present them with photos proving the condition of your home, the claims policy will go much more quickly.
In addition, if your rental property is seriously damaged or destroyed by a tornado, you should take photos of the damage as soon as you can, so that you can speed up the insurance claims process.
6. Find Trusted Local Contractors Who Can Help Repair Tornado Damage Quickly
It's a good idea to have a list of local contractors who you work with often, so that they can help you if you need to repair your property after a tornado damages it. Consider making a list that includes:
A roofing company
A plumber
An electrician
A water/flood remediation company
A general contractor
You should not begin repairs until you have gone through the insurance claims process, but having this list on hand will make it easier for you to begin the process once your claim has been approved.
7. Have a Plan for Displaced Renters and Tenants
In most cases, you will be legally responsible for providing shelter to your displaced tenants until your property can be repaired – or until it's deemed a "total loss." That means you should have a plan for your tenants, and where they can be sheltered while your property is repaired.
You may also want to work with your insurance company for this. If you have coverage that will cover short-term housing for your renters, they may have a recommended partner or partners who can help provide temporary housing for your tenants until your property has been repaired.
Follow These Tips – And Stay Safe This Tornado Season!
As long as you take the right precautions, you'll be able to protect both yourself and your tenants in the unlikely event that a tornado destroys or damages your rental property. So think about what you've learned in this article, and how it may apply to your rentals – and take steps towards protecting yourself, your property, and your renters.