8 Extremely Effective Tips for Marketing Your Next Conference or Trade Show
Posted by Tim Smith in Event Reminders on February 28, 2018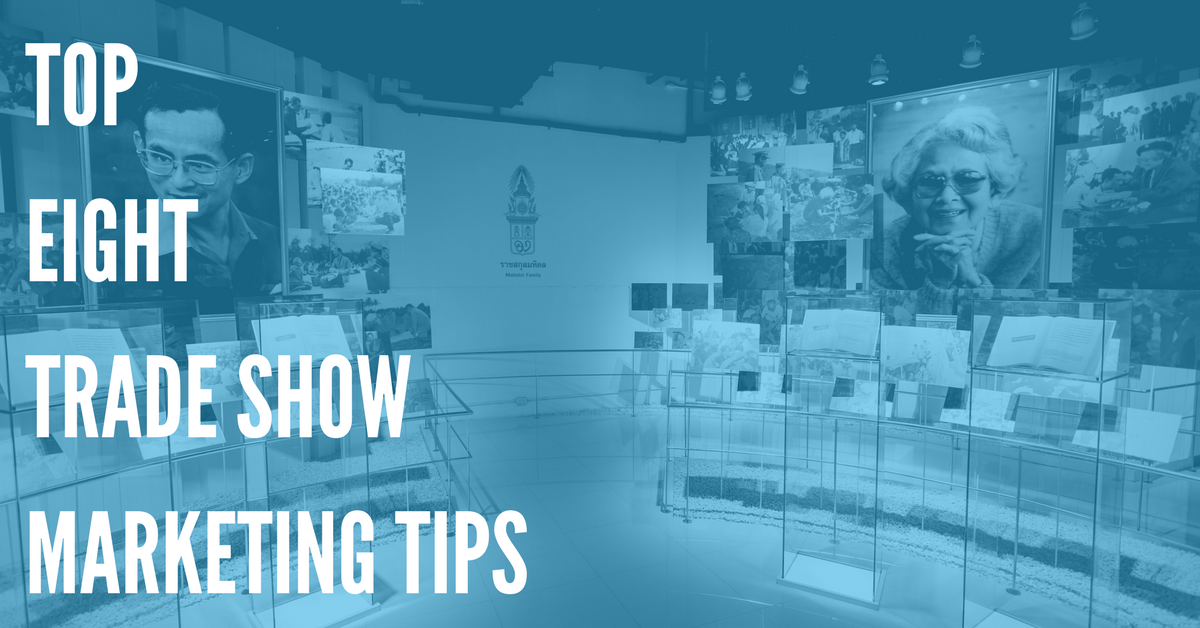 If you're an event manager, and you're responsible for the marketing and promotion of a conference or trade show, it can be hard to know where to begin. Many trade shows and conferences are very industry-specific, so gauging the best methods of marketing is often quite a challenge.
In this article, we'll take a look at 8 extremely effective ways you can market your next conference or trade show.

1. Reward Returning Attendees
This is one of the best ways to ensure that you start strong when marketing an event like a conference or trade show. If someone has attended your show in the past, chances are that they're going to be very interested in returning – especially if you give them additional benefits and bonuses.
Using an email newsletter, traditional direct mailers, or SMS marketing from DialMyCalls, you can reach out to attendees that came to your show last year, and offer them special promotions and offers that will make them more likely to purchase a ticket.
You could offer them significant discounts on a ticket, for example, or a special "meet and greet" session with an industry luminary who is speaking at your conference. You could even offer a special keynote or workshop that's available only to those who have attended your conference before – your options are limitless!

2. Sell "Early Bird" Tickets
You want to make sure you start selling tickets as soon as possible, and one of the best ways to do that is with early bird pricing. Offering a reasonable discount for folks who buy their tickets early is a great way to make them take action! Once they see that prices will go up if they wait, they're sure to want to attend.
You can also consider offering discounts to large groups from a single company. This will encourage more attendees, and a better overall turnout.

3. Sell Flexible Passes and Tickets
Not everyone can attend a full 3+ day conference – so why should they have to pay for the entire conference when they're not attending for the full session? Offering one-day or even half-day passes is a good idea. This will allow you to sell tickets to people who wouldn't otherwise be able to attend.
4. Ask Influencers and Speakers to Write About Your Conference
Chances are, the first people to sign up for your conference will be influencers in their industry. Reach out to them, and ask them to write a quick blog post about your upcoming conference, or type something up for their LinkedIn page. You can even sweeten the deal by offering additional bonuses if they do so!
You can also ask keynote speakers and other conference speakers to write about your upcoming event, to build even more buzz.

5. Don't Just Promote Your Show – Promote Its Location!
Your conference is probably not running all day, every day – and people are going to want to know what they can do after-hours! So don't just promote your trade show or conference. Focus on its location, too!
By choosing a great city, and an event space located in a downtown or another high-traffic area, you can bring in attendees who want to enjoy your trade show – but have an easy time blowing off steam, and going to bars, restaurants, or other entertainment venues after the day is done.

6. Work With Event Sponsors to Promote Your Conference
Your event sponsors are great promotional partners. They likely have a wide reach in your industry – for example, if you're hosting a trade show for construction equipment, Caterpillar may be one of your event sponsors!
Event sponsors should have a vested interest in your event's success. After all, the more people attend, the better – that means sponsors get a better return on their investment!
So work with event sponsors to promote your conference. You can simply provide them with an email template, and allow them to send information about your conference or trade show directly to their customers. This is a great way to expand your reach organically.

7. Contact Professional Organizations in Your Industry
Professional organizations are one of the best marketing and advertising resources available to you. For example, if you were running a plumbing-focused trade show, you could contact the American Society of Plumbing Engineers to see if they are interested in promoting your event!
This is true no matter what industry you're in. There are likely dozens of professional organizations in your industry, and they're worth reaching out to – no matter how big or small they may be.

8. Keep Attendees "In the Know" With Regular Updates
Often, you won't know all of the details and specifics about your trade show or conference until a month or two before the event itself. This is normal – and most people buy tickets to conferences before the full lineup of speakers, workshops, and attending companies is announced.
However, you should still try to keep attendees in the loop about what's happening with your conference. As time goes on and the event gets closer, update them regularly about new keynote speakers and events that will be available at your conference.
DialMyCalls is a fantastic way to do this. With short, easy-to-read SMS messages, it's easy to keep attendees aware of new developments. And with a low-cost, pay-as-you-go business model, DialMyCalls is very affordable.
You can also choose to send out flyers, or an email newsletter detailing more information about what's happening at your event. Regardless of the method you choose, you're sure to build buzz if you keep sending out information and updates about your conference or trade show.
Follow These Tips – Make Sure Your Next Conference or Trade Show Is a Success!
With these simple tips, marketing a new trade show or conference does not have to be difficult. Anyone can make use of this advice to promote their event, get more attendees, and ensure that their next show goes off without a hitch! So think about these tips now, and see how you can use them to build a better trade show or conference.