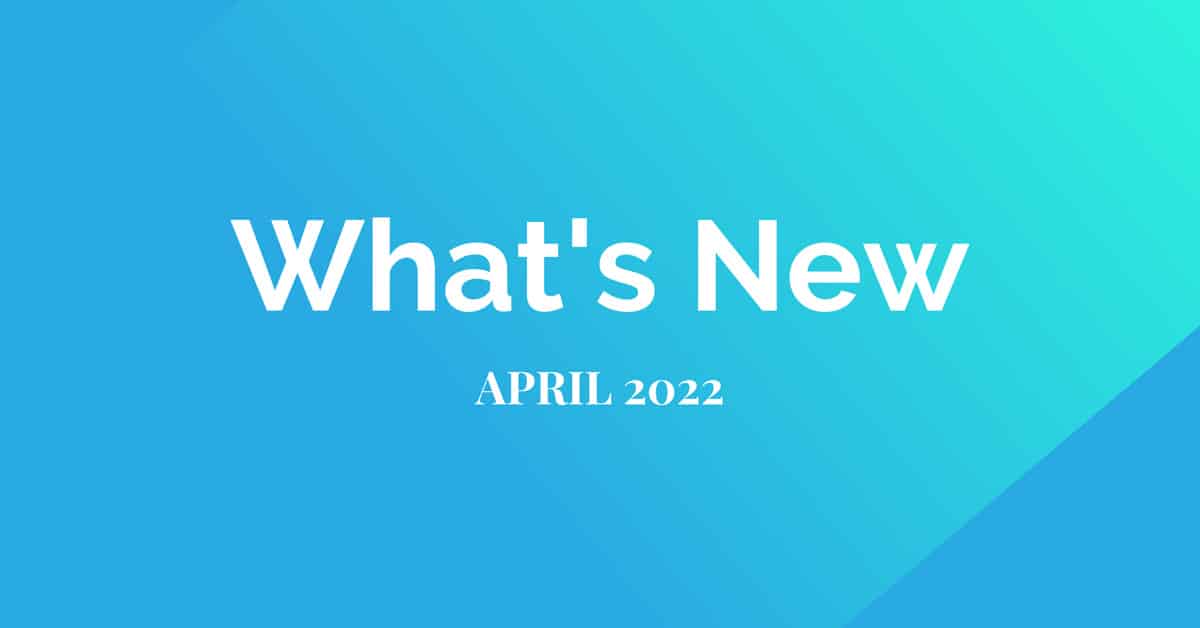 We're kicking off April with exciting news for our customers — DialMyCalls now offers advanced emailing! In addition to our free bulk emailing, customized HTML emails from personal email domains can now be sent out through DialMyCalls.
We have also updated our SMS Marketing Guide to help show the various ways our mass texting can be utilized for your marketing needs. And rounding out ways in which DialMyCalls can help boost your business, check out our brand new case studies page and webinars for helpful insider tips!
Advanced Emailing
Our Advanced Mass Email Service is now live on DialMyCalls. Customers who purchase a standard monthly plan, premium monthly plan or auto-replenish credits can also purchase advanced emailing.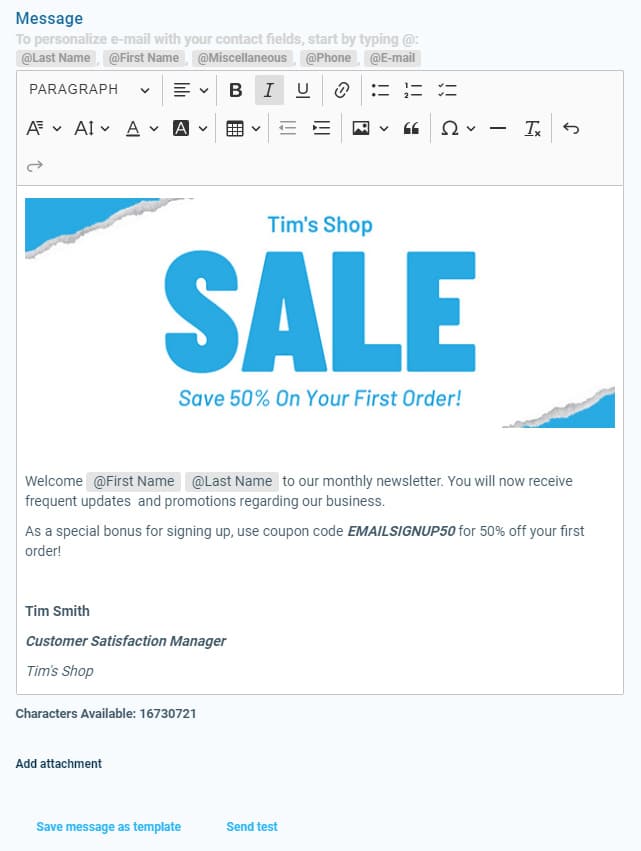 Advanced emailing unlocks the ability to send out bulk emails from personal domains — emails will no longer come from support@dialmycalls.com. In addition to custom email domains, advanced email offers the ability to send HTML emails with image attachments (up to 50mb), as well as use our variable messaging feature.
SMS Marketing Guide
Our SMS Marketing Guide is full of in-depth how-to guides for text message marketing campaigns. Browse through our guides to learn how you can best utilize SMS marketing to promote your organization or business.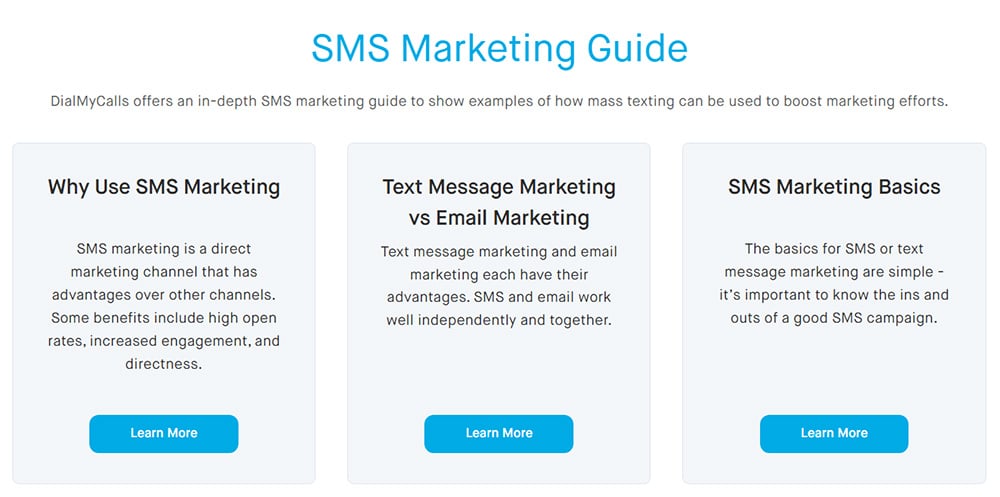 Case Studies
DialMyCalls has over 40,000 customers and our brand new Case Studies page shows off how different companies and organizations utilize our mass texting, voice broadcasting, and bulk email service.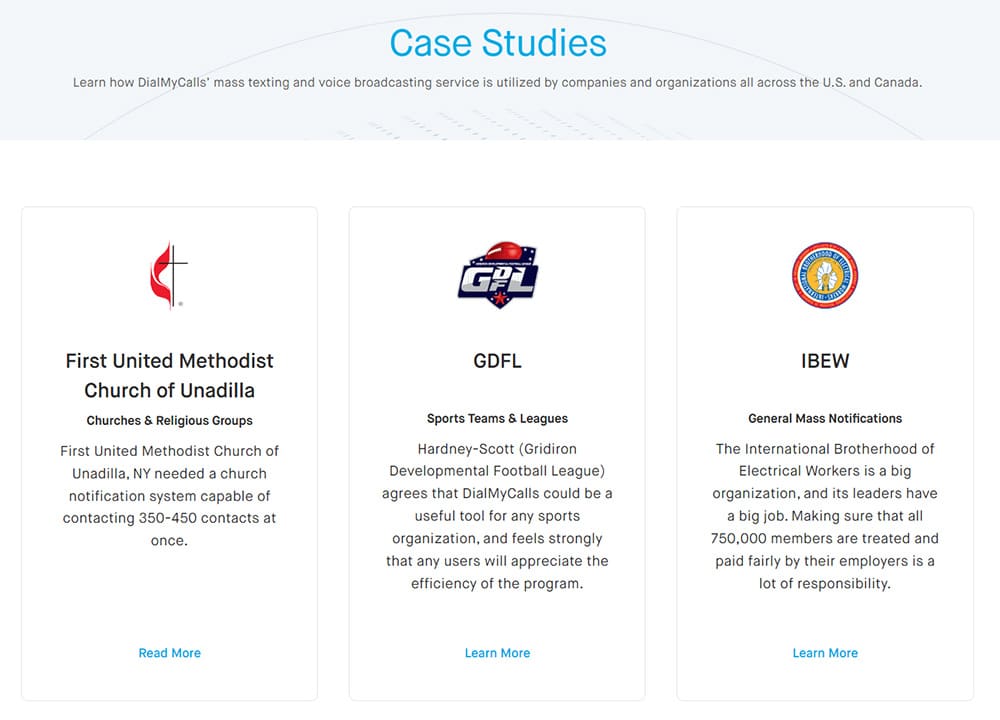 Read through several case studies from all of the different niches that DialMyCalls is perfect for. Find out just exactly how our service can be beneficial to your small business or organization.
Webinars
Several of our loyal customers loved DialMyCalls so much that they took time to record a webinar to showcase how they use DialMyCalls.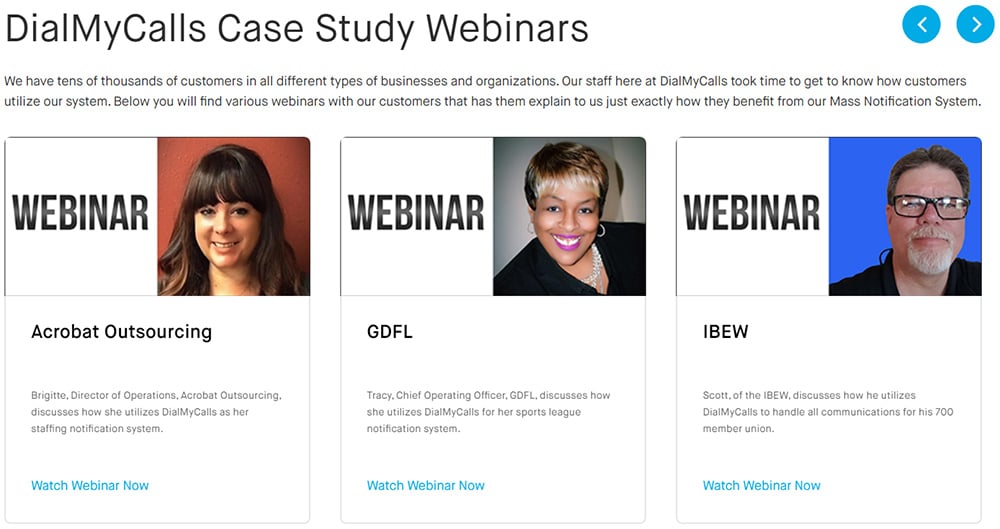 Our Case Study Webinars showcase a wide-range of organizations that utilize DialMyCalls for their mass communication needs. Watch as we talk about why they chose DialMyCalls, how they use our service, and what they find beneficial from being able to send mass texts, automated calls, and bulk emails to all of their contacts at once.
For more information regarding DialMyCalls' new Advanced Mass Email Service , SMS Marketing Guide, Case Studies, or our Webinars, please contact us today!