AWeber Integration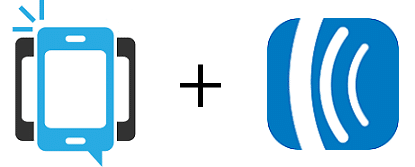 Send SMS Text Messages & Automated Phone Calls To Your AWeber Contact List
DialMyCalls now offers the option to send voice broadcasts and text messages to your AWeber lists. The brand new integration allows you to sync up your existing AWeber data as well as collect new contacts through a custom form – once synced, our system will automatically add any new subscriptions from your AWeber account into your DialMyCalls account.
Follow the instructions below to start sending out phone calls and text messages to all of your AWeber lists:
The first thing you will want to do is to create a new list in your AWeber account – this list will become a contact group in your DialMyCalls account once the integration is complete.

Now that you have created your list, it's time to set up your AWeber sign up form. The sign up form will be how you collect opt-ins to send out automated alerts through your DialMyCalls account. When creating a new sign up form you will need to "Create A New Field", name it "Phone Number" and then have it display "10-Digit Phone Number" on the form itself – a 10 digit phone number is required for the DialMyCalls – AWeber integration to work. *We are now going to save the form and come back to this tab in a bit. You are now going to want to log into your DialMyCalls account.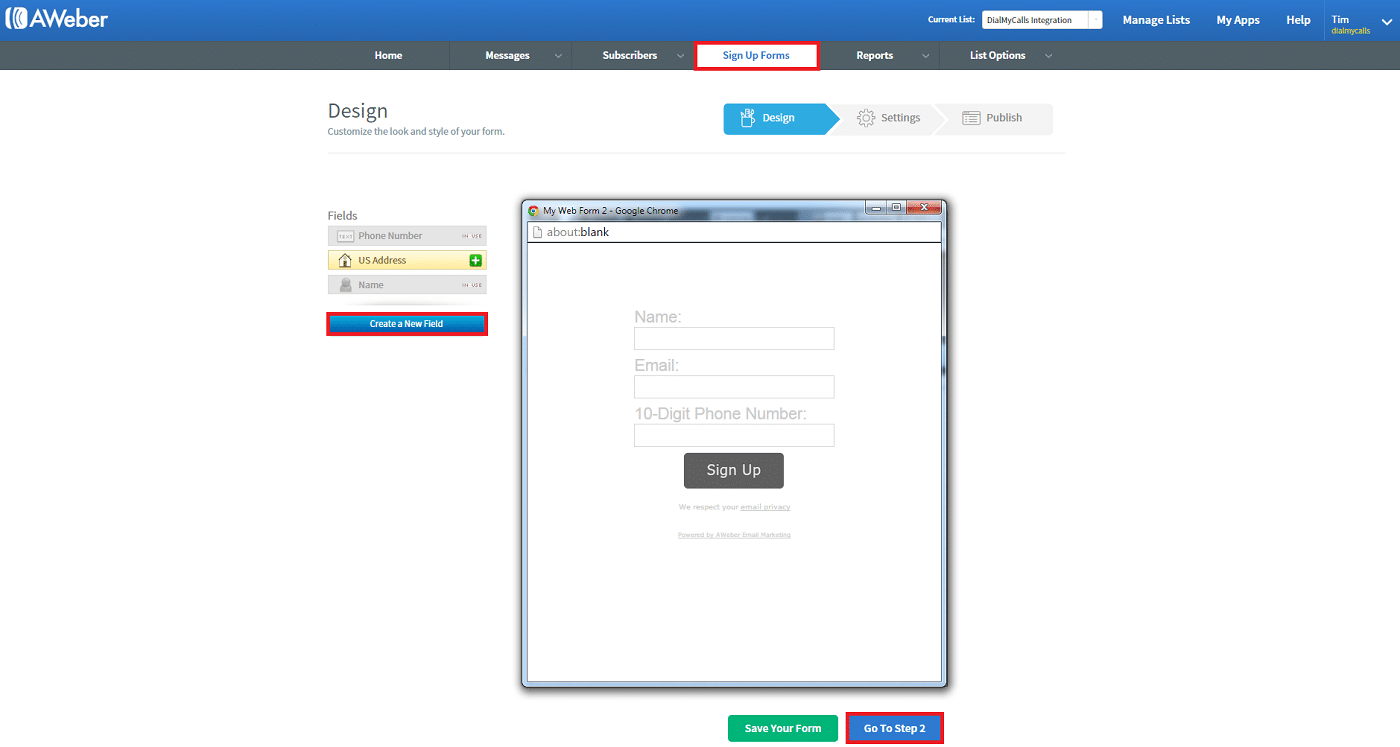 Once logged into DialMyCalls, click on "My Account" -> "Integrations" -> "AWeber" – click on "CONNECT AWEBER ACCOUNT" to begin the integration process.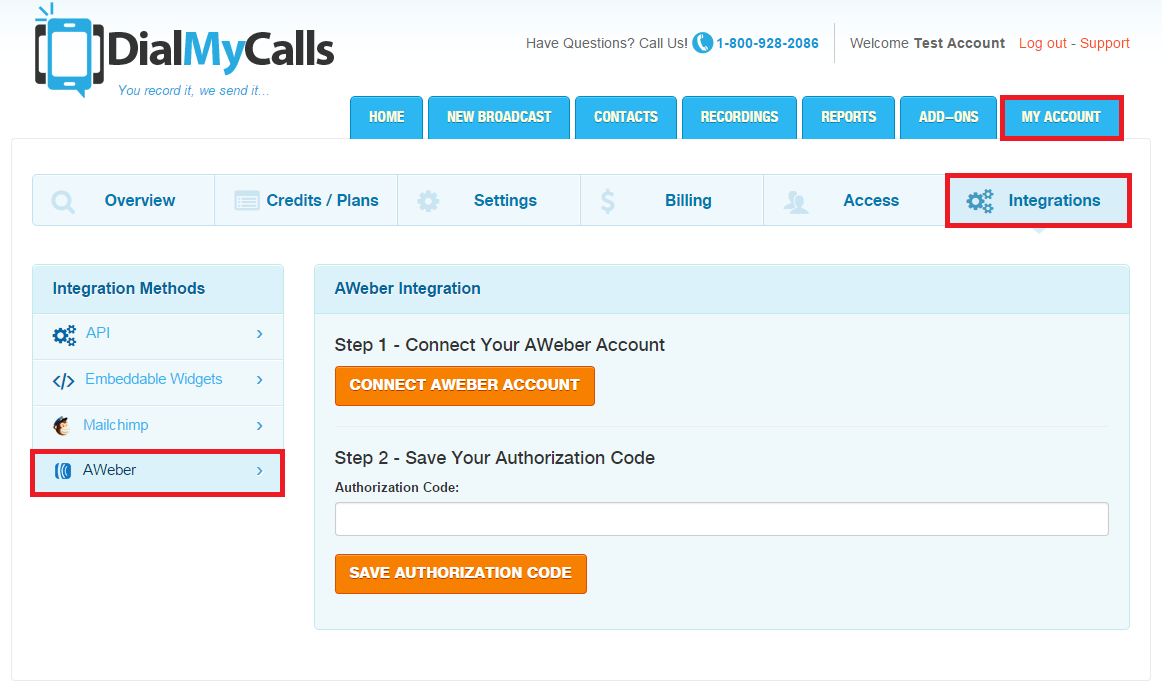 Enter your login name and password for AWeber and click the green "Allow Access" button. A pop-up will then appear with an authorization code letting you know that the integration was successful. Copy code that is displayed and head back to your DialMyCalls account. You will want to paste the code from AWeber into the form field that says "Authorization Code:".

Upon entering your AWeber authorization code into your DialMyCalls account you will be prompted to set up your integration. Select the AWeber list that you created earlier and then choose the form fields that you want imported into your DialMyCalls account – this will be "custom_fields.Phone Number" and "Name".
Step 3 is going to give you a unique URL that you will need to copy and then paste into your AWeber form – this URL is how you will add the people that use your sign up form into your DialMyCalls account.
Step 4 will ask for a special "Thank You" page URL. When someone opts in to receiving your alerts, this page is where they will be redirected to. You can set this to be your website's homepage or you can create a special page – once everything above is filled out, click on "SETUP THIS INTEGRATION NOW".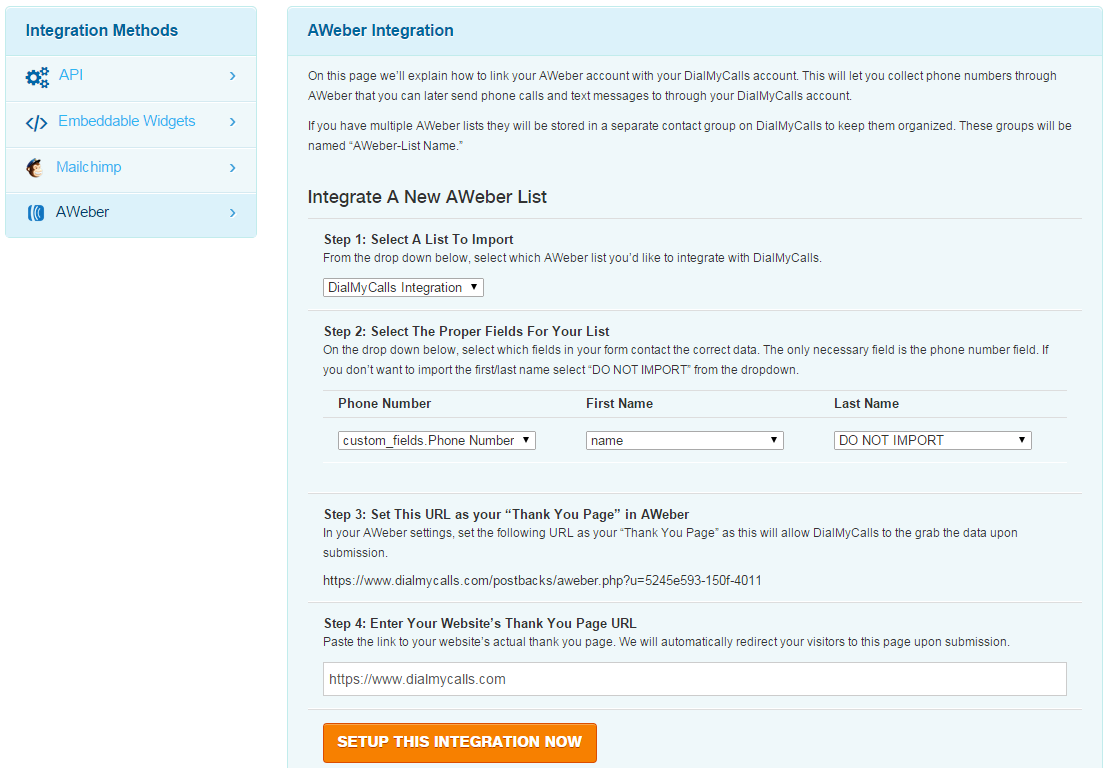 To start collecting opt-ins to send voice broadcasts and SMS text messages to you will need to log back into your AWeber account and finish setting up your form. On step 2 of the form creation process, you will be asked for a "Thank You Page" as well as an "Already Subscribed Page". You will need to select "Custom Page" for both of these and then paste in the special URL that was copied in step 3 from the image above. Please make sure that you also click on "Advanced Settings" and then you will need to check off the box under "Pass Form Data" – once done you can click on "Go To Step 3".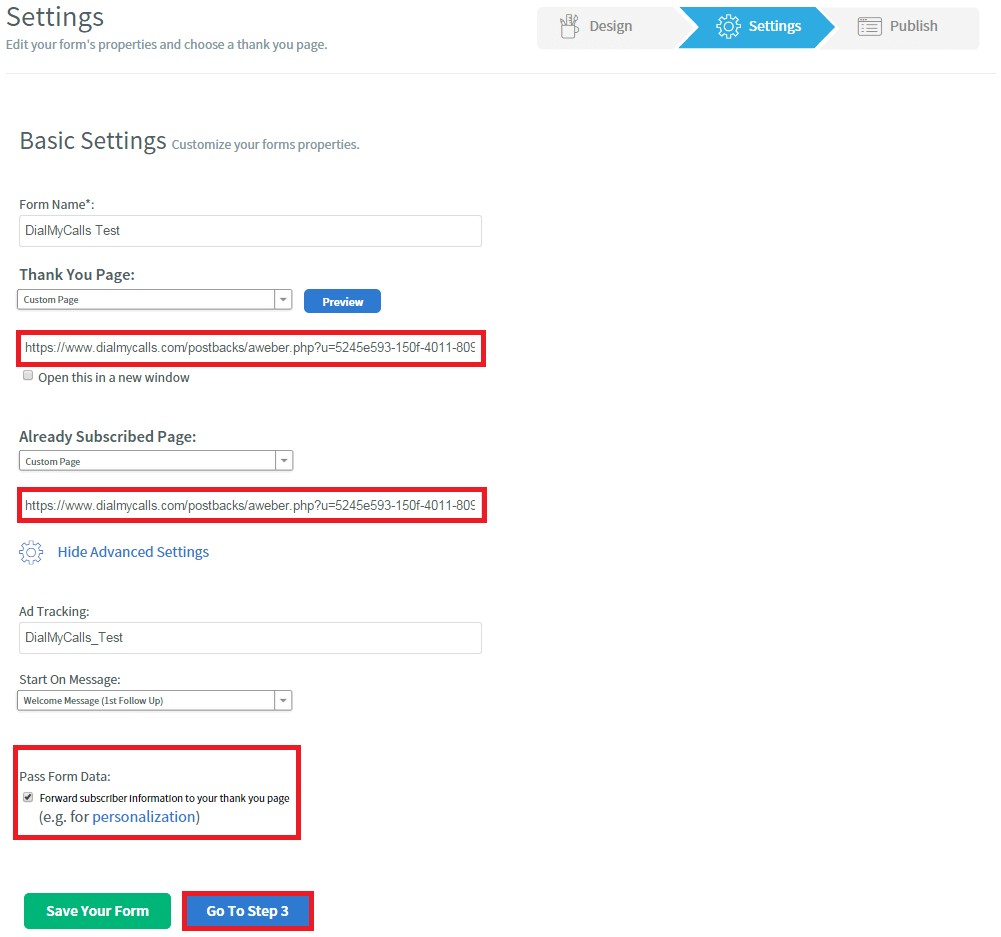 Save your newly created AWeber form and then you will be asked how you want to publish your form. If you are using your website to collect opt-ins then you will want to click on "I Will Install My Form" to receive the HTML code. You are also able to have AWeber host your form and it will generate a link for you to send out to collect opt-ins.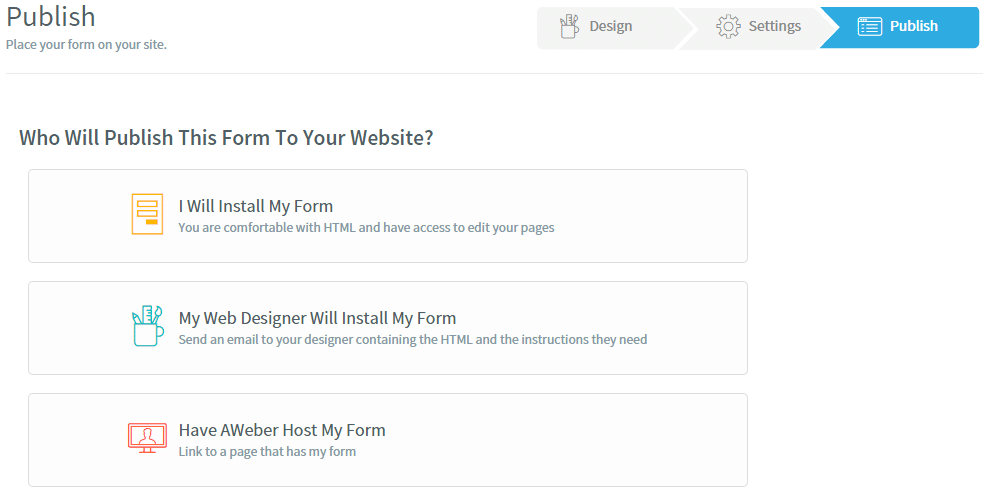 While the DialMyCalls – AWeber integration is mostly for newly created lists, we do offer the option so sync an existing AWeber list into your DialMyCalls account – please note that you must have collected 10-digit phone numbers for the integration/sync to work. To import an existing AWeber list, select your list name, choose the proper form fields to import and then click on "SYNC AWEBER CONTACT LISTS".

Whether you have created a new list or imported an existing one from AWeber, contacts will show up in your DialMyCalls account with an AWeber icon next to them. The group(s) that you integrated will also show the AWeber icon which is to let you know that they are apart of your integration.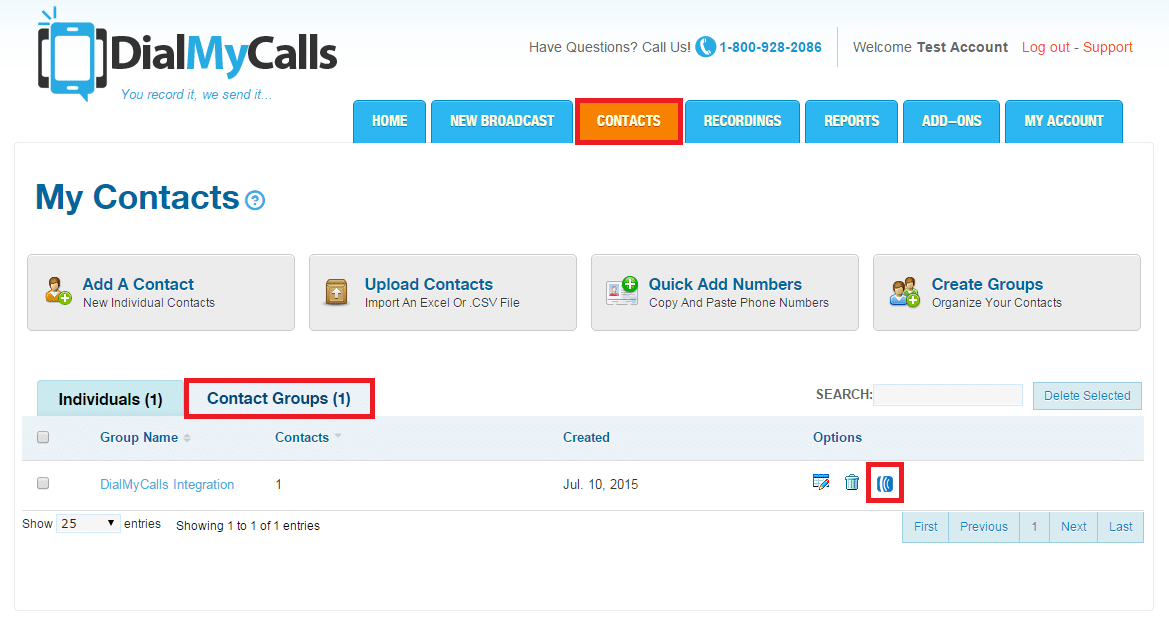 You have now integrated your AWeber list(s) with your DialMyCalls account and can now send out voice broadcasts as well as SMS text messages to everyone that opts in using your online form.
If you have any additional questions on how to integrate your AWeber list(s) with DialMyCalls, please contact us.