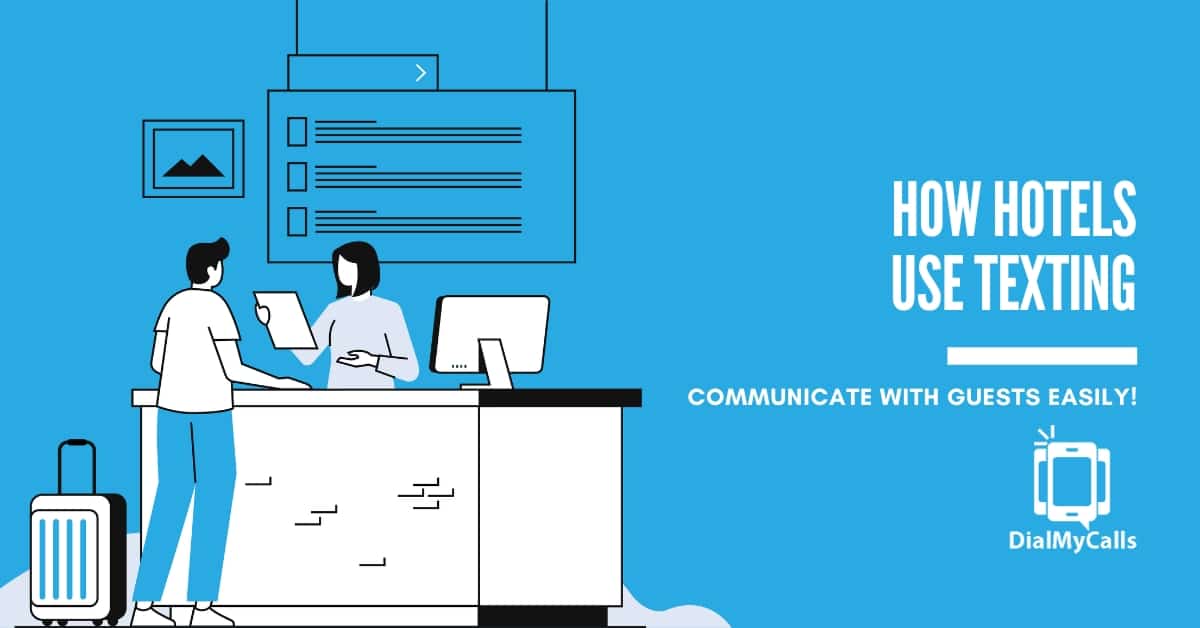 Effective communication with guests is fundamental to good hospitality and customer service. But, to improve communication with guests, you must be ready to adjust to the latest global trends.
Currently, texting is one of the easiest, fastest, and most convenient ways to communicate with guests. Whether you want to send a welcome message or remind them of their reservations, text messaging can strengthen the relationship between you and your guests.
With this in mind, we'll discuss the best ways hotels use text messages for guest communication and how it works. If you're ready, let's begin!
Best Ways Hotels Use a Text Messaging System
Text messaging can improve current guests' user experience and even catch the eyes of potential ones. According to a recent survey by Oracle Hospitality and Skift, 73% of travelers would rather use their mobile devices to navigate their hotel experience.
Regardless, you should recognize what situations you can utilize text messages to ensure your lodgers are impressed and satisfied. Here are some ways you can properly maximize your text messaging system.

1. Pre-Arrival Information
Every hotel guest wants a seamless check-in process with little stress. Communicating pre-arrival information like room numbers and Wi-Fi details through automated text messages reduces the chance that guests become overwhelmed while checking in. It also prepares guests and arms them with all the information they need for a smooth stay.
Furthermore, text messages can help you inquire beforehand about lodgers' preferences and needs. For example, you can ask about special requests such as dietary preferences or specific room types. This information equips your hotel to accommodate them better.

2. Send Booking Reminders
Guests can easily forget little but essential reservation or lodging details without booking reminders. Hence, using text messages, you can send reminders to help guests recall this information and inform them of any last-minute updates. Besides keeping them informed, this demonstrates that you care about their comfort and convenience, thus increasing their chances of returning.
Meanwhile, the timing of these booking reminders is as crucial as the text message. Sending the reminders a day or two before your guests' arrival gives them enough time to prepare before coming.

3. Check-In and Check-Out
While a physical check-in and check-out system is the norm in most hotels, it can also be time-consuming and slow. On the other hand, incorporating a text messaging system makes your check-in and check-out process more efficient and convenient.
Using this system, you can communicate necessary identification documents to guests to hasten their check-in and check-out processes. Depending on your technological capacity, you can also integrate online forms into these text messages to enable guests to submit necessities before arrival.
However, some guests may require extra assistance, so you must provide contact information in your message. This way, they can easily reach you when in need.

4. Answer Guest Questions Quickly
For most people, waiting in long lines to get information is cumbersome; thus, you want to reduce or eliminate this for your guests. You can combine automated text-messaging systems with an FAQ (Frequently Asked Questions) database for faster response to guests.
These systems provide a communication channel available 24/7, so guests are always assured of a quick response.
For more personalized questions regarding room details or reservation dates, integrate your text messaging system with Customer Relationship Management (CRM) software like Monday.com. This integration allows guests to request details specific to them and get accurate, immediate answers.

5. Offer Real-Time Concierge Assistance
Similar to physical front-desk services, a physical concierge may be slow and inconvenient. So, creating a text line exclusively for concierge services makes it easier for guests to inquire about events, recreational activities, and personal assistance.
For example, a text messaging system can inform guests about nearby tourist locations. Additionally, guests can request room service, housekeeping, or transportation arrangements without physically contacting the concierge. This increases efficiency and boosts lodgers' overall satisfaction with your hotel.

6. Get Feedback and Increase Online Reviews
Text messaging systems are a great way to get feedback and increase the quantity and quality of online reviews. While filling out paperwork may not appeal to guests, sending post-stay surveys through text is more encouraging, as these can be done at their convenience.
Remember that politeness prompts more favorable responses, so show your appreciation before requesting feedback. Also, keep your questions direct and straightforward to facilitate the survey completion.

7. Send Offers and Promotions for Your Hotel or Hospitality Business
Promotions and offers are a great way to ensure customer loyalty, and hotel SMS marketing can help you quickly relay these offers. Add guests to your marketing list so that they can receive information on special offers and discounts.
However, avoid spamming customers; retaining a professional reputation and preventing disgruntlement is important.
How Does Hotel Text Messaging Work?
Hotel text messaging involves using a messaging system like DialMyCalls to communicate with guests via SMS. Still, it's not enough to understand its uses; you must also grasp certain processes before implementing this system. Keep reading to know more.
1. Guest Consent 
Some guests will appreciate a text messaging system, but others may be apprehensive, and you must respect their wishes. During the booking process or at check-in, guests usually provide their phone numbers and other important information. At this point, inform them of your text messaging system and get their consent to receive your texts.
Also, give guests an option to opt out of your text messaging service if needed. Whatever opt-out mechanism you choose to implement, always inform your guests.
2. Personalization
Text messaging systems like DialMyCalls allow integration with CRM software to access relevant guest data. Here, you can set up your systems to personalize messages and include booking details, dates, and other relevant information. This way, guests can request and receive information that relates to them specifically.
Moreover, you can set up your text messaging system to use your guests' names. This is one of many SMS personalization tips you can employ to pique and retain their interest in your messages.
3. Automated Message Templates
Creating a predefined template speeds up the process and improves efficiency for commonly asked questions. With DialMyCalls, you can create message templates for FAQs like check-in instructions and general hotel information. You can also create templates for personalized but common requests like reservation details and other pre-arrival information.
4. Privacy 
CRM software and text messaging systems work with personal information; hence, you must take steps to protect these details. Exposing your guests' private details puts them at risk of fraud or theft and makes you appear unprofessional.
Furthermore, ensure your system complies with the privacy laws in your area, like the General Data Protection Regulation (GDPR). Extra measures to avoid cybersecurity breaches include encryption and anonymizing sensitive information. Additionally, ensure restricted access to guest data and multi-factor authentication for all authorized staff.
5. Iterate
Like any new operation, you must test-run your text messaging system before throwing it open to the public. This way, you can look out for bugs and mishaps and deal with them before your guests use the system.
First, conduct an internal test with a select group of staff and trusted individuals. Carefully analyze the results of this test, noting where the system needs to be improved. Then, incorporate these improvements and iterate until you are satisfied with your results.
6. Advertise
Remember that irrespective of how efficient a system is, no one can use it if it's hidden. Always inform guests of your text messaging system and emphasize its benefits to get more excited reactions.
Your hotel's website, front desk, and guests' booking emails are fantastic places where you can inform more guests of this system. Moreover, you can include fliers in welcome packages or bedside pamphlets. Whichever method you choose, ensure it works for your hotel and gauge your guests' reaction to its introduction.
Hotel Text Messaging FAQs
1. What is hotel text messaging?
Hotel text messaging means utilizing SMS services for hotel communication with guests. Using hotel text messaging, you can send relevant information to your guests, receive their inquiries, and return prompt answers.
2. Can I use hotel text messaging in my hotel?
Yes. With the right system, you can enjoy the benefits of text messaging in your hotel. DialMyCalls provides an excellent text messaging service with features like monday.com CRM integration and custom message templates.
3. How can I inform guests of my hotel text messaging system?
Informing guests at the front desk is the best way to advertise your text messaging system. Train your staff to provide ample information about this system to answer any guests' questions. In addition, you can employ other methods like website and social media adverts, pamphlets or fliers, and emails.
4. What privacy practices can I utilize in my hotel text messaging system?
Effective text messaging systems must have solid privacy compliance policies to retain guest trust and loyalty. Good privacy practices to take note of include:
Data encryption
Anonymize sensitive information
Collect only relevant data and minimize requesting excessive private information.
Use multi-factor authentication for licensed staff and restrict access to guest data.
Try Hotel Messaging for Free
Overall, text messaging provides your hotel with a versatile and powerful communication tool that can enhance interactions with guests. It also improves efficiency and contributes to a positive guest experience.
So, whether you manage a small hotel or are part of a larger chain, consider SMS text messaging and its benefits for your hotel—and get started with DialMyCalls today!