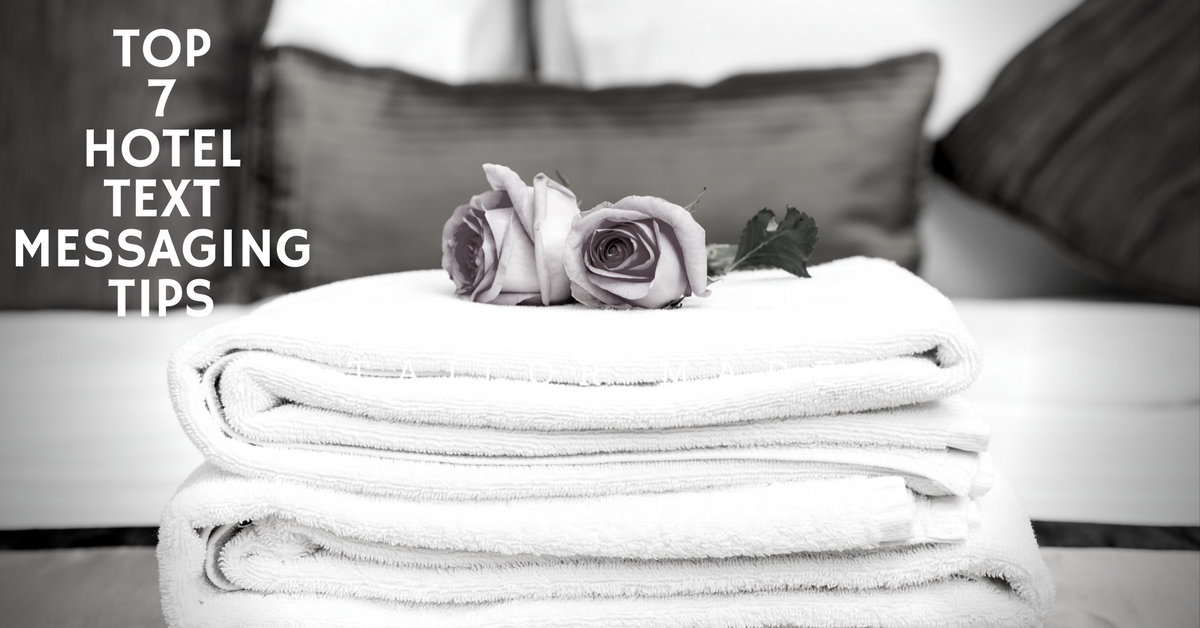 The hospitality industry has, historically, been somewhat slow to adapt modern technology. The size, scope, and relatively low profit margins of the business make it hard to adapt to change – even in large hotel conglomerates.
However, there's one area where hotels are using advanced technology to the benefit of both themselves – and their guests. SMS text messaging.
SMS broadcasting offers hotels a quick, easy way to send important information to their guests – and when implemented correctly, guests can also respond to hotel messages. This streamlines communications dramatically, and can lead to a much better customer experience.
Let's take a look at how hotels are using text messaging to increase communication capabilities, and improve customer satisfaction.

1. Reservation Reminders
Most guests are not likely to forget about their trips – but reservation reminders are still a handy way to remind guests about their stay in your hotel, and offer them other value-added services.
You can ask guests when they anticipate arriving, whether they'll require a car to get them at the airport, if they're interested in having a beverage upon arriving at your hotel, and other basic questions.
These questions allow you to personalize their customer experience. In addition, sending a reservation confirmation via SMS makes it easy for a customer to access it when they actually check in. This reduces the burden on your front desk staff, and can help make guest check-ins more fast and efficient.

2. Alerts About Upcoming Events and Specials
Whether you have a guest staying for work or play, chances are they're not totally familiar with the area. SMS text messages provide hotels with a non-intrusive way to inform guests about special events around town, shows that are popular among other guests, and other recreational activities.
You can even inform guests of things like the weather and traffic conditions every morning – this makes it easy for them to enjoy their stay, and plan for their day.

3. Room Service Ordering
Text-based room service ordering makes things convenient for both guests and kitchen staff. Taking orders by phone is often difficult due to the noise in the hotel kitchen – and if the guest doesn't speak perfect English, things may get confused.
Text-based room service ordering allows guests to take their time when selecting meal options, and makes mistakes much less likely to occur. In turn, this increases customer satisfaction. SMS messaging also allows kitchen staff to have a record of when an order was placed and delivered, which can help reduce wait times.

4. Customer FAQs
Customers don't like having to trudge down to the front desk every time they need a question answered about a hotel – and even if your hotel offers FAQs that are written and placed in the rooms, they may be outdated or incomplete.
Setting up a long-code SMS number with DialMyCalls allows hotels to set up a dedicated customer FAQ hotline. Instead of walking down to the front desk, they can send a message to the hotline – and an employee can respond.
Common questions like "How do I log on to the WiFi", or "When does housekeeping usually come" can be answered quickly, and guests won't have to leave their rooms.

5. Hotel Checkouts
Checking out of a hotel can be a bit of a struggle. Customers have cars to return to rental agencies, flights to catch, and packing to do – the last thing they want to do is worry about a long line at the hotel checkout counter.
SMS checkouts can help with this. Properly set up, an SMS messaging system can allow guests to see the charges associated with their stay and accept them – streamlining the checkout process dramatically, and allowing guests to check out in mere moments.

6. Customer Feedback
Customer feedback – both good and bad – is absolutely essential for hotels. Without customer feedback, it's difficult to know where your hotel is doing well, and what aspects need improvement.
SMS broadcasting offers a great solution. SMS text messages have an open rate of over 90% – much higher than emails. Because of this, two-way text messaging is a highly effective way of collecting customer feedback. Customers can quickly and easily rate their stay and leave some quick feedback about what they liked – or disliked – and your hotel can use that information to provide better service. Do you already have an existing landline at your hotel and want to add text messaging to it? DialMyCalls offers the ability to text-enable your existing landline phone which allows customers to leave feedback via text message on your existing number.

7. Emergency Notifications
Hotels can utilize text messaging for emergency situations that happen on their property. Whether it be for a mandatory evacuation or an alert to tell all hotel guests and faculty to find cover due to a dangerous situation onsite, emergency texts can be sent quickly and effectively to make sure everyone is aware of the current situation at hand.
SMS Messaging in Hotels – The Future of Guest Communication?
The hospitality industry has not yet fully embraced all of the benefits that SMS messaging can have. However, larger hotel chains have begun using SMS messaging for the outlined tasks – and by doing so, they're providing a better customer experience.
So whether you manage a small hotel, or are part of a larger chain, consider SMS text messaging and its benefits for your hotel – and get started with DialMyCalls today!