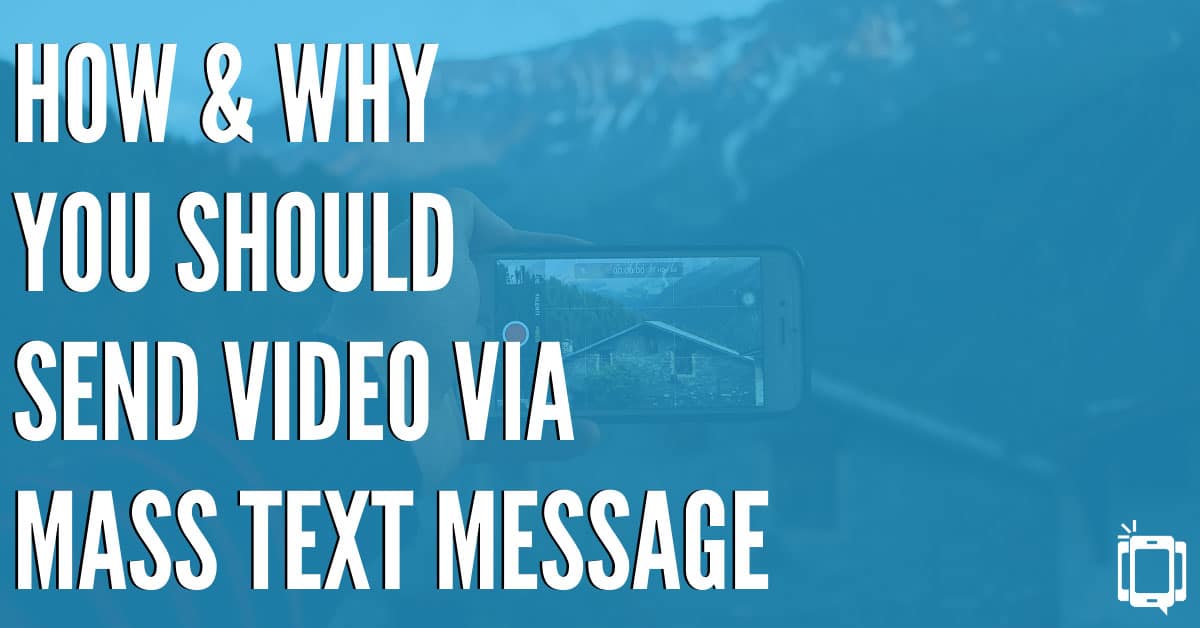 Sending video in mass text messages is a great way to connect with customers and create a response.
The internet and mobile usage has fundamentally changed the way people shop for goods and services. On the other side of the coin, digital marketing techniques have also drastically changed the way businesses communicate with their audience. But eCommerce and mCommerce are crowded, competitive fields. While the internet and smartphones have opened many doors for online companies, they've also made it more challenging to make an impact on your target audience. Now more than ever, it's imperative for companies to stand out from their competitors. One compelling way to do this is with emotional, visual marketing techniques.
Why Is Video a Great Marketing Tool?
Video is essential to making emotional, long-lasting connections. It also gives companies many opportunities for use. For example, you can make a branded video that can be shared across multiple platforms. Use video to explain how the products work, tell your company story, or simply use it to create a powerful, emotionally-driven advertisement for a specific item. Some video marketing stats you should keep in mind include:
One-third of online activity is spent watching videos
92% of mobile users share videos with other people
Marketers who use video see 49% faster revenue growth
Videos generate 12Xs more shares than text and images combined
Video drives a 157% increase in organic traffic
You can indeed use videos to improve your text message marketing. But you can also use videos to reach other goals too. Want to enhance your ranking on the SERPs? Embed videos into your web pages. Google likes to see people spending time on your web pages. Videos can help keep visitors onto the page for longer, which will lower your bounce rates and increase your ranking. Businesses are 53% more likely to display first on the SERPs when they embed videos onto their websites.
Watching videos is also enjoyable for consumers. It's easier and in some cases, faster to consume than text. Plus, a well-crafted video can hit on several senses at once – visual, aural, and emotional. For companies who've made the leap into progressive mCommerce techniques, here's how and why you should use video in your mass texts.
Video Hits Multiple Senses at Once
Videos are one of the most engaging marketing mediums companies can use. As word gets around on video's power to increase conversions, more companies will start using them. Roughly 83% of marketers who use video in their texts see a positive ROI for their efforts. One of the reasons why video is so effective and engaging is because it hits several senses at once. Not only are your customers seeing images, and possibly reading text overlay, but they're also hearing music, words, and stories. All of these things at once can create an emotional response in the viewer. Check out the example below to see what we mean:
Dove's "Real Beauty" Video Campaign
Video gives marketers more options for generating an emotional response in the viewer. With a well-tuned video, you can make people laugh, cry, or react in whatever way you want. It also increases the chances of getting viewers to take the desired action when you create that desired emotional response. People are far more likely to respond to something emotionally than logically, and video is just one way marketers can exploit this part of human nature.
People Watch Hours of Video Every Day
72 hours worth of video is uploaded to YouTube every minute of every day. People wouldn't be making and uploading videos if they weren't so popular among consumers. A significant part of all online activity is just spent consuming video. According to recent studies, a million minutes of video content will be shared across worldwide IP networks in 2021.
Consumer demographics also impact video consumption rates and behavior. This is one reason why it's crucial to have your ideal customer pinned down. Younger consumers between the ages of 25 and 34 are the most likely to watch online videos and tend to consume the most video content. Men, however, are more likely than women to watch videos. In fact, men spend on average of 40% more of their time online watching videos than women. So if your target audience is full of young, male consumers, video is a must for your text marketing campaigns.
Videos Can Build Trust and Customer Loyalty
There's one obstacle that is tough for online stores to overcome compared to their brick-and-mortar cousins. Many consumers like to see a product and learn how it works before they buy. While video can't necessarily help you overcome tactile hurdles, you can show your customers how things work. It's also much more challenging to alter a video than an image. With video, you can help foster trust with your customers, and increase their loyalty to your brand, too. One creative strategy for this is to put text on the packages of your products you ship. Have your customer text in the code to see an explainer video of how your product works.
How to Use DialMyCalls' Mass Texting Platform Explainer Video
Videos in Mass Texts Are Shareable
Remember, videos generate up to 12Xs more shares than text and image ads. If you want to increase your audience numbers, use videos in your text campaigns. An emotional, well-executed video is likely to be shared among mobile users. This can increase your brand awareness and brand reach. Keep in mind that one of your goals for mass text is to generate buzz for your company. Include a CTA in your video to get viewers to share it via text, email, social media, or whatever platform you want.
When Should You Send a Video in a Text Message?
When sending a video in a mass text, you'll need to keep in mind several best practice tips. Don't send texts too often – just one to four per month will suffice. Always lead with value, and don't send during non-business hours. Some examples of when it's an excellent time to use video for mass text include:
Announcing a Livestream or in-person event
Vital announcements
Telling your brand story
Selling a product or explaining how it works
Also, consider sending a third-party review video. People are just as likely to trust third-party reviews as they are recommendations from loved ones.
Send as a Link (For Larger File Sizes)
Go to your text provider dashboard.
Start a new campaign and choose text message as the format.
Paste the video URL to your message box.
Use a URL shortener, so you save characters and text space. Link shorteners also let you track click rates and who clicked for better targeting.
The video will appear as a shortened link in the text message.
Plug in the rest of your text message and schedule or click "send".
What Else Can You Do to Maximize Your Video Texting Strategies?
Videos are versatile marketing techniques that give businesses many options for increasing their online presence and conversions. You can use video texts to grow your social media followings. Consider asking recipients to respond to the video on YouTube, Vimeo, or your website where it's embedded. Use the video to drive traffic to sales or donation pages, too. When you put a video in a text message, you can use it to drive high-converting traffic to your website. Also, remember to place compelling CTAs in your video texts, like "watch now", "learn more", or "see how it's done". Don't let this new digital marketing opportunity go to waste. Drive sales and grow your reach with video texts today. Sign up today!