7 Best Text-Em-All Alternatives You Need to Try in 2023
Posted by Tim Smith in General Post on September 21, 2023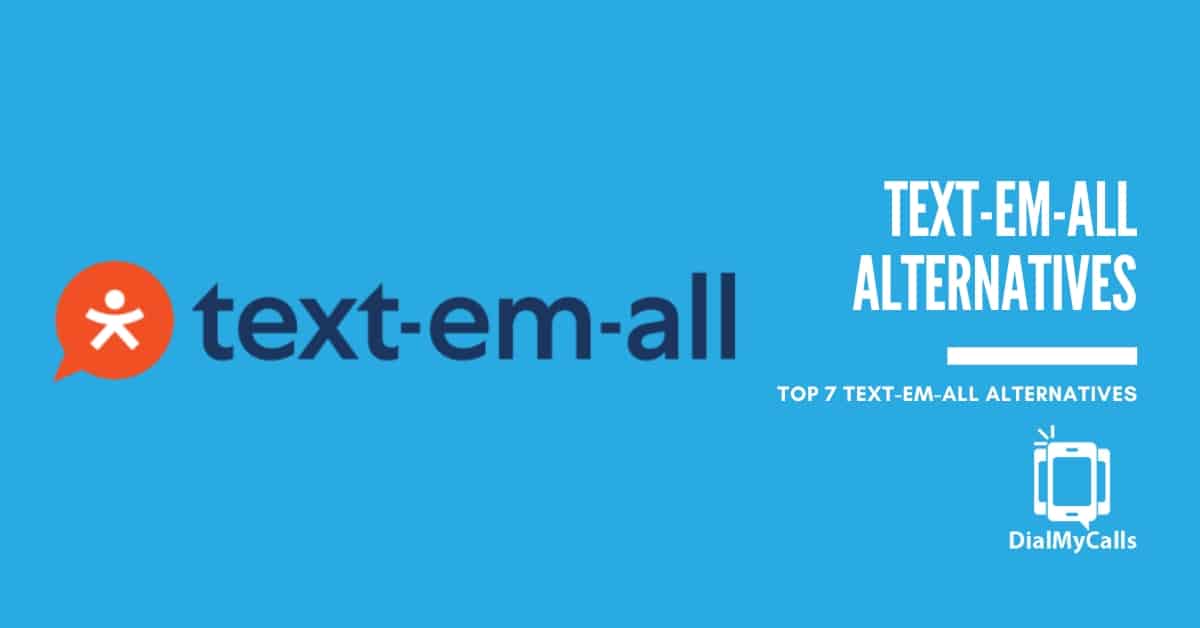 Text-Em-All (previously Call-Em-All) is a communications platform that allows users to send text messages and voice broadcasts. It's often used for emergency notifications, reminders, and announcements.
Text-Em-All still has certain limitations despite its presence in the market since 2005.
First, some users have found the Text-Em-All interface a bit tricky to navigate, and it's not as straightforward as they'd like. This might make it frustrating for new users who prefer an easier-to-use platform.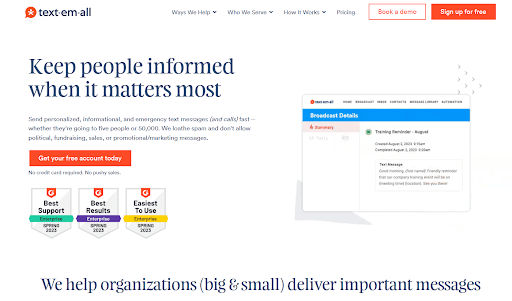 Then, the cost of using Text-Em-All for large-scale messaging can add up quickly. This could be a drawback for those seeking a more cost-effective solution for sending messages in bulk.
Thirdly, users have expressed concerns about the process of purchasing extra credits with Text-Em-All. This may make some users feel inconvenienced when they need to add credits to their accounts.
Below, we've compiled a list of top alternatives to Text-Em-All, each designed to address specific challenges that Text-Em-All users face. Keep reading to find the best Text-Em-All alternative that suits your organization's needs.
Text-Em-All Alternatives

Alternative #1: DialMyCalls
DialMyCalls is a communication platform that offers a variety of tools for sending voice and text message broadcasts to large groups of recipients. DialMyCalls is often used for various purposes, including emergency notifications, prayer requests, school announcements, and community outreach.
DialMyCalls Features
Mass texting
Bulk voice broadcast
Contact management
Mass notification portal
Mass Texting
One of DialMyCalls' most important features is its mass texting capability. This feature allows users and organizations to communicate with a large audience, providing an efficient means of reaching out to their contacts.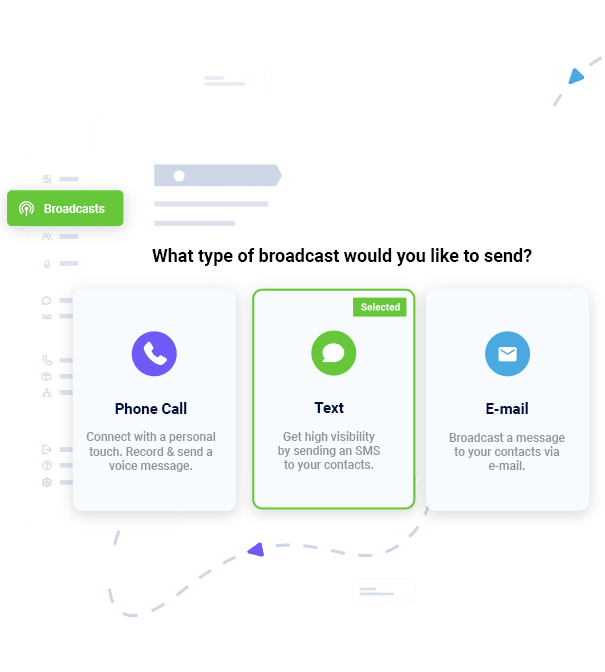 For instance, churches find this feature invaluable for enhancing communication with congregations. Whether establishing a dedicated prayer request line or sending timely event reminders, DialMyCalls' mass texting simplifies communication within religious organizations, making it a seamless process.
Real estate companies, too, benefit from DialMyCalls' mass texting feature, as they can reach many potential buyers or renters at once, informing them about new property listings, open houses, or price reductions.
Similarly, healthcare providers use DialMyCalls to send appointment reminders and follow-up care instructions. This reduces appointment no-shows and leads to better healthcare outcomes.
Bulk Voice Broadcast
Another DialMyCalls feature is bulk voice broadcasting. This feature allows users to send pre-recorded voice messages to many recipients.
When a user initiates a bulk voice broadcasting, DialMyCalls automatically dials the phone numbers of the selected recipients and plays the pre-recorded message when the call is answered. This automated process ensures that the message is delivered efficiently.
What further enhances DialMyCalls' voice broadcast feature is its AccurateAMD (Answering Machine Detection) System. This sophisticated system is designed to accurately distinguish between live respondents and answering machines or voicemail boxes during a voice broadcast campaign.
AccurateAMD ensures that the actual message is heard by live respondents, increasing the chances of engagement and response.
Voice broadcasting eliminates manual phone calls, saving time and effort when reaching a large audience. This feature can be particularly valuable for urgent notifications or emergency alerting, as it enables quick communication during critical situations.
Contact Management
DialMyCalls offers a robust contact management feature with a range of useful tools.
First, you can add individual contacts by providing their 10-digit phone number. You can also include additional details such as first names, last names, and email addresses for each person, enhancing your contact database's completeness.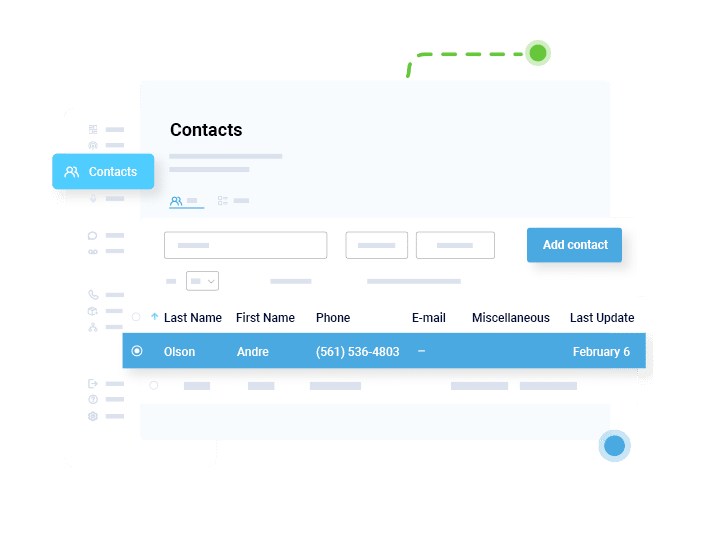 Second, organizing your contacts by creating multiple contact groups is easy. This feature allows you to categorize recipients based on specific criteria, making it simple to manage who receives your voice and text message broadcasts.
Additionally, if you're starting from scratch and don't have a list of phone numbers, you can use the SMS keyword feature. Encourage people to opt-in to receive messages from you by having them text your custom keyword to a designated number. Once they opt in, they'll be added to a new contact group in your account.
Mass Notification Portal
DialMyCalls' mass notification portal with GIS mapping is a powerful tool that goes beyond traditional mass communication.
The mass notification portal is a self-managed system, which means that organizations have control over their messaging and recipient lists. This autonomy allows for a more customized and flexible communication approach.
Instead of imposing messages on recipients, the portal operates on an opt-in basis. Members of the community or organization can voluntarily subscribe to receive alerts. This ensures that messages are only sent to individuals who have expressed an interest in staying informed, resulting in more engaged and receptive audiences.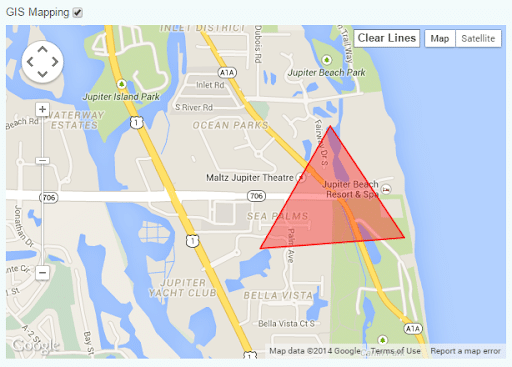 Plus, the integration of GIS mapping enhances the precision of notifications. Organizations can pinpoint the geographic area they want to target for specific emergency alerts. For example, a school can send alerts to families in a neighborhood affected by a school event.
So, DialMyCalls' mass notification portal is a proactive approach to communication. It lets organizations maintain open lines of communication with their audience while allowing individuals to opt in for information that matters to them.
Pricing
DialMyCalls offers different pricing options:
custom
standard monthly
premium monthly
pay-as-you-go
You can get started for as low as $7.49/month with a monthly plan, or $6.74/month with an annual plan for a minimum of 25 contacts – this pricing is ~30% less than Text-Em-All.
Sign up for DialMyCalls now and get 25 free credits to test the platform.

Alternative #2: Brevo
Brevo is a marketing automation and email marketing platform with notable features like email campaign management, marketing automation workflows, SMS marketing, and detailed analytics and reporting.
Since SendinBlue is a multi-channel marketing platform, it can be advantageous for businesses looking for a more unified platform to manage both email and SMS campaigns.
Brevo Features
Transactional SMS
SMS campaign reporting
Transactional SMS
You can send transactional SMS messages, such as order confirmations or account notifications, to customers in real-time using Brevo's platform.
SMS Campaign Reporting
Brevo offers detailed analytics and reporting on your SMS campaigns, including delivery and conversion rates, allowing you to measure the effectiveness of your campaigns.
Pricing
Using Brevo, sending 100 messages within the United States comes at a cost of $1.09.

Alternative #3: Textedly
Textedly is a cloud-based SMS marketing platform that enables businesses and organizations to send mass text messages to their customers or target audiences.
It provides features for creating and managing SMS campaigns, including contact list management, message scheduling, and personalized messaging.
Textedly Features
Two-way messaging
Contact list management
Automatic replies
Two-Way Messaging
Textedly facilitates two-way communication between businesses and their customers. It provides a platform for customers to respond to SMS messages, allowing for real-time interactions.
Contact List Management
Textedly simplifies contact list management by allowing users to easily import, organize, and segment their contact lists. You can create groups of contacts based on preferences or behavior, ensuring that your SMS messages reach the right audience at the right time.
Automatic Replies
It's also possible to set up predefined responses to be automatically sent to customers when they receive an incoming text message. This feature is particularly useful for handling common inquiries or providing immediate acknowledgments.
Pricing
Textedly's pricing begins at $26/month, allowing you to send up to 500 messages per month.

Alternative #4: TrueDialog
TrueDialog is a communication platform specializing in SMS marketing, customer engagement, and two-way text messaging solutions for businesses.
TrueDialog is a strong alternative to Text-em-All due to its robust two-way text messaging capabilities, making it well-suited for businesses seeking interactive customer engagement through SMS.
TrueDialog Features
Mass texting
Real-time reporting
Mass Texting
Similar to DialMyCalls, TrueDialog's mass text messaging feature allows businesses to send SMS messages to a large number of recipients simultaneously, making it ideal for marketing messages, announcements, or important updates.
Real-Time Reporting
With Real-Time Reporting, users can access immediate insights into the performance of their SMS campaigns, including delivery statuses, open rates, and engagement metrics.
Pricing
TrueDialog's pricing starts at $99/month with an annual commitment, which includes 5000 messages/minutes. Any additional messages or minutes beyond this allocation are billed at a rate of $0.02 per message/minute.

Alternative #5: MessageKite
MessageKite is a business texting app that helps organizations streamline their communication processes.
MessageKite Features
Contact list management
Autoresponder
Contact List Management
MessageKite allows you to export your contacts as a .csv file and then upload that file to the software. Plus, you can categorize your contacts into specific groups, such as customers and employees.
Autoresponder
MessageKite's autoresponder feature allows users to set response time limits for incoming messages. If a message remains unanswered beyond the defined timeframe, MessageKite will automatically respond to the customer and notify the user.
Pricing
MessageKite offers a simple pricing structure, with a flat rate of $6.00 for both outbound and inbound messages.

Alternative #6: Textellent
Textellent is an SMS marketing solution businesses use for text marketing and appointment scheduling. Its automation features make it a solid alternative to Text-Em-All.
Textellent Features
Opt-in keywords
Appointment scheduling
Opt-in Keywords
Textellent offers a feature that allows businesses to automate their text message campaigns based on specific keywords received from customers. This feature enables companies to customize their responses and trigger relevant contextual campaigns when customers send these keywords.
Appointment Scheduling
Textellent's appointment scheduling feature simplifies the process of booking and managing appointments with clients or customers. Users can offer convenient scheduling options via text messages, allowing recipients to select suitable appointment times.
Pricing
Textellent's basic plan starts at $29/month and includes 250 SMS messages.

Alternative #7: SimpleTexting 
SimpleTexting is a comprehensive text messaging marketing platform and communication tool that allows businesses to send SMS and MMS messages to their customers and subscribers.
SimpleTexting Features
Two-way messaging
Automated text message
Two-Way Messaging
SimpleTexting offers a two-way messaging feature that enables users to engage in real-time text conversations with their customers or contacts. This feature lets businesses receive and respond to incoming messages, answer questions, and provide support.
Automated Text Message
Automated texting feature allows users to schedule and send pre-written messages to their contact lists at specified times. This feature streamlines communication by automating routine tasks like sending appointment reminders, promotional offers, or event notifications.
Pricing
The pricing for SimpleTexting is based on your monthly message volume. To illustrate, you can opt for a $29/month plan, which includes 500 messages, or choose the $49/month plan that allows you to send 1000 messages.
What is the Best Text-Em-All Alternative?
Check out the comparison table below to see how DialMyCalls competes with Text-Em-All. It offers competitive pricing (~30% less than Text-Em-All's monthly plans), ease of use, and a robust feature set, making DialMyCalls the best Text-Em-All alternative.
| Platform | Ease of Use | Customer Support | Other Features | Pricing | Score |
| --- | --- | --- | --- | --- | --- |
| DialMyCalls | 4.8 | 4.7 | 4.7 | 4.7 | 4.7 |
| TrueDialog | 4.7 | 4.8 | 4.7 | 4.7 | 4.7 |
| Textellent | 4.8 | 4.7 | 4.7 | 4.7 | 4.7 |
| SimpleTexting | 4.7 | 4.8 | 4.5 | 4.5 | 4.6 |
| Brevo | 4.5 | 4.5 | 4.4 | 4.5 | 4.4 |
| Textedly | 4.5 | 4.5 | 4.4 | 4.5 | 4.4 |
| MessageKite | 4.1 | 4.1 | 3.6 | 4.5 | 4.0 |
All ratings data in the table above is from Capterra.com.
Maximize SMS Effectiveness with DialMyCalls
A great SMS platform should excel in simplicity and convenience, making it accessible to users of all levels. DialMyCalls, with its intuitive interface, checks this box by making it simple for anyone to send SMS messages effectively.
Plus, the process of buying extra credits should be straightforward. Unlike some other platforms, which can make acquiring extra credits cumbersome, DialMyCalls simplifies this process thanks to its pay-as-you-go plan that starts at only $10.
Sign up for DialMyCalls, get 25 free text messages, and experience the ease of sending broadcast messages to your contacts with a few simple clicks.