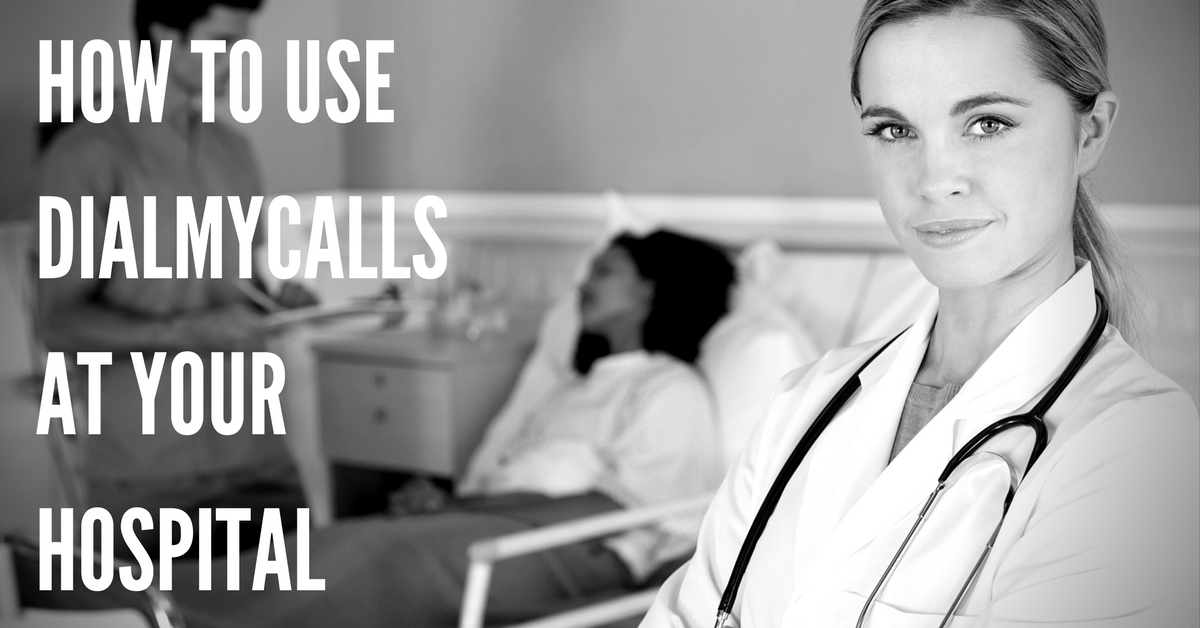 DialMyCalls is flexible, customizable, and can be used in just about any organization. From non-profits and sports leagues to restaurants, retailers, and even in hospitals.
With DialMyCalls, your hospital administrative staff will have access to a powerful SMS, email, and voice messaging system that can help streamline patient communication, and ensure that you provide the best possible level of care.
Here are just a few of the ways that your hospital or other healthcare institution can benefit from the power of DialMyCalls.
1. Patient Feedback
With DialMyCalls, collecting patient feedback is easier than ever. You want to know how your staff members are doing, of course, and whether or not they are meeting (and exceeding!) patient expectations. There's no such thing as perfect care – so it's critical to hear where you're doing well, and where you could use improvement.
With DialMyCalls, you can quickly set up a vanity phone number that makes it easy for patients to provide feedback via text message about their stay in your facility. By automating the feedback process, you can avoid paperwork and other administrative overhead, but still benefit from honest patient feedback.

2. Visiting Hours Reminders
The families of patients can often be frustrated by short visiting hours, especially in the emergency room or critical care areas. But limited visiting hours are very important in the ICU, because patients need round-the-clock care, and cannot handle the strain of a constant flow of visitors.
To help address this problem, you can create a customized list of family members using the DialMyCalls web application, and send voice, SMS, and email messages to them – informing them about when visiting hours are open for the day.
This way, you can make sure that your patients can see their loved ones, but still give them plenty of time to rest and recover.

3. Medication Reminders
After a patient is released from the hospital, you can use DialMyCalls to make sure that they remember to take their medications on time. This is especially important for post-operative surgery patients, who may be at risk of infection and require regular doses of antibiotics to ensure that the infection does not recur.
You can send messages both to the patient, and any loved ones or family members whose information you may have handy. By ensuring that patients take the medications they need to stay healthy, you can provide better overall results, and a higher level of patient care.

4. Emergency Notification System
Natural disasters and inclement weather can pose a serious danger to hospitals, and to the patients being cared for. Employees, patients, and families alike may be unsure about what they're supposed to do in case of a natural disaster, or a potentially dangerous emergency.
To clear up confusion and make sure that everyone has the information they need to stay safe in an emergency, you can use DialMyCalls to set up an emergency notification system.
You can create custom-tailored messages that are sent directly to employees, patients, and the families of patients – informing them about the steps they need to take to stay safe during an emergency situation.
Information about potential evacuations and other critical emergency action plan steps can be communicated clearly, protecting your facility and everyone inside.
5. Employee Hotline
You shouldn't just get feedback from patients in your hospital. It's also important to listen to your employees. With DialMyCalls, you can easily set up an employee complaint and suggestion hotline. Your employees can offer suggestions and feedback while remaining anonymous, and it's easy to check your voice messages using DialMyCalls.
Usually, you'll just get feedback about hospital policies, and areas where your hospital can improve as an employer. You may also get feedback about individual doctors, nurses, and administrative staff.
However, you may also get feedback about serious allegations such as sexual harassment, hostile working environments, or even medical malpractice. Be prepared to take notes when listening to these calls, and inform the relevant authorities so that an investigation can be opened.
Having an anonymous, safe employee hotline will help your employees feel like they're being listened to, and it will give them an opportunity to expose any unsavory behavior that may be going on behind-the-scenes at your hospital.

6. Billing Reminders
Many hospitals have problems with consistent customer payments. Hospital bills often go unpaid for long periods of time, which leads to inconsistent cash flow. In cases where a patient is seriously ill or injured, this is often simply because the patient or their family does not think about paying their bill, or forgets it.
With DialMyCalls, you can setup automated billing reminders that are sent out regularly. You could build a list of patients who have not paid their bill, and you can send a reminder via SMS, email, and phone call every week until they have started making payments.
This helps you remind patients and their families about unpaid hospital bills, and can help improve cash flow with more timely payments. However, we recommend that you take steps to make sure that your reminders are gentle and friendly.
If your patients see you as just another "bill collector", your billing reminder process could backfire. Be kind and understanding, but firmly remind patients that they need to start making payments on their last hospital stay.
Change The Way Your Hospital Operates – With DialMyCalls!
DialMyCalls is flexible and powerful – and it only costs a few cents per message. With an easy to use web interface, dozens of great features, and no contracts or commitments, you can try DialMyCalls out for yourself today – for free!
Whether you need to gather employee feedback, create an emergency alert system, or simply remind patients about overdue bills, DialMyCalls can do it all. So get started today, and contact us if you have any other questions about our service. We'd love to hear from you!