7 Best OnSolve Alternatives You Need to Try in 2023
Posted by Tim Smith in General Post on October 30, 2023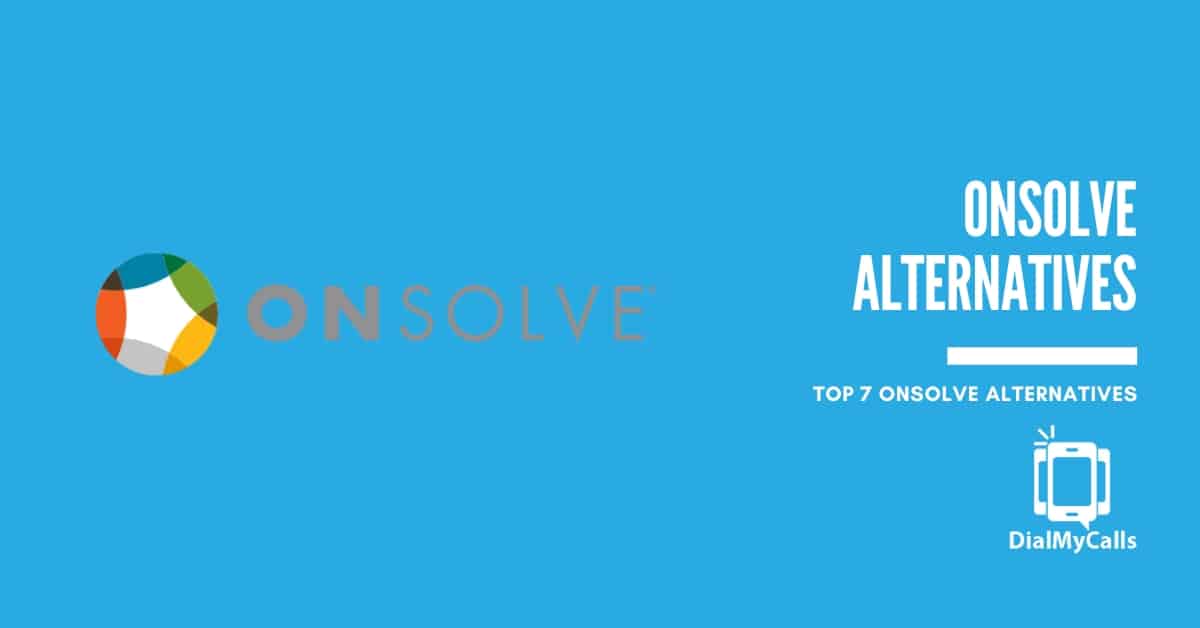 OnSolve is a platform focused on managing critical events and providing risk intelligence. Among its capabilities is sending text messages to multiple recipients and tracking their responses in real-time through SMS messaging.
But despite being in the market for more than 20 years, OnSolve has some significant limitations.

Firstly, it can be a bit of a hassle to figure out how to send messages using OnSolve. The complex navigation can slow you down.
Plus, customizing messages in OnSolve might be tricky for new users. This can lead to less effective communication if you can't tailor your messages properly.
Lastly, OnSolve's mobile app is quite basic and doesn't include key features like user listings. Without user listings, it can be slow to choose recipients, especially in critical situations.
Below, we've listed 7 alternatives to OnSolve that can help you with the issues you might encounter as an OnSolve user. Continue scrolling for detailed comparisons and discover the best OnSolve alternative for your needs.
OnSolve Alternatives

Alternative #1: DialMyCalls
DialMyCalls serves as a mass notification system, allowing organizations to send text messages, voice broadcasts, and emails to large audiences. What sets DialMyCalls apart is its focus on delivering messages quickly to ensure they reach their intended recipients as fast as possible.
DialMyCalls Features
Bulk text messaging
Automated calling
Recurring phone calls, text messages, and emails
Bulk Text Messaging
Bulk messaging or mass texting is a key feature of DialMyCalls that facilitates efficient communication with a large audience. It allows users to send text messages to a designated list of recipients all at once, providing several notable advantages.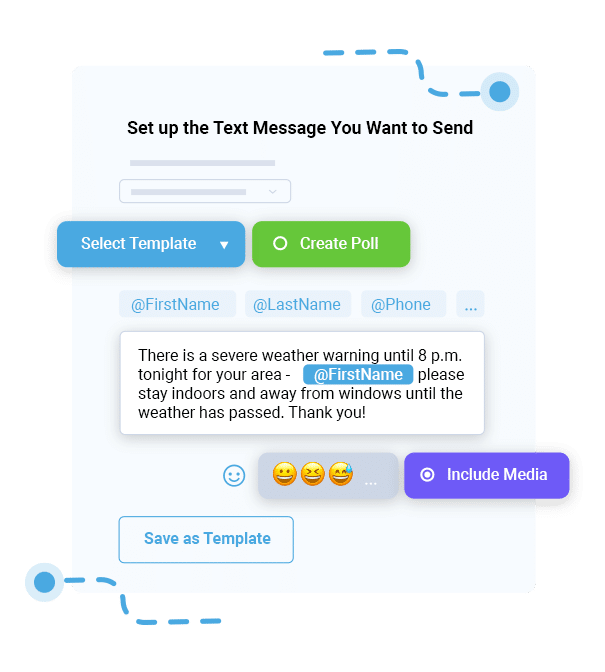 One of the primary benefits of bulk text messaging is its efficiency. Instead of sending individual messages to each contact, you can create a single message and distribute it to multiple recipients simultaneously. This saves you time and simplifies the process of sending important information or updates to all your contacts.
You can send pretty much any type of mass message with DialMyCalls. For example, bulk texting is ideal for sending alerts related to emergencies, weather updates, or other critical communications.
Similarly, eCommerce companies and logistics providers can send shipping updates to customers, keeping them informed about the status and location of their packages. Churches and religious organizations also use DialMyCalls to establish prayer chain hotlines, allowing members to receive and share prayer requests with the community quickly.
Automated Calling
Automated calling feature is a practical tool for reaching out to a list of phone numbers with automated voice messages.
Here's a detailed explanation of this feature's key components and functionalities.
First, DialMyCalls includes Answering Machine Detection System (AMD), a feature that helps identify whether a call is answered by a live person or an answering machine. This functionality ensures that the right message is appropriately delivered to the right recipient.
Second, DialMyCalls gives you control over Caller ID. This feature can be valuable for maintaining brand consistency or ensuring that the call is recognized by the recipient.
Another useful feature is personalized messages. With that feature, you can create personalized voice recordings that can be used for your automated calls. Personalization adds a human touch to the messages, making them more relevant to the recipients.
Last but not least, the push to leave a message feature lets recipients interact with the call by leaving a message after listening to the automated message. This fosters two-way communication and provides a channel for feedback or inquiries from the recipients.
Recurring Phone Calls, Text Messages, and Emails
The recurring messages and calls feature offered is a powerful tool that simplifies the process of sending regular notifications to a group of contacts. This feature is particularly useful for businesses that need to communicate with their audience on a daily, weekly, monthly, or yearly basis.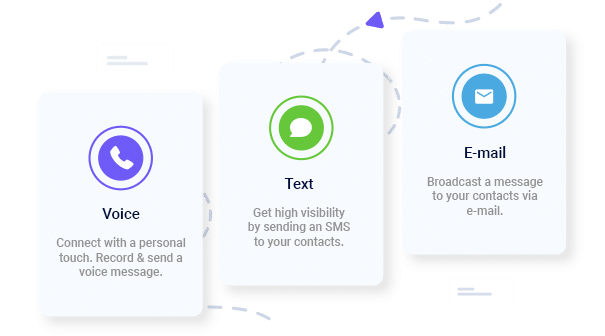 With recurring voice broadcasts, you can schedule automated phone calls to be sent to your contacts at specified intervals. This can be daily, weekly, monthly, or annually. Similar to voice broadcasts, recurring SMS text message broadcasts allow you to send automated text messages on a recurring schedule.
Recurring email broadcasts let you automate email communication by sending messages at specified intervals. This is ideal for newsletters, subscription updates, or any other recurring email campaigns.
Pricing
DialMyCalls has different pricing options:
The standard monthly plan starts at $7.49/month and covers 25 contacts. You also get a free toll-free number and can use MMS messaging for 4.5¢ per message.
The premium monthly plan begins at $9.99/month and includes 150 credits. It comes with a useful 2-way texting feature.
If you prefer flexibility, the pay-as-you-go plan starts at $10 for 140 credits.
You can also request custom pricing here if your needs are unique.
Sign up for DialMyCalls and get 25 free credits to try out the platform.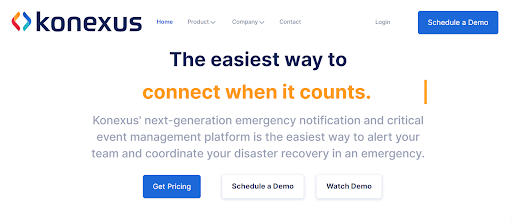 Alternative #2: Konexus
Konexus is a critical event management and emergency communications platform. Its primary purpose is to enable organizations to alert their teams and coordinate disaster recovery efforts during unforeseen emergencies.
Konexus Features
Customizable templates
Geotargeting
Customizable Templates
Konexus offers customizable templates that allow businesses to create predefined messages tailored to their specific needs. This feature enables organizations to craft SMS marketing messages efficiently, ensuring a uniform brand voice.
Geotargeting
Geotargeting allows businesses to send SMS messages to a particular geographic area or a specific audience based on their location. This feature is valuable for SMS marketing because it enables companies to send location-specific content.
Pricing
Konexus doesn't provide pricing information on its website.

Alternative #3: AlertMedia
AlertMedia is a communication platform designed to empower businesses with notification capabilities across various use cases like IT-related emergencies, employee health, and disaster recovery. This platform operates through multiple channels, including email, SMS, voice calls, social media platforms, and push notifications.
AlertMedia Features
Two-way communication
Real-time insights
Two-Way Communication
AlertMedia offers two-way communication capabilities, allowing organizations to not only broadcast messages but also receive responses and feedback from their recipients. This feature enables a dynamic and interactive exchange of information during critical events.
Real-Time Insights
With real-time insights, companies can instantly track message delivery and audience responses, confirming successful message delivery and engagement. This functionality provides up-to-the-minute data on the status of notifications.
Pricing
AlertMedia doesn't provide pricing information on its website.

Alternative #4: Attentive
Attentive is a marketing platform that specializes in SMS marketing, offering businesses a powerful tool to engage with their audience through text messages and leverage the personalization of this communication channel.
Attentive Features
Two-way communication
AI assistant
Triggered messages
Two-Way Communication
Similar to DialMyCalls, Attentive's two-way messaging feature enables a reciprocal exchange of messages between a business or organization and its recipients or customers. It allows the sending of SMS messages from the business to the recipient and facilitates responses and interactions from the recipient back to the business.
AI Assistant
Within the Attentive platform, an integrated AI feature assists users in streamlining SMS message segmentation and scheduling. Additionally, it can help generate customized text that matches your brand's unique voice, tone, and marketing objectives.
Triggered Messages
Attentive's triggered messages leverage the platform's segmentation capabilities to send highly tailored and automated messages to specific groups of subscribers based on predefined conditions. For example, when a subscriber qualifies to join a particular segment, they receive a customizable message.
Pricing
Attentive doesn't share pricing information on its website.

Alternative #5: ClickSend
ClickSend is a communication and marketing automation platform that offers a wide range of services for businesses. It provides tools for sending SMS messages, emails, voice messages, and even direct mail.
ClickSend Features
Bulk texting
Two-way communication
Bulk Texting
ClickSend facilitates bulk texting, allowing users to send text messages to multiple recipients at once. This feature simplifies the process of reaching a large audience, making it efficient and time-saving.
Two-Way Communication
With ClickSend's two-way communication feature, users can engage in real-time text-based interactions with their audience, promoting seamless and responsive communication.
Pricing
Sending SMS with ClickSend starts at $0.02 for under 5000 messages, and outbound calls begin at $0.013 per call.

Alternative #6: Textline 
Textline is a business communication platform that focuses on text messaging as a means of customer support and engagement. It helps streamline and improve customer service by offering a convenient way to communicate via text.
Textline Features
Group text messaging
SMS surveys
Group Text Messaging
Group text messaging in Textline enables businesses to engage with multiple contacts simultaneously through SMS. It facilitates many-to-many conversations, maintaining all recipients and their responses within a single text thread, making it efficient for group communication.
SMS Surveys
SMS surveys in Textline allow businesses to gather feedback and insights from their contacts via text messages. This feature helps in conducting quick and targeted surveys, enabling companies to improve customer satisfaction and adapt their strategies based on real-time feedback from their audience.
Pricing
The pricing for Textline messaging begins at $0.0154 per message when sending messages within the United States.

Alternative #7: Airship
Airship is a platform designed to enhance customer engagement for businesses, with a particular focus on mobile app engagement and marketing automation. It offers tools to help companies connect with their customers effectively, which include push notifications, in-app messaging, and SMS messaging.
Airship Features
Opt-in and opt-out list management
SMS keywords
Opt-in & Opt-Out List Management
Airship provides tools for managing opt-in and opt-out lists. It enables organizations to effectively handle subscription requests and unsubscribe requests, ensuring that their messaging campaigns target only those who have explicitly chosen to receive communications.
SMS Keywords
Airship's SMS keyword feature allows businesses to set up specific keywords that customers can use to communicate via text messaging. These keywords trigger various actions or responses, helping companies streamline customer engagement.
Pricing
Airship doesn't provide pricing information on its website.
What is the Best OnSolve Alternative?
In the table below, you can check the scores for four aspects of all the mentioned OnSolve competitors. It shows why DialMyCalls is the top choice when compared to OnSolve.
| Platform | Ease of Use | Customer Support | Other Features | Pricing | Score |
| --- | --- | --- | --- | --- | --- |
| DialMyCalls | 4.8 | 4.7 | 4.7 | 4.7 | 4.7 |
| Konexus | 4.8 | 4.8 | 4.5 | 4.7 | 4.7 |
| AlertMedia | 4.7 | 4.7 | 4.8 | 4.7 | 4.7 |
| Textline | 4.8 | 4.9 | 4.7 | 4.7 | 4.7 |
| Attentive | 4.7 | 4.8 | 4.5 | 4.5 | 4.6 |
| ClickSend | 3.8 | 4.0 | 3.9 | 4.1 | 3.9 |
| Airship | 3.0 | 3.0 | 3.0 | 3.0 | 3.0 |
All ratings listed above are from Capterra.com.
Try DialMyCalls for Reliable Mass Texting
If you're looking for a reliable yet quick way to send mass text messages, DialMyCalls is here to simplify your communication needs. DialMyCalls is built with user-friendliness in mind—anyone can easily navigate and use our platform for efficient mass texting. Plus, our customer support team is available to provide timely assistance, addressing any concerns you may have during your experience with DialMyCalls.
Sign up for DialMyCalls and get 25 free credits to test the platform.