6 Best One Call Now Alternatives in 2023 (Compared)
Posted by Tim Smith in General Post on October 26, 2023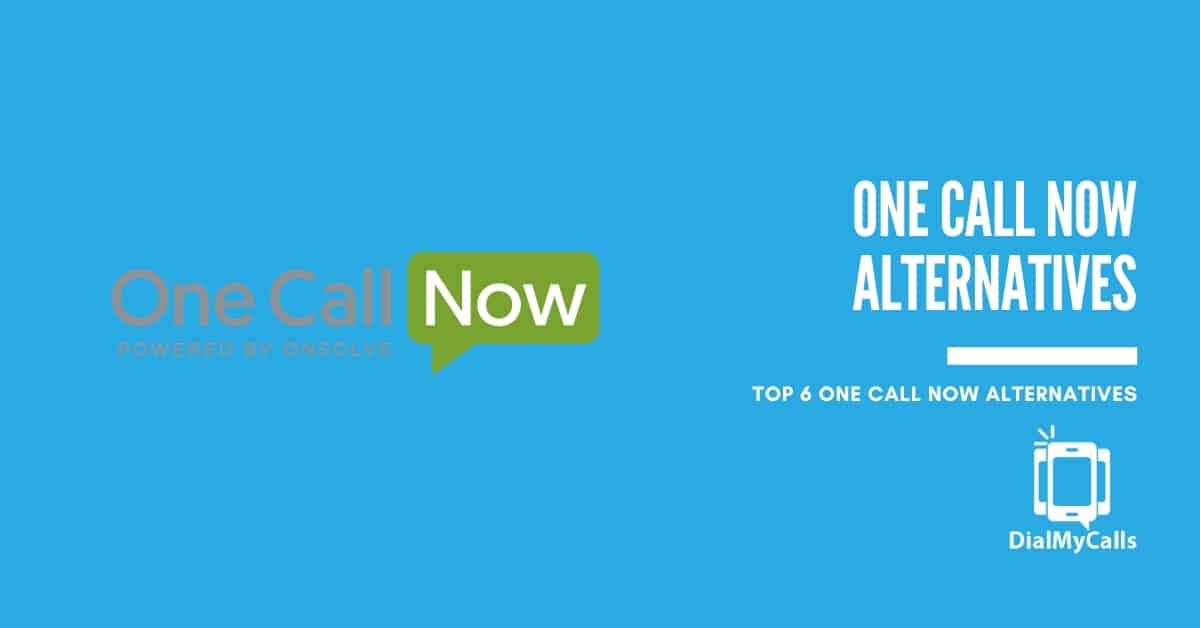 One Call Now is a communication software that allows organizations to broadcast emergency alerts and send regular push notifications. But like any software solution, One Call Now has its limitations.
First, One Call Now's web-based user interface is not as user-friendly as users might hope. Understanding One Call Now's functions effectively takes a bit of trial and error, which can lead to a less intuitive user experience.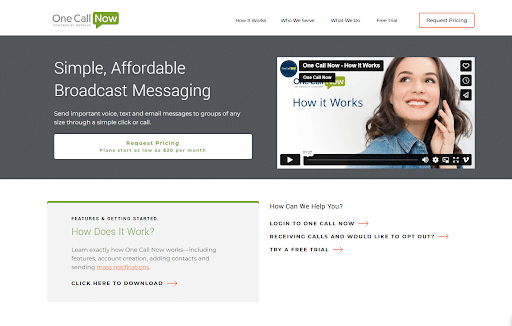 Second, some users have found the onboarding and setup process in One Call Now to be more difficult than expected. Such complexity can possibly frustrate new users who are just getting started with the platform.
Plus, messages sent through One Call Now experience occasional delays in reaching their recipients. This can be a serious drawback when dealing with urgent situations and emergencies.
Keep reading to see our list of top 6 One Call Now alternatives that help you address the user challenges mentioned above.
Best One Call Now Alternatives

Alternative #1: DialMyCalls
DialMyCalls is a mass notification solution that allows organizations to send text messages, broadcast voice messages, and dispatch emails with ease.
DialMyCalls stands out in terms of its message speed, primarily because it operates through direct connections with carriers. Unlike many other solutions built on rate-limited APIs, DialMyCalls has its infrastructure for high-speed messaging, ensuring swifter message delivery.
DialMyCalls Features
Mass texting
Automated calling
API and integrations
Mass Texting
DialMyCalls offers a robust mass texting feature that empowers organizations to send large volumes of SMS messages efficiently. You can compose and customize messages, select your target recipient list, and send messages to hundreds or even thousands of contacts.
DialMyCalls stands out for its rapid message delivery capabilities, ensuring your messages reach your intended audience in seconds. This speed is invaluable for time-sensitive announcements, emergency alerts, or important updates.
Automated Calling
The second noteworthy feature of DialMyCalls is automated calling, which has several advanced features that facilitate efficient communication.
For example, with live answer messages, DialMyCalls allows you to deliver pre-recorded, personalized messages to recipients when they answer the call. This functionality ensures consistency in your communications while allowing for tailored interactions. For instance, a school can use live-answer messages to inform parents of school closures or event reminders.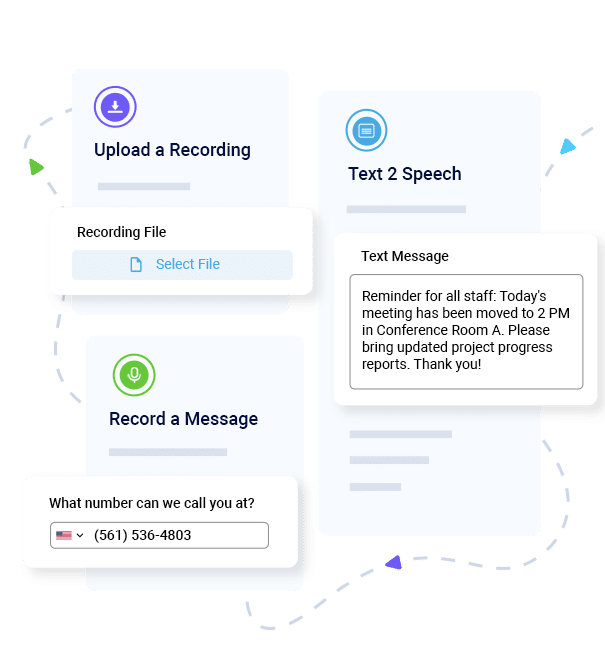 DialMyCalls offers flexibility by allowing you to use your own verified phone number or acquire a vanity phone number for automated calling. Organizations use vanity numbers for branding purposes or to make their calls stand out, further enhancing the recognition and trustworthiness of their automated communications.
API and Integrations
DialMyCalls provides native integrations and comprehensive API documentation, offering users the capability to seamlessly sync their existing contact information with the powerful mass notification system.
Our platform offers custom integrations with popular and widely-used services, including Calendly, Eventbrite, Freshdesk, HubSpot, Intercom, Salesforce, Shopify, and many others. This seamless integration simplifies the way you send out mass notifications, ensuring your messages quickly reach the intended recipients.
You can see the full list of DialMyCalls integrations here.
Pricing
DialMyCalls provides flexible pricing options:
custom pricing
standard monthly
premium monthly
pay-as-you-go
Here's the best part: You can get started with DialMyCalls for as low as $7.49/month with our standard monthly plan. If you prefer an annual commitment, our annual plan is available at just $6.74/month.
Sign up for DialMyCalls now and get 25 free credits to try the platform.

Alternative #2: Sakari
Sakari is a cloud-based text messaging service that allows businesses to send SMS reminders, alerts, confirmations and marketing campaigns.
Sakari Features
Mass texting
Autoresponder
Mass Texting
Mass messaging allows users to send messages to a large group of contacts. This is incredibly helpful for businesses wanting to deliver important information, promotions, or updates to a wide audience.
Autoresponder
Sakari's autoresponder feature is for sending pre-set responses or messages to incoming texts or inquiries. It can acknowledge receipt of messages, provide basic information, or guide users to the right resources.
Pricing
It costs $16/month with Sakari to send 500 messages.

Alternative #3: PhoneBurner
PhoneBurner is an outbound dialer and call center solution that helps sales teams streamline and optimize their outreach efforts. As a solid One Call Now competitor, PhoneBurner offers various tools aimed at increasing the productivity of sales representatives, particularly in outbound calling and lead generation.
PhoneBurner Features
Integrated texting
Branded caller ID
Integrated texting
PhoneBurner combines texting and calling for your convenience. You can send individual messages directly from the SMS section of your dialer interface. Alternatively, to save time, you can set up disposition buttons that automatically send personalized one-click texts based on the outcome of your call—like sending a specific message for voicemail and another for scheduling a demo.
Branded caller ID
PhoneBurner's branded caller ID feature allows users to customize and display their own business or organization's name and phone number when making outbound calls. Instead of displaying a generic or unrecognizable phone number, this feature lets you present a branded identity to the recipient of the call.
Pricing
PhoneBurner monthly pricing starts from $149/user/month which comes with unlimited dialing minutes.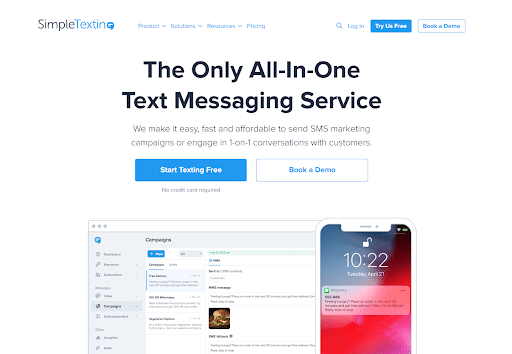 Alternative #4: SimpleTexting
SimpleTexting is a text messaging and SMS marketing platform that allows businesses to send messages, notifications, and promotional content to their customers and subscribers via text messages.
SimpleTexting Features
2-way messaging
Automated response
2-Way Messaging
SimpleTexting provides a two-way messaging feature that allows businesses to have real-time conversations with their customers. This means customers can easily respond to messages, ask questions, or share their feedback, creating a smooth communication experience.
Automated Response
SimpleTexting simplifies customer interactions by providing automated response capabilities. Through predefined workflows and triggers, businesses can set up automatic responses to common inquiries, ensuring that customers receive consistent information even outside of regular business hours.
Pricing
SimpleTexting's price depends on how many messages you send monthly. For example, it charges $29/month for 500 messages or $49/month for 1000 messages.

Alternative #5: JookSMS
JookSMS is another alternative to One Call Now. It's a bulk text and SMS marketing service that allows businesses to reach their target audience with promotional messages, announcements, and important updates through text messaging.
JookSMS Features
Scheduled messages
Triggers
Scheduled Messages
With JookSMS, businesses can select a specific date and time to send messages to their customers, ensuring that important announcements, promotions, or reminders reach recipients at the most opportune moments.
Triggers
With JookSMS's triggers feature, businesses can set up automated responses based on specific customer actions or keywords. When customers interact with a keyword or take a particular action, such as opting in or asking a question, triggers can be configured to send predefined responses or initiate specific workflows.
Pricing
JookSMS pricing starts from $0.026 per SMS.

Alternative #6: EZ Texting
EZ Texting is a software platform that provides text messaging and SMS marketing services for businesses. It's often used for purposes like customer engagement, event reminders, and notifications.
Check out the 7 best EZ Texting alternatives you should try in 2023.
EZ Texting Features
Recurring messages
Advanced contact management
Recurring Messages
Schedule messages to be sent at regular intervals, ensuring that important announcements, reminders, or promotions are consistently delivered to your audience without manual intervention.
Advanced Contact Management
EZ Texting offers advanced contact management capabilities, allowing businesses to efficiently organize and segment their contact lists. By sorting contacts into groups based on specific criteria such as interests, locations, or preferences, businesses can send targeted and personalized SMS notifications.
Pricing
EZ Texting pricing starts from $20/month, which includes 500 free messages per month. If you exceed that volume, you'll have to pay an extra $0.027 per SMS.
What is the Best One Call Now Alternative?
We've rated both all One Call Now alternatives in four different areas, and it's clear that DialMyCalls comes out on top as the better choice.
| Platform | Ease of Use | Customer Support | Other Features | Pricing | Score |
| --- | --- | --- | --- | --- | --- |
| DialMyCalls | 4.8 | 4.7 | 4.7 | 4.7 | 4.7 |
| PhoneBurner | 4.8 | 4.8 | 4.6 | 4.7 | 4.7 |
| JookSMS | 4.5 | 4.9 | 4.8 | 4.9 | 4.7 |
| SimpleTexting | 4.7 | 4.8 | 4.5 | 4.5 | 4.6 |
| Sakari | 4.5 | 4.7 | 4.3 | 4.5 | 4.5 |
| EZ Texting | 4.3 | 4.0 | 4.2 | 4.0 | 4.1 |
All of the ratings listed are from Capterra.com.
Try DialMyCalls for Quick Broadcast Messaging
One Call Now presents challenges with its less intuitive web interface and a potentially frustrating onboarding process. However, there's a solution to these drawbacks: DialMyCalls.
DialMyCalls offers a more user-friendly experience with a straightforward interface, making it easier for users to navigate and use its features effectively. Plus, the onboarding and setup process is streamlined, which ensures a smoother experience for new users. And let's not forget those annoying message delays that One Call Now encounters which isn't great, especially in urgent situations.
Sign up for DialMyCalls today to experience quick text messaging and streamline your communication needs.