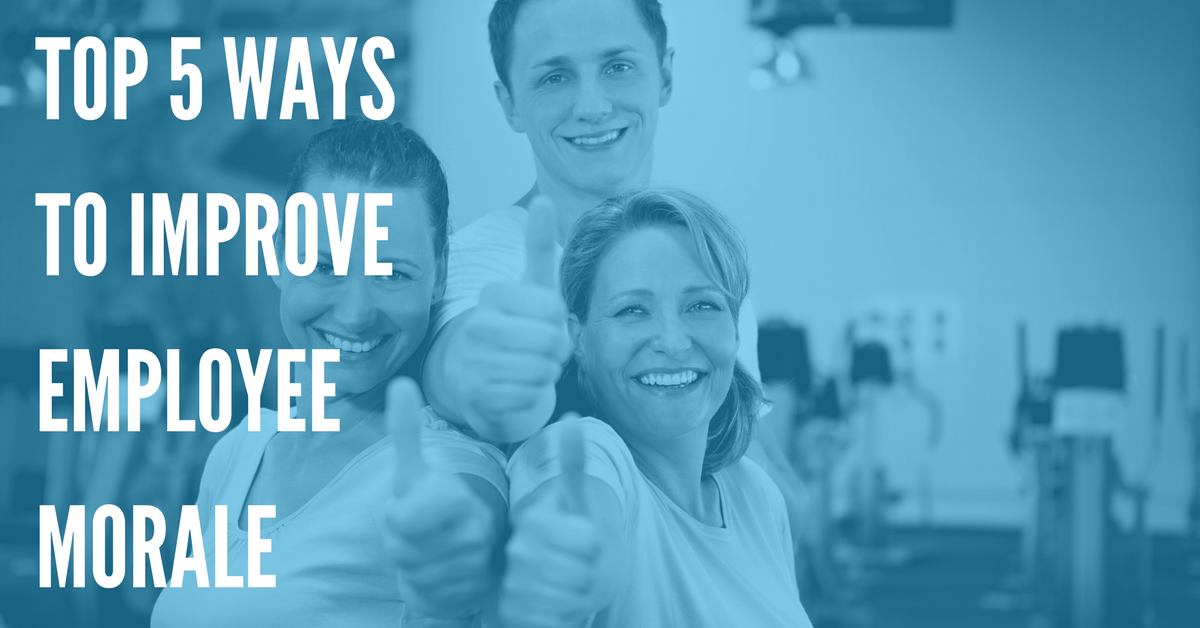 If you're a small business owner, you probably care for your employees quite a bit. And if recently, things have seemed a little bit dour at the office due to a looming deadline, or a general sense of low morale, you may be looking for ways to make your employees feel better.
Improving employee morale is a great idea. It's not just a good way to make sure that your employees feel valued and useful – it can have a positive impact on your business!
In fact, a workplace culture that emphasizes employee engagement and positivity reduces turnover rates, increases profitability, and makes employees feel more loyal to your company.
Not sure where to start when it comes to improving employee morale at your small business? In this guide, DialMyCalls will take a look at a few simple things you can do to make your employees feel more valued, and boost employee morale and engagement.

1. Set up an Employee Feedback Hotline
We all like to think that we have "open door policies", and that employees can talk to us about anything. But this is not always true. Employees may feel intimidated by discussing their problems with work in-person, or may not give you honest feedback in a one-on-one situation.
This is where an employee feedback hotline is valuable. Using DialMyCalls, it's easy to set up an employee hotline.
With an anonymous employee feedback hotline, you will be able to get truly valuable, honest input about how you've been running your business. Maybe you have a manager who has been underperforming, and making your employees feel bad. Perhaps you have been pushing your employees too hard.
Whatever it may be, your workers will feel like they're able to truly open up and tell you the truth if you provide them with an anonymous hotline, where they can speak without fear of repercussions.

2. Schedule a Half-Day and Do Something Fun!
Your employees are sure to appreciate a fun, recreational activity – and getting together with their co-workers to have a great time is sure to boost their morale.
If you have the chance, schedule a half-day of work, and an employee outing that will help build camaraderie, and build positive relationships with your employees. Here are a few suggestions:
Paintball – Paintball can be a lot of fun, and a great team-building exercise! Just make sure your employees are willing to get down and dirty (and endure the sting of a few paintballs!)
Craft brewery tour – Everyone loves craft beers. Consider finding a local beer tour service, or renting a van or a bus, and doing a "custom" craft brewery tour! Your employees can drink delicious, small-batch brews and enjoy each other's company.
Company picnic – It's a classic for a reason! A company picnic lets your employees and their families relax and have a great time together, especially if you plan activities like scavenger hunts, sack races, capture-the-flag and more!
These are just a few ideas. Think about your employees, and the types of activities they like – and plan accordingly.

3. Celebrate the Accomplishments of Each Employee
Everybody likes to be recognized for what they have achieved. If your employees are not regularly recognized for their contributions to your company, they may feel aimless and sad – as if what they do doesn't matter.
To avoid this, make sure to celebrate the accomplishments of every employee in your business – no matter how big, or how small.
How you do this is up to you. Just talking with an employee one-on-one, and letting them know that you are proud of their performance is enough to boost morale. But company-wide recognition through incentive programs like "Employee of the Month" can also be very effective – and drive other employees to work harder.

4. Get Involved With Your Community – Volunteer!
Volunteering is a great way to get engaged with your community, and help your employees feel as if they are making a difference.
Schedule at least one volunteer outing per quarter – you can work at a soup kitchen, help out at a food pantry, or help improve the appearance of your community. Find a local organization you like, and ask how you can get involved!
If you can't schedule an outing for all of your employees, consider offering a few "volunteer days" per year. On these days, your employees can volunteer instead of coming into work – and they will still get paid, and won't lose any vacation or sick days.
This is a fantastic way to help your employees feel more connected with those around them, and build an atmosphere of workplace positivity.

5. Make Sure Your Employees Get Enough Time off – Avoid "Burnout"
Have you been "burning the midnight oil" at your business? Pulling 9, 10, 11-hour workdays to meet a project deadline, or to deal with a sudden increase in customers?
Your employees are not robots. They get tired, they get weary, and they will get "burned out". Burnout contributes to poor job performance and low morale.
Make sure your employees get enough time off. If they have to pull a 60-hour week, consider giving them an extra day off during the next week – or give them a few extra vacation days they can use whenever they want.
This helps your employees feel as if their time is valued, and they are being rewarded for their hard work – instead of being taken advantage of.
Build Better Morale For A Better Business – Get Started Today!
Every business can benefit from a more positive workplace culture, and a boost of employee morale. If morale is low at your business, and you're not sure how to start creating a better culture, this guide is a great place to start.
So don't wait. Think about how you can implement these policies and ideas in your workplace today, and build a better future for your business!