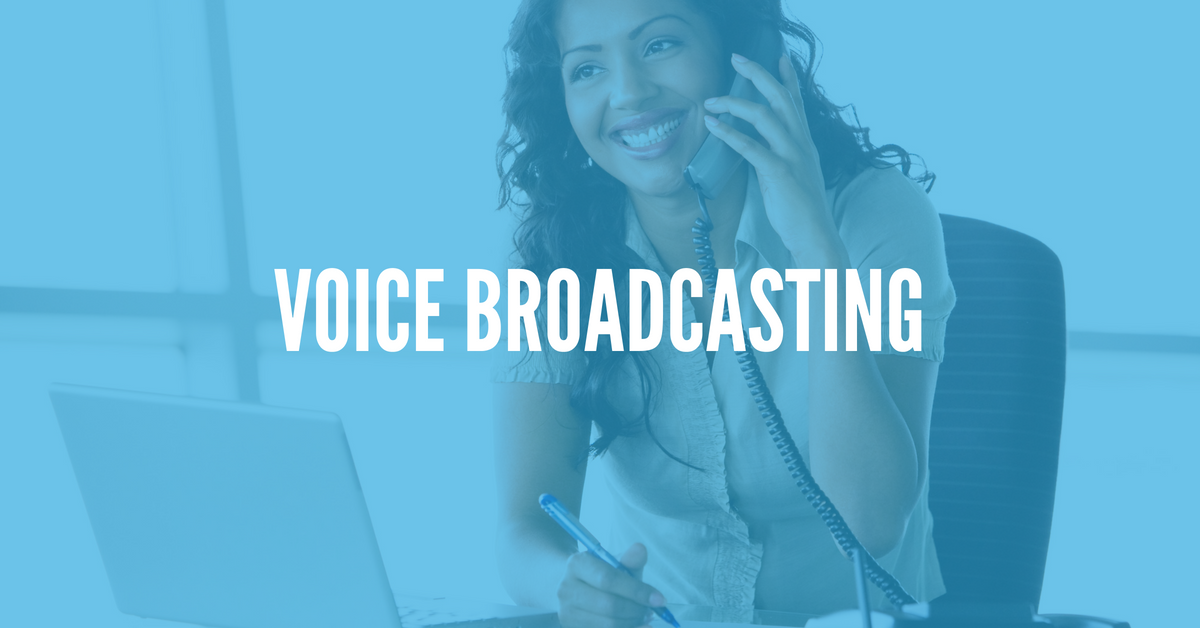 Interested in using voice broadcasting in your business? If so, you probably have some questions about what, exactly, voice broadcasting is – as well as how it works, what it can do, and the benefits of using voice broadcasting.
In this article, we'll take a look at all of these topics – and more – to help you understand how voice broadcasting can help your company or organization.
Voice Broadcasting Allows You to Send out Automated Calls
Voice broadcasting is a tool that allows you to record and send pre-recorded calls to phone numbers, using a centralized interface and a single phone number.
Companies like DialMyCalls allow you to send out thousands of messages at once, ensuring that your communications reach everyone who needs to hear them. Using telephony systems and advanced computers, you can contact a huge number of people in just a short period of time with DialMyCalls.

Top 5 Most Common Uses of Voice Broadcasting
Now that you understand the basics about voice broadcasting and what it is, let's talk about some of the common uses that it has for organizations and businesses.
1. Emergency notifications – A voice broadcasting system is a great way to contact a large number of people at once during an emergency.
A school, for example, could use voice broadcasting to inform parents about a cancellation due to severe weather, or a utility company could announce a planned or emergency service outage to all of their customers, ensuring they are safe, prepared, and informed.
2. Surveys and feedback – One common use for voice broadcasting services is to gather feedback with surveys. As an example, a window cleaning service could send an automated survey to previous customers, to learn how they can improve their services.
3. Appointment reminders and updates – This is a common use for voice broadcasting among medical offices and dentists, as well as service companies like lawn mowing, landscaping, plumbing, and home improvement companies. You can send a message before the appointment to remind a client or customer about the service they've scheduled, ensuring smooth service.
4. Corporate announcements – Voice broadcasting is a great way to send corporate announcements, particularly when paired with other methods of communication, such as internal memos, emails, and text messages. Using all of these methods ensures that companies are able to communicate important announcements to all of their employees simultaneously.
5. Promotions and special deals – Automated calls can be used to broadcast information about your company to current opted-in customers, and to provide them with coupons, special discounts, and other deals that may make them more likely to do business with you.

The Benefits of Voice Broadcasting
Voice broadcasting has a number of benefits. First, it's very affordable. Modern platforms like DialMyCalls allow for hundreds – or even thousands – of calls to be placed for a low fee.
In addition, it's very convenient. You can simply use an online interface to create, schedule, and make automated phone calls – without ever having to speak to anyone yourself.
Voice broadcasting is also flexible and customizable. You can easily create different lists of people, and send personalized messages to each one – ensuring that you're able to communicate easily and effectively.
Finally, voice broadcasting allows you to reach customers when they pick up their phone – but can also leave a message in their voice mailbox, ensuring that they hear your message even if they do not pick up immediately.
Interested in Voice Broadcasting? Get Started Today!
DialMyCalls offers an advanced, mobile-compatible voice messaging and broadcasting system – and even incorporates the ability to send SMS text messages and emails alongside your voice broadcasts.
So don't wait. If you think your organization can benefit from using voice broadcasting, get started now at DialMyCalls, and try it for yourself. Trying our services is totally free, and there's no commitment to pay!
← Previous Article
Next Article →
Sign up now and try our services for free!
Use the promo code DMCBLOG and get 25 free extra credits