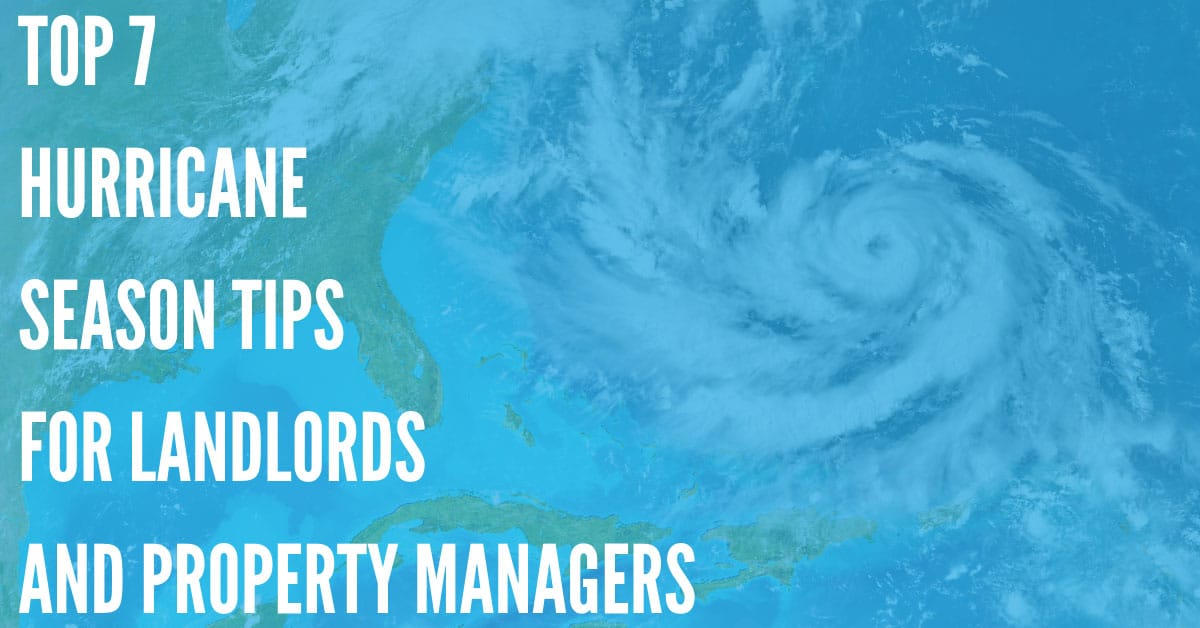 As a landlord or a property manager, hurricane season can be a bit of a scary time if you live in Florida or anywhere else on the Gulf or Atlantic coast where hurricanes are a major issue every year.
But if you take the proper steps to prepare yourself and your tenants, hurricane season doesn't have to be so intimidating. So, in this guide, we'll discuss a few tips to help you prepare for hurricane season, and prevent damage to your property.
1. Review Your Insurance Coverage
If you don't have hurricane insurance, you need to get hurricane insurance. Most standard insurance policies won't cover hurricane damage to your property.
There are two primary types of insurance coverage you may need to protect your property; windstorm insurance and flood insurance.
In most hurricane-prone states, windstorm damage isn't covered as part of your insurance policy, so you need a separate windstorm insurance policy. Instead of a flat deductible, your deductible will usually be somewhere between 2-10% of the value of your home, depending on your state.
Flood insurance is also critical, because it is not included in your standard rental dwelling policy, or windstorm insurance. Without flood insurance, you will not be able to get compensation for damage caused by storm surges and flooding.
There is usually a 30-day waiting period before flood insurance takes effect, so get it as soon as you can if you are not already covered. You can learn more from the FEMA National Flood Insurance Program (NFIP) at FloodSmart.gov.
2. Send Tenants Helpful Information to Help Them Prepare
Keeping your tenants safe is important when you're renting out your property, so make sure that you send them an email with information about how to prepare for a hurricane, the emergency supplies they should have, expected evacuation routes, and other such details.
A few helpful resources you can send include:
3. Prepare Your Property to Help Prevent Damage
You can prepare your property for hurricane season in a few ways:
Trim away branches from houses and buildings, and remove any damaged or dying branches that may easily fall or be blown away from a tree
Clean out all gutters and storm drains to help encourage proper drainage and prevent flooding and water damage
Consider placing sandbags or bladder dams around your property to help prevent floods
You should also encourage your tenants to take steps to help protect your property and their own, such as:
Moving anything that could become a projectile indoors, such as outdoor furniture, tools, grills, toys, potted plants, etc.
Parking vehicles under cover, if possible, with emergency fuel and a full gas tank
Keeping storm shutters, doors, etc. closed (if applicable)
Bringing their pets indoors
Taking these basic steps can help prevent damage from gale-force hurricane winds, and ensure your property and tenants are safe.
4. Take Photos of the Exterior and Interior of Your Property
You should take as many photos of the exterior of your property as you can, and also schedule an inspection of the inside of your home, and take photos of the interior.
These photos will be very helpful if you need to file an insurance claim, as you will be able to prove that damages occurred due to the storm, and not due to any pre-existing maintenance issues. Be as thorough as possible, and save all of the photos with dates, times and locations, to help you keep them organized if you need to file a claim.
5. Check in With Your Tenants Before Major Storms
Before a major storm hits, we recommend sending messages to all of your tenants, checking in on them and asking them if they need anything. Using a property management notification solution like DialMyCalls, you can quickly send an SMS text message, phone call, or email to all of your tenants before a hurricane – and make sure they have everything they need.
This will help your tenants feel safe and like you're on top of things, and get any help they need – if they think there might be an issue with the roof, for example, you can have it inspected and take care of it before the storm hits, which can save you a lot of time, money, and headaches.
6. Make Sure You and Your Tenants Obey Evacuation Instructions
If you and your tenants are told to evacuate, you should evacuate. No excuses. During a mandatory evacuation, both you and your tenants need to head to the proper safe zones and leave your property.
Even if a non-mandatory evacuation recommendation is in effect, we recommend that you use DialMyCalls to send an emergency message to your tenants, to make sure they know about it – and recommend that they follow the recommendations, and evacuate your property.
It's not safe for you or your tenants to stay at home when an evacuation order is recommended. So make sure to always follow the recommendations of the authorities during these kinds of emergency situations.
7. Schedule a Post-Storm Inspection If Your Property Was Affected by the Storm
Once the storm has passed and you are able to come back to your properties, you will want to have a post-storm inspection performed to ensure that your property is free of damage from the hurricane.
You can find a local general contractor or hurricane damage specialist in your area who can conduct the evacuation. Based on their findings, you may need to repair some damage out-of-pocket – or if the damage is severe enough, you may want to file an insurance claim. Your service provider will recommend the appropriate next steps after the inspection.
Follow These Tips – And Make Sure Your Property and Your Tenants Are Protected
Hurricane season can be scary, but you can safeguard your tenants and your property with these simple tips, and make sure you're prepared for anything that Mother Nature has to throw at you this year.