9 Best ClickSend Alternatives in 2023 (In-Depth Solutions)
Posted by Tim Smith in General Post on September 18, 2023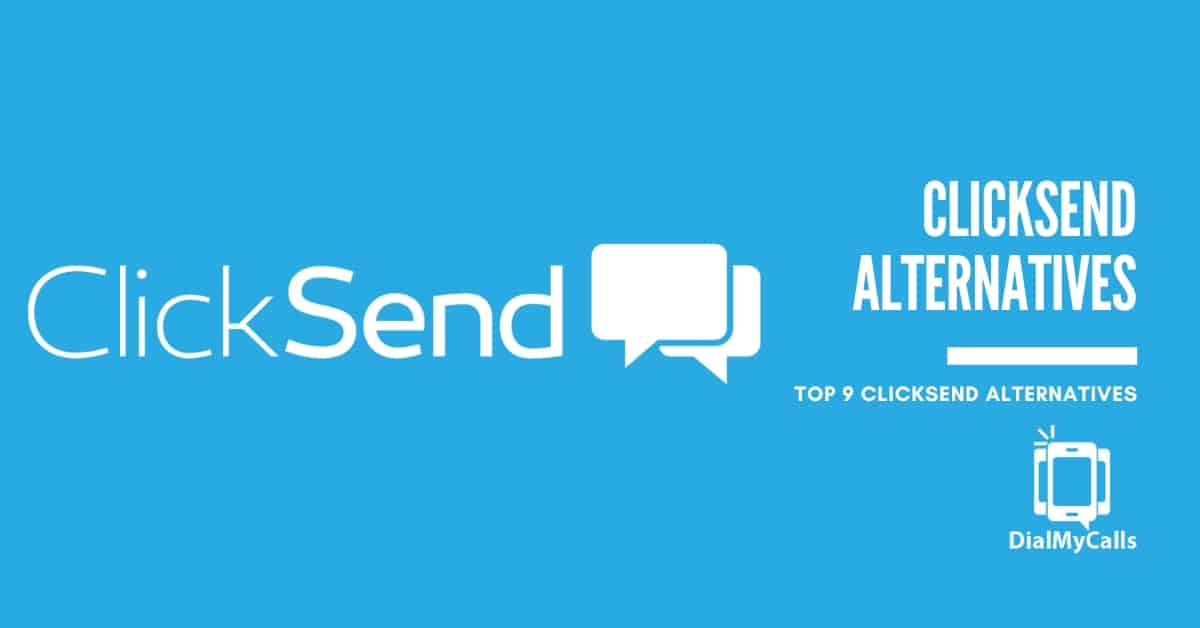 ClickSend is an SMS marketing platform for messaging solutions, such as bulk SMS, two-way SMS engagement, MMS capabilities, transactional email, and voice messaging options.
But it isn't without its drawbacks. The first notable downside of ClickSend is that some users find creating SMS templates complex.
Secondly, ClickSend's less user-friendly interface, in comparison to alternatives like DialMyCalls, might pose a huge usability challenge for those who enjoy more streamlined platforms.
Plus, ClickSend users often encounter delays in their customer service and multiple interactions to address issues with the platform.
So, if you value timely customer support, you may want to try DialMyCalls, as it has a reputation for prompt customer service.
In this article, we'll list the 9 best ClickSend alternatives, detailing each tool's key features and pricing.
Best ClickSend Alternatives 

Alternative #1: DialMyCalls
DialMyCalls is a cloud-based mass notification platform that allows organizations to send text messages, voice broadcasts, and emails to large audiences. DialMyCalls goes beyond simple message broadcasting—it prioritizes fast message delivery to recipients with greater efficiency.
DialMyCalls Features
Bulk SMS Messaging
Emergency level notifications
Automated calling
API and integrations
Bulk SMS Messaging
DialMyCalls provides a feature that facilitates the bulk sending of text messages. Notably, it lets users compose messages in advance, choose recipients from the contact list, and specify the date and time for message dispatch.
At the appointed time, the system initiates the message-sending process, requiring no manual intervention on the sender's part.
Additionally, DialMyCalls offers the functionality of recurring text messages. These are messages that require multiple instances of delivery. This could involve weekly medication schedules or recurring notifications for upcoming doctor appointments or prescription refills.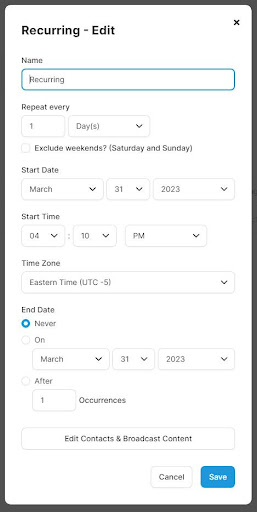 Once the details of such messages are configured, the designated messages will be sent out. This automation ensures the consistent conveyance of relevant messages to recipients. This indeed makes DialMyCalls a great alternative to ClickSend.
For example, healthcare organizations use DialMyCalls bulk messaging to send appointment reminders. Churches use this feature to deliver prayer requests and communicate information such as closures due to weather conditions or details about funeral arrangements.
Similarly, large corporations use DialMyCalls to build communication channels with their employees, ensuring they stay up-to-date with company news and updates.
Emergency Level Notifications
When urgent situations arise, getting critical messages out quickly can be crucial. DialMyCalls offers an efficient Emergency Notification System that facilitates rapid communication through phone calls, text messages (SMS), and emails.
This system is widely used as an effective way to keep people informed during emergencies.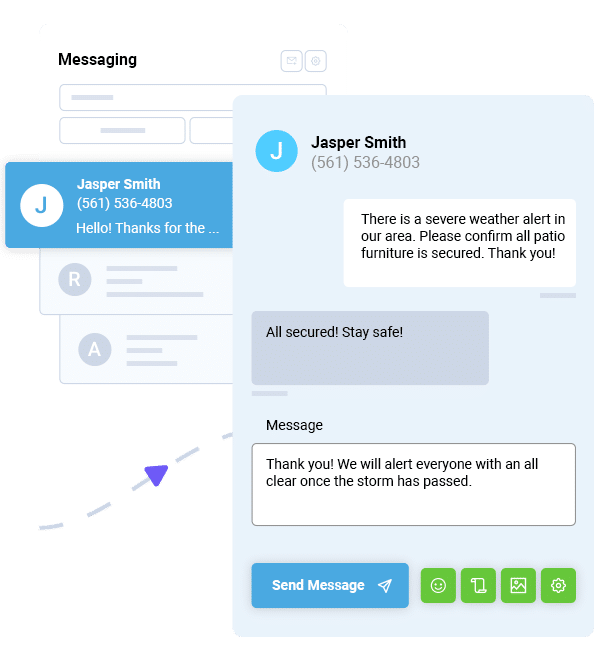 One of the standout features of DialMyCalls' Emergency Notification System is its impressive speed. With the capability to dispatch over 3000 alerts per minute, the system ensures that your alerts reach the intended recipients immediately after being sent.
This rapid delivery significantly improves the chances of critical information reaching individuals on time. The below customer review on G2 shows how DialMyCalls makes broadcasting super easy and fast.

The Cosmopolitan of Las Vegas was looking for a solution that could quickly notify about 5000 employees and partners in emergencies.
Thanks to its ease of use, they found the perfect match in DialMyCalls. Additionally, DialMyCalls enhances the power of SMS emergency alerts through its 2-way texting system. This unique feature enables recipients of your emergency text messages to reply directly to the sender. As an administrator, you can read and respond to these replies, allowing for real-time communication and clarification.
Automated Calling
DialMyCalls offers automated calling. Imagine you have a message you need to communicate to a group of people quickly, but manually calling each person would take a lot of time and effort. This is where automated calling helps.
With automated calling, you can create a list of phone numbers of the individuals you want to reach. This could be a group of customers, members of an organization, employees, or any other group you need to contact. Once your list is ready, DialMyCalls allows you to send a pre-recorded message to all these phone numbers simultaneously.
Another functionality that comes in handy is "Push To Leave A Message." This feature can be quite useful when you're making phone calls.
Imagine you're trying to reach someone over the phone, but they're unavailable to answer. Instead of hanging up and being unable to communicate, this feature allows the person you're calling to leave you a message even if they don't answer. You can include this feature when setting up a voice broadcast in your DialMyCalls account.
With it, recipients prompted during the call can press a key to leave you a voicemail. After the broadcast, you can simply log in to your DialMyCalls account to listen to any voicemails left.

API & Integrations
DialMyCalls provides users with a robust experience through its integrations and comprehensive API documentation. Its integrations include popular third-party tools, such as:
Calendly for optimized scheduling
Freshdesk for enhanced customer support
HubSpot for streamlined marketing and sales activities
Intercom for improved customer communication
Slack for seamless team collaboration
Salesforce for customer relationship management
You can see the full list of DialMyCalls integrations here.
Pricing
DialMyCalls offers different pricing options to suit your needs. You can choose monthly plans, credit packages, and custom plans.

If you're looking at the regular monthly plans, they start at $6.74/month. The Premium Monthly Plan starts at $8.99/month, and it's great if you're always adding and changing contacts.
Starting at $10.00, the pay-as-you-go plan is perfect if you don't always use it or update your contacts.
The best part is that DialMyCalls gives you 25 free credits to try the platform.
You can sign up here (no setup fees and credit card information required) and get 25 free credits to try the platform at no cost at all.

Alternative #2: Clickatell
Clickatell is a cloud-based messaging platform that allows global text communication and offers a strong API platform for business messaging and promotional SMS campaigns.
ECommerce businesses mainly use Clickatell to engage with customers, provide convenient service, and even facilitate financial transactions within the chat.
Clickatell Features
Bulk SMS messaging
SMS gateway
Bulk SMS Messaging
With Clickatell, users can send and receive bulk SMS messages across over 1000 mobile networks, reaching more than 220 countries and territories. Plus, users can send high-volume SMS messages using the reliable SMPP API or opt for smooth integration into the HTTP and REST APIs for a seamless experience.
SMS Gateway
Clickatell allows businesses to engage with clients across diverse channels, including SMS, WhatsApp, Facebook Messenger, and other messaging applications. It has message customization, routing, reporting, and delivery tracking capabilities.
Pricing
Clickatell doesn't provide pricing information on its website.

Alternative #3: TextMagic
TextMagic is a business text messaging solution to send mass notifications, alerts, reminders, and SMS marketing campaigns.
TextMagic is another solid ClickSend alternative with many SMS-related features like bulk SMS, 2-way SMS chat, SMS sender ID, and long text messages.
TextMagic Features
Bulk SMS
Scheduled messages
SMS Sender ID
Bulk SMS
TextMagic lets you send bulk text messages to all your contacts at once. You can send exclusive discounts to loyal customers by texting their phones directly. You can also send notifications, set up automatic alerts for appointments or company updates, and even include files in your texts.
Scheduled Messages
With TextMagic, you can choose when to send messages that work best for your customers. You can set up texts to go out every hour, day, week, month, or year. This is handy for planning your SMS marketing campaigns ahead of time or making sure your contacts always receive important reminders on time.
SMS Sender ID
When using TextMagic, you can further personalize your SMS experience by adding a custom SMS Sender ID. You can include up to 11 characters to create a sender identity that resonates with your contacts.
Pricing
TextMagic provides a flexible pay-as-you-go option. When sending text messages to contacts based in the US, the cost per message is just $0.049 or $49 for 1000 messages.

Alternative #4: Plivo
Plivo is a cloud-based communication platform that lets businesses incorporate voice and SMS functionalities into their applications.
What sets Plivo apart from ClickSend is its focus on customizable cloud communication suited for developers, whereas ClickSend offers services like SMS, email campaigns, direct mail, and fax for versatile business communication needs.
Plivo Features
Bulk SMS
SMS autoresponder
Bulk SMS
Similar to ClickSend, Plivo's bulk SMS feature allows users to send many text messages to recipients. Plivo provides options like alphanumeric sender ID, toll-free numbers, and short codes, enabling users to send and receive high volumes of SMS messages, particularly using shortcodes within the US and Canada.
SMS Autoresponder
Plivo's autoresponder feature helps enhance communication efficiency. It automatically sends pre-set responses to incoming messages, streamlining interactions and ensuring timely replies without manual intervention.
Pricing
Sending regular text messages using Plivo costs $0.0055 per SMS if you're using long codes, and it's $0.0065 per SMS for toll-free numbers within the US.

Alternative #5: Heymarket
Heymarket is a comprehensive business messaging solution that offers omnichannel messaging services through shared inboxes, templates, and reminders.
As a good alternative to ClickSend, Heymarket stands out for teams that require efficient collaborative messaging with shared inboxes and contact segmentation features.
Heymarket Features
Shared inboxes
Contact segmentation
Advanced opt-in management
Shared Inboxes
Heymarket's shared inboxes allow teams to collectively manage text conversations from a central location. This feature ensures that multiple team members can access and respond to messages, avoiding duplication of efforts.
Contact Segmentation
With contact segmentation, Heymarket enables users to categorize their contacts based on specific attributes or criteria. This capability facilitates targeted messaging, allowing businesses to send personalized texts to different groups, enhancing engagement and relevance of communication.
Advanced Opt-In Management
Heymarket's opt-in management feature offers businesses the tools to handle subscriber preferences. It allows users to manage and maintain compliance with regulations by easily handling opt-ins and opt-outs, ensuring that text messages are sent to recipients who have provided their consent.
Pricing
Heymarket has subscription-based plans, starting at $23/user/month, and includes features like two-way messaging, shared inboxes, and basic reporting.
Heymarket also has quotation-based plans—it charges $0.03 per message segment, which covers carrier fees, MMS, and WhatsApp messaging costs in the US and Canada.

Alternative #6: Onesignal
OneSignal is a customer engagement and notification platform that caters to developers and marketers, facilitating mobile push notifications, web push, email, SMS, and in-app messages.
While OneSignal can send engaging text messages and alerts through bulk SMS, its primary focus lies in automated push notifications and in-app messaging.
Onesignal Features
Bulk SMS
Filtered audience targeting
Bulk SMS
OneSignal facilitates efficient bulk SMS campaigns, allowing you to easily reach a broad audience. You can send messages to multiple recipients simultaneously, streamlining your communication efforts and ensuring your messages are delivered promptly to your intended recipients.
Filtered Audience Targeting
OneSignal's filtered audience targeting feature enables companies to target their notifications precisely. Companies can use filters based on user attributes like activity levels and location to ensure their messages are delivered to the most relevant audience.
Pricing
OneSignal doesn't disclose its SMS pricing details on the website.

Alternative #7: Telnyx
Telnyx is a global communications platform that offers a user-friendly solution for sending SMS notifications, alerts, and updates to customers, staff, or subscribers worldwide.
Telnyx stands out as a top choice for businesses needing extensive communication infrastructure, such as global voice, SMS, and Zoom Provider Exchange, often preferred by enterprises seeking advanced communication solutions.
Telnyx Features
Automated opt-outs
Message concatenation
Existing number integration for SMS
Automatic Opt-Outs
With Telnyx, if a recipient replies with a "stop word" message like "STOP" to your messages sent through the API, the platform automatically unsubscribes them from future communications. This feature ensures that you're respecting their preferences and complying with regulations.
Message Concatenation
Telnyx simplifies the process of sending long messages by automatically handling message concatenation. If a message is too lengthy for its destination, the Telnyx splits it into multiple messages seamlessly. This means you no longer need to worry about manually breaking content into parts—Telnyx ensures your recipients receive the complete message.
Existing Number Integration for SMS
Telnyx's Hosted SMS feature allows you to use your existing, familiar phone numbers for sending SMS and MMS messages. This means you can maintain your established identity without needing to switch providers.
Pricing
Telnyx offers two pricing choices: pay-as-you-go or based on the volume of messages you use. When you send messages using toll-free numbers within the US, each message costs $0.0055, and you also pay the carrier fee.
The cost is $0.007 per message, along with the carrier fee for messages sent with short codes.

Alternative #8: Everbridge
Everbridge is a mass text and notification provider that lets organizations share vital information during emergencies, facilitating efficient communication and response coordination.
Everbridge specializes in critical event management, offering a platform for larger enterprises to manage emergency notifications and crisis communication. But in terms of ease of use, DialMyCalls offers a more user-friendly solution, making it the right choice for organizations seeking straightforward communication without a complex setup.
Everbridge Features
Multi-channel alerts
Advanced opt-in management
Multi-Channel Alerts
Everbridge enables sending SMS alerts alongside other communication channels, including Slack, voice calls, email, desktop alerts, and mobile app notifications. This ensures messages reach recipients through their preferred methods.
Advanced Opt-In Management
Everbridge has an easy way for residents to join alerts without needing landlines. To reach everyone during safety concerns, managers need more opt-ins. Everbridge offers simple ways for residents, visitors, and employees to sign up for alerts.
Pricing
Everbridge doesn't offer pricing details on its website.
Everbridge's features and focused on large companies. Using this platform might come with a higher price tag than other ClickSend alternatives like DialMyCalls.

Alternative #9: TextUs
TextUs serves as a text messaging platform for inside sales, recruiting, and customer service teams, facilitating conversational interactions in a business context.
TextUs offers personalized and conversational messaging features, which can be valuable for customer engagement and relationship-building purposes.
TextUs Features
Texting templates
Scheduled messages
Contact segmentation
Texting Templates
TextUs offers the convenience of texting templates, which can be shared among team members or personalized to match individual preferences. Using templates, users can ensure consistency in their messaging, eliminating the need to write SMS messages from scratch.
Scheduled Messages
With TextUs, you can schedule messages for future delivery. This feature ensures that important messages reach their recipients at the optimal time, even when you're unavailable.
Contact Segmentation
TextUs helps with precise audience targeting through its contact segmentation feature. By categorizing contacts into groups or categories, users can tailor their messages to suit specific audiences, increasing the relevance of their communications.
Pricing
TextUs pricing starts from $300/month for unlimited users.
What is the Best ClickSend Alternative?
So far, we've compared 9 popular ClickSend competitors to help you choose the right platform.
In the table below, we've given each feature a score. We looked at how easy it is to use each platform, how many features they offer, the customer support they provide, and how much each tool costs.
| Platform | Ease of Use | Customer Support | Other Features | Pricing | Score |
| --- | --- | --- | --- | --- | --- |
| DialMyCalls | 4.8 | 4.7 | 4.7 | 4.7 | 4.7 |
| TextUs | 4.8 | 4.7 | 4.6 | 4.7 | 4.7 |
| TextMagic | 4.7 | 4.5 | 4.5 | 4.5 | 4.5 |
| Onesignal | 4.5 | 4.5 | 4.6 | 4.5 | 4.5 |
| Telnyx | 4.5 | 4.5 | 4.5 | 4.8 | 4.5 |
| Heymarket | 4.5 | 4.5 | 4.3 | 4.3 | 4.4 |
| Plivo | 4.3 | 4.2 | 4.3 | 4.5 | 4.3 |
| Clickatell | 4.3 | 4.1 | 4.4 | 4.1 | 4.2 |
| Everbridge | 4.3 | 3.9 | 4.1 | 3.3 | 3.9 |
All ratings data in the table above is from Capterra.com.
Send reliable Broadcast Messages with DialMyCalls
DialMyCalls is easy to set up. Even better, its interface is designed to be user-friendly, making it even easier to send SMS templates—unlike Clicksend. And if you ever need help, DialMyCalls has a responsive 7-day-a-week customer support team that's always ready to help you out.
Sign up for DialMyCalls today, receive 25 free credits, and test the platform yourself.