Feature Updates: What's New With DialMyCalls (July 2021)
Posted by Tim Smith in General Post on July 20, 2021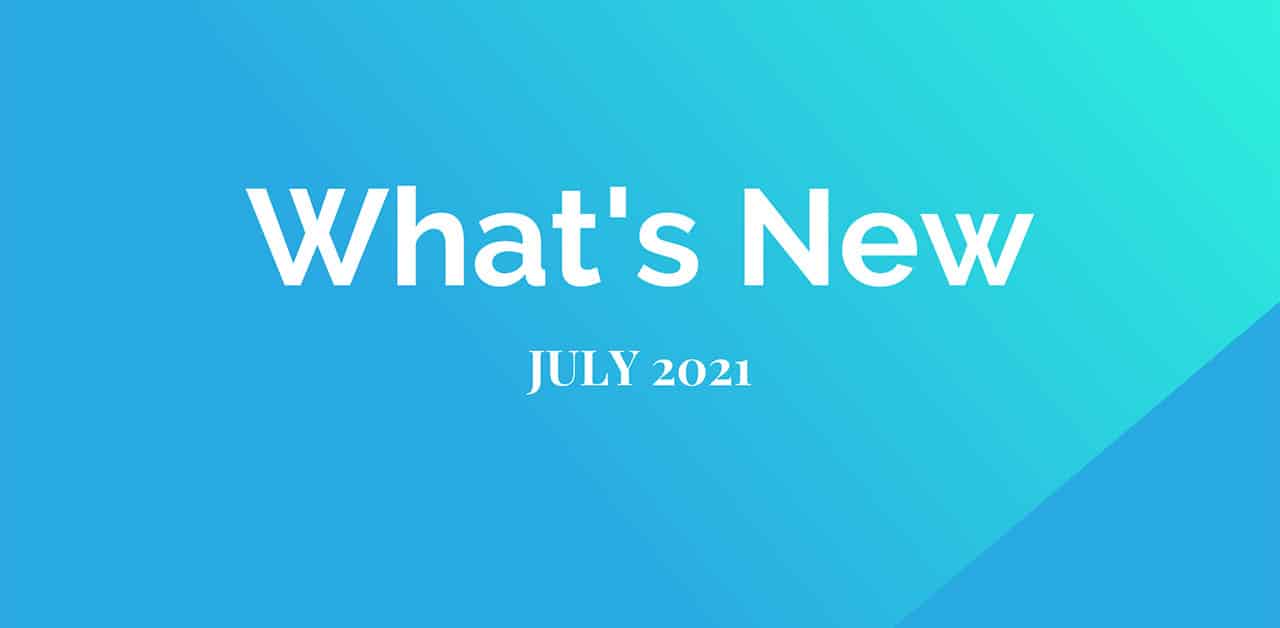 July welcomes a huge new update to DialMyCalls' pricing options. We have added in a brand new way to utilize our mass notification system in the form of our Premium Monthly Plan. Loaded with a plethora of features, including MMS, our premium credits plan is extremely popular and customers are already raving about them. Let's take a look at all three pricing options below to see which best fits you:
Premium Monthly Plan
Our brand new plan is a hit already with members no matter how many contacts they have to send messages to. The Premium Monthly Plan is perfect if you have to change out contacts throughout the month as you receive a monthly allotment of credits to utilize – don't worry if you run out of credits you can continue to use the service and will just be charged overage.
The Premium Monthly Plan starts at just $9.99 per month with several different options available depending on how many phone calls, text messages and emails you will be sending out throughout the month.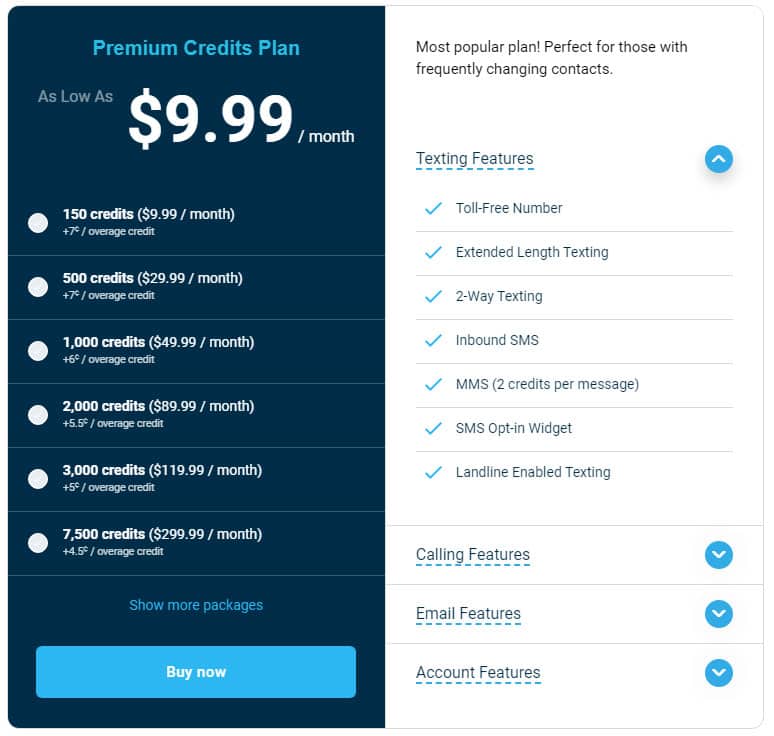 In addition to being able to add/remove contacts throughout the month, the Premium Monthly Plan will also include a ton of features:
Texting Features Included In Premium Monthly Plan
Toll-Free Number – Receive a free toll-free number to send out text message broadcasts to your contacts.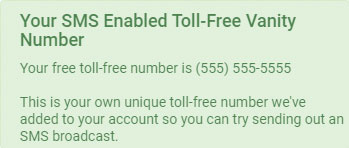 2-Way Texting + Inbound SMS – Create 1-on-1 conversations with customers, employees, volunteers, or more with our 2-way texting platform at no additional cost. ($19.99/month value)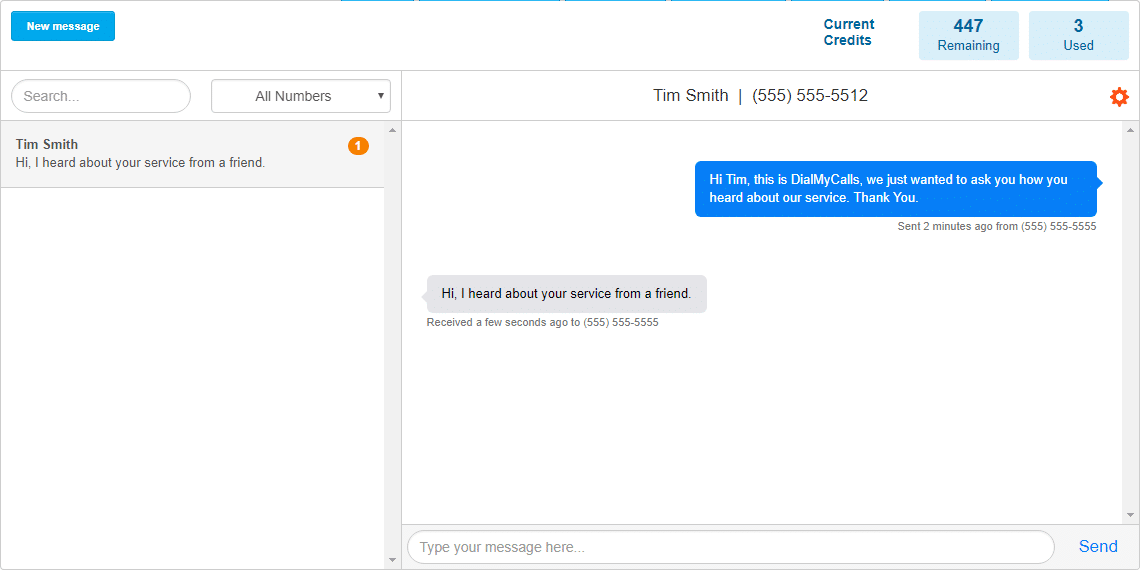 MMS – MMS is only available on a Premium Monthly Plan and will require 2 credits per message to send out an attachment.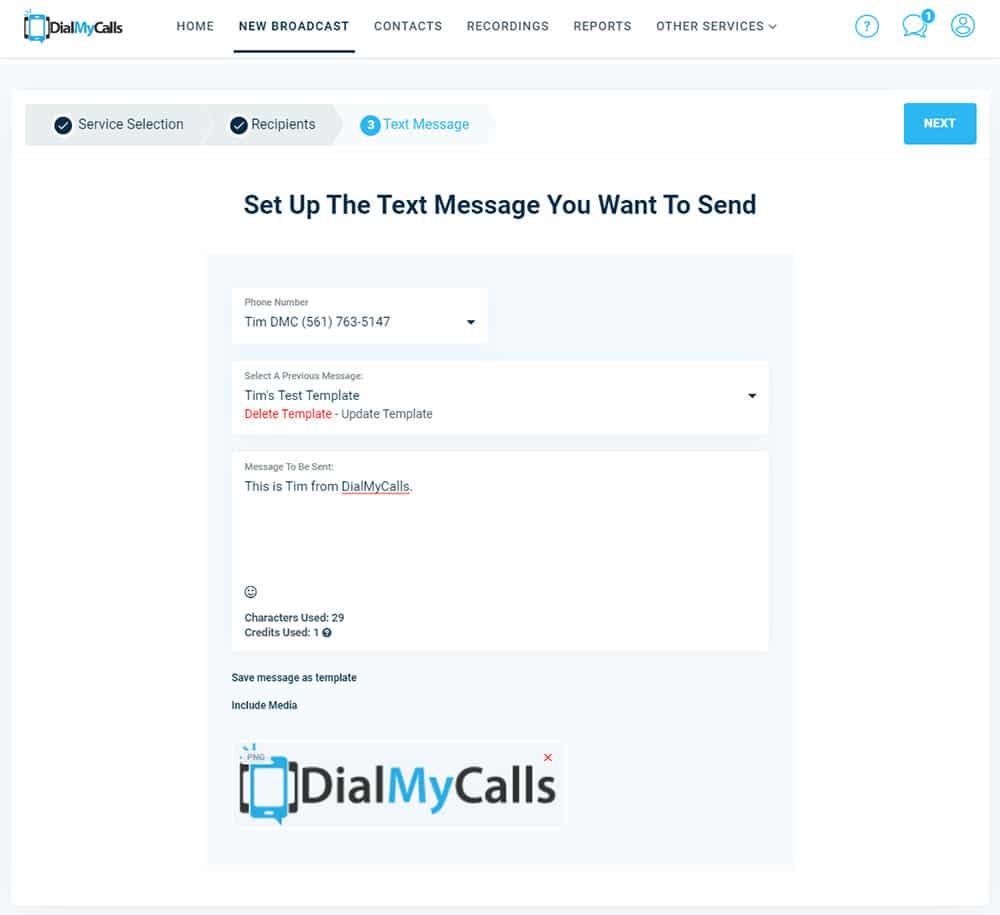 SMS Opt-in Widget – Have contacts opt in to receive your phone calls, text messages and email broadcasts by using DialMyCalls' embeddable opt-in widget.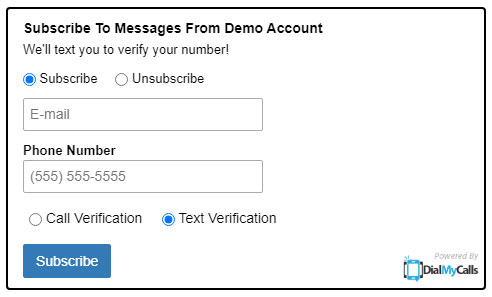 Landline Enabled Texting
Extended Length Texting
Calling Features Included In Premium Credits Plan
Conference Calling – The conference call service is simple and free to set up. Simply schedule a call, and inform all participants to call into the conference call line with an assigned PIN code.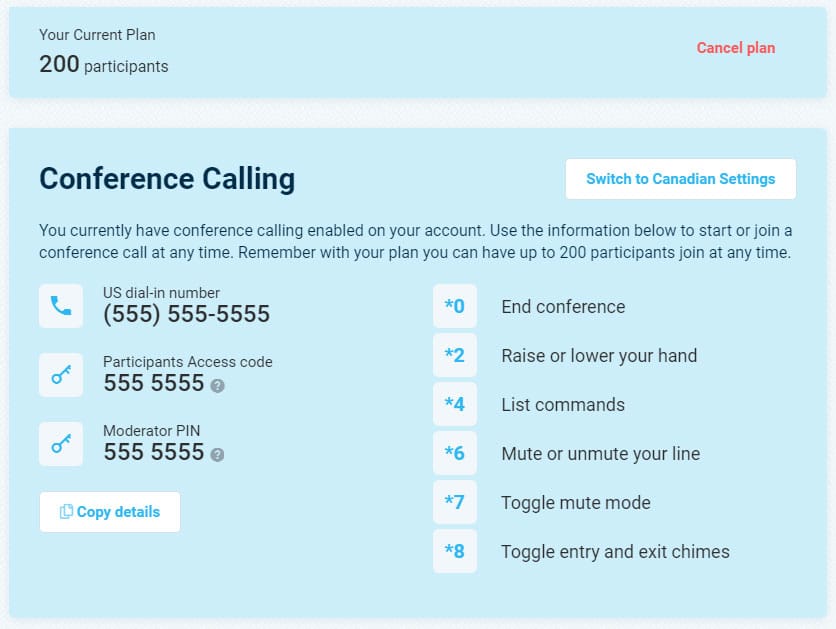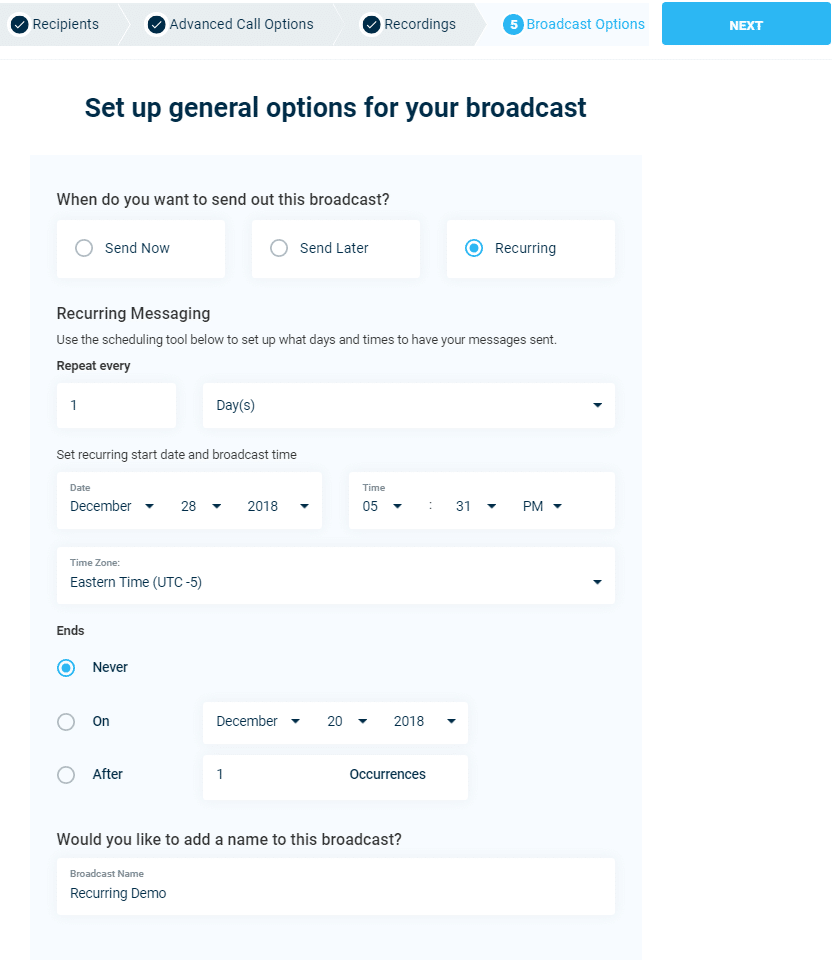 Answering Machine Detection
Polling / Survey
Push to Talk
Push to Repeat
Push to Record
Push to Opt-Out
Text-To-Speech Recordings
Toll-Free Vanity Number
Standard Monthly Plan
Do you have a set list of contacts that you will be contacting multiple times per month? Our Standard Monthly Plans give you the option to choose a set amount of numbers that you can contact in the given period of time (monthly, bi-annual, annual). Standard Monthly Plans are perfect if you will not be swapping out contacts at all – customers can send their allotted amount of contacts up to 30 broadcasts per month. MMS is available for 4.5 cents per message when utilizing a standard monthly plan.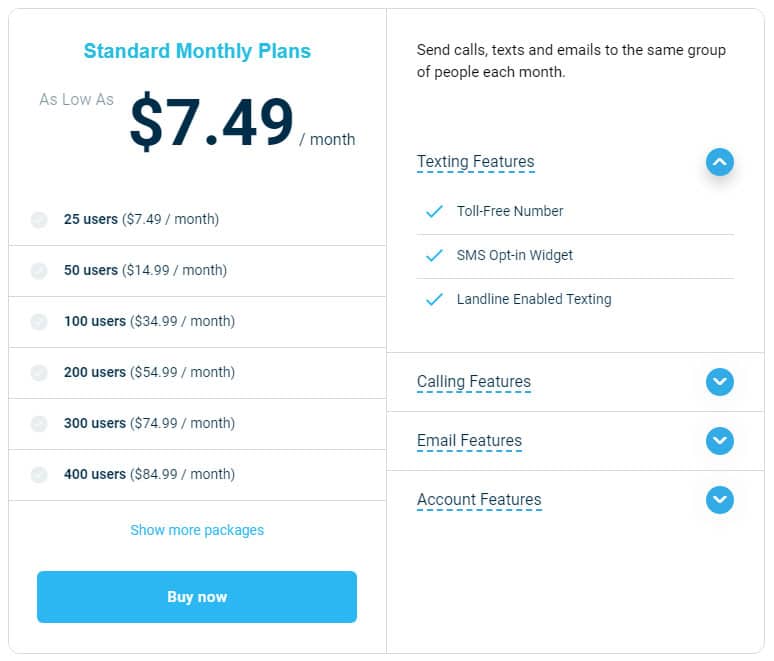 Pay As You Go
Purchase a Pay-As-You-Go credits package if you want to send out a one-time broadcasts or scatter broadcasts throughout the year – Pay-As-You-Go credit packages start at $10 for 140 credits. Credits can be utilized to send voice broadcasts, text message broadcasts and email broadcasts – MMS is not available when using Pay-As-You-Go credits. For broadcasts, the credit breakdown is as follows:
Voice Broadcast: 1 credit = 1 call to 1 number with a 30 second message (each 30 second increment is an additional credit per contact)
Text Broadcast: 1 credit = 1 text to 1 number with 153 characters (each additional 153 characters is 1 credit per contact)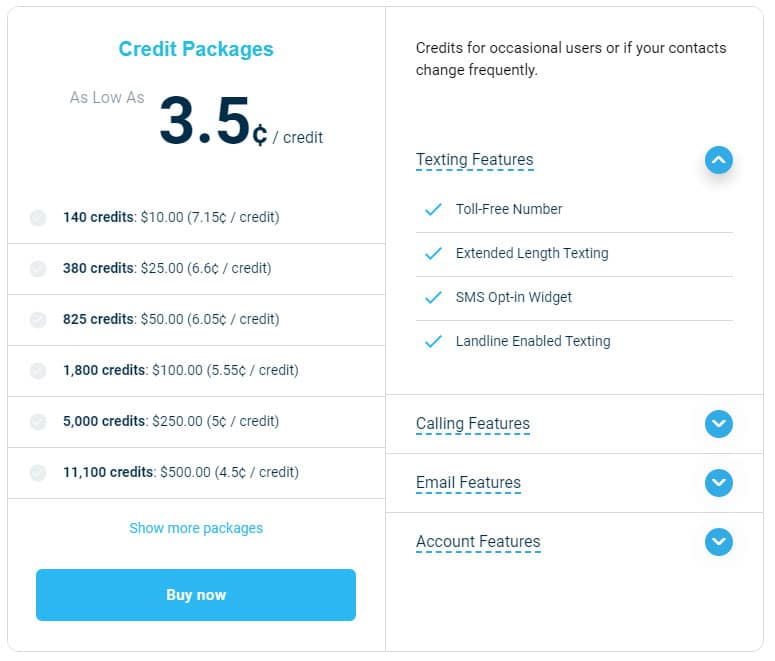 For more DialMyCalls pricing information and to find out more about how our services can benefit you, please contact support!