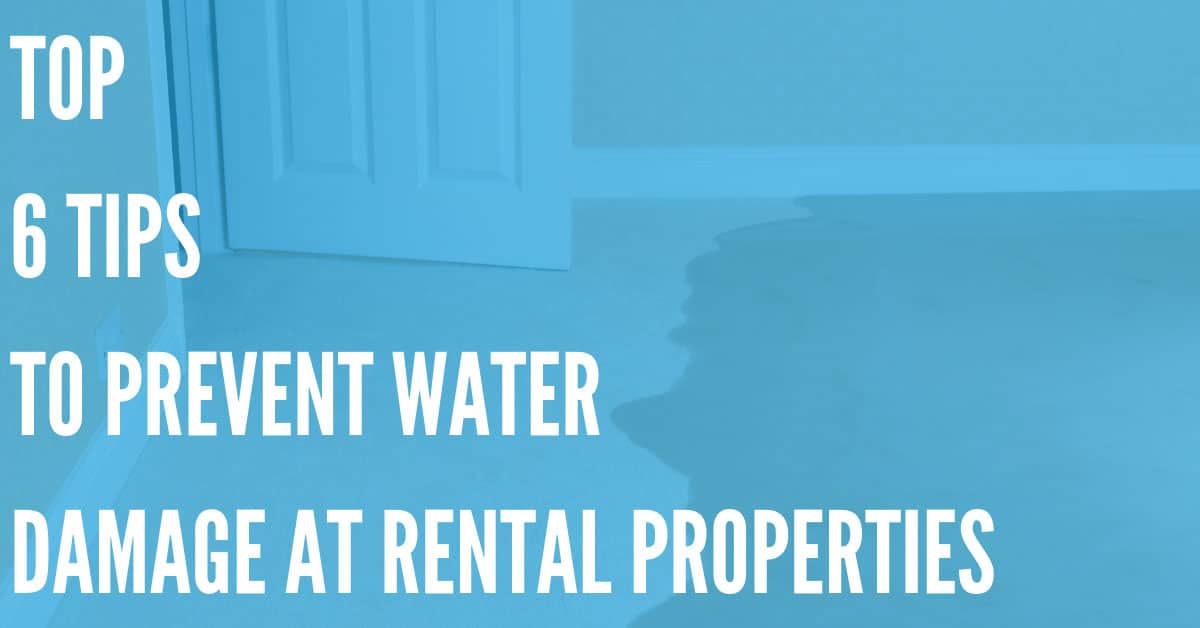 Water damage causes billions of dollars in property damage each year. From burst pipes, to leaky roofs, and even serious hurricanes and rainstorms that cause flooding, water damage can come in many forms – but all of them are costly to repair.
So, how can you make sure that you avoid water damage at your rental properties? Read on, and find a few of our top tips that will help you keep your property and your tenants safe from water damage.
1. Inspect the Plumbing and Appliances Yearly
First and foremost, you need to make sure you regularly check the plumbing and all appliances and fixtures that are connected to water lines – such as refrigerators, washing machines, dishwashers, toilets, showers, and so on.
If you have yearly leases for your residents, you can do this as part of a yearly pre-lease inspection. You also have the right to inspect your unit on a regular basis, as long as you notify tenants in advance.
Don't skip this step. Even a seemingly minor issue, like a leaking water line connected to a refrigerator, can easily turn into a costly problem if it progresses, and water leaks begin to form in the home without you noticing the issue.
2. Check Roofs, Attics, and Chimneys for Signs of Leaks Every Year
Beyond flooding and broken pipes, a leaky or damaged roof is the most common cause of water damage in rental properties. Most asphalt roofs have a lifespan of 15-20 years – and your roof can leak before this if it's damaged by a falling branch or some kind of other debris.
We recommend that you check the roofing structure of your building every year, or hire a professional to inspect it. Most of the time, everything will look just fine – but if a problem is found, you'll be able to take action quickly to prevent further leaks and damage.
3. Clean and Maintain the Gutters
Your gutters are an essential part of your roof system, and are responsible for channeling water away from your roof, walls, and the foundation of your building.
If they become clogged up and stop working properly, you could experience issues like ice damming in the winter, and even water near your foundation – which could freeze and cause cracks.
Make sure your gutters are clear. Have them cleaned twice per year in the late fall and the early spring to remove twigs, sticks, leaves, and other debris, and to ensure your roof is in good shape.
4. Encourage Good Communication with Tenants
Your best asset in the fight against water leaks is a good tenant. If you have a good relationship with your tenants and communicate effectively, they'll be more likely to alert you about minor issues that you may want to look into.
We recommend using a tool like DialMyCalls to help encourage better tenant communication. With DialMyCalls, you can quickly contact your tenants using 2-way text messaging, answer their questions, log maintenance requests and more from a centralized, online platform.
You should ask your tenants to notify you if they notice anything that could indicate a plumbing issue – such as a leaky faucet or a surge in their water bill – and to keep you informed about other potential issues, such as leaks in the roof, mold which could indicate water damage, and flooding or moisture in the basement.
5. Issue Emergency Alerts During Frigid Conditions to Avoid Frozen Pipes
Even if your pipes are in good shape, they can easily burst if your tenants don't take the proper steps to keep them from freezing in extremely cold conditions. Prolonged temperatures below 20 degrees Fahrenheit can expose your pipes and make them more likely to freeze.
It's best to insulate your pipes to help prevent this. You can pick up fiberglass pipe insulation for less than $0.50 per foot – and because the average cost of a burst pipe is more than $5,000, this is a no-brainer. Proper insulation will help keep your pipes from freezing, even during the chilliest winters.
However, you'll still need your tenants to take appropriate steps to ensure that their pipes don't freeze. If you are experiencing a prolonged period of extreme cold, you should ask your tenants to do the following:
Let faucets drip to help relieve the pressure caused by frozen pipes and prevent bursting
Keep their thermostat set at 60 degrees or higher, even when they're away from the house, to ensure that interior temperatures do not approach freezing. Basements and attics are typically much colder than the rest of the property, so the temperature must be kept high enough to prevent these temperatures from reaching the freezing point.
Open cabinets that have water pipes (kitchen cabinets, bathroom cabinets, etc.) to help warmer air from the heater circulate near the pipe, and prevent it from freezing.
6. Understand Your Insurance Policy Coverage (And Require Renters Insurance)
You'll want to make sure that you understand what kind of provisions your insurance company makes for water damage to your building, and what sorts of coverage you can expect if a pipe does burst, or a leaky roof covers water damage. Review your policies regularly to keep yourself updated.
You should also require your residents to carry renters insurance. A renters insurance policy will help defray the costs of water damage due to negligence by a tenant. If your tenant accidentally leaves the tub on, for example, and it overflows and causes damage to the surrounding area, their policy will cover the damage – which means fewer out-of-pocket costs for you.
Keep Your Property Safe from Water Damage with These Tips!
With the above tips, you should be able to make sure your property is in tip-top shape, and minimize your risk of water damage. Put these tips into use today, and make sure that you and your residents are safe from the inconvenience and high costs of water damage!